Top 10 UNIQUE Day Trips from Dubrovnik, Croatia
The city Dubrovnik is famous for its impressive old town and beautiful beaches, as well as for the entire surrounding area along the picturesque Riviera with its gorgeous islands and many excursion destinations. Therefore, during a visit, you can enjoy a wide range of unforgettable Dubrovnik day trips! Especially popular are boat trips to offshore islands, such as Lokrum or the Elaphites. Also, day trips to Bosnia and Montenegro are a popular activity from Dubrovnik. Whether on your own or on a guided tour, theoretically you could spend every single day with exciting activities. Now, what are the best activities and excursions starting in Dubrovnik and its surroundings and which experience should not be missed?
The travel guide is all about the 10 best day trips from Dubrovnik. In addition, we'll give you plenty of tips and info that will definitely help you with your planning.
Cavtat
A visit to the romantic harbor town of Cavtat is probably one of the most beautiful day trips or half-day trips from Dubrovnik. This pretty little town is only 20 kilometers away and can be easily reached on your own by car, but also by boat or bus. During a sightseeing tour, definitely you will be impressed by the picturesque old town and the enchanting waterfront promenade, where there are numerous interesting attractions, such as historical town palaces, churches and museums. Also really inviting are the many cozy restaurants and café-bars overlooking the sea, where you can enjoy the unique flair and the lively hustle and bustle with a glass of wine.
Other highlights are the beautiful beaches of Cavtat, which truly invite to swim and relax. They are located on the peninsulas, left and right of the center, and can be easily reached on foot. Perfect if you want to combine your excursion with some beach-time.
Tip: The most beautiful way to get from Dubrovnik to Cavtat is definitely by taxi boat. It leaves several times a day and transports tourists from one port to the other.
Lopud Island (Elaphite Islands)
Lopud Island is one of the most amazing destinations for a boat trip around Dubrovnik. It is part of the Elaphites, a beautiful, partly untouched group of islands located in the north-west of the city. The highlight of Lopud is, foremost, the long, uniquely beautiful, velvety sandy beach Sunj. This dream beach is one of the best beaches in the entire region and is therefore a popular destination for island trips and boat tours. Also the small dreamy village Lopud with its picturesque harbor and the enchanting monastery has its charm and is really worth seeing.
The cheapest way to reach this destination is by ferry from Dubrovnik harbor. The ferry runs 3–4 times a day. Another possibility to visit Lopud on a day trip from Dubrovnik is by joining a guided tour. In this way, several islands of the Elaphites can be visited, and it's often offered in combination with snorkeling and a lunch.
Tip: Really fantastic day trips where you visit other Elaphite islands can be found online at GetyourGuide! On many of these tours lunch is usually included.
Ston & Mali Ston
The dreamy little towns of Ston and Mali Ston are another attraction, which you can visit via a day trip from Dubrovnik! Especially famous is the wall of Ston, which connects these two picturesque parts of the town. It is the longest fortress wall in the world after the Great Wall of China, and a large part of it can still be walked on today. From the top, you will enjoy a spectacular view over the beautiful landscape of Peljesac peninsula. Interesting is also the oyster farm of Ston, which has made a name for itself far beyond the borders of Croatia. You can taste these fine, delicious delicacies directly on site in the countless restaurants or even freshly caught directly from the oyster-farmers.
Tip: Ston is located about 50 kilometers from Dubrovnik, and the easiest way to reach it is by car. However, guided tours with tastings are also offered directly from Dubrovnik.
Montenegro (Kotor, Perast, Herceg Novi)
Thanks to its location at the southernmost tip of Croatia, Dubrovnik is ideally suited for day trips to many of the most beautiful attractions in Montenegro. Only about 40 kilometers away, you will have the opportunity to discover some of the highlights of this impressive destination on a day excursion. A really great tour is the one to the famous Bay of Kotor, a spectacular fjord with countless pretty coastal towns, which is also a popular stop for cruises! The most amazing place in the bay is definitely the charming old town of Kotor. But also the smaller coastal towns like Herceg Novi, the entrance gate to Kotor Bay, and the picturesque village of Perast with its church islands are no less worth seeing.
Tip: If you don't want to drive yourself from Dubrovnik to Montenegro, you can find a great selection of unforgettable tours here!
Mostar in Bosnia
The city Mostar in Bosnia is another popular destination for tours from Dubrovnik. It is located 140 kilometers away inland and can be visited as a long day trip. This small town is famous for the beautiful "Stari Most", the so-called Old Bridge, where daring bridge jumpers plunge into the depths of the ocean. The picturesque old town is also impressive, with its colorful bazaar inviting visitors on extensive shopping tours. Mostar is also very important historically, so a visit to this Balkan pearl is definitely worth it!
Tip: On a guided tour from Dubrovnik, you can usually visit other attractions in Bosnia along the way, such as the pilgrimage site of Medjugorje or the Kravica waterfalls.
Lokrum Island
The island, which is located directly in front of Dubrovnik, is called Lokrum and is probably one of the most popular destinations for an excursion. By boat, which leaves every 20 minutes, you can be on the charming island pearl in no time from the old port of the Old Town. Especially the subtropical vegetation of this island, which is being protected by UNESCO, is unique. Thanks to its rather small size, this densely forested islet with the small bays and gardens can be explored in one day. Also of interest are the Fort Royal, a Benedictine monastery and the botanical garden.
Tip: The island of Lokrum is best reached by boat from the port of the old town. Moreover, kayak tours to Lokrum are also offered!
Korcula
One of the most interesting excursions from Dubrovnik is a visit to Korcula island. It is one of the most breathtaking islands in the country, and Korcula town is particularly charming and worth seeing. Strolling through the city center, you will be amazed by the romantic stone alleys, where you will embark on a kind of time travel, passing many medieval sights. The historic city wall with its four towers is also impressive and characterizes the appearance of the city, giving this old town the nickname "Little Dubrovnik".
Keep in mind that Korcula is about 120 kilometers away from Dubrovnik and is connected by ferry from the Pelješac peninsula. Thus, you should plan enough time for this excursion or even stay overnight if necessary. Guided day tours often include wine tastings.
Tip: If you want to stay longer, we recommend the pretty resort of Lumbarda near the old town, where you can enjoy good wines and some of the most beautiful beaches of Korcula.
Kayaking
A trip by kayak is probably one of the most popular activities in Dubrovnik. The coast with the many great dream beaches is just spectacular and truly stuns travelers with lively tours by paddle boat. Thereby, you have the possibility to enjoy the brilliant scenery of Dubrovnik from the sea and to discover hidden grottos, small islands and lonely bays. Trips to the island of Lokrum are particularly popular, but a trip along the coast is also definitely worth it!
Tip: Kayaks can be rented on site and are charged by the hour. If you'd rather join a guided kajak tour, you'll find fantastic deals here!
Trsteno Arboretum
The Trsteno Arboretum is a small botanical garden located about 18 kilometers from Dubrovnik and is just perfect for a relaxed half-day excursion. Especially botany fans, but also Game of Thrones fans, will enjoy themselves here. The enchanting park, with a view of the deep blue sea, had already been laid out in the 15th century. More than 400 plant species grow on about 28 hectares, including beautiful flowers, exotic trees and cacti. Worth seeing and a popular photo motif is the fountain with the statue of Neptune in the middle.
Tip: Just below the arboretum is a small bay with a harbor, which invites you to swim and relax. A really lovely place for a half-day trip from Dubrovnik.
Island Mljet
A popular destination from Dubrovnik is the island of Mljet, Croatia's so called "evergreen island". It is famous for its beautiful national park with deep forests and picturesque salt lakes like Veliko Jezero (Big Lake) and Malo Jezero (Small Lake). A Benedictine monastery from the 12th century can also be visited here. The island can be reached either by car, taking a ferry from the island of Peljesak, or by boat from Dubrovnik, where a passenger ferry will take you directly to Mljet in about 90 minutes.
Tip: Another way to explore Mljet would be via a guided tour from Dubrovnik, which usually includes lunch and pickup from the hotel.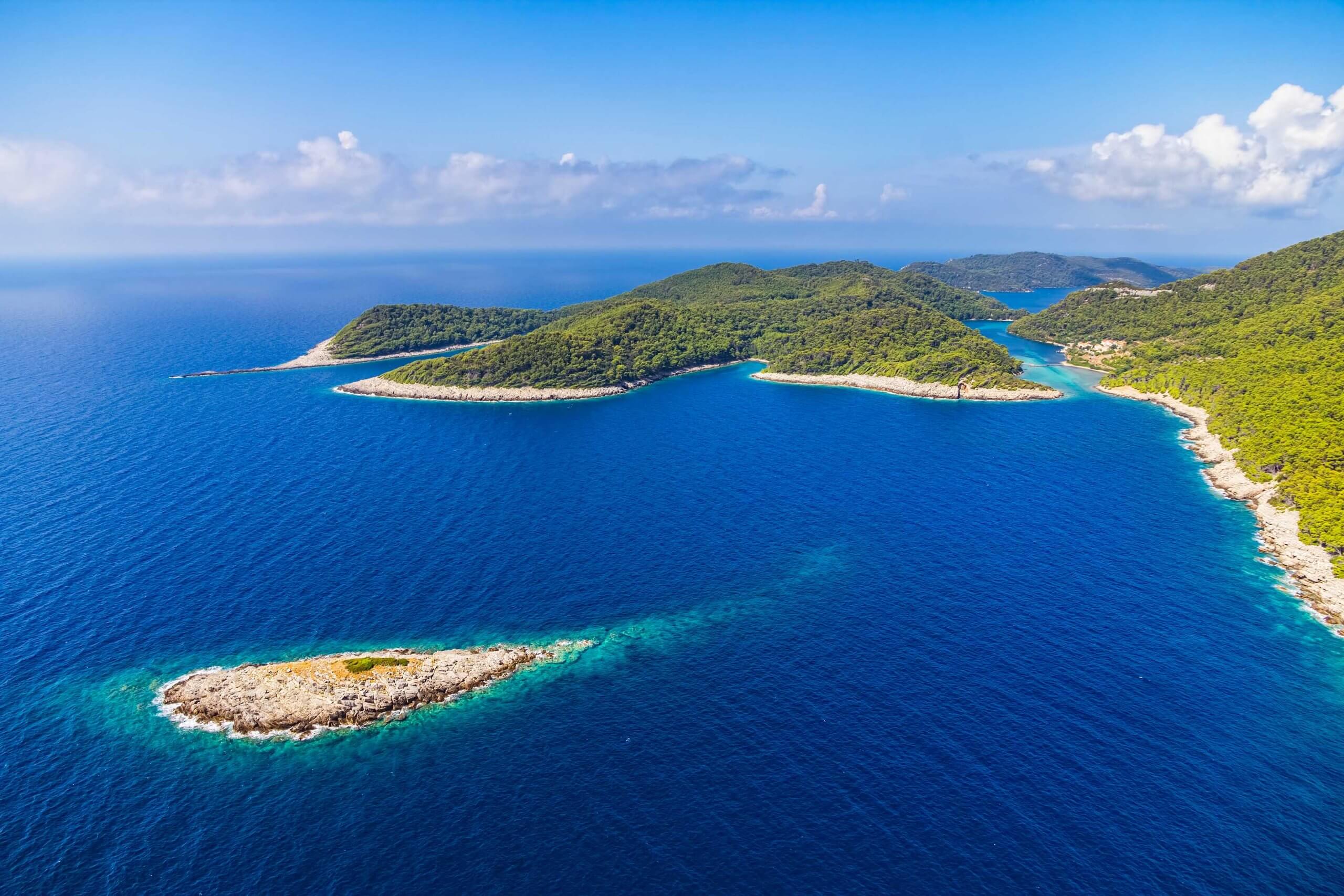 ---
Find the best accommodation in Dubrovnik:
---
More about Dubrovnik in Croatia:
---
Disclosure: Some of the links below are affiliate links. Meaning that if you click on certain links, and then subsequently purchase a product, I will receive a small commission at no extra cost to you.
---