Top 12 UNIQUE Boutique Hotels in Madrid
A vacation in one of the stunning design hotels or boutique hotels in Madrid is sure to make your city break an all-around wunderful experience. These absolutely stylish accommodations score with modern design, with a mix of luxury and comfort, and with a lot of attention to detail. A few of the best boutique hotels even have a rooftop terrace with a view, and some also offer a pool, perfect to cool off on hot summer days. But there is even more! Many of these chic accommodations are located in the center of the Spanish capital, making them the ideal starting point for sightseeing, shopping and going out. But what are the most beautiful boutique hotels in Madrid, what are the real insider tips, and which design hotels are particularly well suited for a stylish city break?
In this guide you will find our recommendations for the best design and boutique hotels in Madrid. We show you some breathtaking pictures and give you lots of tips and information that will surely help you choose the perfect hotel.
URSO Hotel & Spa
The URSO Hotel & Spa is a terrific recommendation for a luxurious boutique hotel vacation. It is located in a historic palace built by José María Mendoza Ussía and today combines a royal character with the modern comforts of a luxury 5-star boutique hotel. The rich history of the building can be felt in every corner, there are many original elements such as the stained-glass windows, decorative tiles, a library, marble floors and beautiful wooden walls. The large, tasteful rooms and suites are also a dream, designed with great attention to detail. They have also been skillfully decorated with fine natural fabrics, antique photographs and exclusive furniture. In the morning, moreover, a huge breakfast is served in the light-flooded winter garden.
You should definitely try the culinary offer at the hotel! The Media Ración restaurant serves wonderful traditional Madrid dishes. To relax, head to the hotel's spa, which offers guests a pool, hammam, gym, and treatments.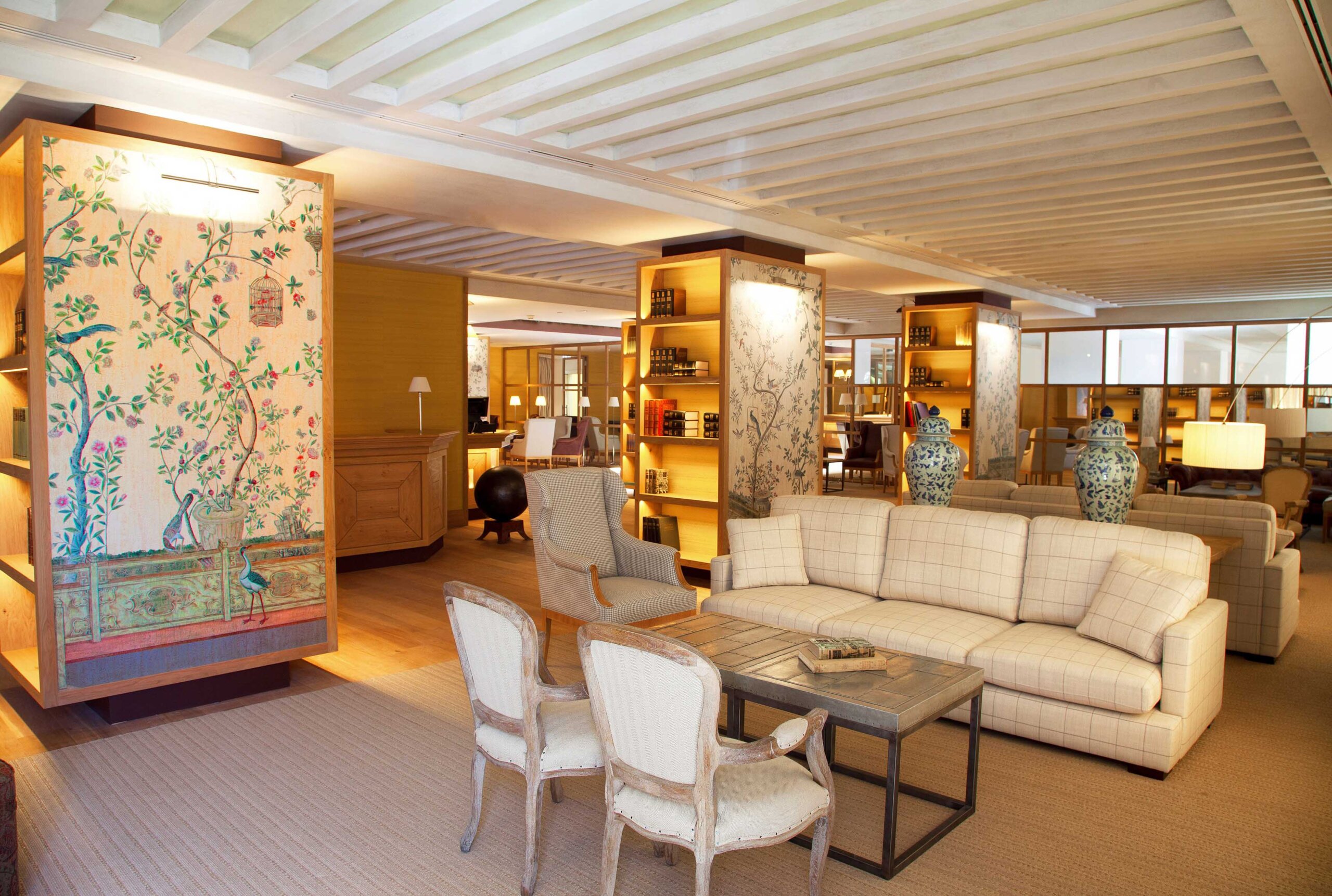 CoolRooms Palacio de Atocha
The CoolRooms Palacio de Atocha is definitely one of the best boutique hotels in Madrid. It is located in the center of the Spanish capital, in a beautifully renovated palace dating back to 1852, not far from the main attractions. This upscale 4-star hotel scores with a cosmopolitan ambiance, with a dreamy design and lots of flair. Even the entrance with the sculptures is spectacular, and the 7-meter-high passage to the secret garden with the enchanting pool is absolutely unique. Also the 34 spacious, light-flooded rooms and suites, which offer the best living comfort, are simply to fall in love with. Guests can expect a grandiose mix of classic and modern. One recommendation is the Coolsuites, which feature an outdoor whirlpool and a private terrace with a view of the Madrid skyline.
The El patio de Atocha restaurant offers a culinary treat, combining traditional dishes with slow food and organic gastronomy. A real highlight is moreover the excellent breakfast in the morning, which will certainly leave nothing to be desired with a true variety.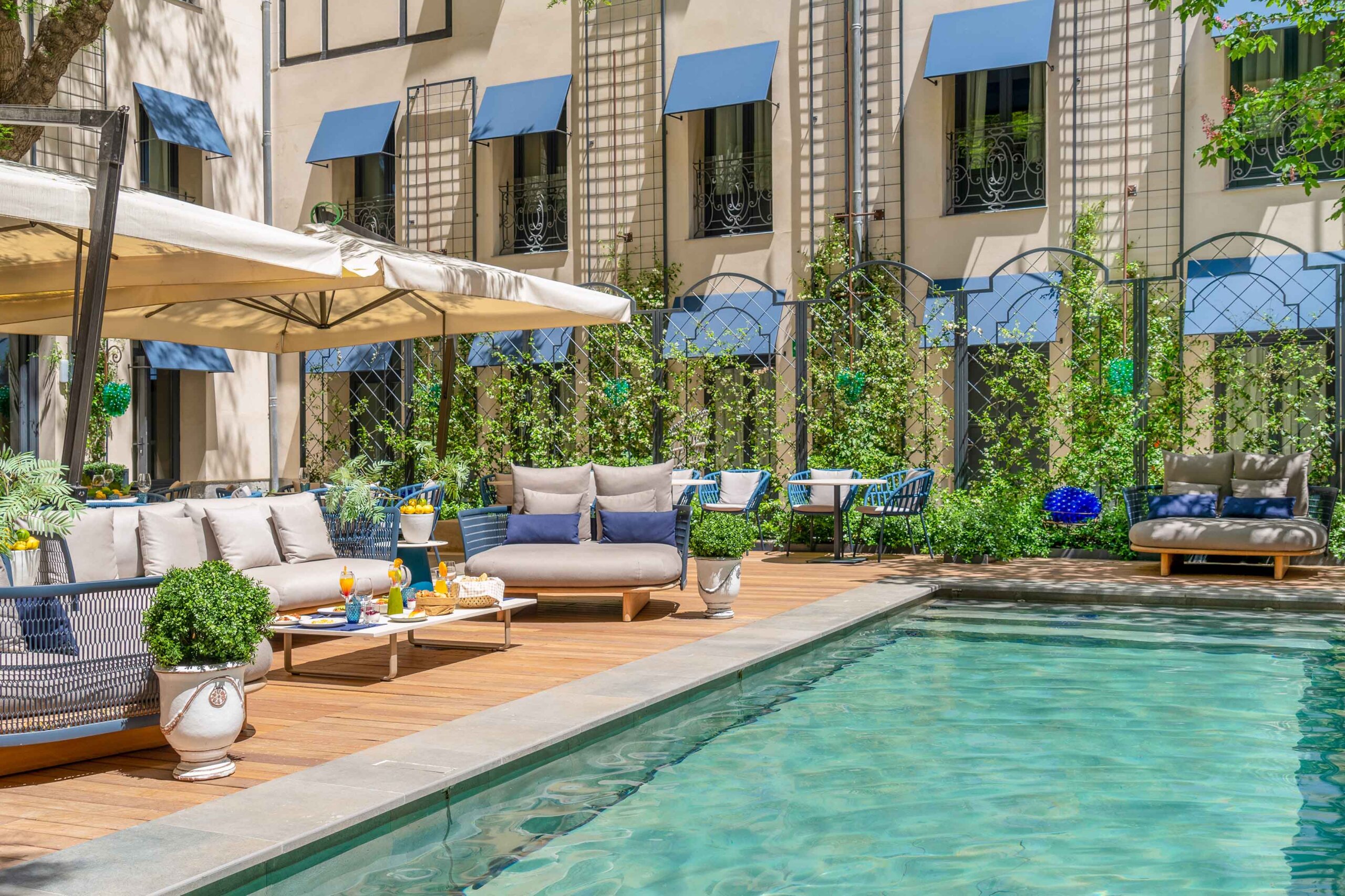 Room Mate Alba
The Room Mate Alba is a fabulous option for a city trip to Madrid thanks to its excellent location in the center, just a few meters from the legendary Plaza Santa Ana. In the surrounding, there is also a wide range of gastronomic and cultural offers. This cozy boutique hotel scores with a unique, cosmopolitan design and with fascinating color combinations that conjure up a true feel-good ambience. The rooms were designed by the famous interior designer Lorenzo Castillo and the style elements reflect the literary district in which the hotel is located. Friendly colors have been elegantly combined with many hip elements. Room Mate Alba also has a fitness room and a beautiful courtyard to relax in.
The rich breakfast buffet at Room Mate Alba is also excellent, as there is definitely something for everyone. Breakfast is even offered from 7 am to 12 pm, so even late risers can enjoy their morning meal in peace. Perfect if you want to start the day full of energy.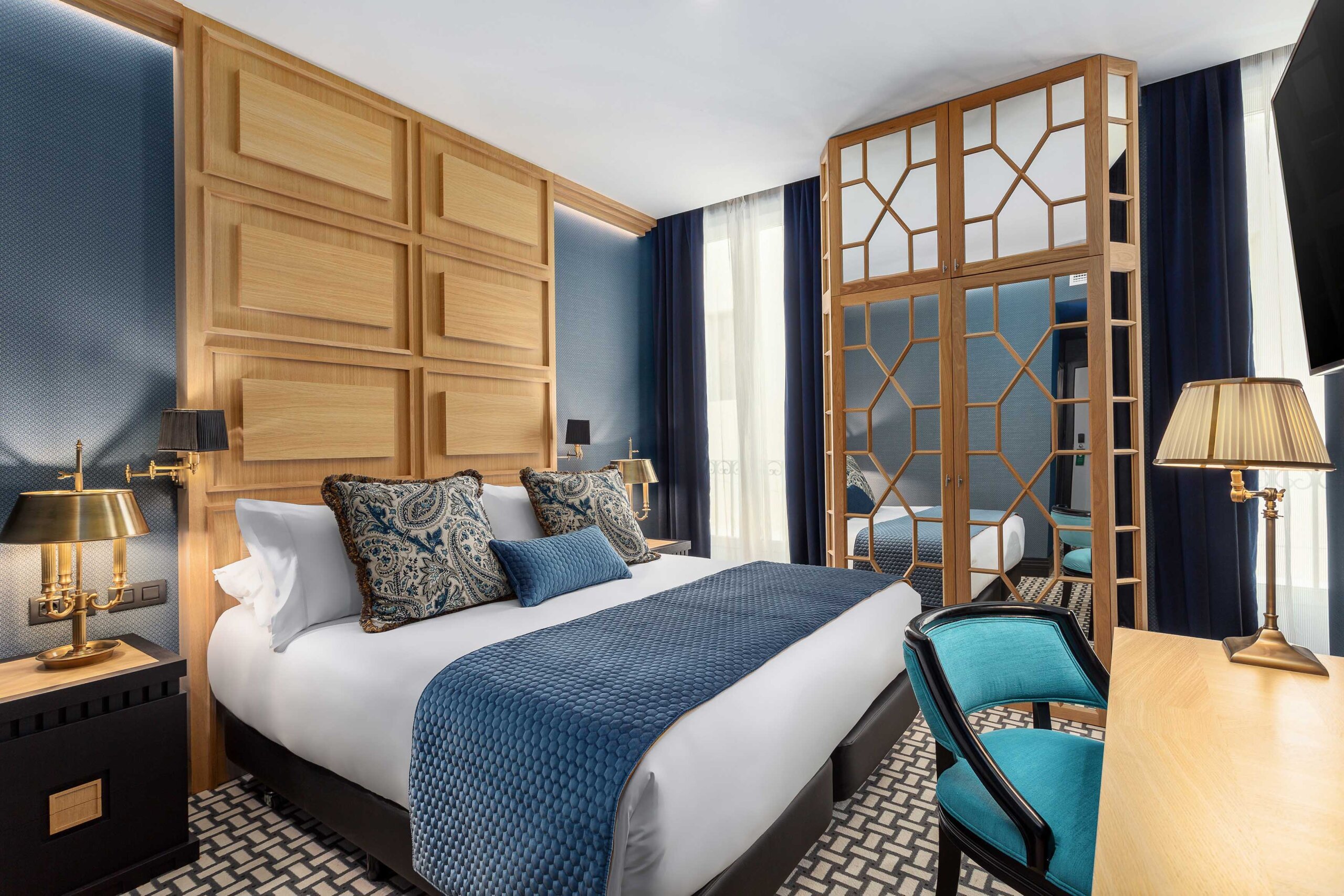 Palacio de los Duques Gran Meliá
The Palacio de los Duques Gran Meliá Hotel is a real insider tip in Madrid. This gorgeous boutique hotel is located in a 19th-century palace inspired by Velázquez's famous paintings. Its location in the El Madrid de los Austrias neighborhood, next to the Royal Palace and the Almudena, is also unbeatable and the perfect base from which to explore Madrid. The magical ambiance at the hotel is truly to fall in love with! It even has its own lush, historic garden, which conjures up a true oasis of tranquility on 1,000 m². Moreover, the greatest attention is paid to the smallest details, individuality and elegance. The Palacio de los Duques Gran Meliá also offers 3 restaurants with Spanish and French cuisine as well as excellent wines.
The hotel's rooms and suites are absolutely elegant, very tastefully designed with velvety colors. On top of that, the hotel has a seasonal rooftop pool, there's a charming spa area, and a terrace with panoramic views of the city.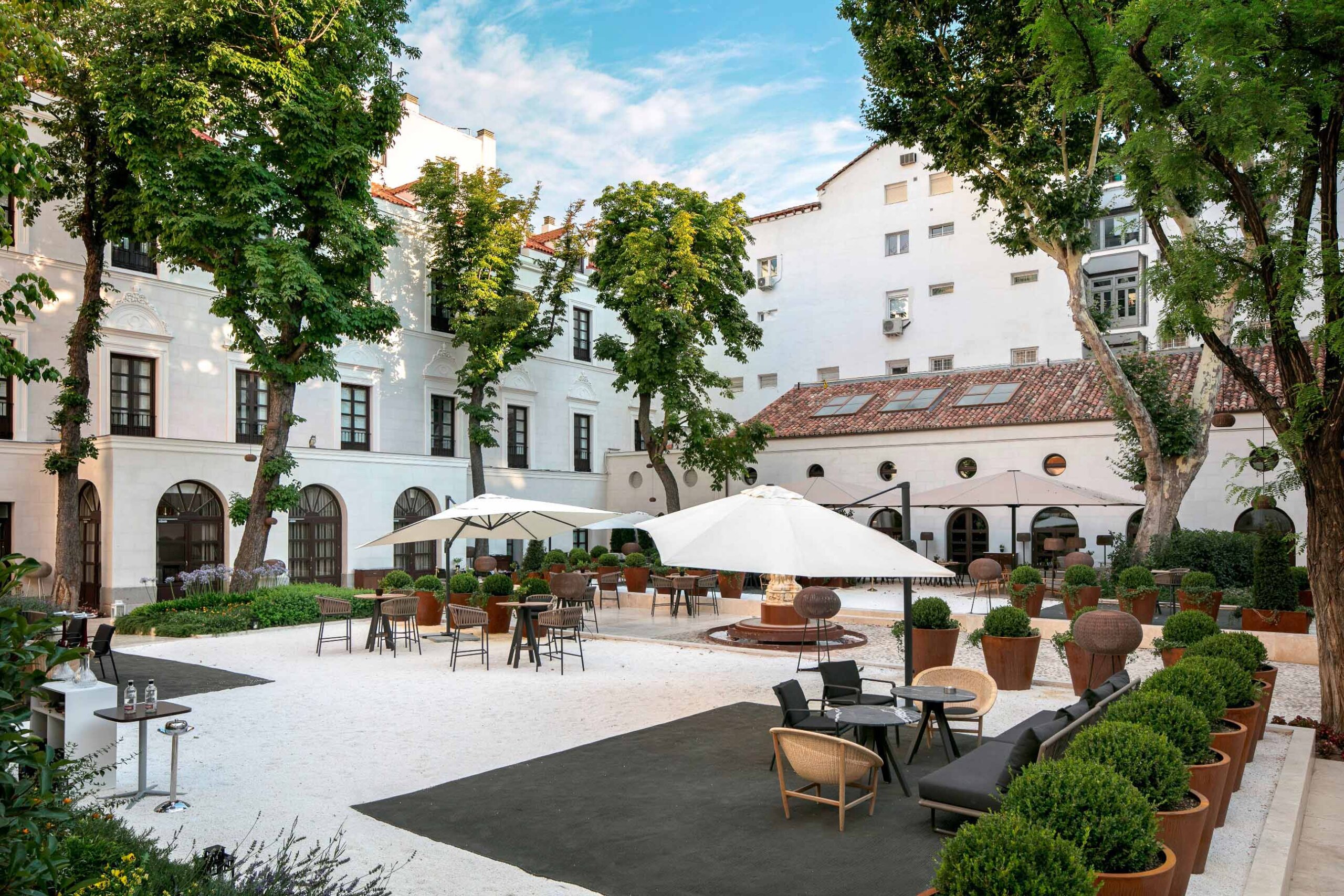 The Madrid EDITION
The Madrid EDITION is among the absolute coolest design hotels in Madrid. It is located in a quiet area, surrounded by historic buildings, near Puerta de Sol in the heart of the Spanish capital. The hotel concept reflects the city's culture and inhabitants, and also scores with innovative design and an extra dose of luxury. The 200 rooms and suites are absolutely chic, with stylish modern decor, bright colors, and fine details by Ian Schrager. Grandiose is also the gastronomic offer in the hotel, including the stylish restaurant Jerónimo, the restaurant Oroya with a beautiful terrace garden, a chic cocktail bar with fireplace and a cool pool bar.
Moreover, a jewel in the design hotel is the roof terrace, which features a fantastic seasonal outdoor pool with comfortable sun loungers. To relax after sightseeing, there's also a terrific spa area and a state-of-the-art gym to work out in.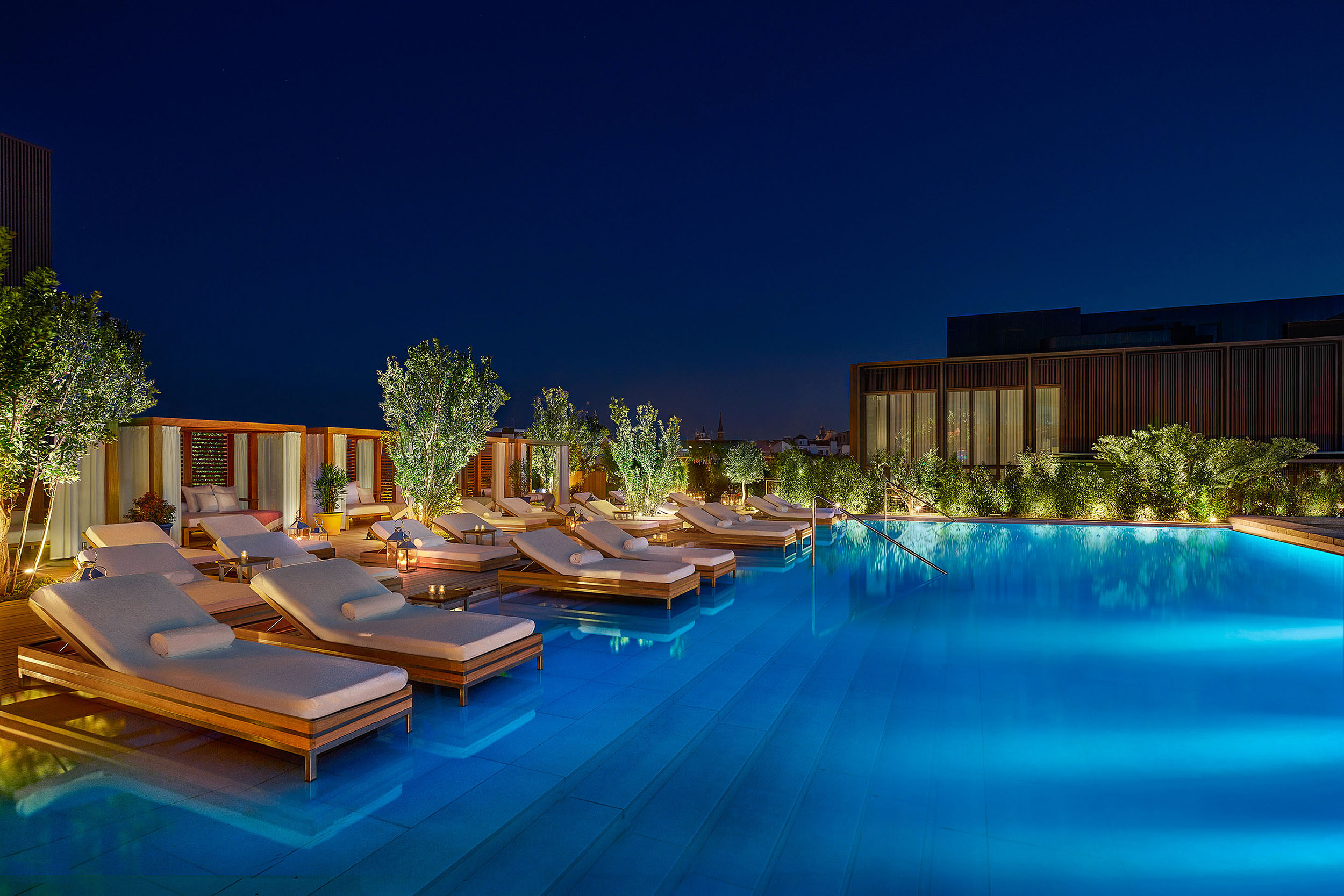 Hotel Urban
The Hotel Urban is a guarantee for a very unique Madrid trip. This boutique hotel is a true icon of modernity, avant-garde and luxury. Here charm and glamour meet gastronomy and art, conjuring together an exclusive hotel experience in the center of the Spanish capital. The 96 beautiful rooms and design suites of the boutique hotel are also a dream. They inspire with unique avant-garde design, a perfect combination of elegance and comfort. Many of the guest rooms also offer a fantastic view of the center of Madrid or of the hotel's quiet courtyard. Wonderful is also the fantastic culinary offer that you can enjoy during your stay in the hotel's restaurants.
You should also definitely visit La Terraza del Urban, from where you can experience a magnificent view over the center of Madrid. With a wide selection of cocktails and delicious tapas, you can toast your vacation. During the summer months, a lovely pool opens for hotel guests to cool off.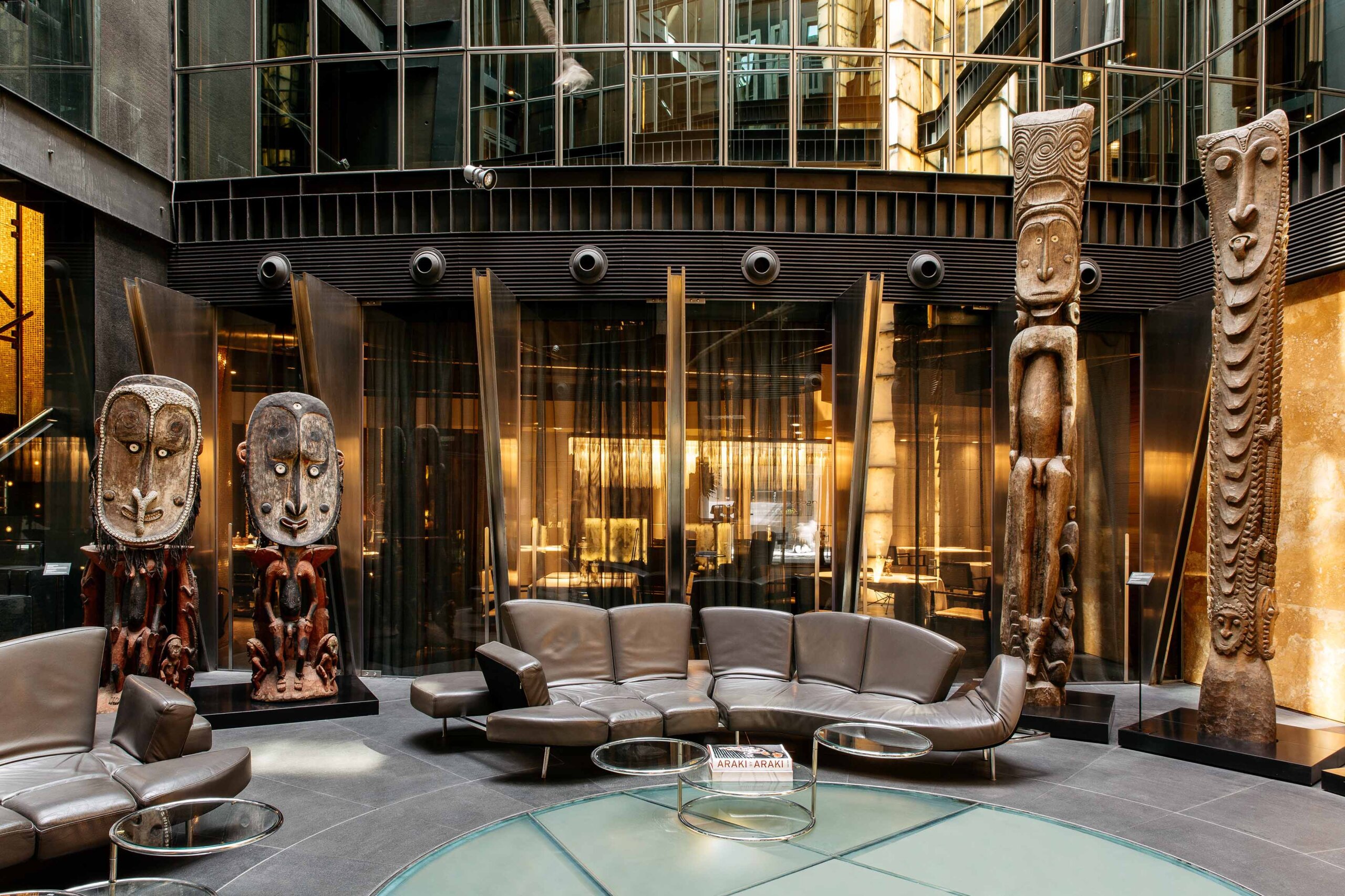 Hard Rock Hotel Madrid
The Hard Rock Hotel Madrid is a cool option for a hip boutique hotel vacation. Not only Hard Rock Café fans will enjoy this chic 4-star hotel because this hotel really has a lot to offer. All the hotel rooms are bold and urban in design, and offer plenty of chic extras like free music channels to Lavazza coffee machines. For that extra special stay, they even offer music accommodations with loaner Fender guitars and custom playlists. Moreover, depending on the category, rooms offer views of downtown Madrid. But there's more! In the in-house store, you can find exclusive clothing and accessories in the unique hard rock style. To work out, head to the 24-hour fitness center, and free yoga classes are offered in the room on the TV.
A refreshment in the hot summer months is definitely the pool at the charming hotel garden. Later, meet up at RT60, the hip rooftop bar with a stunning 360° view, to relax together and end an action-packed day in downtown Madrid in style!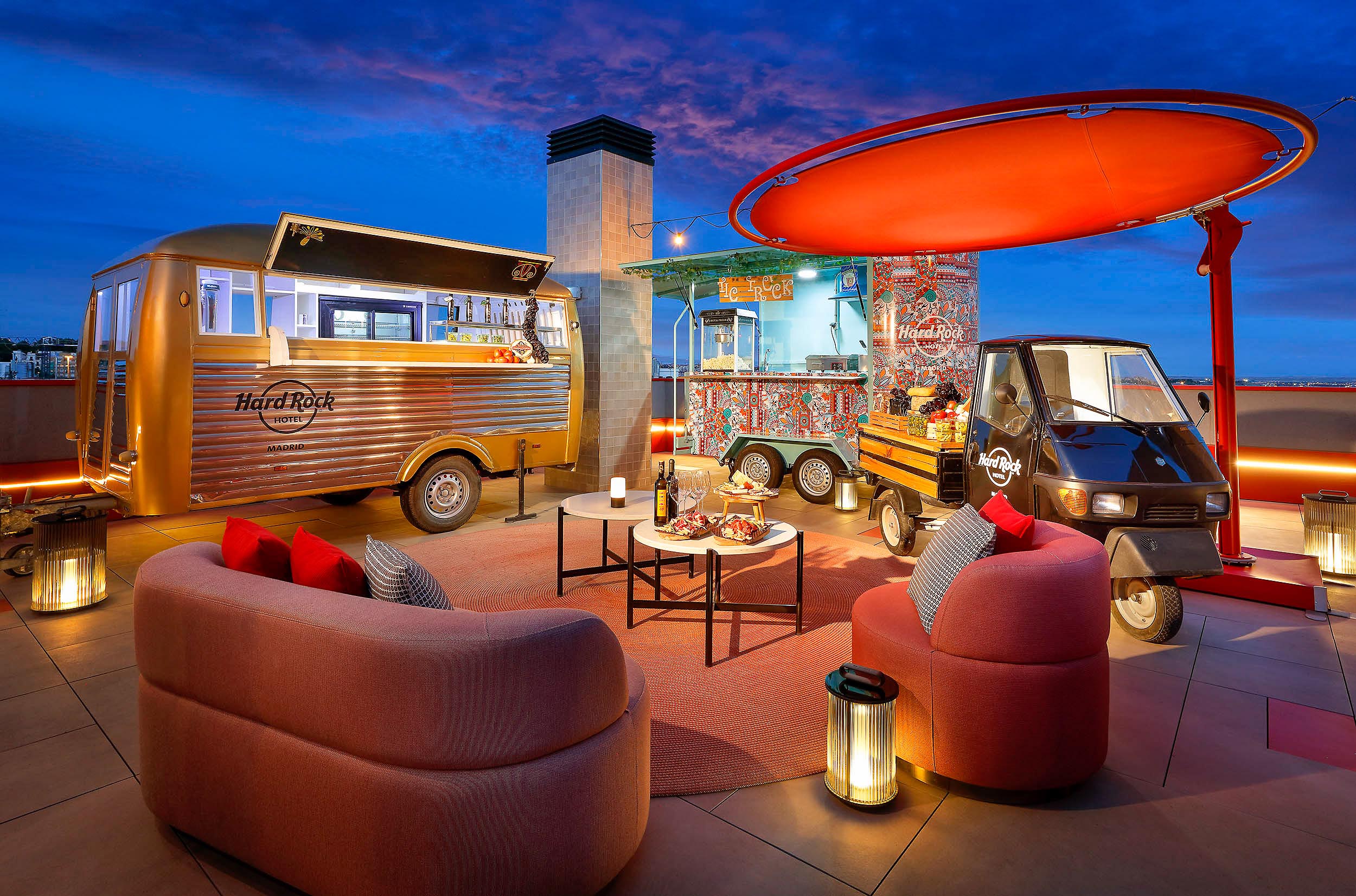 Only YOU Boutique Hotel Madrid
The Only YOU Boutique Hotel is an insider's tip for a stylish trip to Madrid. Here you'll stay in a restored 19th-century palace with a mix of colonial style, modern furnishings and creativity. The atmosphere at the boutique hotel is relaxed, and the beautiful lounge area with its great selection of cocktails and gourmet dishes is unique. Moreover, one enjoys a fascinating interior design as well as exceptionally chic furniture at its finest, as each room is an experience in itself. It's hardly surprising, then, that this hotel has already been voted the best boutique hotel in the world in the design category. The 125 rooms are also very comfortable, cozy and furnished with beautiful design and attention to detail.
A highlight is the fantastic location of the boutique hotel. It is located in the Salesas district, and so from the hotel guests can reach many other city districts, the most important sights and numerous good restaurants as well as bars on foot in no time. Perfect for a city trip of a special kind.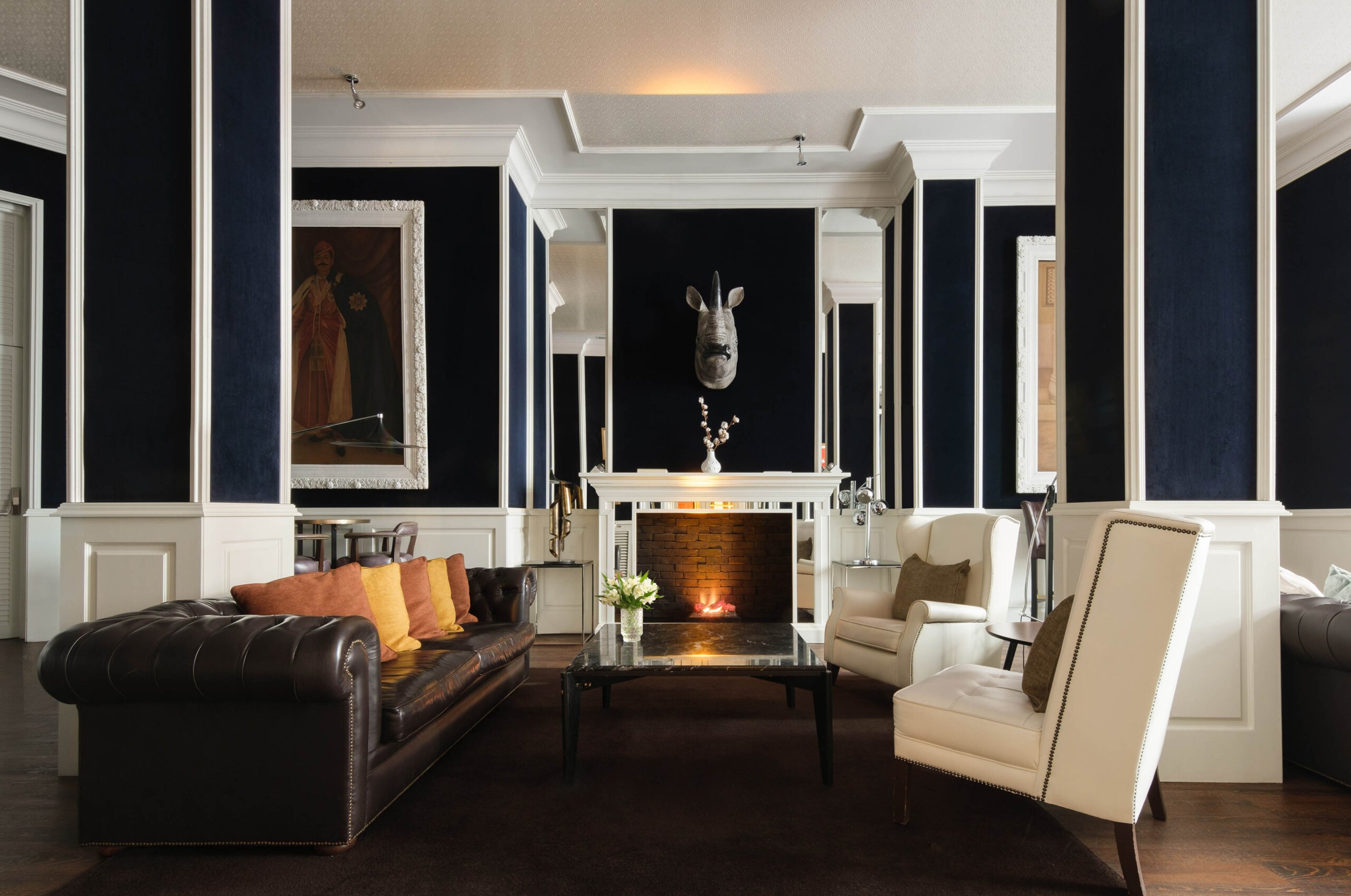 The Principal Madrid
The Principal Madrid Hotel is a jewel of luxury & lifestyle in the capital of Spain. It is the first 5-star boutique hotel on the famous Gran Vía and fascinates with stylish interiors and an exclusive sophistication. The service and privacy offered are outstanding and together give this boutique hotel the ambience of a private club. A real gem is also the spectacular garden terrace" La Terraza", where you can enjoy original cocktails and experience a stunning view of the city of Madrid, surrounded by olive trees, cypresses and fountains. Also charming are the 76 rooms and suites, which conjure up a true feel-good ambience with stylish design.
Guests are treated to relaxed gourmet cuisine in the Ático restaurant. Later, it's best to head to La Pergola, where you can enjoy some dessert or cocktail at the glassed-in terrace. A highlight is also the breakfast at the hotel, which is guaranteed to leave nothing to be desired.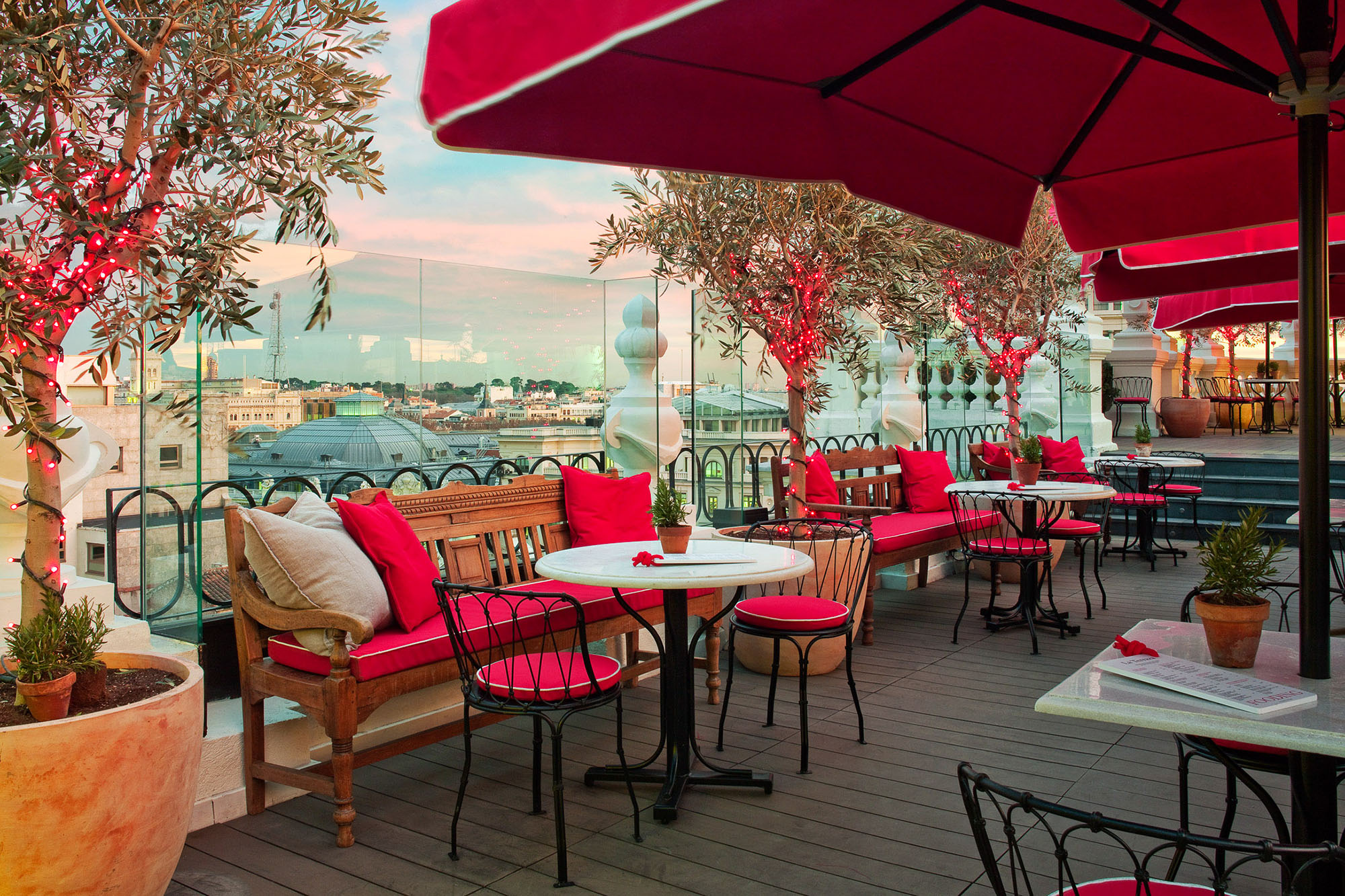 Room Mate Macarena – Gran Vía
The Room Mate Macarena is a terrific choice for a beautiful yet affordable stay in Madrid. This design hotel scores not only with good location and hip look, but also the value for money, as well as the service, are excellent. Located in Gran Vía, a vibrant area of the city, it's also just a few steps away from major attractions like Plaza Mayor, Puerta del Sol, and the Temple of Debod. Also exceptional is the delicious breakfast, which has something for everyone and is even offered until 12 noon. Perfect for late risers and those who like to start their sightseeing day later. Moreover, the hotel has a chic roof terrace with pool, where you can admire magnificent sunsets.
Absolutely charming is the design of Room Mate Macarena's 130 wonderful rooms and suites, where avant-garde elements combined with friendly, rich colors conjure up a cosmopolitan atmosphere. A fabulous and, to top it off, quite affordable choice for a design hotel vacation in Madrid!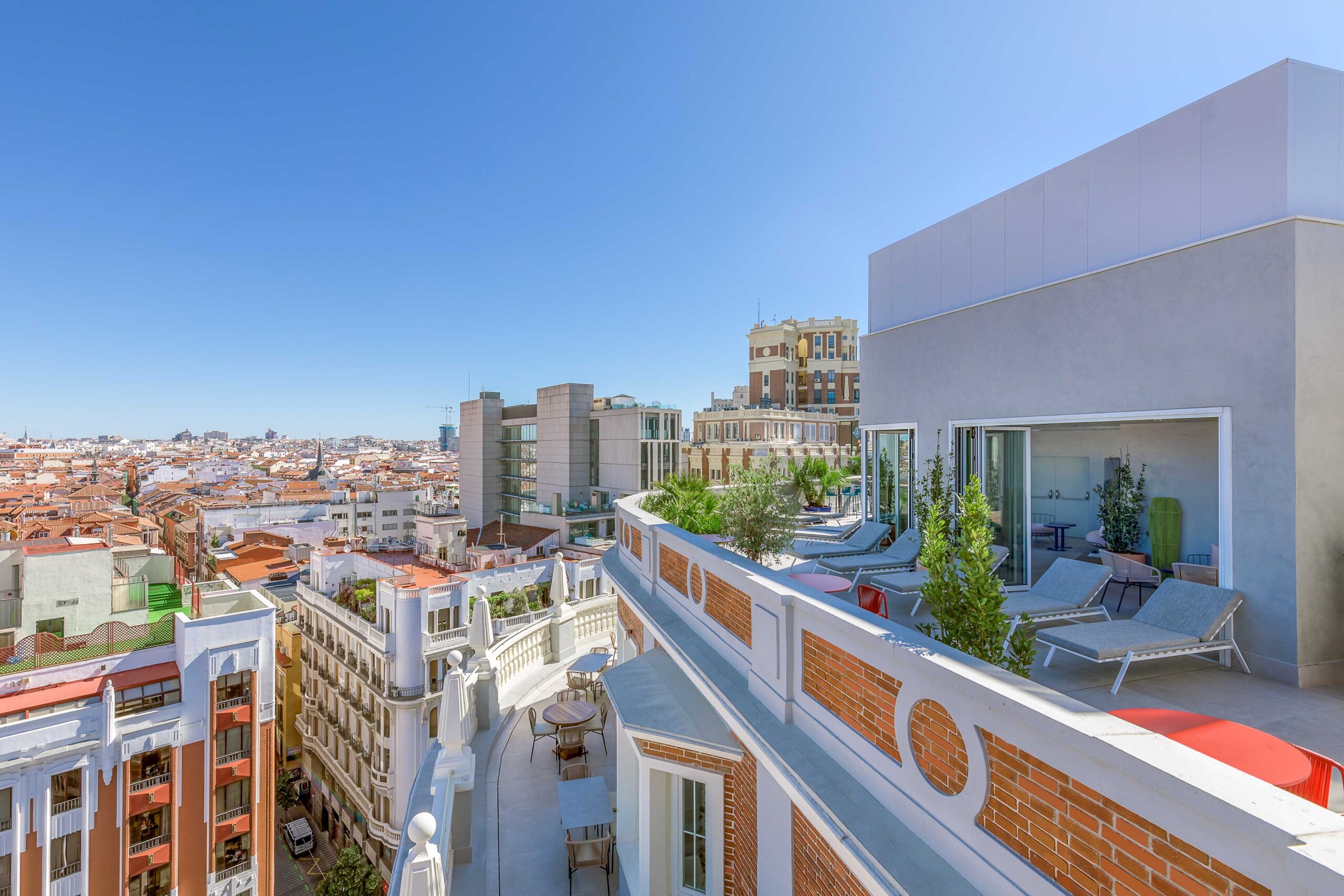 ---
More about Boutique Hotels:
---
Disclosure: Some of the links below are affiliate links. Meaning that if you click on certain links, and then subsequently purchase a product, I will receive a small commission at no extra cost to you.
---