Top 12 UNIQUE Boutique Hotels in Berlin
The many first-class design and boutique hotels in Berlin are sure to make your city trip a unique experience. These noble accommodations inspire with a lot of attention to detail, stylish furnishings, a touch of luxury and especially an ambience away from the boring mainstream. Perfect, then, if you want to experience the German capital in style. But not only that! Many of these fantastic hotels are in prime locations in the center of Berlin, making them the ideal base for sightseeing and shopping. But what are unique boutique hotels in Berlin, what are the insider tips and which design hotels are particularly suitable for an exceptional vacation?
In this guide, you will find our recommendations for amazing design hotels and boutique hotels in Berlin. We show you great pictures and also give you plenty of tips and info that will definitely help you choose the perfect hotel.
Vienna House Andel's Berlin
The Vienna House Andel's is one of the coolest design hotels in Berlin. It is located in the melting pot of Friedrichshain, and Kreuzberg, as well as Alexanderplatz, is not far from here. This grandiose 4-star superior design hotel combines the diversity of the German capital. Here modern design meets urban lifestyle, scene bar atmosphere meets star cuisine, and event location meets relaxed retreat. Guests love the hip style and fresh charm that this design hotel exudes from the very first minute. In addition, the hotel has three fabulous restaurants, and a hip bar that serves incredibly delicious cocktails.
In addition, the Vienna House Andel's has its own spa area "SpaSphere", a wonderful oasis of well-being, where you can enjoy a Finnish sauna, bio sauna, whirlpool, fitness area and relaxation terraces to unwind on 550 m².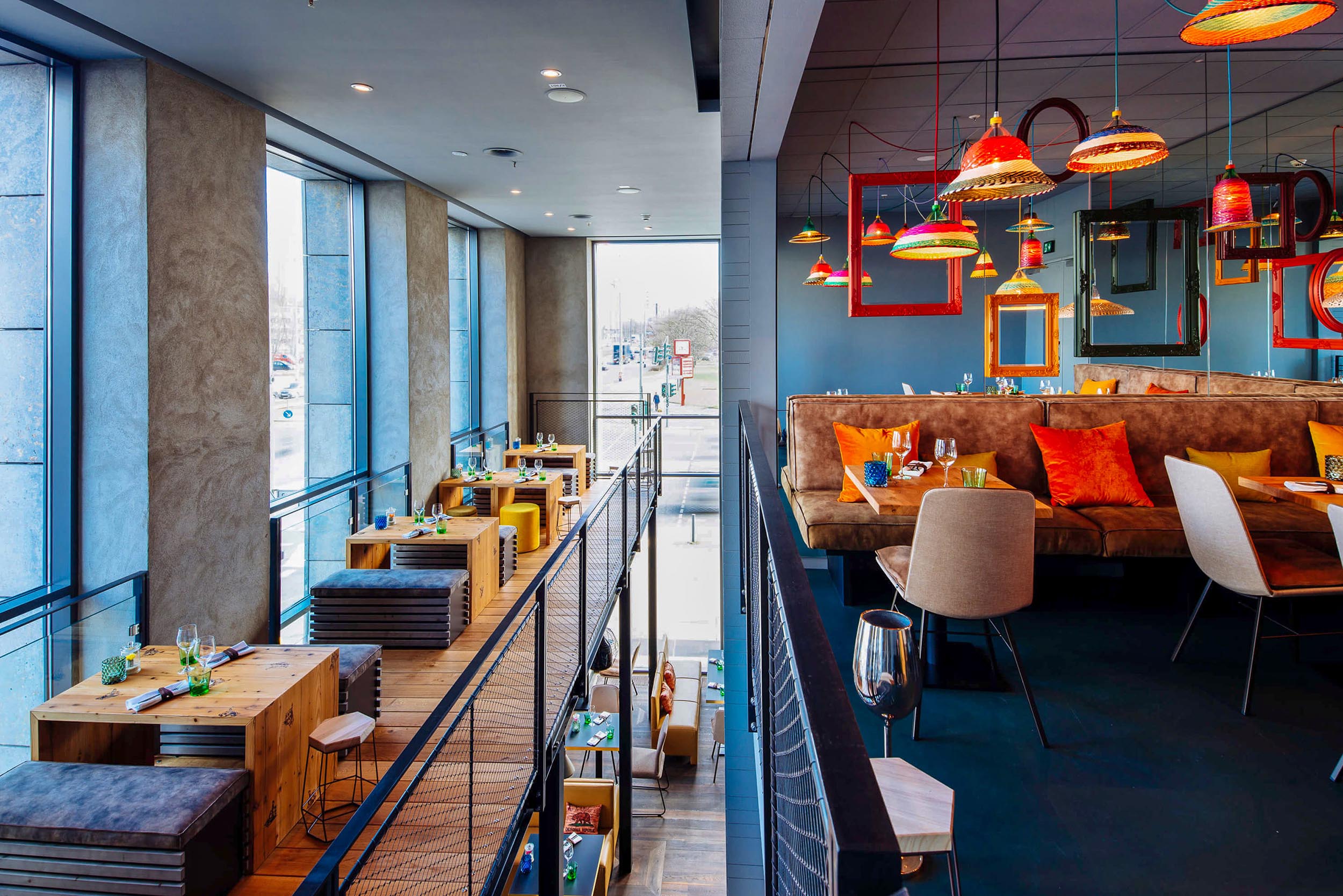 Provocateur Hotel Berlin
The Provocateur Hotel is a very special boutique hotel in Berlin. It doesn't get any more fabulous than this! Especially couples love this chic location, which makes a city trip for two an unforgettable experience. This Berlin boutique hotel is absolutely glamorous, incredibly chic and fascinates with a certain addiction factor. Here, quality, comfort, and design meet at the very highest level. The 58 rooms and suite are reminiscent of the creative roots of the golden 20s in Paris. Furnished with velvet fabrics, seductive beds, and designed with many dark rich colors, one can enjoy a stay away from the trivial.
A dream is also the Golden Phoenix Restaurant, where Chef The Duc Ngo delights his guests with exceptional Franco-Chinese creations. Later, you should definitely try a cocktail at the Provocateur Bar, which incidentally was named "Hotel Bar of the Year."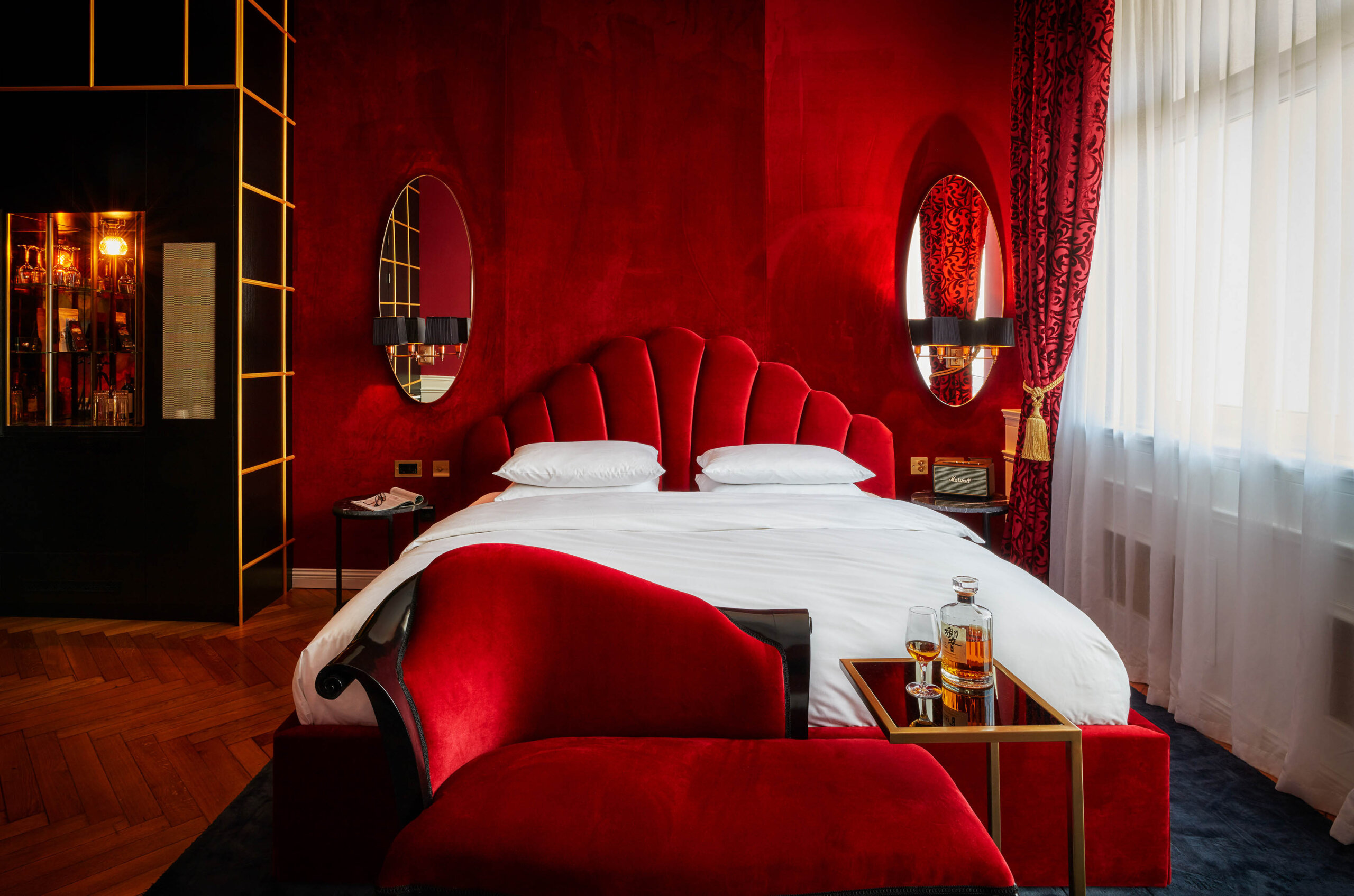 SO/Berlin Das Stue
The SO/Berlin Das Stue is a stunning lifestyle boutique hotel in Berlin. The ambiance scores with a delightful mix of extravagance, art, and plenty of relaxation. The quiet location in a classicist listed building, in the city's embassy district, is also unique. The beautiful hotel complex has a historic old building as well as a new building, with a lot of attention paid to individual design, colors and shiny finishes. The 78 rooms and suites have a personal touch, and are very tastefully decorated, with friendly colors and high-quality materials. From some of the guest rooms, you can also enjoy a magnificent view of the Tiergarten!
Absolutely terrific and perfect for relaxing after a day of sightseeing is the Wellness & Spa area at SO/ Berlin das Stue. The daylight spa inspires with several treatment rooms, a chic indoor swimming pool as well as a glass sauna and a fitness room.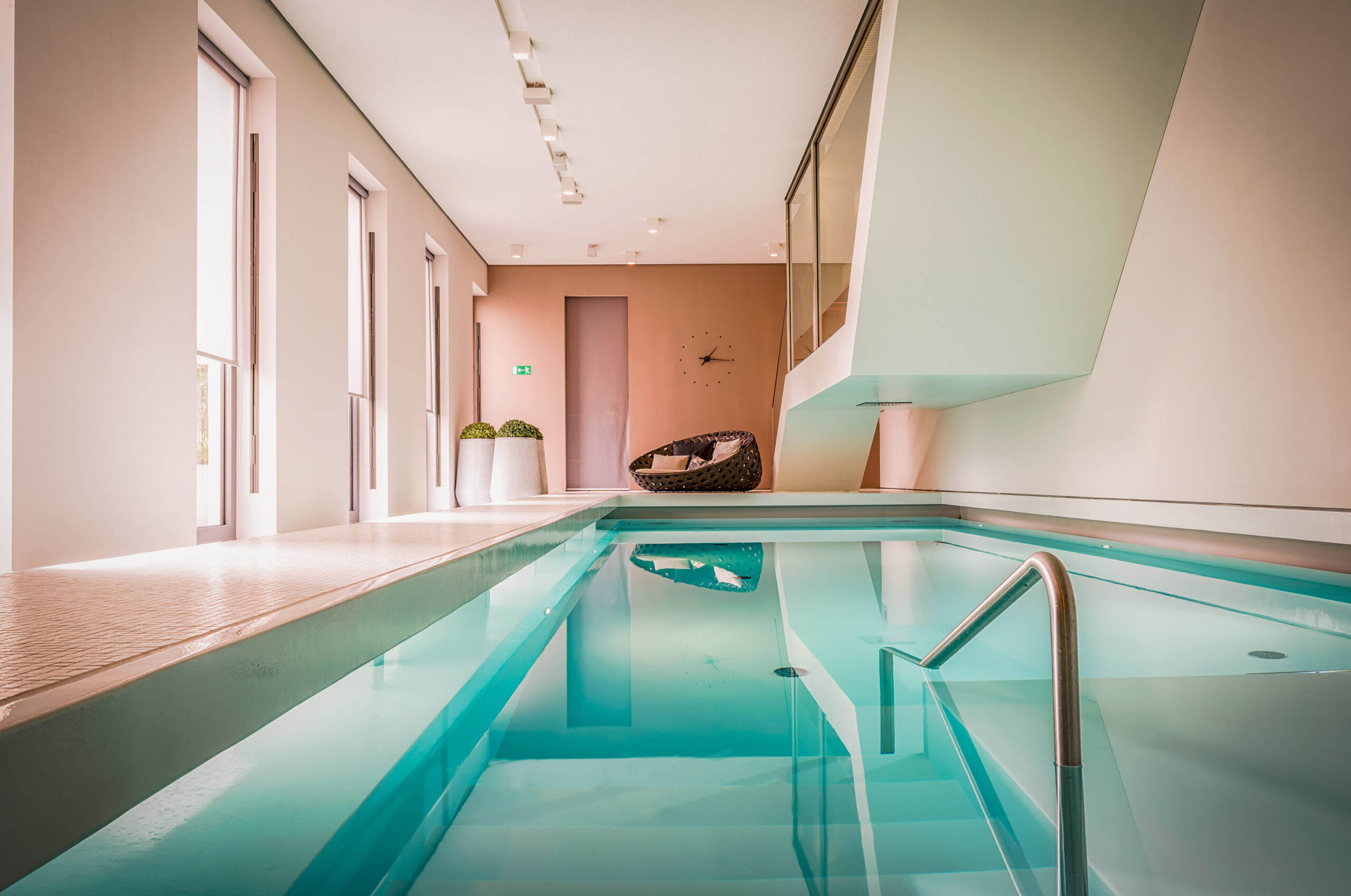 Hotel Zoo Berlin
An exceptional boutique hotel in Berlin is the Hotel Zoo in a top location on the famous Kurfürstendamm. This beautiful, luxurious hotel is located in a historic building from 1891, although today's Hotel Zoo was completely renovated in 2014. Today, it boasts a grandiose mix of former glamour and modern aesthetics in a chic industrial style. The 127 rooms and 14 suites are truly unique, and the exclusive ambience promises a true all-round feel-good feeling! A highlight is also the Restaurant Grace, which was designed in the hip style of a New York townhouse and has become a hotspot for casual fine dining in Berlin.
Moreover, the most beautiful roof terrace in Berlin, the GRACE ROOFTOP, is located directly on the Hotel Zoo Berlin on the 7th floor. At lofty heights, you can enjoy excellent cocktails and a magnificent view of the city's rooftops.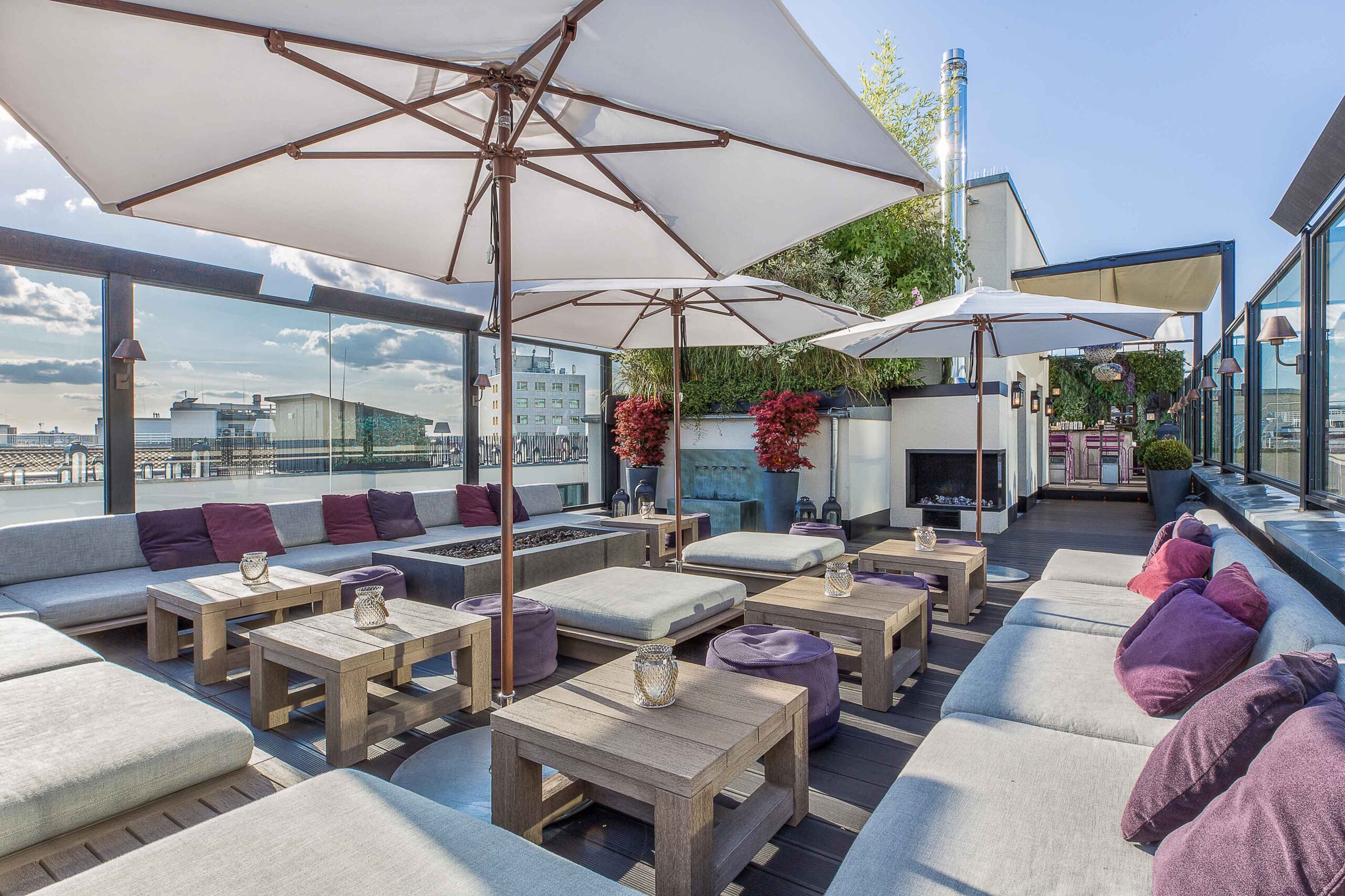 Sir Savigny Hotel
The Sir Savigny Hotel is a small, extremely charming boutique hotel in Berlin and a true oasis in the middle of the urban jungle. This wonderfully pretty accommodation is located in a building dating back to 1892, in the distinguished literary district of Charlottenburg, about 400 meters from the famous Kurfürstendamm. Thanks to its location, this boutique hotel is a fabulous choice for a stylish yet quite affordable city trip to Berlin! The 44 rooms are really hip and individually designed, from art nouveau to modern guest rooms, everything is represented here. A dream moreover is the fine-woven cotton bedding and the large selection of pillows that guarantee a restful night's sleep.
Also unique is the in-house, open kitchen! The so-called "The Butcher" is a mix of restaurant with a communal table, library and changing art exhibition. The motto here is: Burger, Booze & Beer! So you can look forward to delicious drinks and burgers from Aberdeen Angus beef from Scotland.
Hotel Orania.Berlin
The Orania.Berlin is a fascinating, truly exceptional 5-star boutique hotel. It is located in the creative heart of Berlin, in the hip Kreuzberg neighborhood, known for its cultural and art scene. Moreover, many of the city's best attractions are not far from here. The exceedingly chic hotel dates back to 1913 and combines contemporary design with history. The 41 gorgeous suites and double rooms shine in warm colors and are furnished with natural materials from all over the world. They enchant with timeless casual elegance from Italy as well as Asian lightness, creating an absolute feel-good atmosphere at the very highest level.
As early as 1913, Oranienplatz was home to a lively artistic scene, with numerous concerts and events. Today, the Orania.Berlin revives these times. Concerts with great artists who live in Berlin are regularly held at the hotel.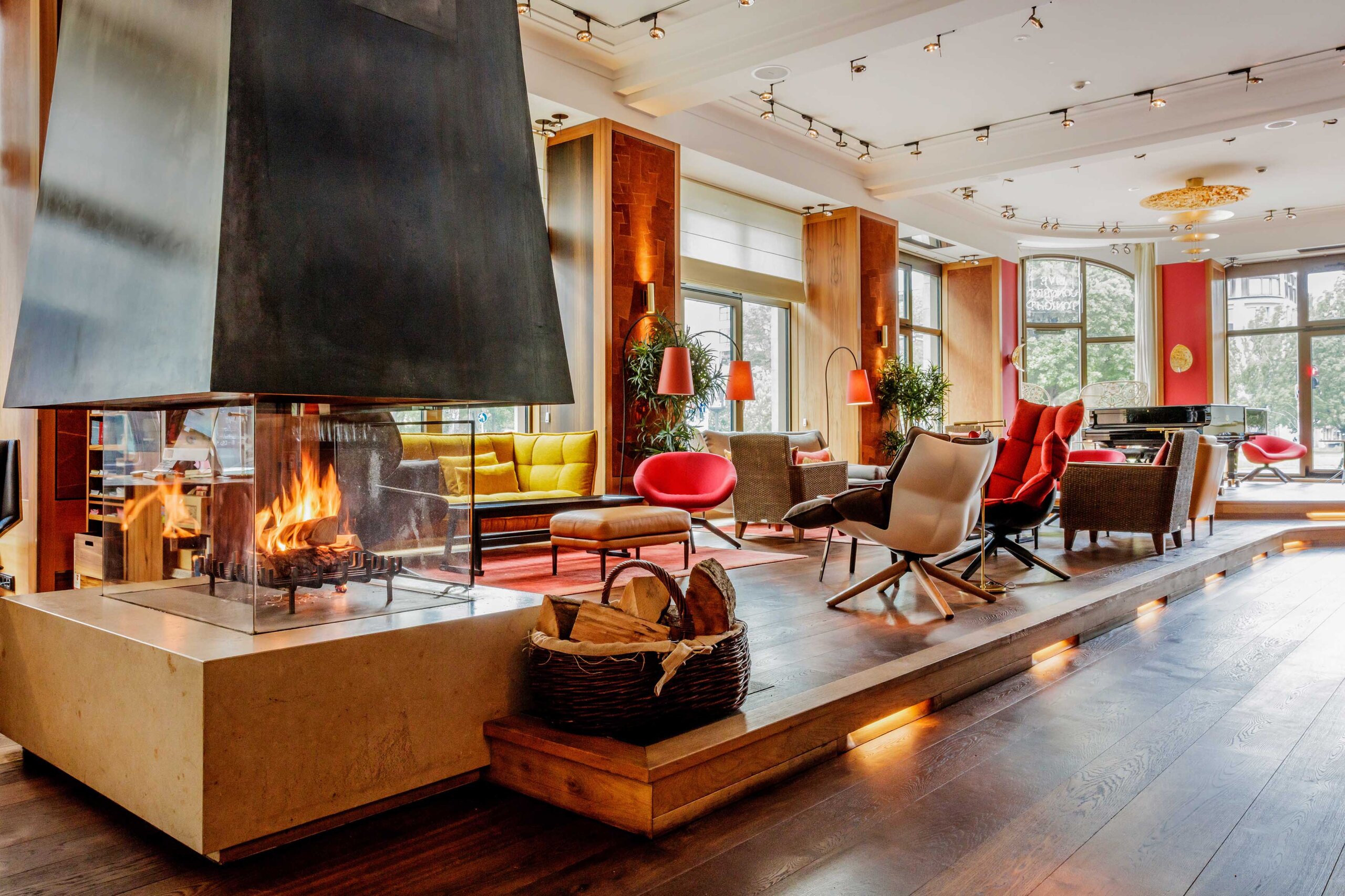 Rocco Forte Hotel De Rome
The Rocco Forte Hotel De Rome in Berlin is definitely one of the best hotels in the city. This beautiful 5-star luxury boutique hotel is located on the historic Bebelplatz, in a unique location in the former headquarters of Dresdner Bank. Guests love the wonderful mix of tradition and modernity that can be enjoyed at every turn during a stylish stay. A real highlight is the glamorous entrance area with its large magenta urns from Atelier Prométhée and the neon-colored birdcage by Olivia Steeles. Rooms score high ceilings, and feature high-end materials as well as marble bathrooms. Some of the suites even have a picturesque view of St. Hedwig's Cathedral.
The rooftop terrace on the 5th floor of the hotel is also a must-visit, from where you can experience a breathtaking view of Berlin's skyline, including sunset, while enjoying grandiose cocktails. Another gem is the CHIARO Restaurant, where they serve authentic Italian specialties.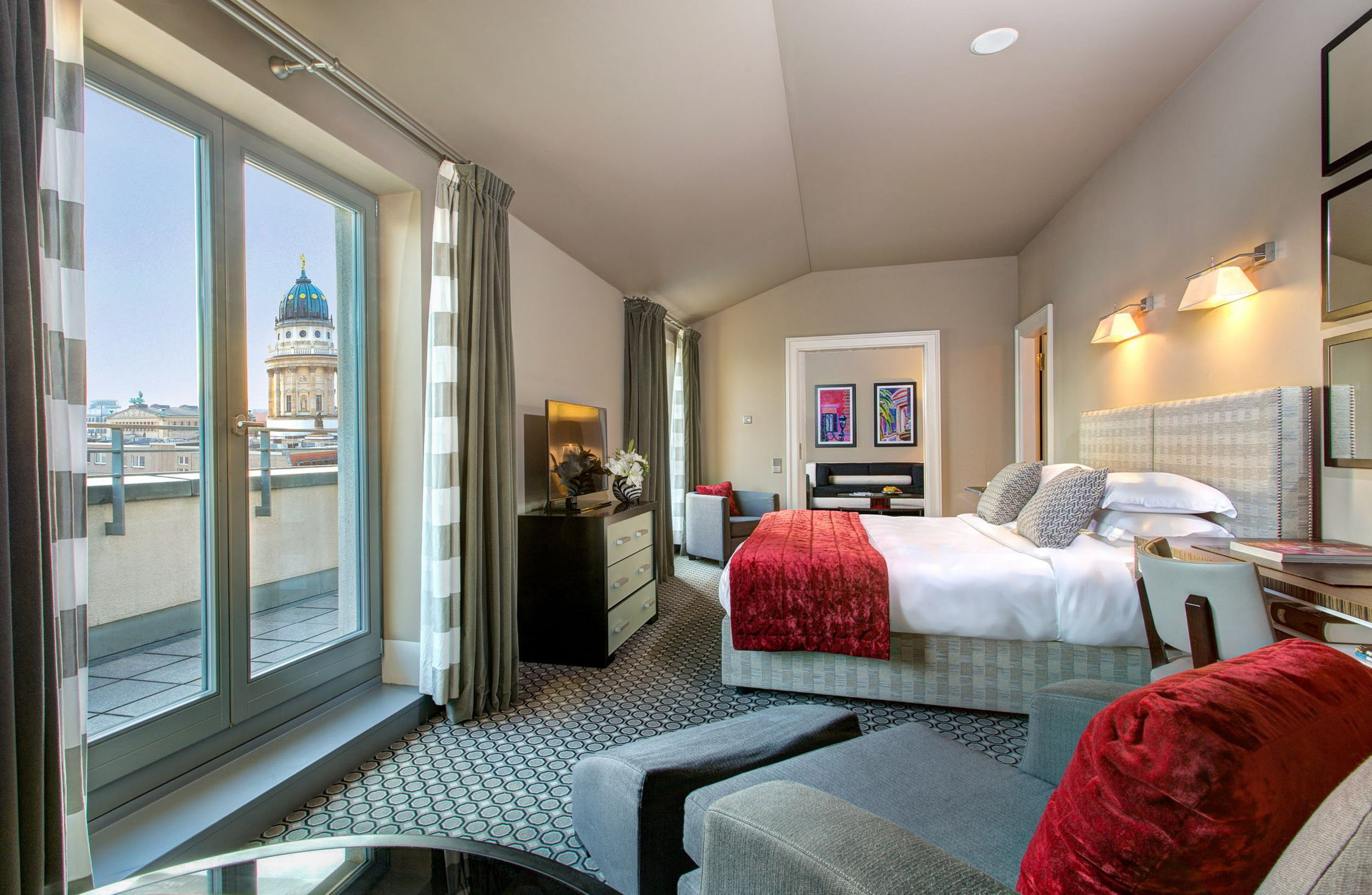 Hüttenpalast
The Hüttenpalast is guaranteed to be the most unusual accommodation in all of Berlin because the original concept is unique! Away from the mainstream, boutique hotel combines with camping and coziness, and that in the middle of the city! Really ingenious is the location. This cool hotel is located in a production hall of a former vacuum cleaner factory and in a quiet area between Kreuzberg and Neukölln! Unlike anywhere else, guests stay here on indoor campsites with lovingly designed vintage caravans, as well as in retro-style cabins located in two halls. Those who prefer something more private, however, are best advised to choose the spacious, chic factory loft rooms.
At the day bar "James" you can enjoy a delicious breakfast and good coffee. In the evening, guests meet in the green backyard oasis to unwind after a day full of sightseeing and action. A really brilliant choice for a Berlin vacation of a different kind.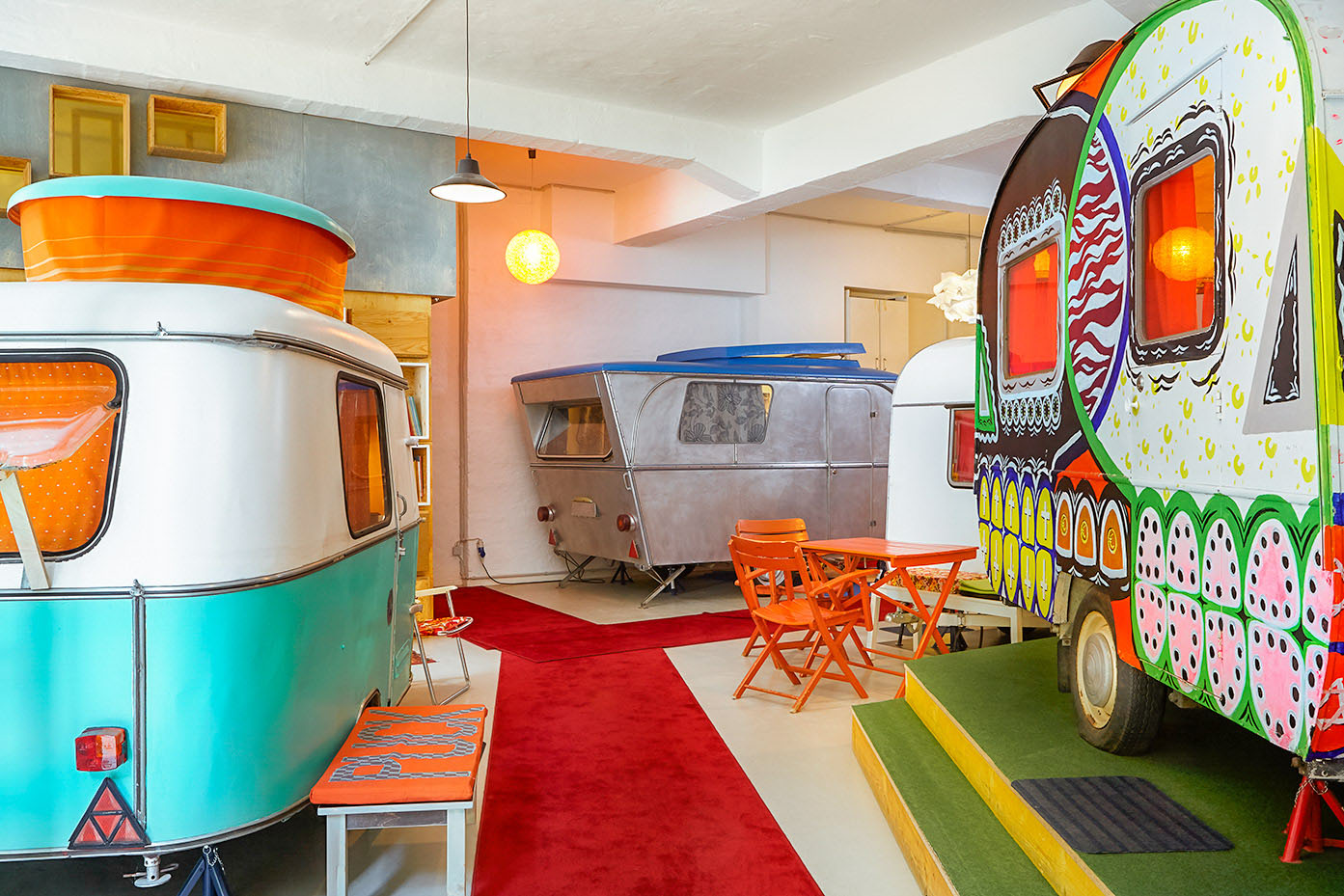 Max Brown Hotel Ku'Damm
The Max Brown Hotel Ku'Damm is definitely one of the most beautiful design hotels in Berlin. This chic accommodation is located in a quiet residential neighborhood between Wilmersdorf and Charlottenburg, perfect if you want to stay in a charming counterpart yet not far from Berlin's best attractions. Guests should not only feel like tourists, but also like locals. This is ensured by a familiar atmosphere with lovingly selected music, delicious coffee and a trendy, yet very cozy design. The rooms are absolutely tasteful and furnished with great attention to detail. Some of the guest rooms even have a record player, a cool idea for all music lovers!
Something special is the in-house bakery "The Bakery" and the hip little store "The Store". Delicious breakfasts and fabulous coffee, also to go, are available at "Benedict Restaurant". A terrific boutique hotel with lots of charm and style!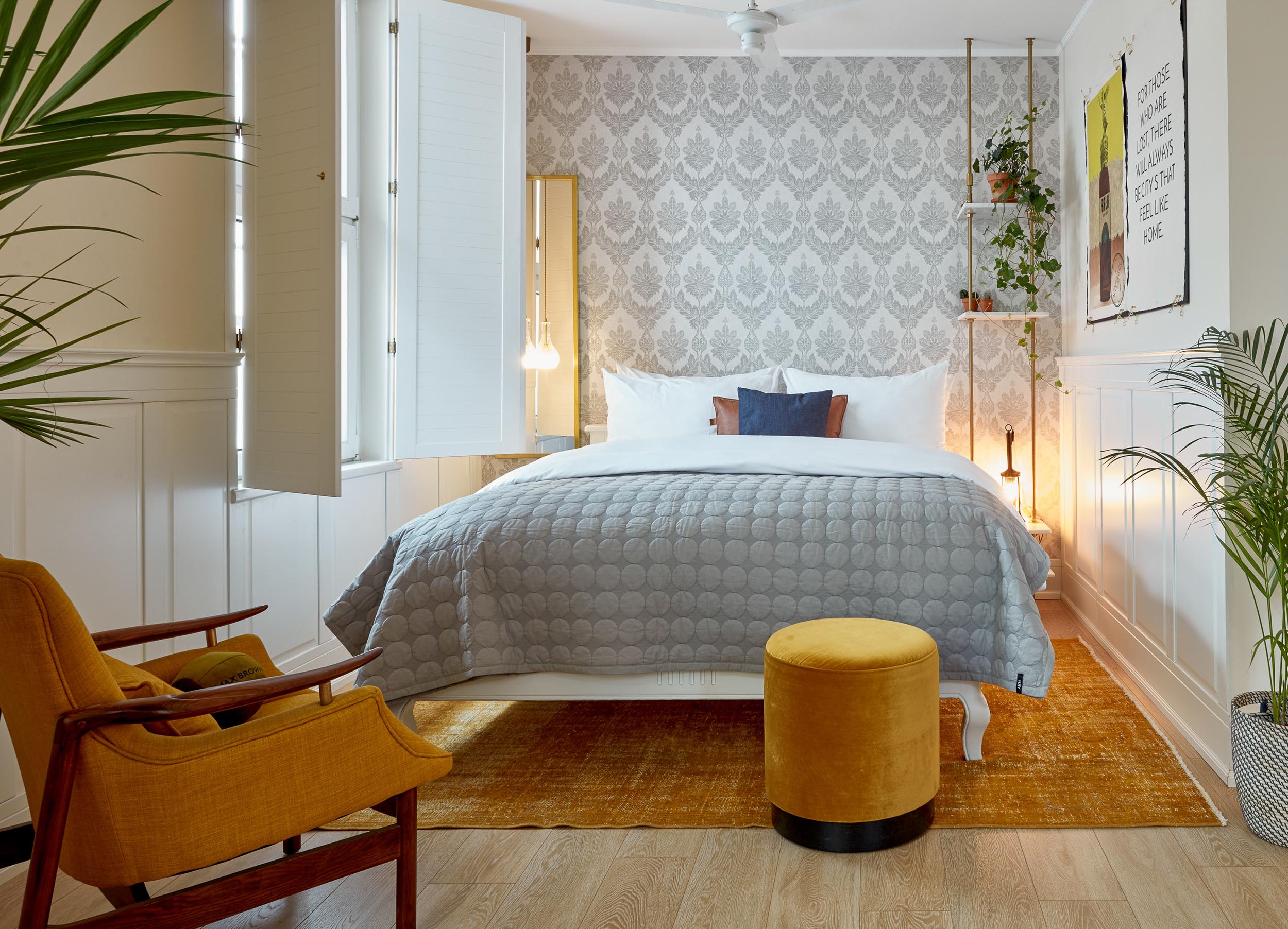 Lulu Guldsmeden Hotel
The Lulu Guldsmeden is another gem of the most beautiful boutique hotels in Berlin. This particularly eco-conscious 4-star hotel is located in a historic building dating back to 1850, between the Tiergarten and up-and-coming Schöneberg neighborhoods, and its location also makes it a terrific choice for a city break. Not only couples, but also families and solo travelers will enjoy this snazzy boutique hotel in Berlin. The combination of contemporary design, Nordic simplicity and an extra dose of Balinese style is unique. The 81 rooms are also a dream, with suites even featuring four-poster beds and swings.
The bike rental service is also a plus! At the hotel, you can rent Schindelhauer bikes for a fee and use them to explore the most beautiful corners of Berlin. If you like, you can book the Guldsmeden organic breakfast in the style of the house, which is served every morning in a great atmosphere in the restaurant Season.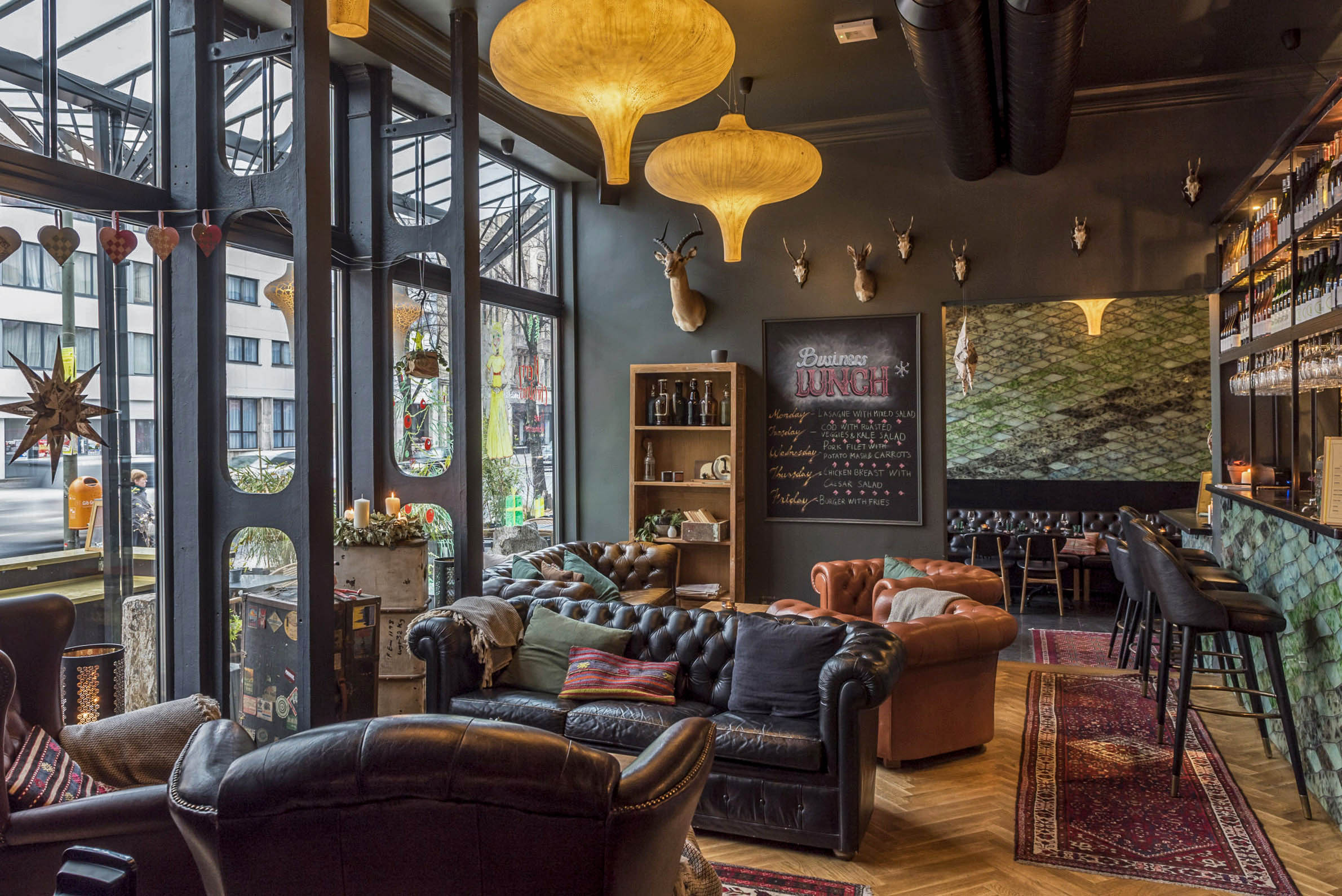 25hours Hotel Bikini Berlin
The 25hours Hotel Bikini is definitely one of the coolest design hotels in Berlin and a top choice for a chic city break! Unique is certainly the colorful, hip design of the hotel, which is located directly in the landmarked Bikini building and inspires with a view of the Zoologischer Garten. The interior is mega cool, with plenty of vibrant colors, design furniture and beautiful wooden elements. In addition, there are many little surprises, like the hip hammock lounge, the cool kiosk and the bike rental, where you can also get brilliant bike maps. Moreover, on the 9th floor is the "Jungle Sauna" with a dry sauna and a rest area for perfect relaxation after sightseeing.
Also fabulous is the oriental, absolutely chic restaurant "NENI Berlin" on the roof, and the hip "Monkey Bar" on the 10th floor, where you can experience a magnificent view of Berlin while having delicious cocktails on the wonderfully pretty roof terrace.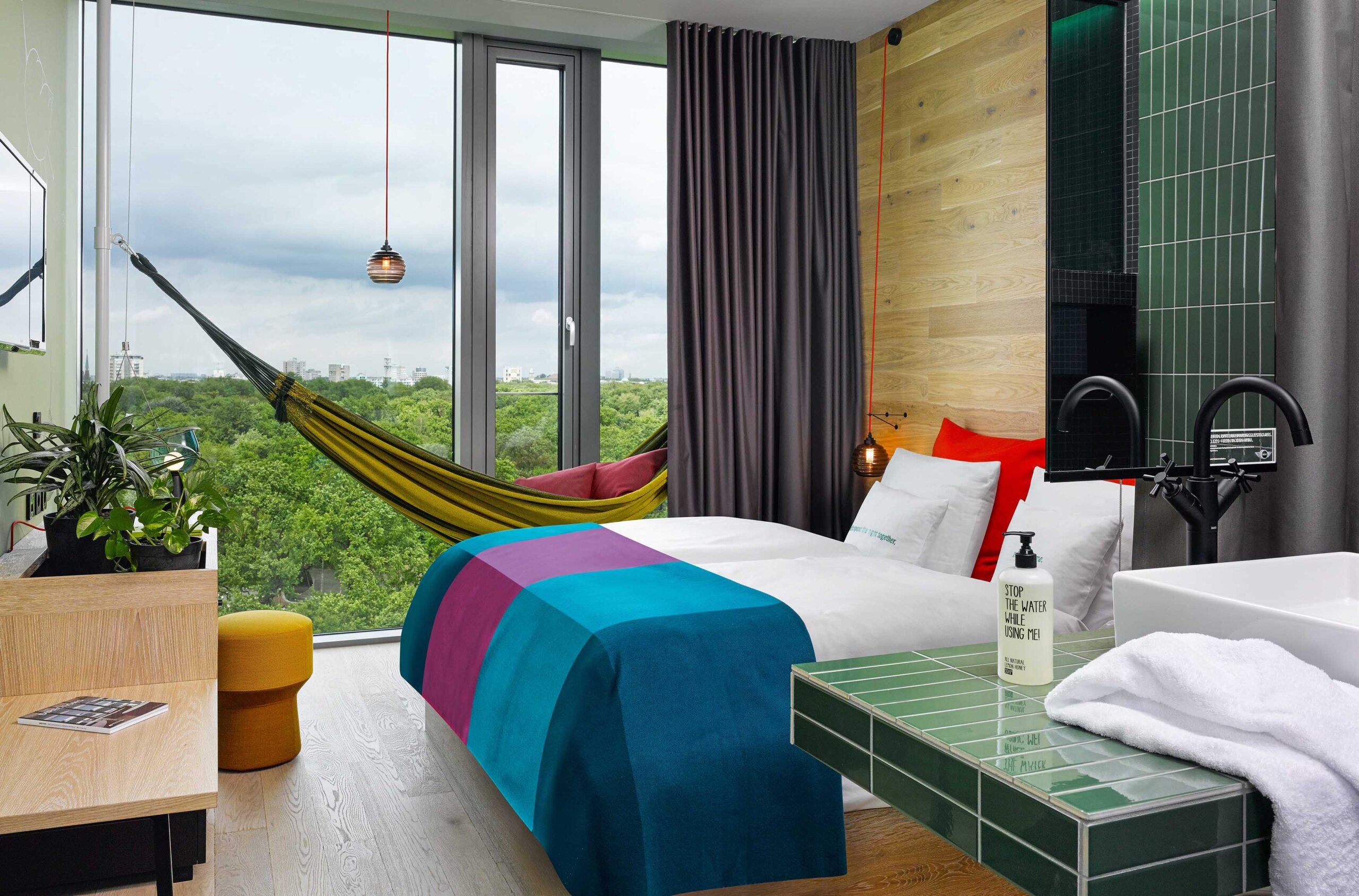 ---
More about Boutique Hotels:
---
Disclosure: Some of the links below are affiliate links. Meaning that if you click on certain links, and then subsequently purchase a product, I will receive a small commission at no extra cost to you.
---