Top 12 UNIQUE Boutique Hotels in Amsterdam
A stay at one of the fabulous design and boutique hotels in Amsterdam will make a city break to the Dutch capital an unforgettable experience. These beautifully designed accommodations boast eye-catching design, a very personal touch, hip interiors and exude a touch of luxury to boot. These often very classy boutique hotels definitely have that certain something that sets them apart from many other accommodations. In addition, most of these cool design hotels are located directly in the center of Amsterdam, and are therefore not far from the main attractions of the city. Perfect, therefore, for a city break of a special kind! But what are the currently trendy boutique hotels in Amsterdam? What the really amazing design hotels and which are particularly suitable for the perfect stay?
In this guide, we give you our tips on really special boutique hotels in Amsterdam. We show you great pictures and also give you plenty of info that is guaranteed to help you plan your trip.
Boutique Hotel The Noblemen
The Boutique Hotel The Noblemen is a terrific choice for that very special stay in Amsterdam. This absolutely chic accommodation is located in the center of the Dutch capital and is situated in a historic building dating back to 1663. This is a place where stylish luxury meets history! The first owner was a French marble merchant, and interestingly enough, his marble can still be found in the building today! In general, the design in the boutique hotel is unmistakably beautiful and absolutely classy, furnished with antiques, handmade items and exclusive furniture. The Signature Rooms, which even have a freestanding bathtub, are a real eye-catcher.
Also fabulous is the small spa area, which can be reserved free of charge, and where you can enjoy a sauna, Turkish hammam, bathtub, and multi-jet shower. Guests also love the delicious breakfast served directly to the rooms in the morning.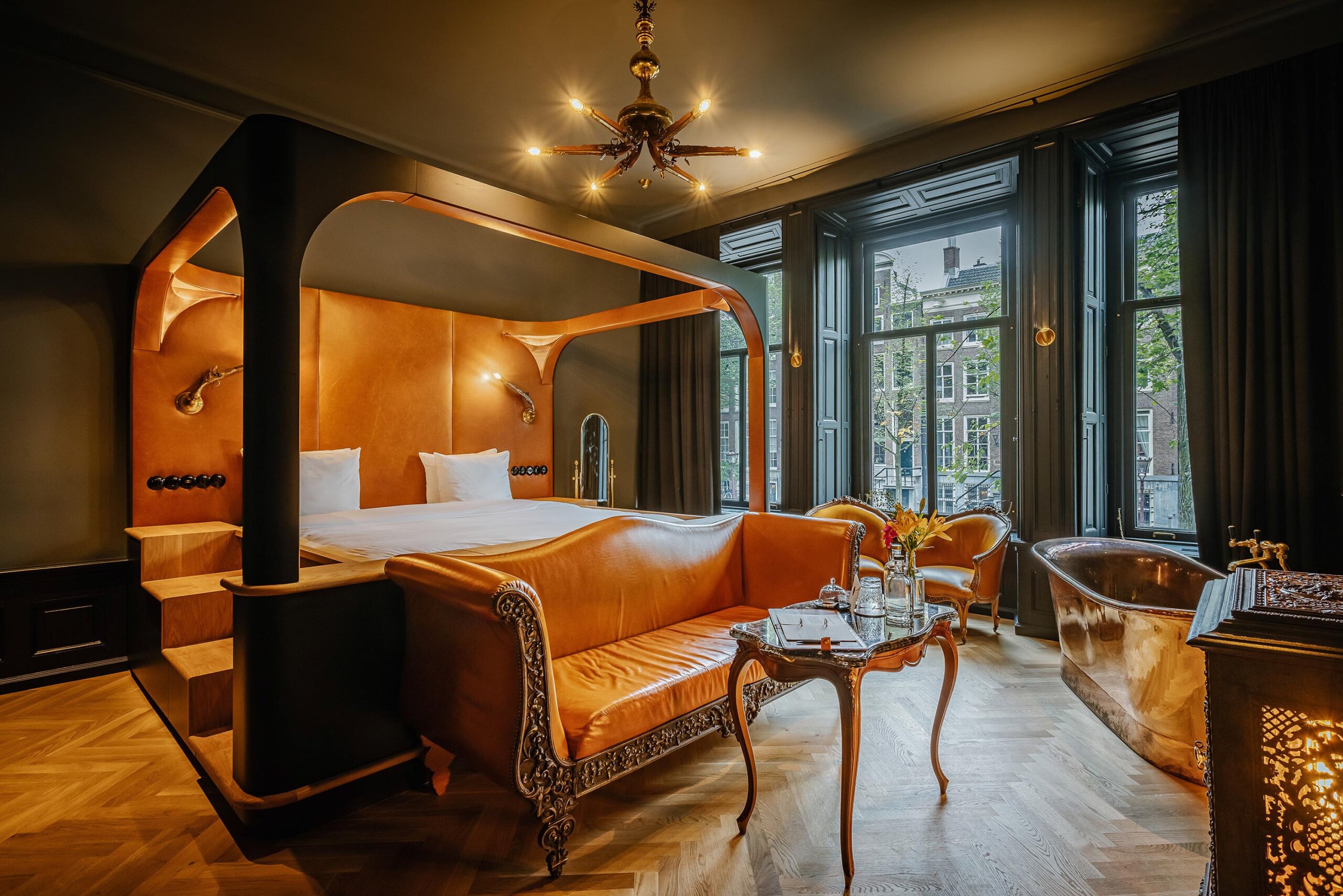 The Dylan Amsterdam
The The Dylan is a stunningly beautiful 5-star boutique hotel in the heart of Amsterdam. It is located in an unbeatable location in the "Nine Streets", on the famous Keizersgracht, and is therefore also the perfect starting point for sightseeing and shopping. You can choose between 9 very exclusive room types, from luxurious single rooms to really classy suites overlooking the canal. The different styles combine modern design, elegance and comfort at the highest level. Each of the 40 guest rooms and suites is uniquely designed, with some even created by renowned Dutch designers such as Studio Linse and Remy Meijers.
The boutique hotel's two restaurants are real gems. The chic "Bar Brasserie OCCO" offers a unique "high wine experience," and the Michelin-starred restaurant Vinkeles, located in an 18th-century bakery, serves French cuisine at its finest.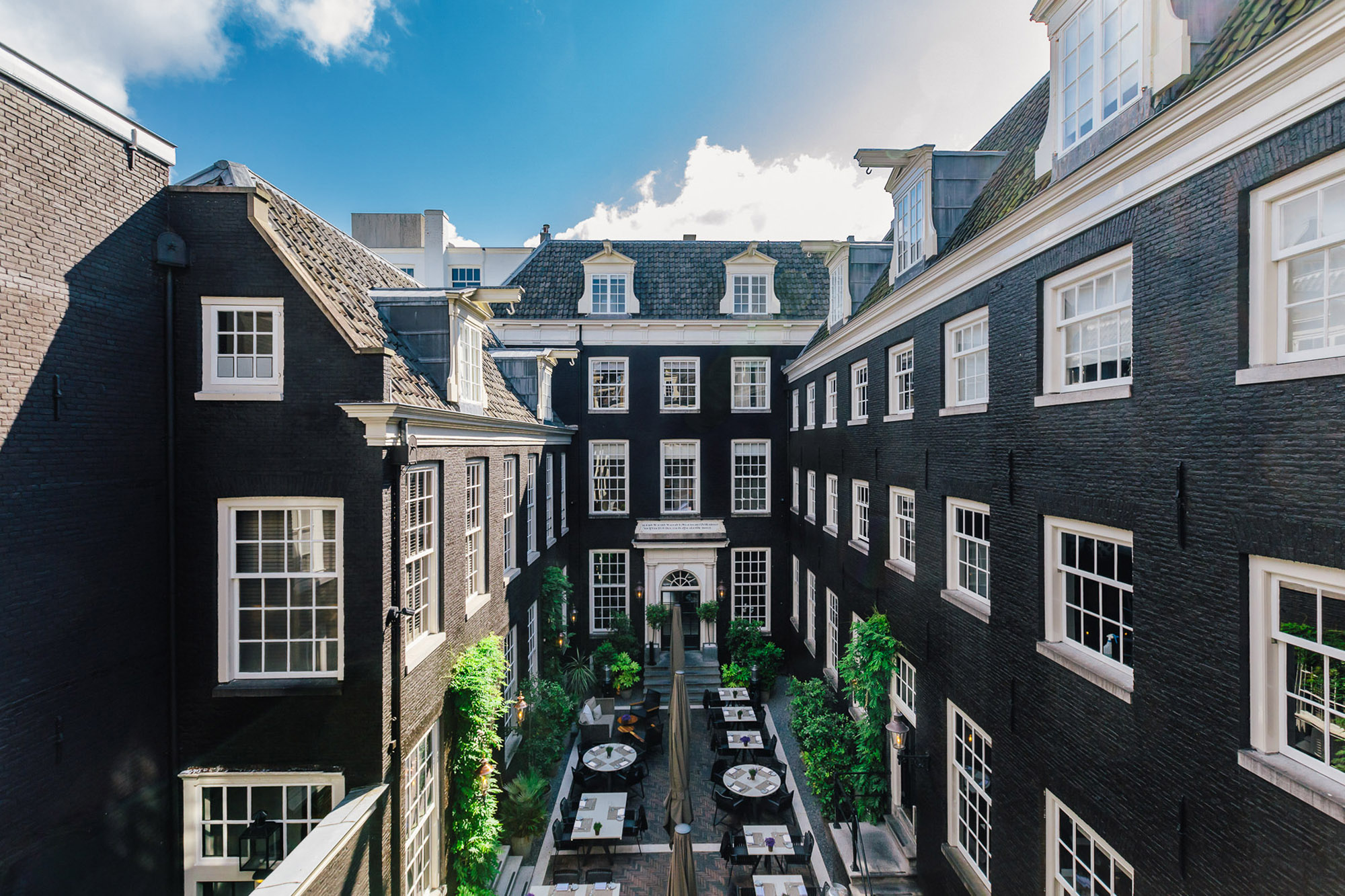 Andaz Amsterdam Prinsengracht
The Andaz Amsterdam Prinsengracht is a luxury high-end lifestyle hotel, in a grandiose location in downtown Amsterdam. Truly unique is the eccentric design by renowned Dutch designer Marcel Wanders, which delights vacationers and business travelers alike. You can also expect many beautiful highlights during a stay, such as the hotel's secret garden and atrium lobby themed after an observatory. The 122 design rooms and suites are very tastefully decorated with great attention to detail and high-quality materials. The beautiful Prinsengracht Suite even has Amsterdam's largest hotel terrace overlooking the canals.
Culinary highlights are provided by the Bluespoon Restaurant & Bar, where you can enjoy terrific cocktails and perfectly prepared dishes with a Dutch twist. Another gem is the hotel's video art collection, which is one of the largest in Europe.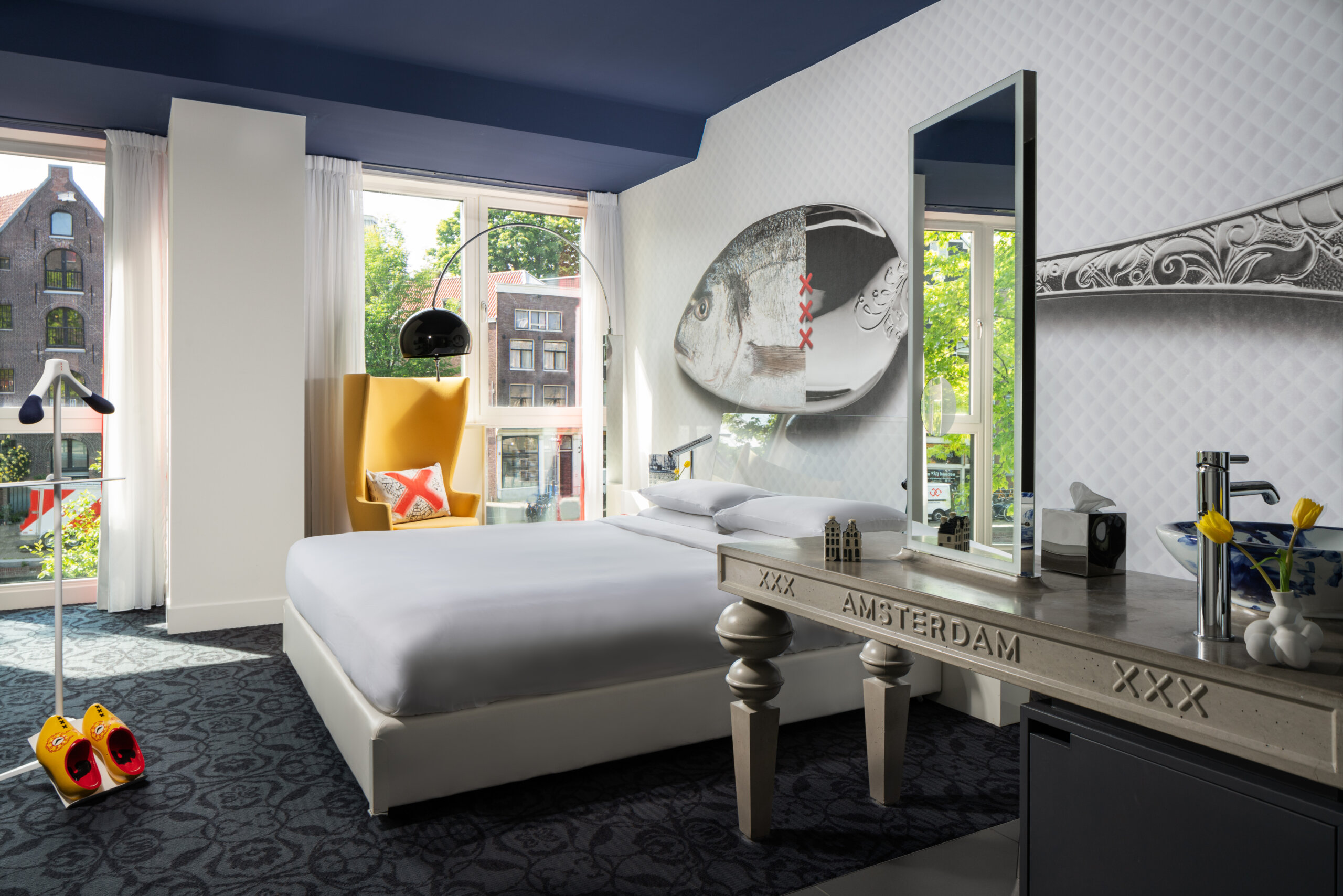 Sir Adam Hotel
The Sir Adam Hotel is definitely one of the coolest design hotels in Amsterdam and a real insider tip for a very special city trip to the Dutch capital. It is located in an unbeatable location, directly in the legendary 22-story A'DAM Tower, with a magnificent view of the river IJ and the historic city center of Amsterdam! The rooms and suites are really chic as well as individually designed, and feature espresso machines, rain showers and a special Pillow menu. Deluxe Corner Rooms with City View are very popular, from which you can enjoy probably the most beautiful panorama of the metropolis. All guest rooms also have a record player, a brilliant idea for all music lovers!
But that's not all! In addition, there are many little surprises in this design hotel such as a cool vinyl music library, an in-house gym and the special hip THE BUTCHER Social Club, a popular meeting place in the hotel.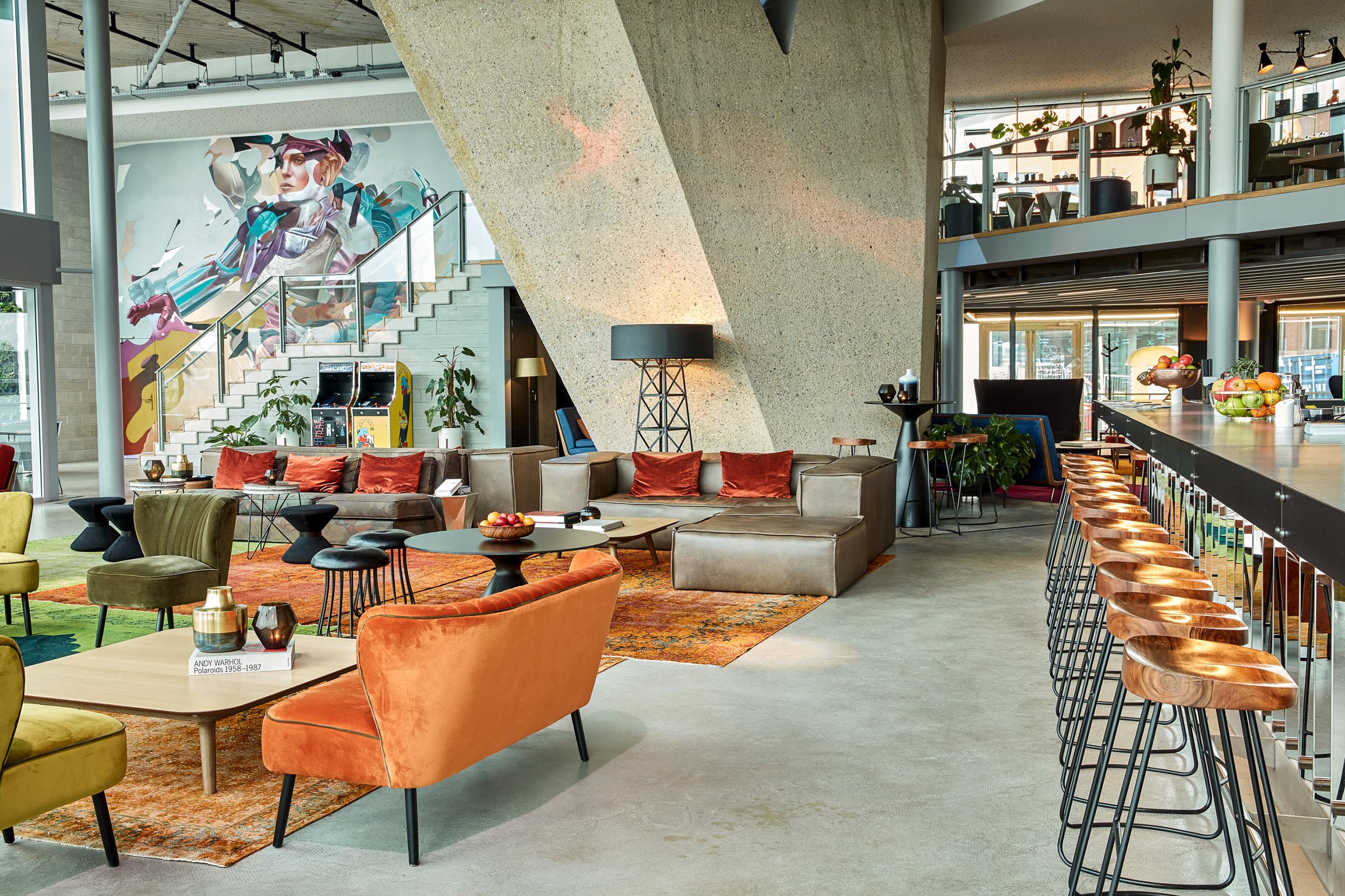 Hotel TwentySeven Amsterdam
The Hotel TwentySeven is a very elegant boutique hotel in an unbeatable location in Amsterdam, right on Dam Square with a view of the Royal Palace. This dream hotel guarantees an unforgettable trip even for the most demanding guest. It offers 16 unique suites, ranging from 40 to 245 square meters, as well as the Michelin * restaurant Bougainville and the bar TwentySeven. The interior is individual, with luxurious look, dark warm colors, high quality materials and decorated with artworks from Cobra Art Amsterdam. Each of these suites has noble details, and so the bathrooms are handmade of natural stone, there is a two-person whirlpool as well as a double rainforest shower with steam cabin function.
To make the stay the perfect experience, many services are offered at this high-end boutique hotel. Private butler, personal assistant, personal shopper, personal trainer, private guide and nanny are just a few of the examples.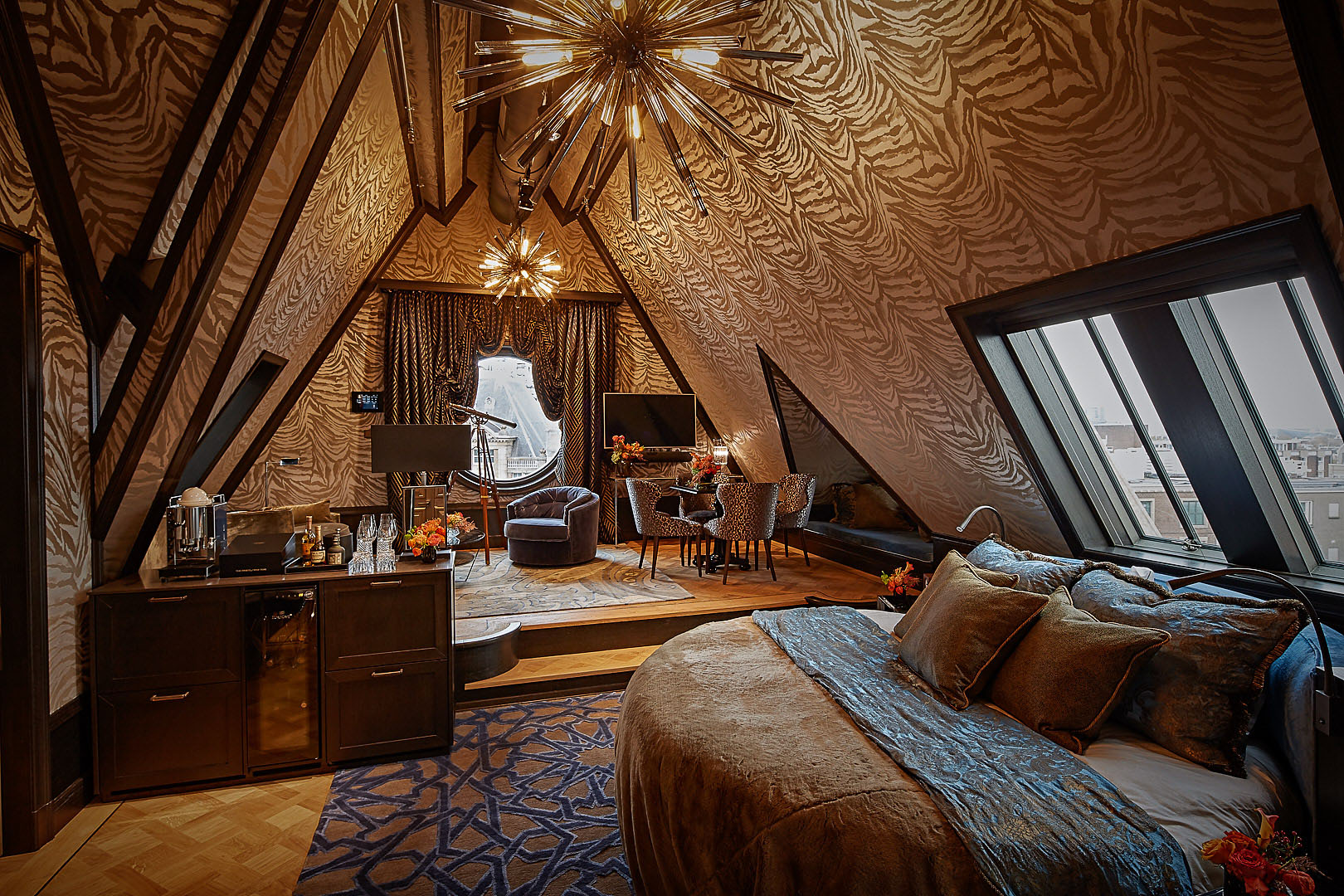 Motel One Amsterdam-Waterlooplein
The Motel One Amsterdam-Waterlooplein is an absolutely chic and, to top it off, affordable choice for a stylish design hotel vacation. Located about 700 meters from the center, it's a good starting point for exploring the city and sightseeing. Bicycles can also be rented free of charge. In this cool accommodation everything is under the sign of upcycling, freely according to the motto: From old make new! Whether it's wall coverings, doors, cabinets, chandeliers or table lamps, many of the furnishings come straight from the flea market and create an absolutely tasteful design with the modern elements. The whole ambience is casual, very cozy and invites to linger, but also perfect to work.
Excellent is also the rich breakfast buffet, with many organic products and fair trade coffee. There is definitely something for everyone here. The One Lounge is also really chic, a wonderfully pretty bar that offers drinks and tasty snacks until the evening.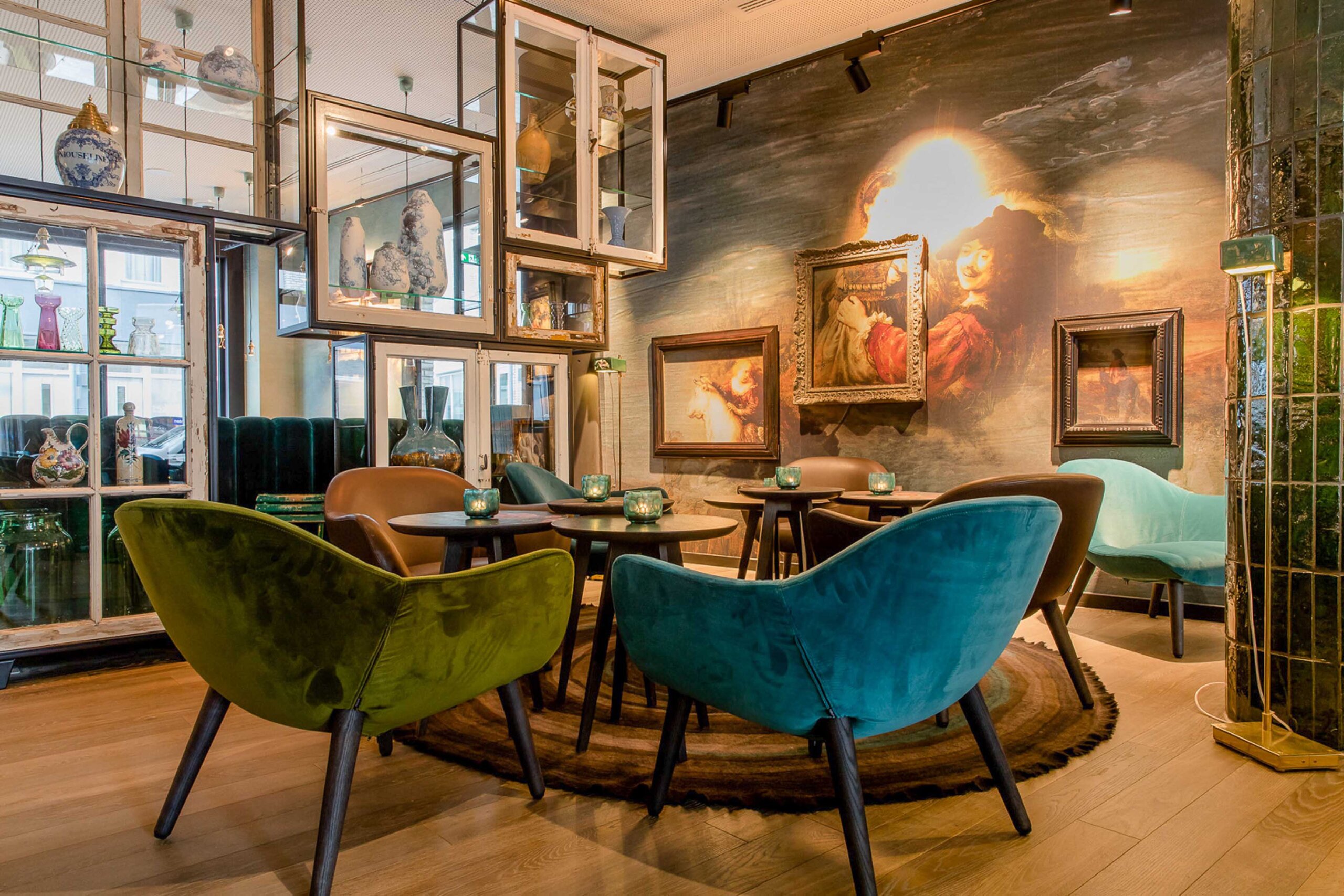 Pillows Luxury Boutique Hotel Anna van den Vondel
A very special luxury boutique hotel in Amsterdam is Pillows Anna van den Vondel. This small, beautiful accommodation is located in a 19th century mansion right next to Vondelpark, making it a great base for exploring the city. Simply wonderful is the mix of luxury and pleasant coziness, as guests are meant to experience a home away from home here. The boutique hotel has just thirty charming rooms and suites, with some having their own terrace or French balcony. The bright guest rooms are individually decorated with gorgeous pillows, beautiful linens, wonderful mattresses, soft rugs, and tasteful art.
The small, homey eatery, The Living, is also really charming. Here you can get good coffee, drinks and delicious snacks from the simple menu until the afternoon. The breakfast on offer is also a real highlight that regularly has guests raving about it.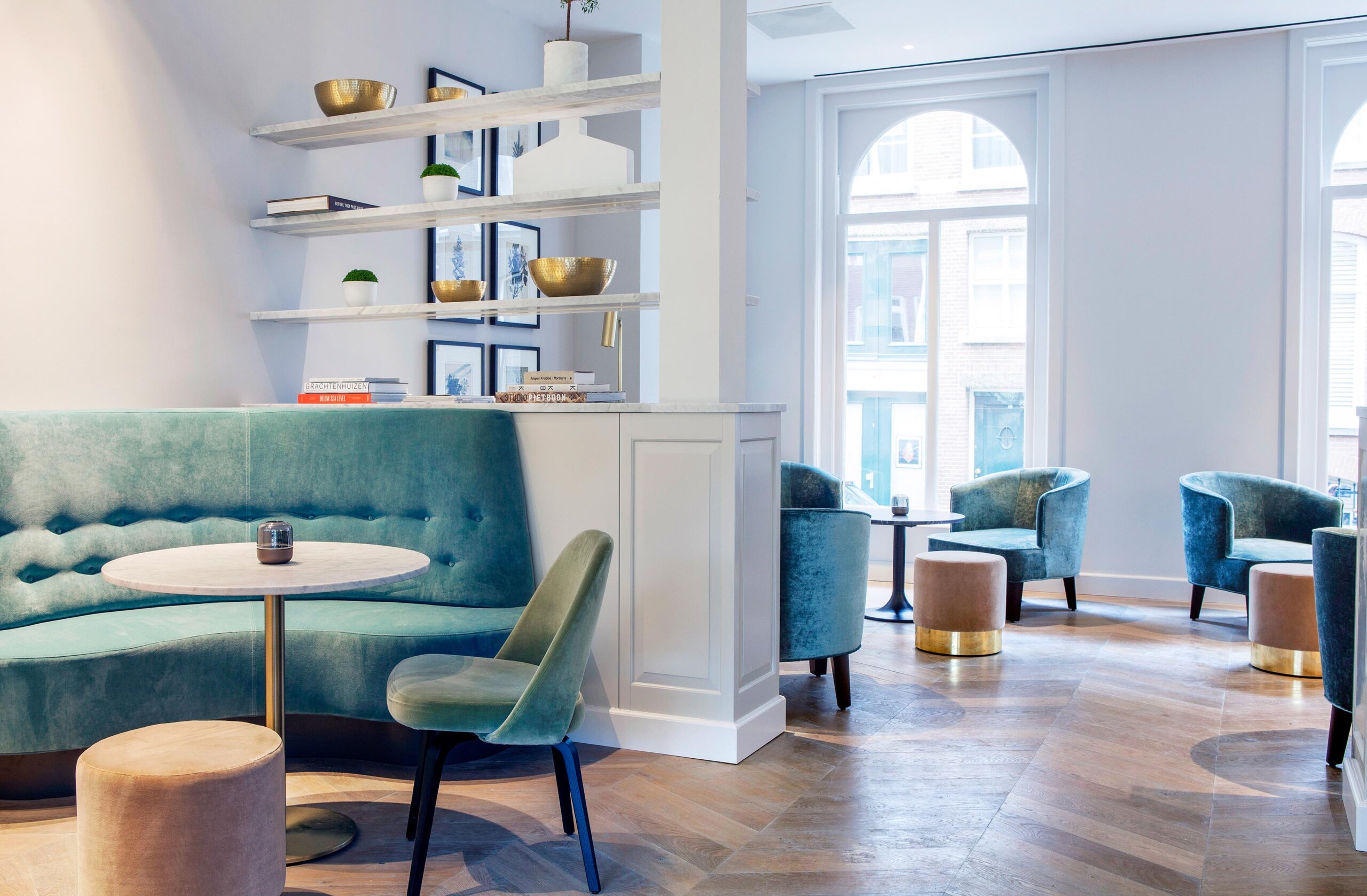 Hotel The Craftsmen
A stay at The Craftsmen Hotel is a grand experience! This absolutely chic boutique hotel is housed in a beautifully renovated 17th century building on one of the city's oldest canals. Here, the design combines the rich history of the historic building with fascinating Amsterdam craftsmanship. Truly unique is the mix of antiques and curiosities, with modern and practical elements. This small luxury boutique hotel has only 14 rooms, which are very hip and decorated with great attention to detail. Some of the guest rooms offer lovely views of the canal, with each room named after prominent craftsmen and reflecting that craft as well.
Not only that, but the hotel breakfast is a real treat and the perfect start to your sightseeing day. You can enjoy your morning meal in the art-filled gallery with a magnificent view of the canal, or right in your room.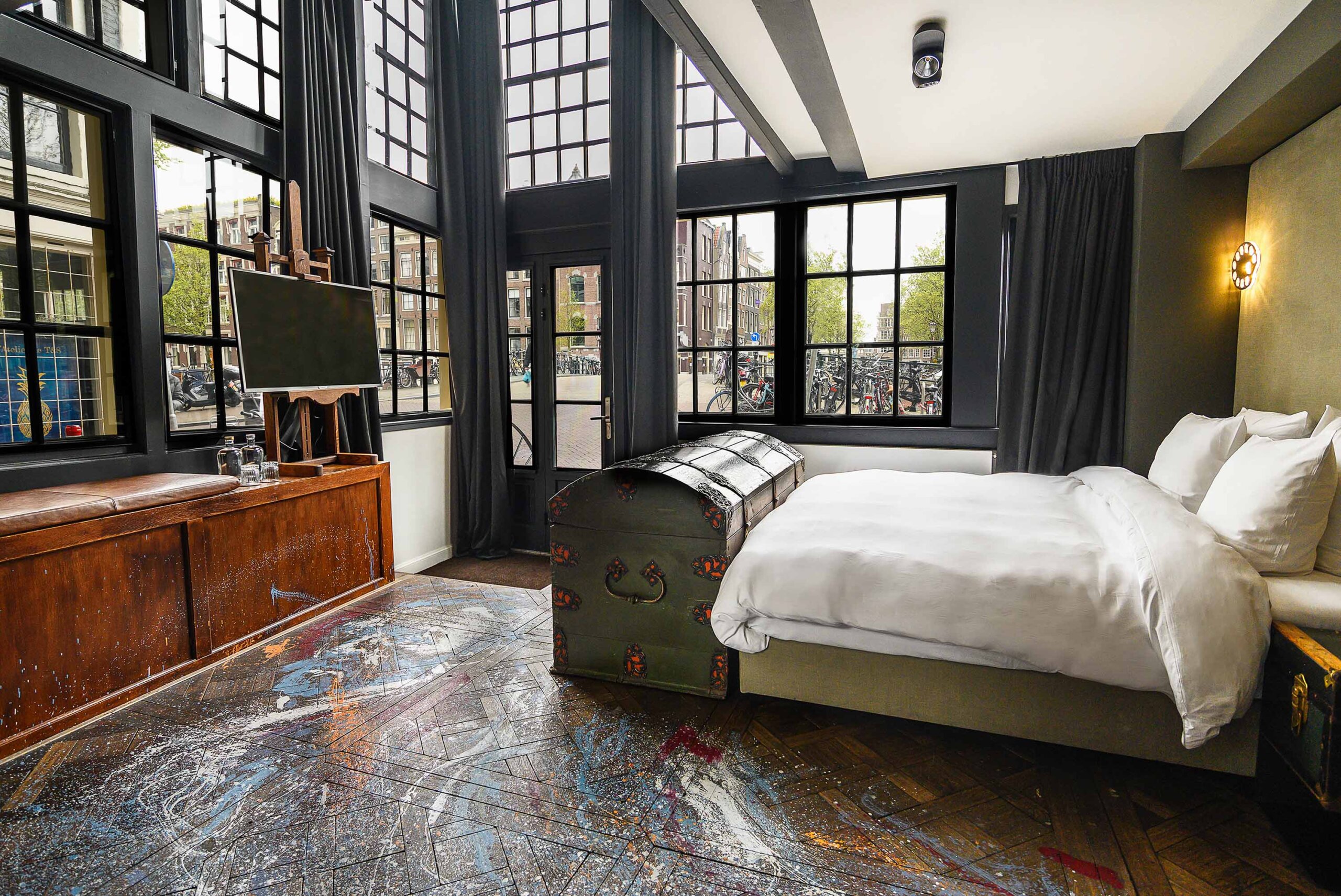 Outside Inn
The Outside Inn is guaranteed to be one of the most unusual accommodations in Amsterdam, as the original concept is completely off the mainstream! It combines boutique hotel with camping and coziness, and that in a big city. The location is really ingenious, because the hip hotel is located in a spacious industrial hall, with the city center accessible by metro in no time. Unlike anywhere else, guests stay at a colorful indoor campground with lovingly designed vintage caravans, beach cottages or special vehicles. No matter what you choose, each spot is unique, has comfortable beds and has been beautifully renovated as well as modernized.
In the basement you will find the chic Heineken 0.0 lounge, which invites guests to sit together and having some beers. There are also inexpensive bicycles for rent, perfect if you want to explore the city and its green surroundings.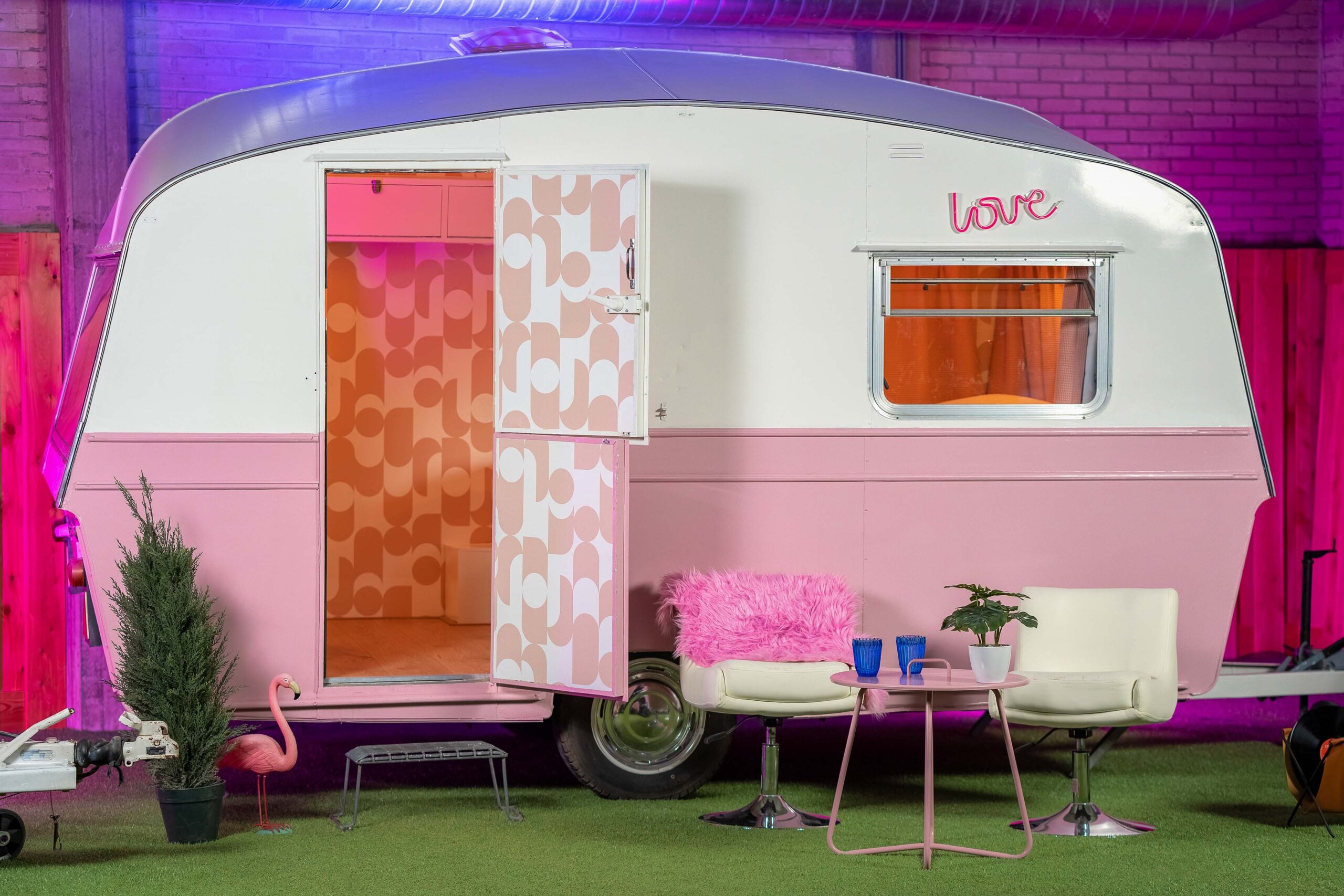 Pulitzer Amsterdam
The Pulitzer Amsterdam is a true gem of the city's finest design hotels and has been named one of the best hotels in Amsterdam many times. This 5-star hotel is located in several renovated 17th- and 18th-century houses, nestled in the city center's most famous canals. Guests love the special location, but also the unique blend of traditional Dutch craftsmanship and modern design. The hotel has 225 rooms and suites located in 25 beautiful interconnected canal houses. The entire interior is absolutely stylish, designed with countless lovely details and wonderful color combinations. The breakfast is also unbeatable and leaves nothing to be desired!
A wonderful spot is the Pulitzer Garden, where you can relax after a day of action and sightseeing. Wonderful dishes of modern Dutch cuisine are served in the Restaurant Jansz and Pulitzer's Bar is the perfect place to enjoy delicious cocktails.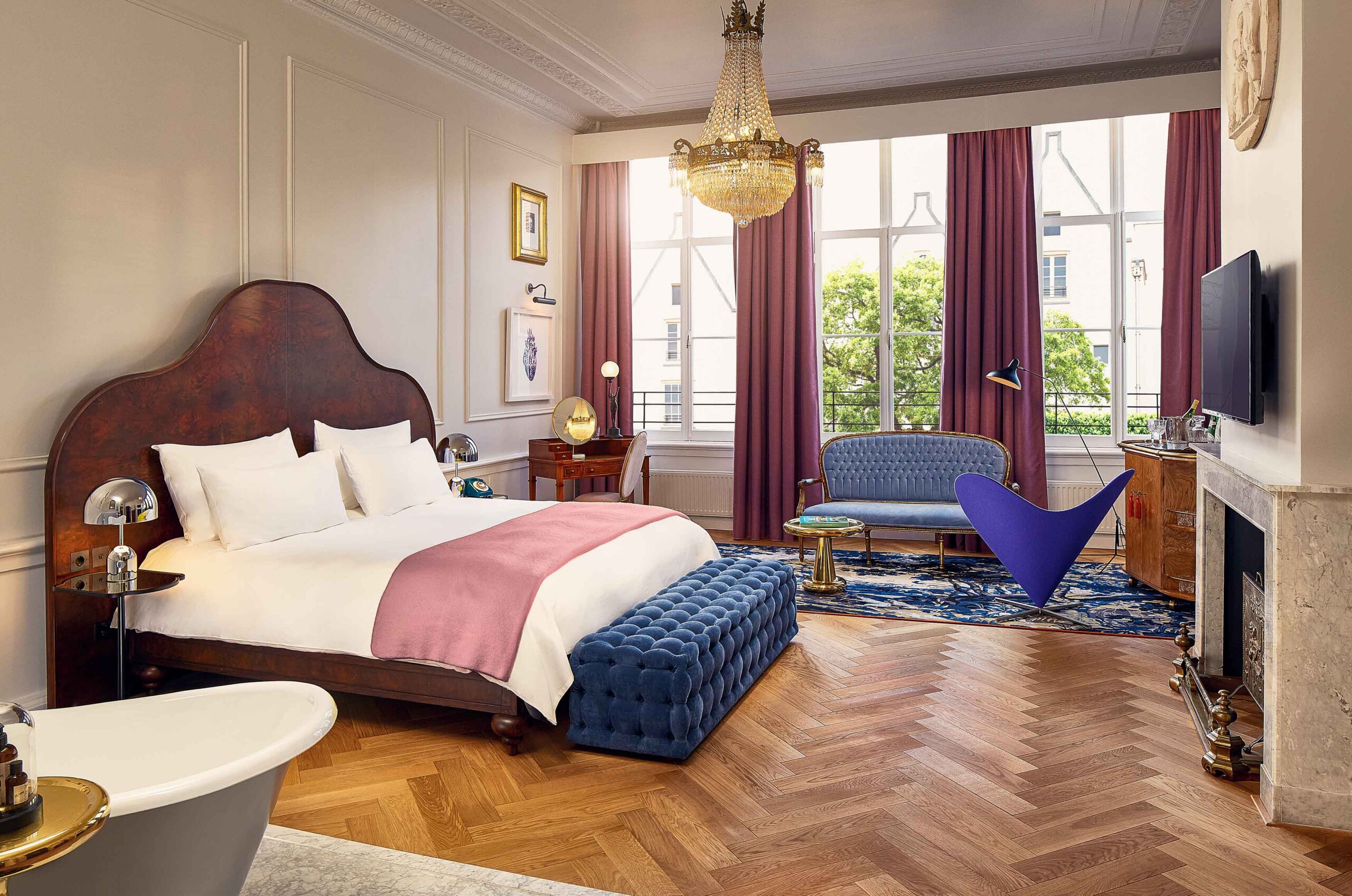 ---
More about Boutique Hotels:
---
Disclosure: Some of the links below are affiliate links. Meaning that if you click on certain links, and then subsequently purchase a product, I will receive a small commission at no extra cost to you.
---