Top 12 UNIQUE Boutique Hotels in Mallorca
A stay in one of the fantastic design or boutique hotels on Mallorca is guaranteed to turn your vacation into a once in your lifetime experience. These stylish accommodations score with a particularly noble flair, a very special design, a touch of luxury and above all with a lot of attention to detail. Many boutique hotels have a wonderful pool to relax in, perfect for cooling off during the warm months. But that's not all! Some hotels even pamper their guests with a SPA area, excellent gourmet restaurants and a unique location in a stunning setting. But what are the most beautiful boutique hotels on Mallorca, what are the real insider tips and which design hotels are best suited for a particularly stylish vacation on the Spanish dream island?
In this guide you will find our recommendations for the best design and boutique hotels on Mallorca. We show you some stunning pictures and give you lots of tips and information to help you choose the perfect hotel.
Sant Francesc Hotel Singular
The Sant Francesc Hotel Singular is undoubtedly one of the best boutique hotels in Mallorca. This exquisite 5-star hotel is located in the historic heart of the capital, Palma, in a renovated mansion built in 1860. During your stay, you'll enjoy a wonderful combination of beautiful architecture, refined design and first-class guest service. The only 32 rooms and 10 unique suites are also in a class of their own! They feature vibrant colors, wooden beams, restored original frescoes, and contemporary art. Some rooms even have privileged views of the Plaza Sant Francesc, the garden or the traditional Mallorcan courtyard.
Guests also have access to a rooftop terrace with a 30-square-meter pool and a chic rooftop bar overlooking Plaza Sant Francesc. Other amenities at the boutique hotel include Quadrat restaurant, lobby bar, gym, and spa with beauty treatments.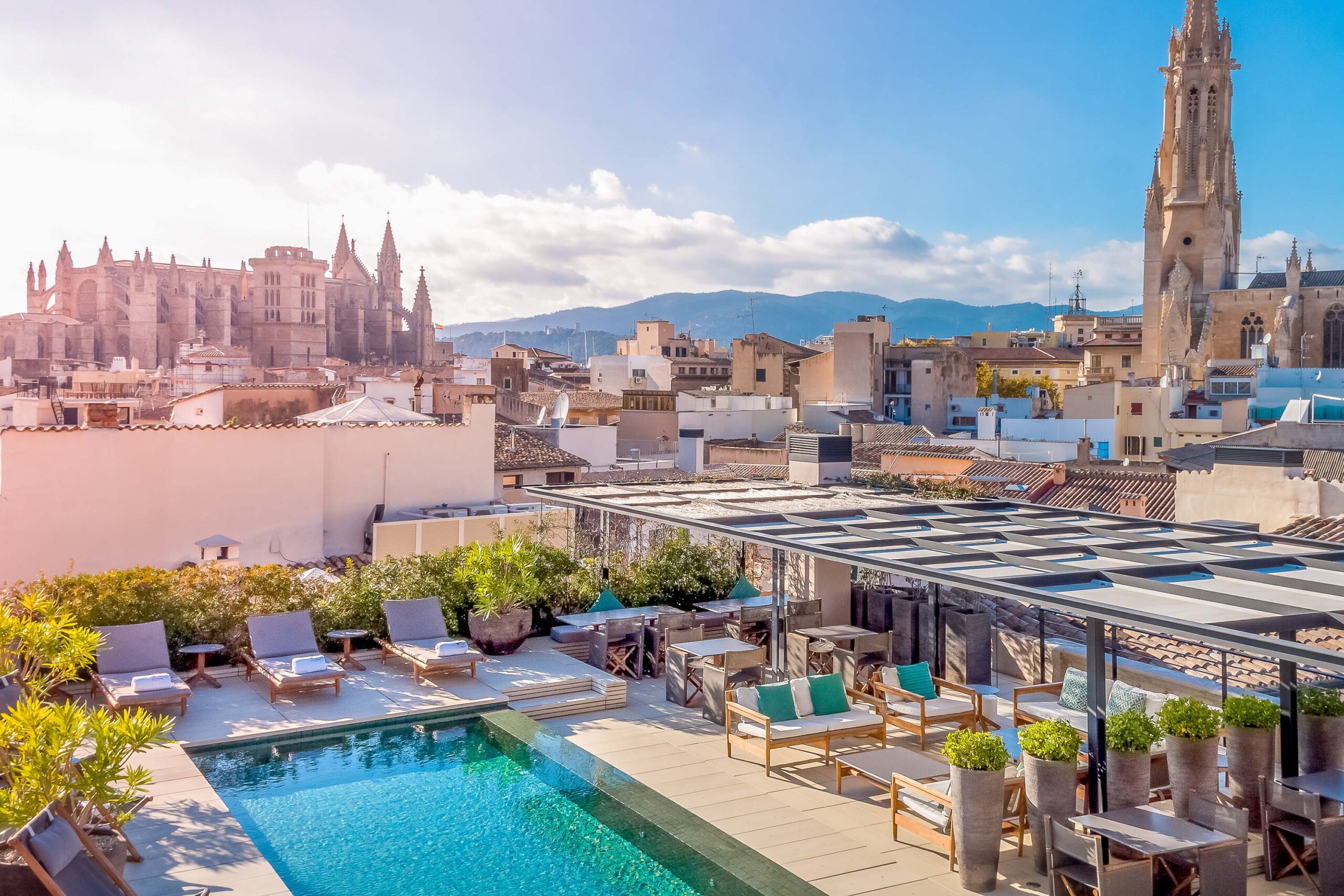 Hotel Can Cera
The Hotel Can Cera is the perfect choice for that special holiday in Mallorca. It is located in the old town of Palma, in an authentic 17th century Mallorcan town palace. It is a 5-star hotel that promises the highest level of comfort and an exceptional atmosphere. This boutique hotel is designed to make guests feel at home, only in a better way. During the renovation, great care was taken to preserve the original elements. Even the most demanding aesthetes will be delighted with the 17th century furniture and avant-garde paintings. In addition, the hotel's own spa area with sauna, steam bath and whirlpool is beautiful and perfect for relaxing.
A highlight of the boutique hotel is its culinary offerings. Guests love the unbelievably delicious breakfast, which is guaranteed to leave nothing to be desired. In addition, the menu at the hotel's restaurant offers wonderful Mediterranean-inspired tapas and dishes made with the island's best regional produce.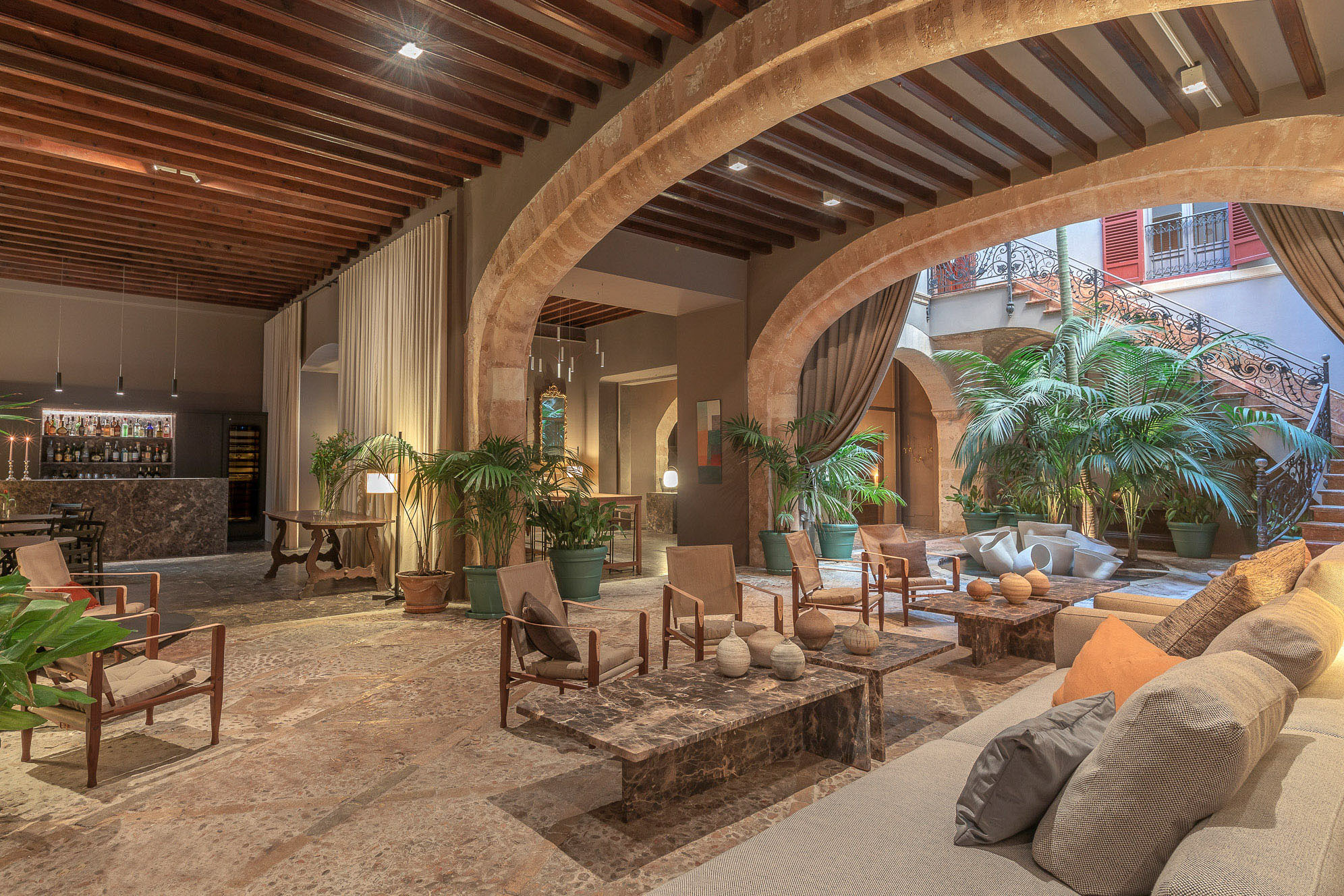 Bikini Island & Mountain Port de Soller
The Bikini Island & Mountain Hotel Port de Sóller is currently one of the trendiest boutique hotels in Mallorca. This 4-star adults-only hotel is the perfect retreat surrounded by beautiful nature. It is perfectly located to enjoy the breathtaking landscape of the Port of Sóller and the Tramuntana mountain range. This is a boutique hotel where you can unwind, relax and enjoy life. However, if you want to be in the middle of the action, the beach and promenade are just a stone's throw away. In addition, the boutique hotel will inspire you with its wonderfully chic "gypset style" as well as a touch of creativity and individuality around every corner.
Also great are the complimentary extras and surprises like yoga, bike rentals, and minibars. You'll also be enchanted by a fantastic pool with comfortable loungers and a relaxed atmosphere. And for those who like to start the day energized, there is a terrific breakfast in the morning.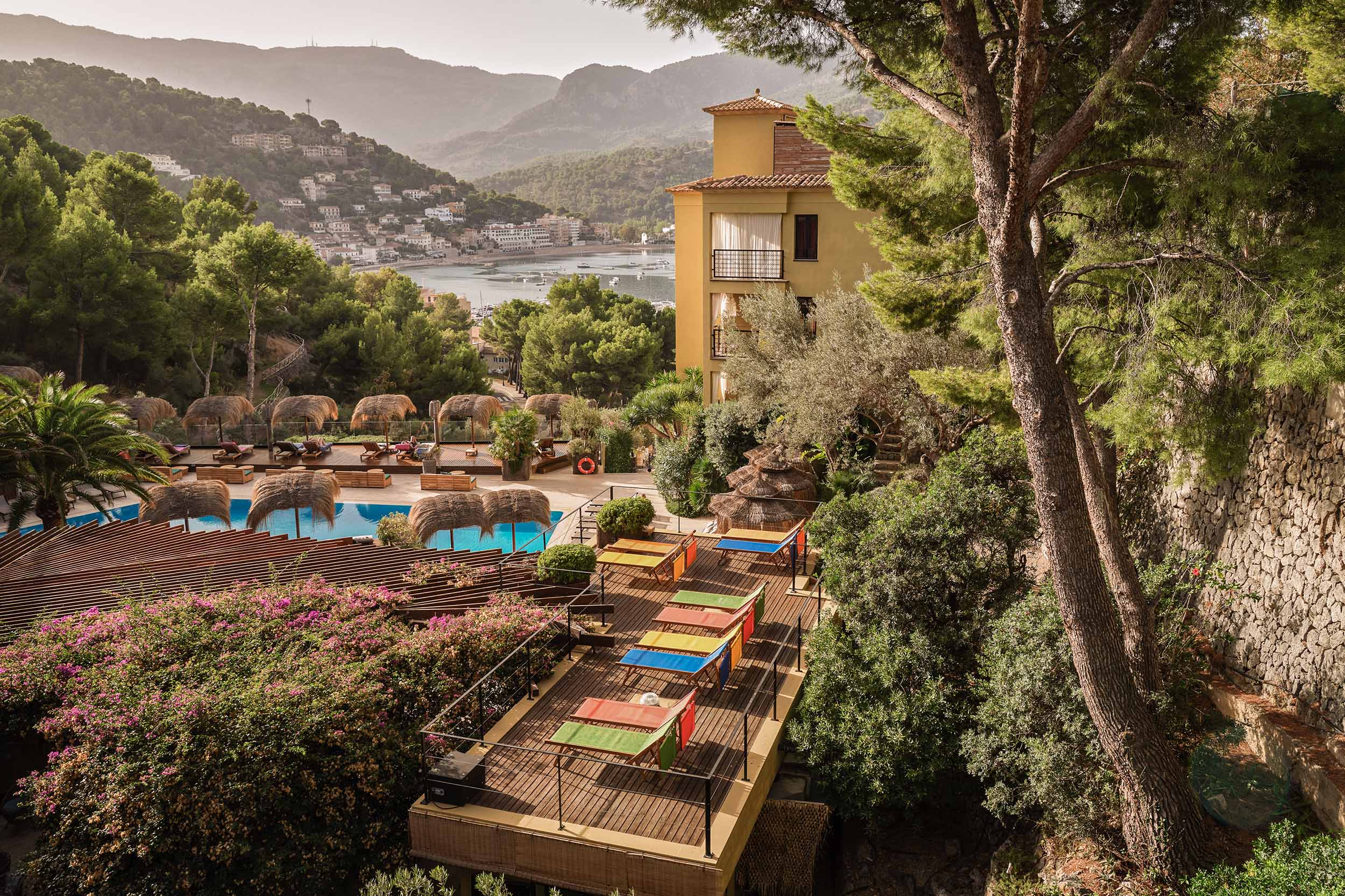 Cap Rocat
The Cap Rocat is a real insider tip and one of the most exclusive boutique hotels in Mallorca. A member of the Small Luxury Hotel of the World, this fascinating 5-star hotel offers luxury vacations at their finest. The location alone is stunning, as the hotel is set in a beautifully restored fortress, nestled in a rocky coastal landscape with stunning views of the sea. The whole complex is an experience, it is very spacious and the atmosphere is incredibly tranquil and ideal for relaxing. A spa, hammam, tennis courts and fitness center are available free of charge. Outdoor yoga and Pilates classes round out the recreational offerings. The suites of the hotel, which can be booked with private pool, are to fall in love with.
In addition, the culinary offerings are just outstanding. The wonderful restaurant La Fortaleza and the Sea Club at the Hotel Cap Rocat offer the opportunity to discover and enjoy the essence of Mediterranean and Mallorcan cuisine. In addition, a fantastic breakfast is served every morning.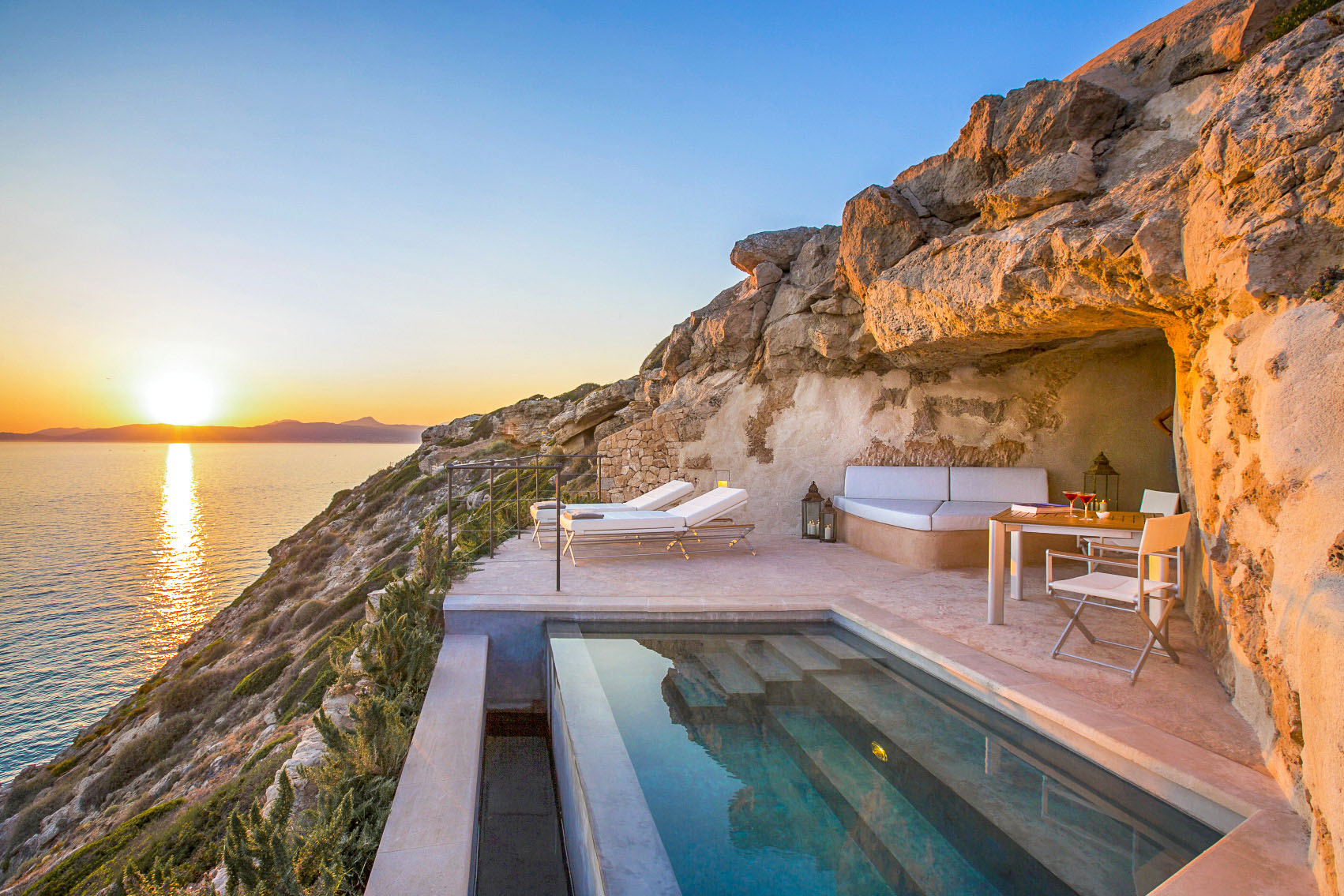 Predi Son Jaumell Hotel Rural
The Predi Son Jaumell Hotel Rural is an oasis of tranquility in Mallorca. This charming boutique hotel is set in beautiful countryside, just a 6-minute drive from the beach. The property dates back to the 14th century and has been renovated with great attention to detail. The entire ambiance is absolutely charming and exudes an atmosphere of grandeur. Even the only 24 suites are individually designed and furnished to make you feel at home! Equipped with whirlpool tubs, elegant showers, coffee makers, speakers for your smartphone, fluffy towels, cozy bathrobes and many complimentary extras, they really thought of everything!
The charming country house also has a lovely garden with a beautiful outdoor pool that invites you to relax. In the morning, a delicious traditional Majorcan breakfast with fresh fruit is served and in the evening the magnificent restaurant invites you to culinary highlights.
Hotel Can Alomar
The Hotel Can Alomar is the perfect choice for a stylish stay in Palma de Mallorca. This boutique hotel is located in a 17th century palace in the heart of Palma's Golden Mile, home to the best national and international shops, restaurants and art galleries. Thanks to an extensive renovation, the hotel has managed to preserve the splendor of bygone times and create a dreamlike atmosphere. The interiors are decorated with works of art by Mallorcan and international artists, and designer pieces contribute to the avant-garde and sophisticated design. The bright rooms and suites are also beautiful, a true oasis of tranquility, with the finest furnishings.
The elegant roof terrace with swimming pool is a true jewel of the boutique hotel. Also popular are the hotel's verdant breakfast terrace and the trendy De Tokio a Lima restaurant, which serves a fusion of Japanese, Peruvian, and Mediterranean cuisine.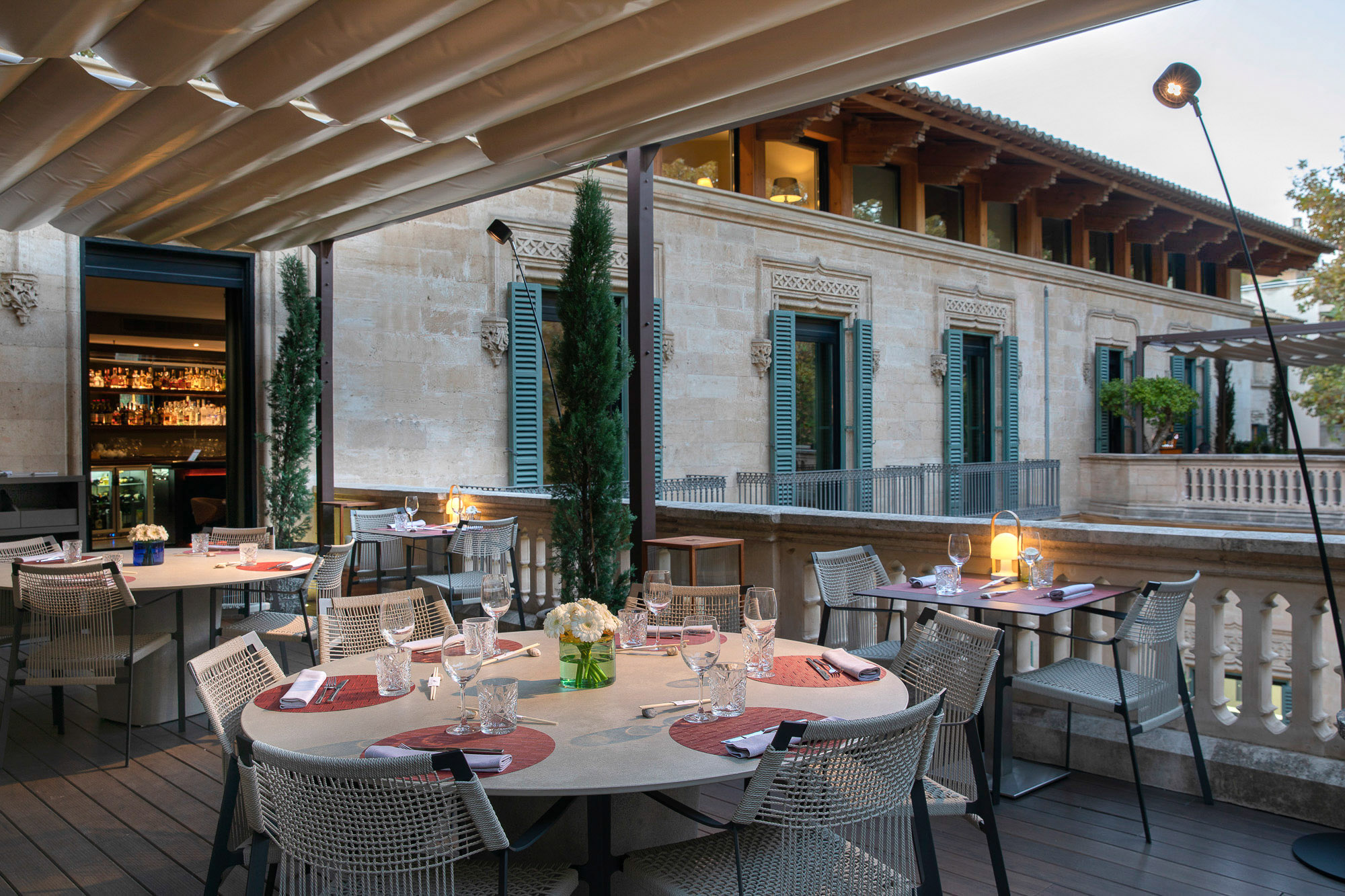 L'Avenida
The L'Avenida is a truly fascinating boutique hotel in Mallorca. Located in one of the most beautiful spots on the island, in the magnificent old town of Sóller, it is also an exclusive adults-only hotel. The fusion of a 100-year-old mansion, noble style and modern design is truly stunning. In addition, the boutique hotel with only 12 rooms offers wonderful privacy. No two rooms are alike, as each has been individually designed and skillfully furnished with original architectural and decorative elements. Breakfast is served in the lovely garden and includes a daily selection of Mallorcan specialties.
A real jewel is the charming pool with sun terrace and breathtaking views of the mountains. Here you can really relax and enjoy the dreamy ambience to the full. For moments of pampering, the boutique hotel also offers a selection of fantastic spa treatments.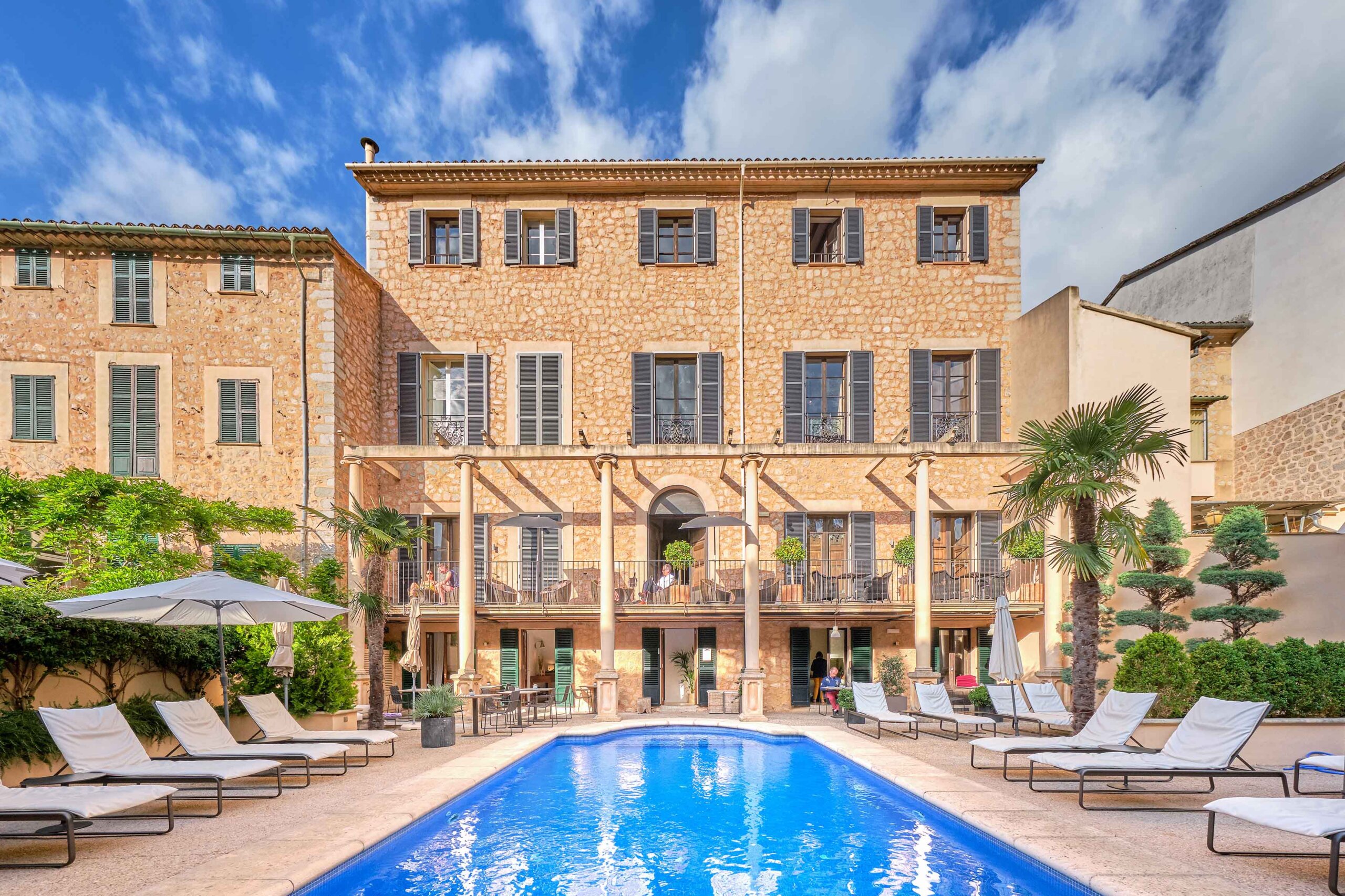 El Llorenc Parc de la Mar
The El Llorenc Parc de la Mar is a great option for a boutique hotel vacation in Mallorca. This chic 5-star adults-only hotel is located in the center of Palma de Mallorca, right next to the cathedral and a short walk from the harbor. Unique is the classic modern design with the beautiful artistic compositions and Moorish star patterns of the various rooms. The Ç WELLNESS STUDIO, with its extensive beauty and wellness services, swimming pool, sauna and Jacuzzi, is simply stunning. A delicious à la carte breakfast is offered in the morning, and the Michelin-starred DINS restaurant serves traditional, island-inspired cuisine in the evenings.
Not to be missed is the hotel's hip rooftop terrace. Here you can enjoy an oasis of tranquility, leave the hustle and bustle of the old town behind and take a refreshing dip in Palma's longest infinity pool. The cocktail bar with gourmet snacks also offers culinary delights.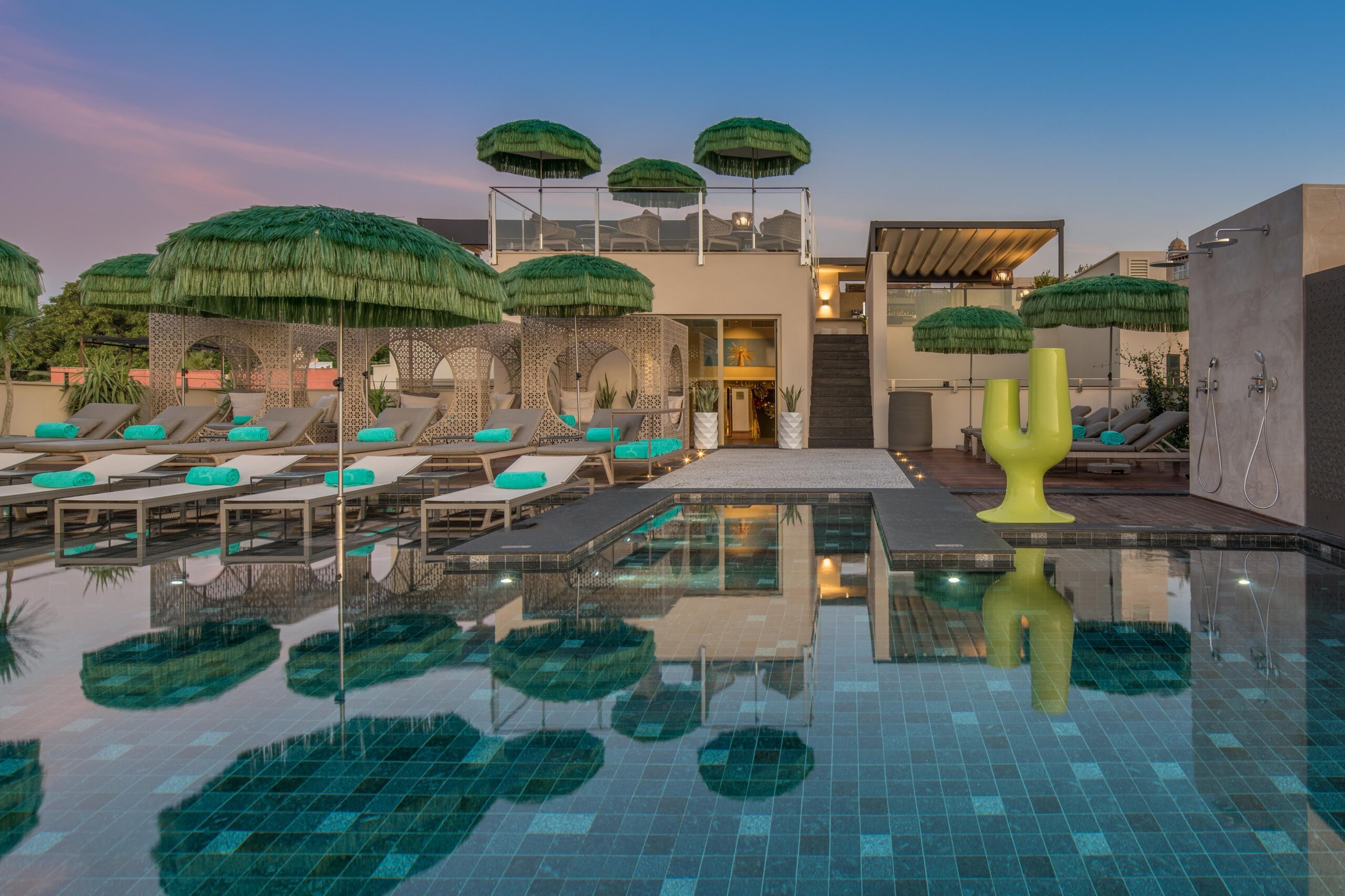 Can Aulí Luxury Retreat – Adults Only
The Can Aulí Luxury Retreat – Adults Only is an absolute insider tip in Mallorca. It is uniquely located in authentic Pollença, a town with historic buildings, charming cafés, and many famous galleries and boutiques. In addition, this 5-star hotel boasts stunning design and a fairytale atmosphere that can be felt in every corner of this traditional stone house. A real highlight is the breakfast in the open Mallorcan kitchen, where guests are made to feel at home. Much emphasis is placed on organic quality and local ingredients, and there is also a variety of delicious vegan dishes to choose from.
Particularly charming is the picturesque courtyard, which invites guests to relax with a pretty pool and comfortable sun loungers. The hotel also has a wellness area where organic treatments are offered and private yoga or Pilates lessons can be booked on request.
Son Penya Adults Only Petit Hotel & Spa
The Son Penya Petit Hotel is a beautiful small boutique hotel in Mallorca where you can experience the true Balearic lifestyle. This Adults Only hotel is located in an old traditional Mallorcan finca with over 200,000 square meters of land surrounded by a picturesque landscape of olive, lemon and almond trees and orchids. During your vacation you will enjoy an absolute oasis of well-being, wonderful tranquility and a serene atmosphere. Guests come here to relax and get away from the stress of everyday life. With only 20 rooms and suites, the hotel guarantees the highest level of living comfort, while the beautiful deluxe villas each have their own private swimming pool.
The hotel's exclusive Spa & Wellness facilities are ideal for pampering the body, mind and soul. The spa features an indoor pool, steam room, sauna, experience shower, fitness area, and a private treatment room. And all of this with stunning views of the surrounding countryside.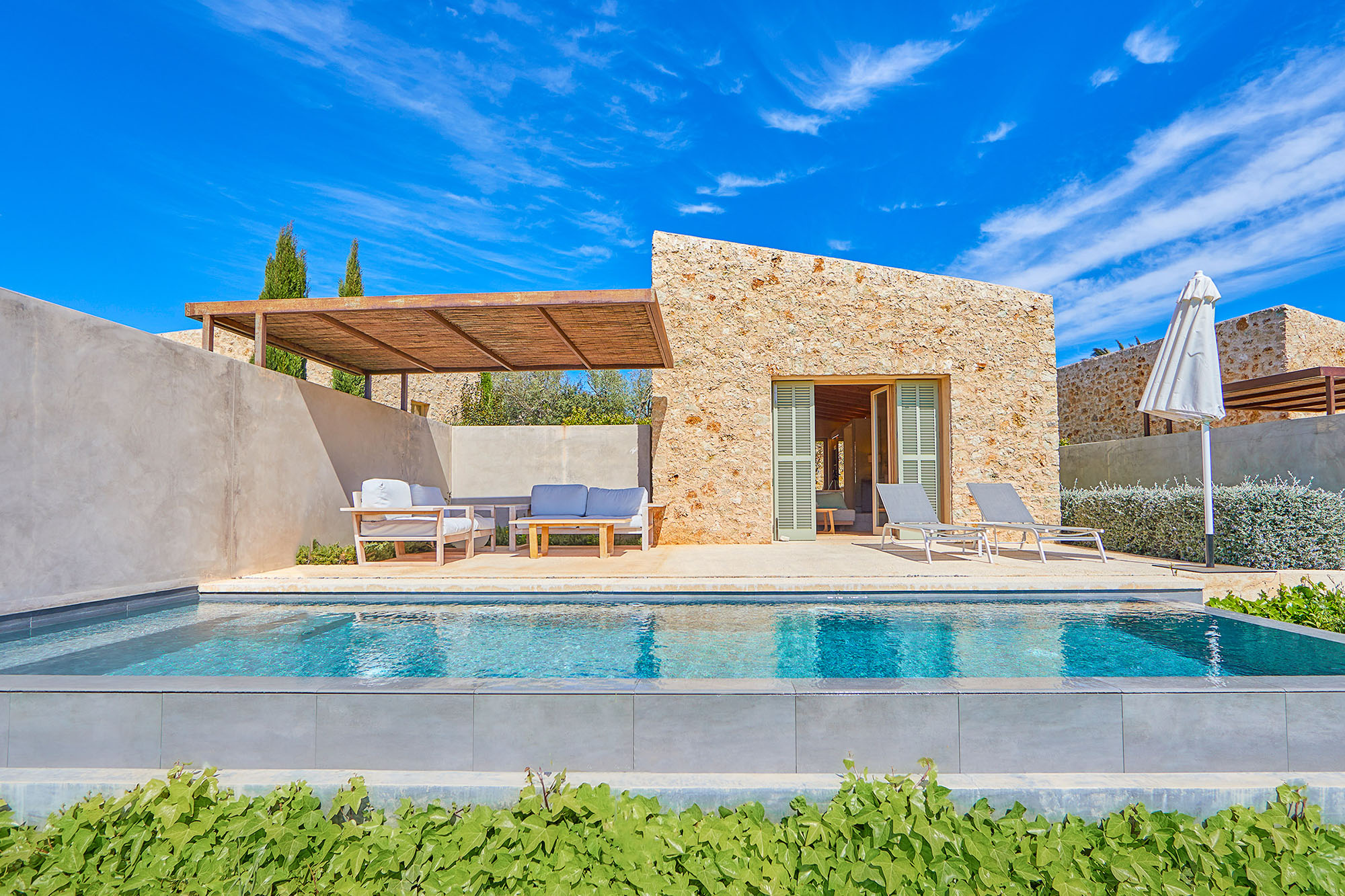 ---
More about Boutique Hotels:
---
Disclosure: Some of the links below are affiliate links. Meaning that if you click on certain links, and then subsequently purchase a product, I will receive a small commission at no extra cost to you.
---