Top 12 UNIQUE Boutique Hotels in Paris
The stunning design and boutique hotels in Paris make a stay in the French capital a unique experience. These extravagant accommodations score with distinctive style, a touch of luxury and elegant design far from the conventional. Perfect, then, if you want to make your vacation in the so-called City of Love something very special. But not only that! The best Paris boutique hotels are ideally located in the center of the city and are therefore also great starting point for sightseeing, shopping and going out. But what are the most beautiful boutique hotels in Paris, what are the insider tips, and which design hotels are perfect for a city trip of a special kind?
In this guide you will find our top recommendations for the best design and boutique hotels in Paris. We show you some stunning pictures and give lots of tips and information that will surely help to choose the perfect hotel.
J.K. Place Paris
The J.K. Place Paris is definitely one of the best boutique hotels in Paris and on top a fabulous choice for a city trip. The location is absolutely quiet and yet you stay very centrally, not far from the main attractions. Simply stunning is the overall design of this Italian/Paris 5-star hotel! It is stylish, timeless, luxurious and there are numerous details, such as fine fabrics, precious carpets and art. The rooms and suites are also in a class of their own and promise the most pleasant living comfort at the highest level. Here, attention has really been paid to everything. There are walk-in closets and the bathrooms are equipped with marble, Dyson hair dryers and Alma K toiletries.
Moreover, the J.K. Palace has an on-site spa. Guests enjoy a wonderful wellness oasis in the so-called Sisley Spa, where a sauna, steam room, pool, and fitness area invite guests to unwind after a long day of sightseeing.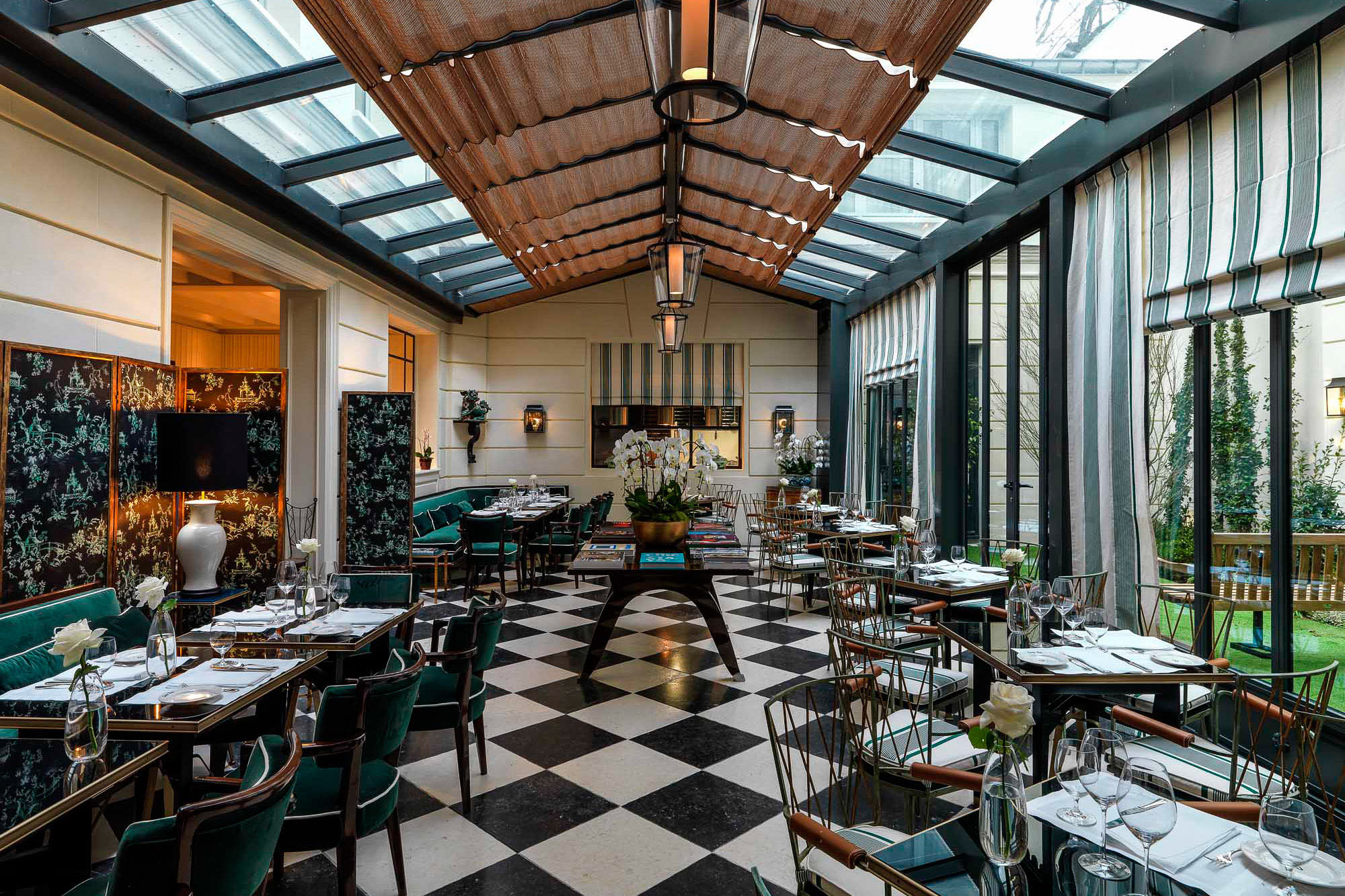 Bulgari Hotel Paris
The Bulgari Hotel Paris is a wonderful choice for an unforgettable stay in Paris. This luxurious boutique hotel is located in the heart of the "Golden Triangle" on Avenue George V, just minutes from the most famous sights of the French capital. The interior is fantastically beautiful, where marble, silk wallpaper, granite, tapestries and lacquered eucalyptus wood form a perfect ensemble with the designer furniture and artworks. The 76 rooms and suites are a real highlight, with some of the guest rooms even inspire with magnificent views of the Eiffel Tower and their own terrace. To relax, it is best to go to the hotel's own spa with a fantastic pool.
For culinary delights, head to Il Ristorante – Niko Romito, where you can enjoy a chic dinner with a unique flair. Also great is the Bulgari Bar, where the black granite floors, high-gloss ceilings, and brass accents conjure a contemporary sophistication.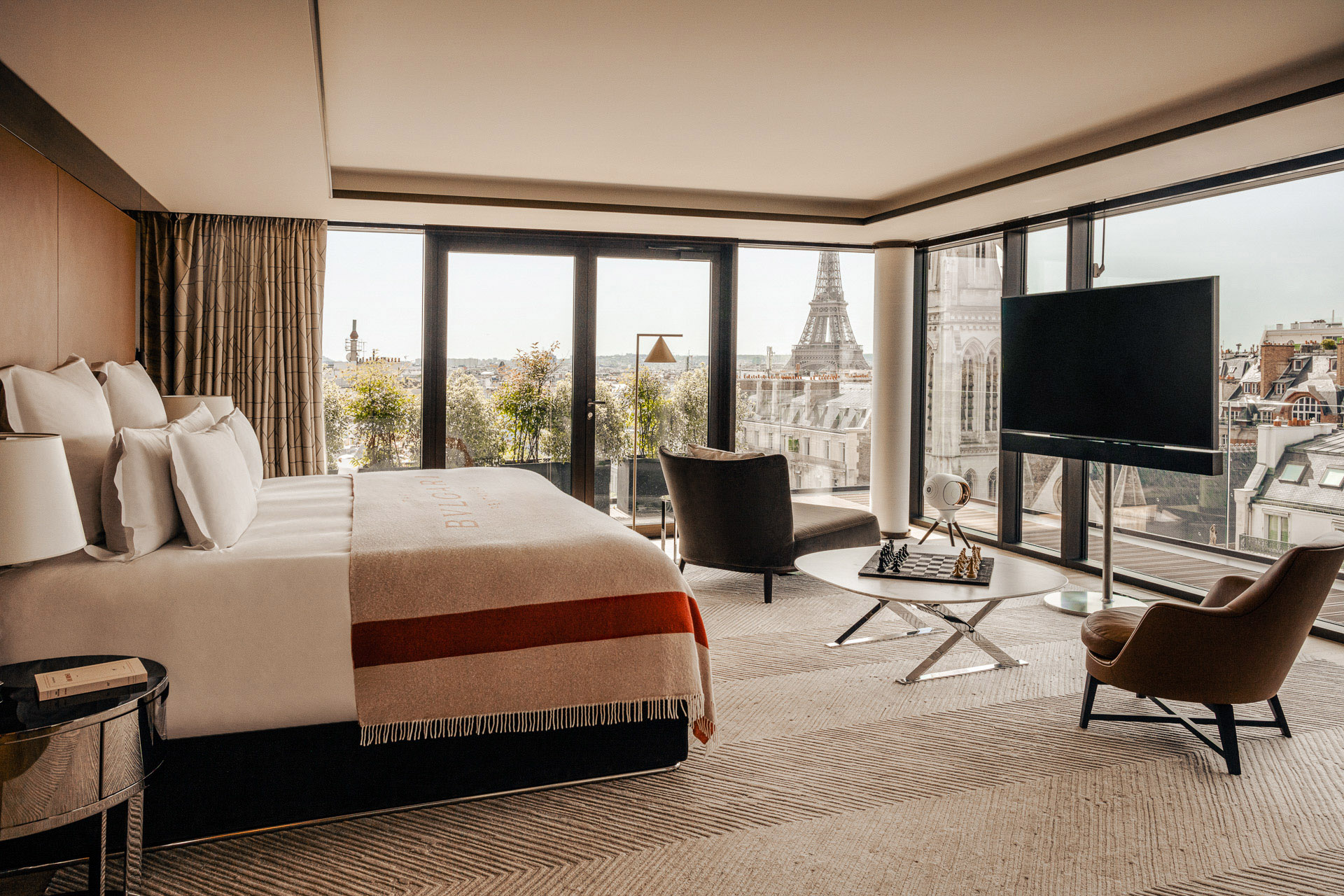 Chouchou Hotel
The Chouchou Hotel is one of the best and hippest boutique hotels in Paris. This exceedingly charming 4-star hotel is something very special and therefore an insider tip for an exceptional city break. Moreover, the great location makes the hotel a terrific starting point for sightseeing. Absolutely fascinating is definitely the youthful ambience in the boutique hotel, because here chic deco meets coziness. The 63 rooms are furnished with French craftsmanship and, depending on the category, equipped with ingenious extras such as balconies, bathtubs, large showers or breathtaking views of the opera. Delicious is also the breakfast in the morning, which is guaranteed to leave nothing to be desired.
An experience is the changing evening program, which provides entertainment in the Chouchou Hotel. A food market is held regularly at La Scene, where seasonal produce and delicious dishes can be sampled for lunch and dinner at one of the large wooden tables in a cozy atmosphere.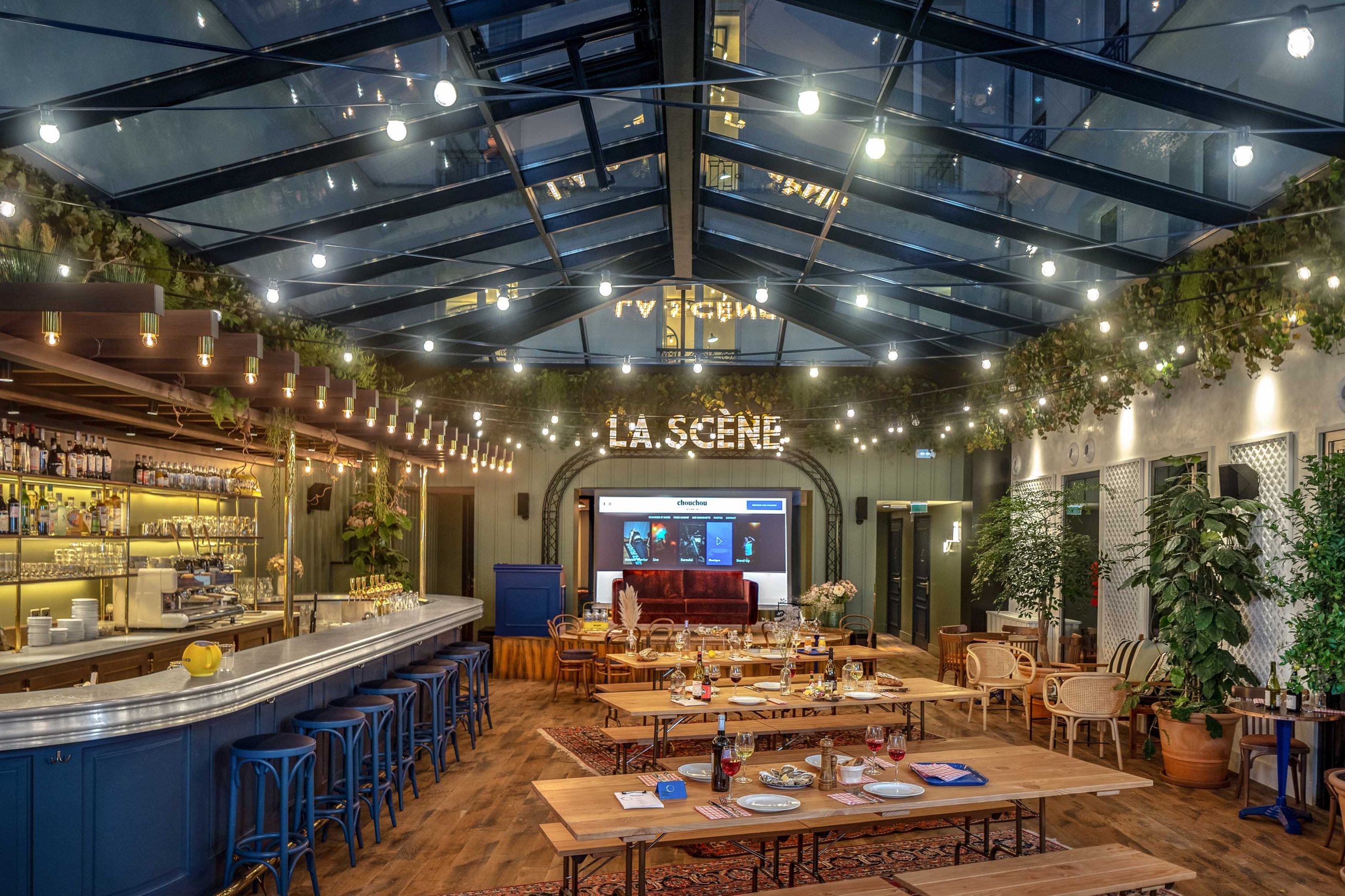 Cheval Blanc Paris & Dior Spa
The Cheval Blanc Paris is a wonderful, very luxurious design hotel for that very special occasion. This fascinating 5-star hotel is located just a few hundred meters from the Louvre and also boasts magnificent views of the Île de la Cité. The combination of Parisian elegance, excellent savoir-faire and sparkling innovation is truly successful. Every little detail has been thought of here, simply perfect for the discerning guest. The spacious 72 rooms and suites have been furnished with fine materials and kept in a timeless style. A real highlight are the accommodation units with balconies, from which you can enjoy a fairytale view of Paris. The culinary offer with restaurants is also unbeatable.
A real gem and a place to relax is the large curved infinity pool with handmade mosaics. While swimming, you experience a great view of the city on top of that. Moreover, in the wellness area you will find a sauna, a hammam and the refreshing snow shower.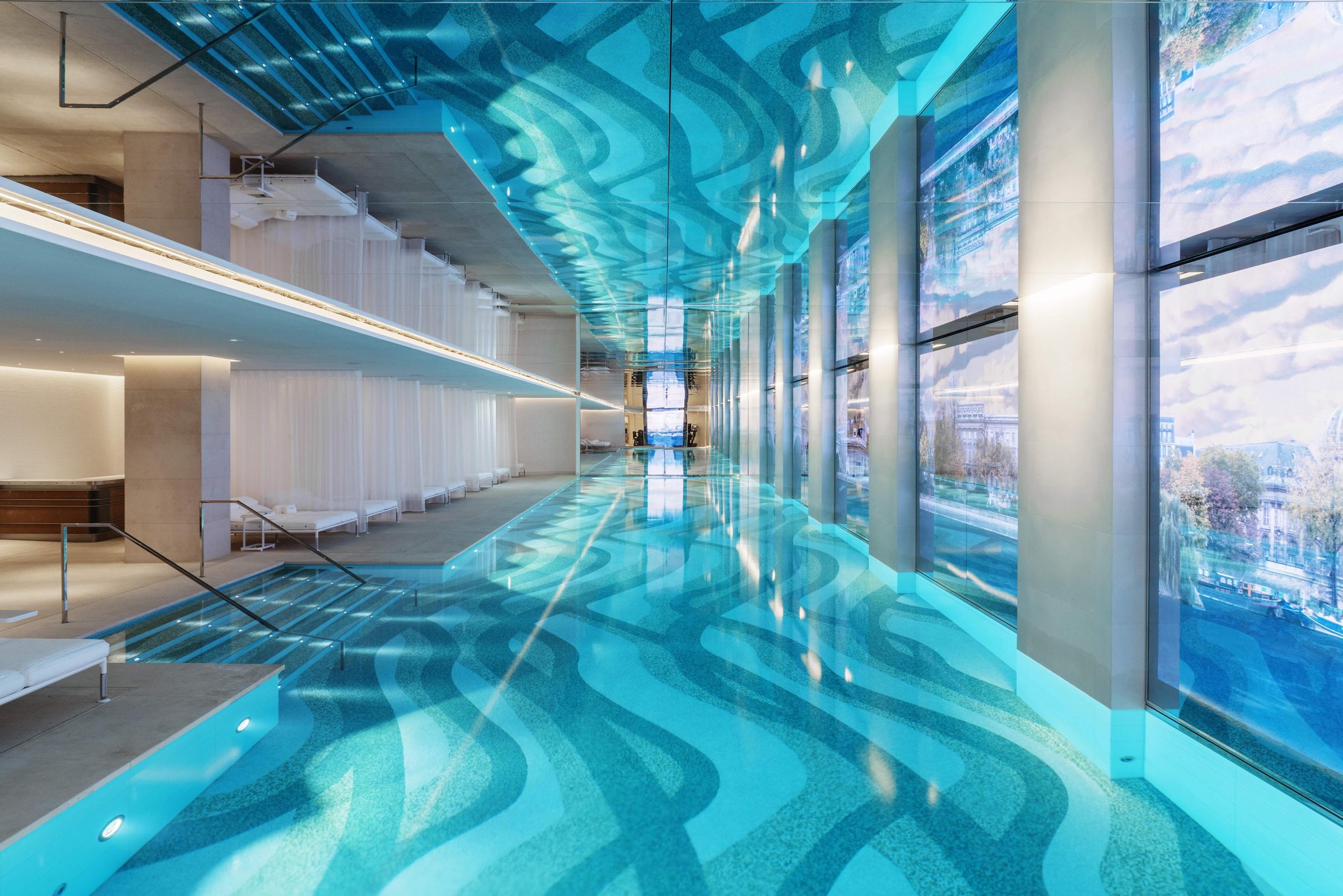 Bonsoir Madame
The Bonsoir Madame is a small, romantic boutique hotel in Paris' famous 6th arrondissement. Several charming highlights await you during a stay! An orangery, an orchard, a greenhouse and the beehive, this 4-star hotel is a small universe inspired by the treasures of the famous neighboring Jardin du Luxembourg. The overall design is absolutely stylish, it is subtle, captivating and elegant at the same time. The 34 pretty rooms are also very inviting, colorfully designed and offer wonderful living comfort. Moreover, the small wellness area in a renovated stone cellar is also wonderful, where the hammam, infrared sauna, and fitness room conjure up a small oasis of well-being.
Especially excellent is the delicious breakfast buffet in the hotel, which impresses with a terrific selection of delicacies and with versatility! In addition, great importance is attached to organic ingredients. Optimal to start the sightseeing day full of energy.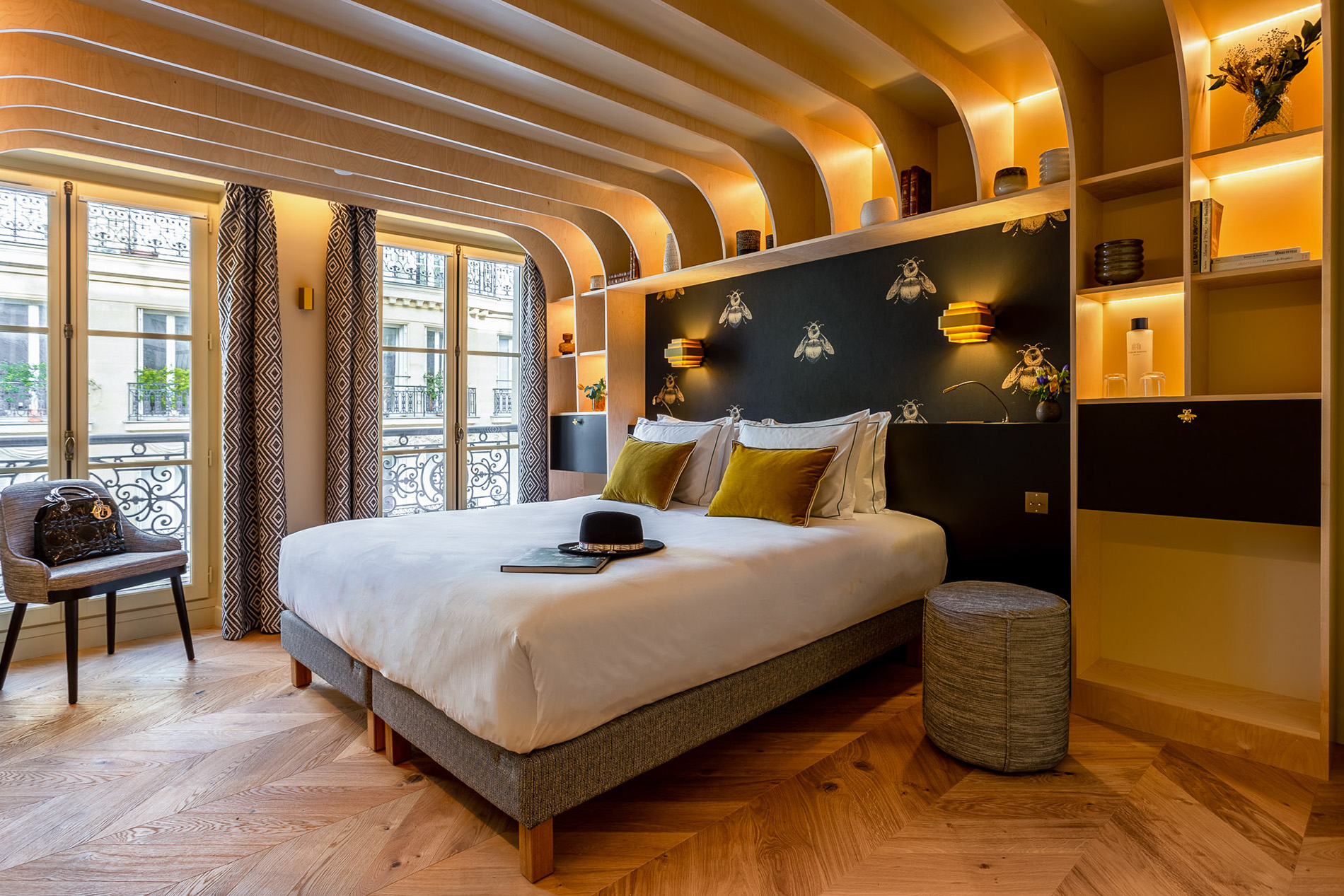 citizenM Paris Champs-Élysées
The citizenM Paris Champs-Élysées is definitely one of the coolest design hotels in Paris. This chic 4-star hotel is in a fabulous location for a city break, right on the Champs-Elysee and not far from a metro station. It's also great value for money, perfect if you're looking for stylish yet relatively cheap accommodation. The 151 rooms of the hotel are rather small, but equipped with many technical features. The many common rooms are also really cool, where you can really spread out and relax or work. There is also a beautiful roof terrace with a view of the Eiffel Tower and also a courtyard to linger in.
The hotel's delicious breakfast buffet is particularly excellent, with a terrific selection of fresh food! Also worth mentioning are the numerous restaurants and brasseries nearby that offer insight into French cuisine.
Hotel de Montesquieu
The Hotel de Montesquieu is a top choice for an unique stay in wonderful boutique hotel in Paris. It is located on a quiet street in the 8th arrondissement, just steps from the Champs-Elyséese, in one of the city's most beautiful neighborhoods. Here, elegance, comfort, hospitality and timeless charm come together to create a hotel experience at its finest. The interior of this grandiose 4-star boutique hotel is inspired by the Orient and rich colors, as well as precious materials characterize the ambience. With only 18 suites and rooms, Hotel de Montesquieu is a trip to bohemian Paris, and the first-class furnishings and refined details promise relaxing nights away from the hustle and bustle of the city.
What's more, this boutique hotel enjoys a terrific location just off the Champs-Elyséese, perfect for exploring Paris' most beautiful attractions on a city break. Also worth a visit is the chic hotel bar with velvety sofas, where you can end the day with a cocktail, a glass of champagne and other delicacies.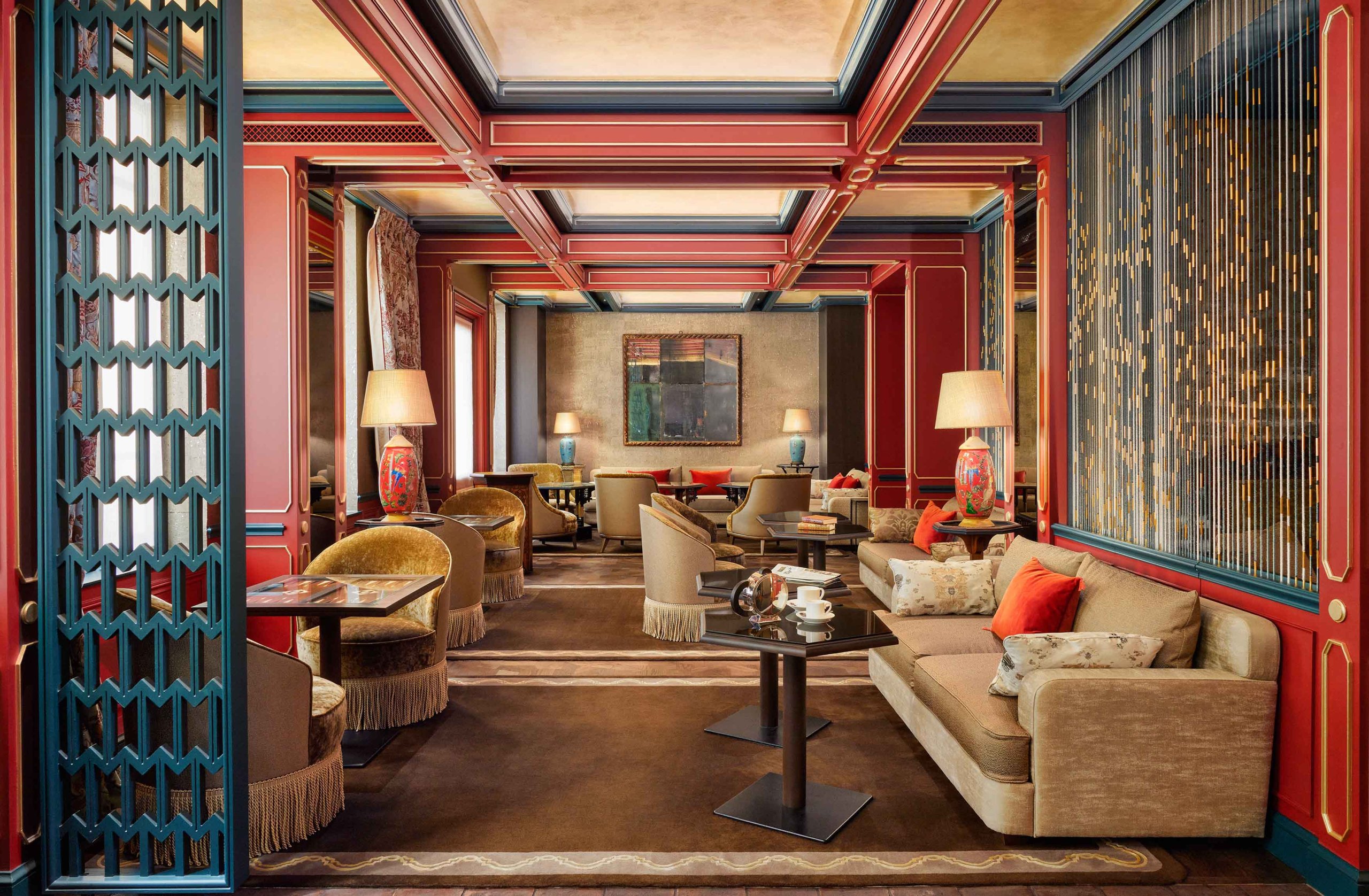 Les Jardins du Faubourg Hotel & Spa
The Les Jardins du Faubourg is a brilliant 5-star boutique hotel in Paris. It is located in a former Haussmann townhouse, tucked away on a quiet street in the luxurious 8th arrondissement near the Champs-Elysées. The French ambience in the hotel is absolutely glamorous and stylish. Everything has been tailor-made and furnished with especially high-quality and luxurious materials such as solid wood, marble and fine fabrics. You should also visit the bar "The Confidential", where guests can enjoy delicious cocktails in a cozy atmosphere. Just behind it, there is also the hotel restaurant with a beautiful glass roof and a view of the lush garden.
The wonderful green garden is the absolute heart of this boutique hotel. Full of exotic plants, guests can enjoy a true oasis of tranquility here. Beautiful and a relaxing experience is the spa area in the hotel, where a stunning 15-meter swimming pool with mosaic tiles in the stone vault awaits you.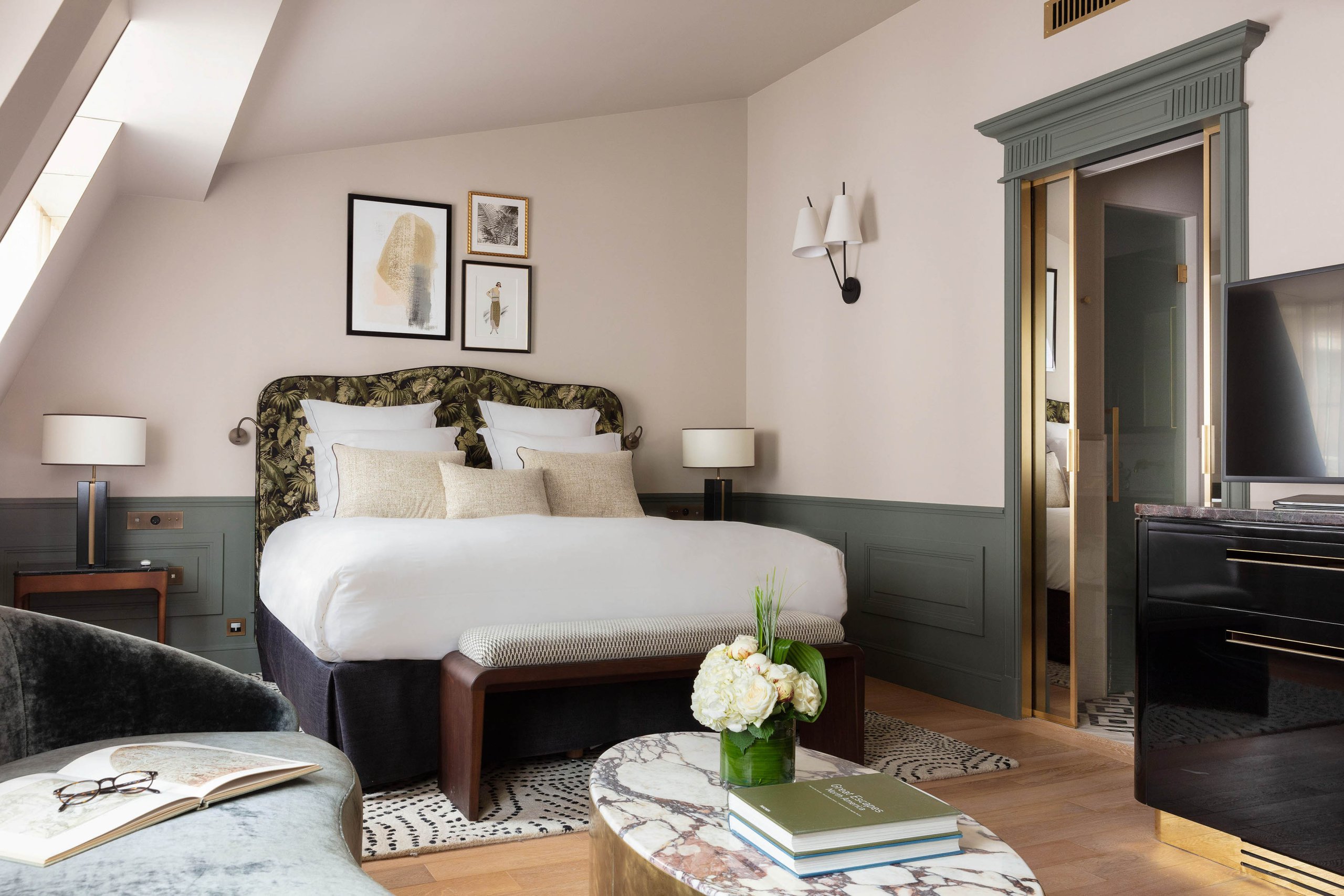 Le Roch Hotel & Spa
The Le Roch Hotel & Spa is an absolutely chic boutique hotel in Paris. It is ideally located between Place de l'Opéra and Place Vendôme, and is perfect for exploring the most interesting spots in the city. Wonderful is the perfect mix of chic and casual, of coziness and the first-class service of a 5-star establishment. The only 37 rooms are truly tastefully decorated, and delight with charming color patterns, natural light, and an extremely chic elegance. The materials are also of high quality, there are high-tech amenities and the guest rooms have been fitted with the best designer furniture. In addition, the boutique hotel enjoys an enchanting courtyard garden and a sun terrace to linger on.
A real gem is the spa area of Le Roch. Here guests can enjoy a particularly stunning swimming pool made of lava stone, there is a fitness room and also a hammam. Perfect for relaxing after a long action-packed day of sightseeing.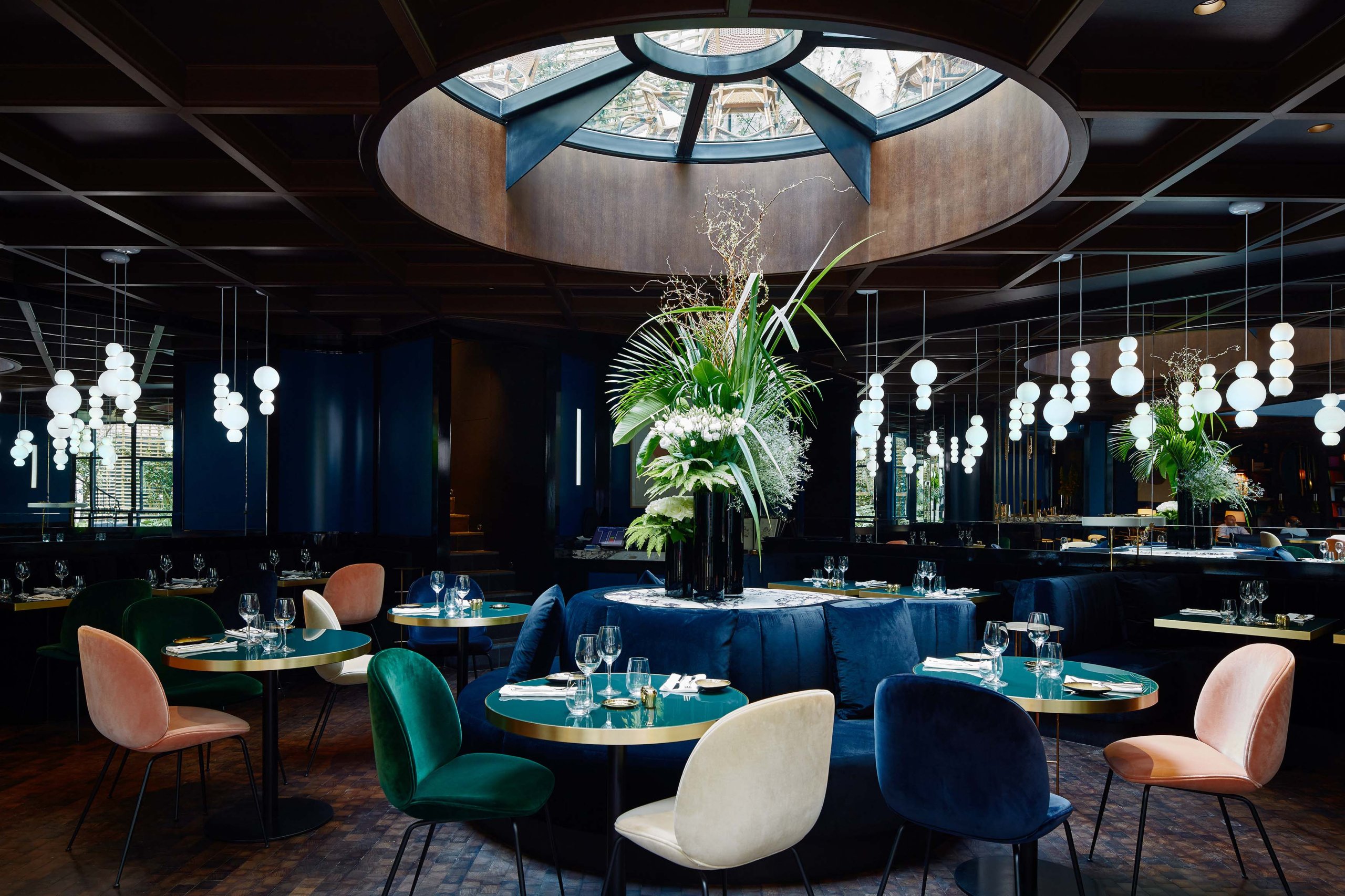 25hours Hotel Terminus Nord
The 25hours Hotel Terminus Nord is definitely one of the best design hotels in Paris. Located in the 10th district, vis-à-vis the central Gare du Nord train station, it's a colorful urban retreat with chic graffiti art. What's really cool is the colorful design, which harmonises perfectly with the lively spirit of this part of town. Rooms come in medium, large, and extra-large-plus, with Asian-African-inspired details conjuring up a very special atmosphere. Plus, there are lots of little surprises at the hotel! There are chic bicycles available for rent, the minibar is complimentary, and there's an in-house store with Parisian souvenirs.
Also worth a visit is the NENI restaurant. Here you can enjoy Israeli-Mediterranean cuisine in a cozy setting. An aperitif or a nightcap is best enjoyed in the adjacent Sape Bar with its large bar and heavy leather armchairs.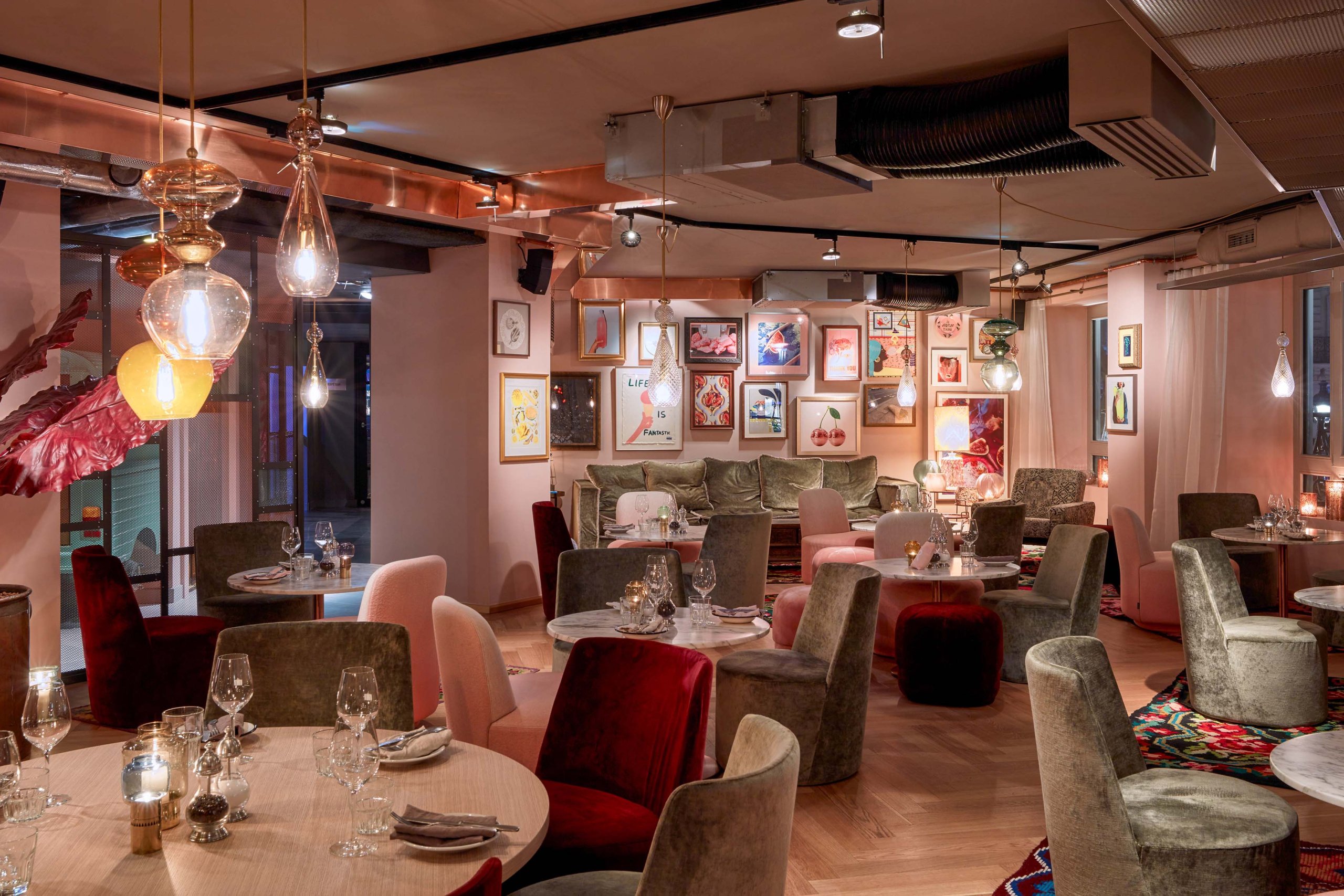 Relais Christine
The Relais Christine is an insider's tip for a trip to Paris. Located in a former private residence in the heart of the city, this pretty boutique hotel is a Parisian oasis of calm. Completely redesigned by Laura Gonzalez, today this 5-star hotel is a charming and discreetly luxurious boutique hotel in the heart of Paris. The only 48 rooms and suites are individually decorated, very inviting and inspire with the best living comfort. The rooms feature antiques, cozy velvet fabrics, warm wooden elements and precious materials. Truly romantic are also the lounges, which invite guests to linger with cozy corners, fireplaces, honor bar and discreet seating.
To relax, it's best to go to the in-house Guerlain-Spa with whirlpool and sauna. It's even open 24 hours a day! It is located under a renovated 13th century vault and offers a fabulous range of treatments and massages.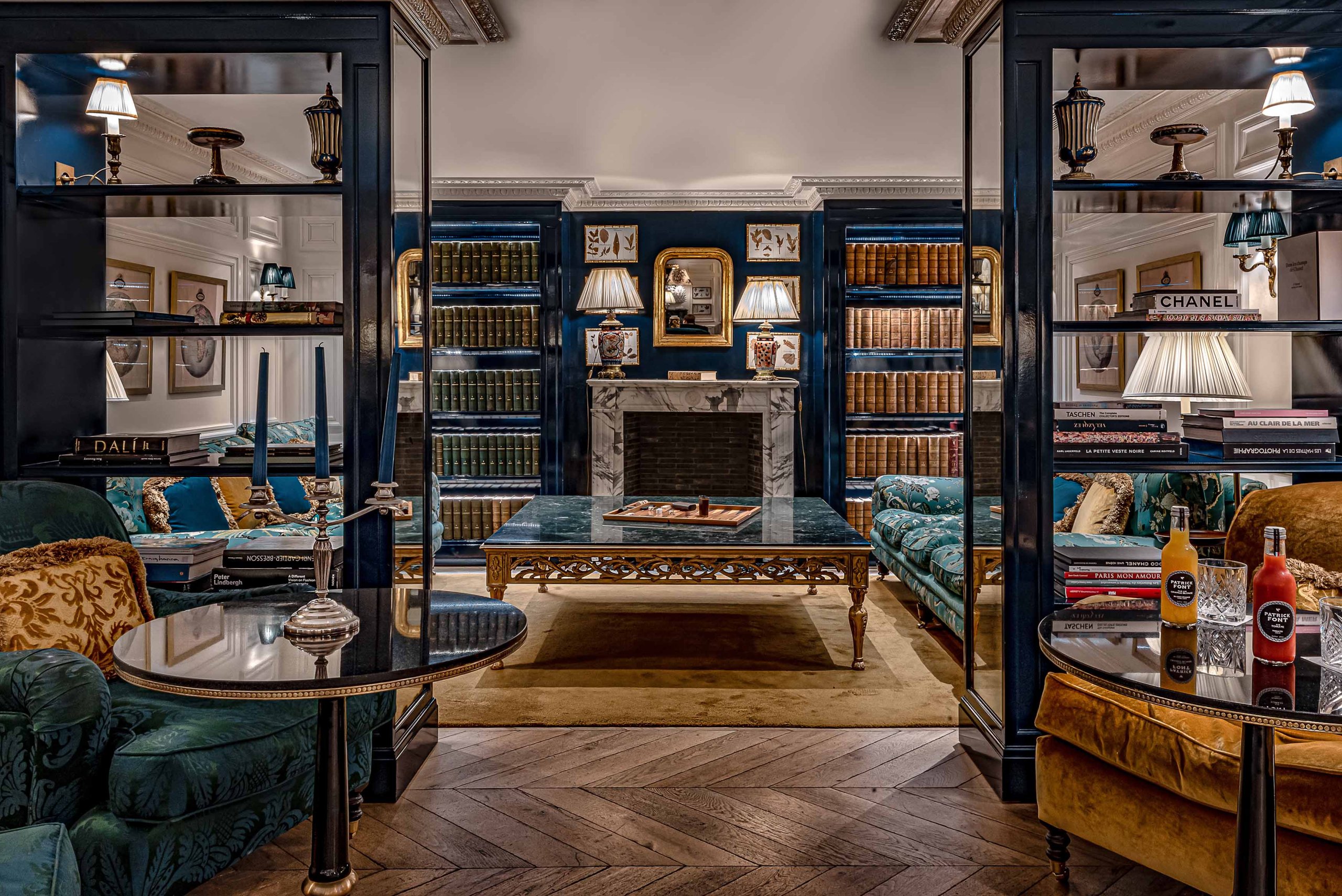 ---
More about Boutique Hotels:
---
Disclosure: Some of the links below are affiliate links. Meaning that if you click on certain links, and then subsequently purchase a product, I will receive a small commission at no extra cost to you.
---