Top 12 UNIQUE Boutique Hotels in Copenhagen
A stay in one of the gorgeous design and boutique hotels in Copenhagen is sure to make your trip to the capital of Denmark an unforgettable experience. These absolutely stylish accommodations shine with chic design, a very personal touch as well as hip furnishings, and exude a touch of luxury on top of it all. These often very classy hotels definitely have that certain something that sets them apart from many other places to stay. In addition, the best boutique hotels are located right in the center of Copenhagen and are therefore not far from the main attractions of the city. So perfect for sightseeing, shopping and going out! But what are the most beautiful boutique hotels in Copenhagen, what are the real insider tips, and which design hotels are best suited for a city trip of a special kind?
In this guide, you will find our recommendations for the best design and boutique hotels in Copenhagen. We show you fantastic pictures and give you plenty of tips and information that will surely help you choose the perfect hotel.
Villa Copenhagen
The Villa Copenhagen is definitely a great choice for a stylish vacation! This modern 5-star design hotel is in a prime location, not far from the main attractions in the center. Moreover, Hotel Villa Copenhagen has already been selected as one of the best Danish luxury hotels in 2022. Housed in the former Central Post & Telegraph Head Office from 1912, the beautiful interior skillfully combines the past, present and future. Guests love the vibrant ambiance, which is a true experience for all the senses. Moreover, the 390 guest rooms and suites score with a comfortable atmosphere as well as a skillful simplicity in a bright Nordic style. To fall in love is also the excellent, varied breakfast buffet, which is guaranteed to leave nothing to be desired.
A real highlight in the hotel is the exclusive pool on the roof terrace, perfect for relaxing after a day full of fun and sightseeing. For a leisurely coffee or cocktail afterward, it's best to head to the charming Courtyard Bar, located in the breathtaking courtyard under a large glass roof.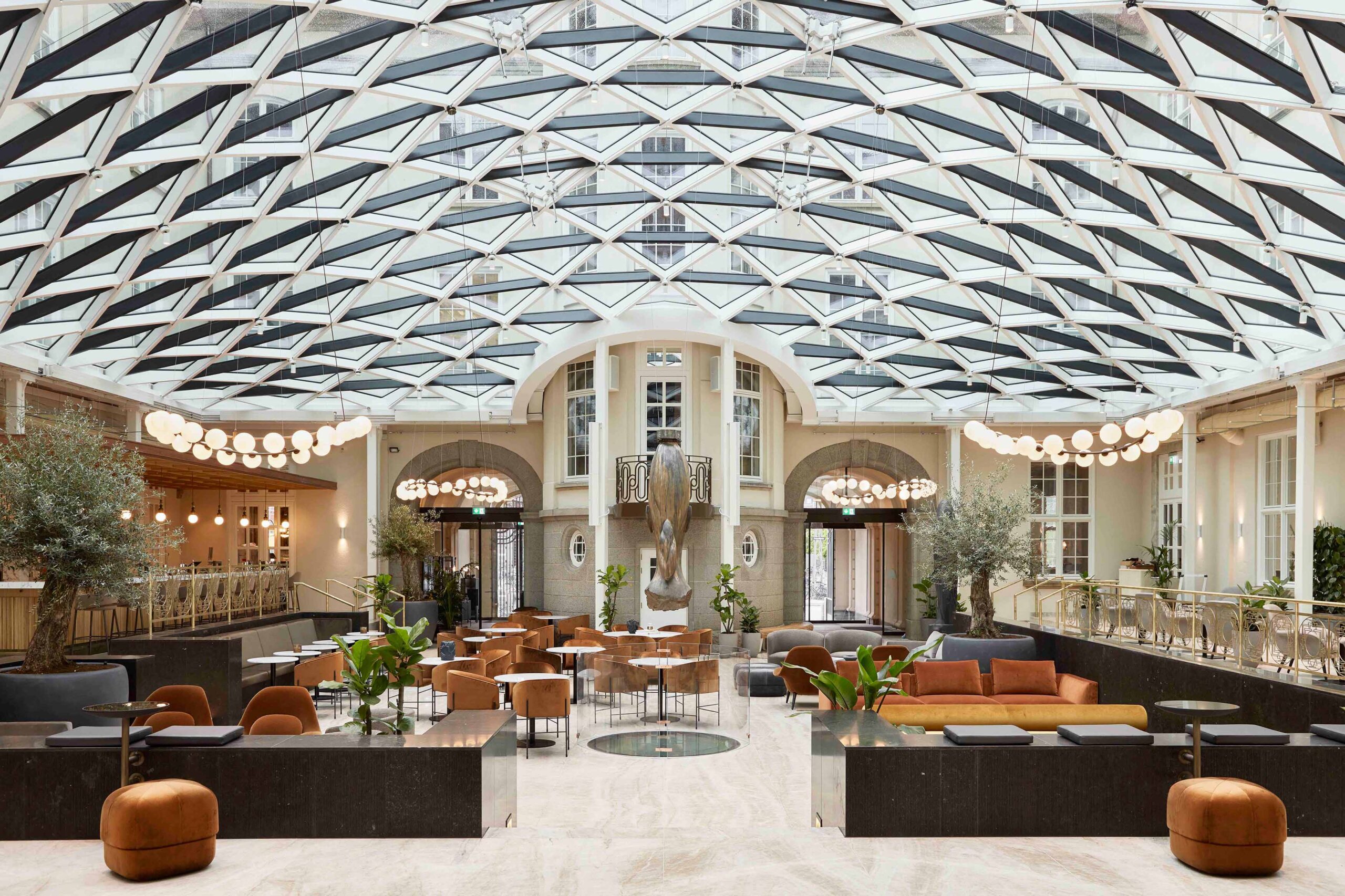 Nimb Hotel
The Nimb Hotel is definitely one of the best boutique hotels in Copenhagen, and a stay here almost guarantees an unforgettable getaway in the Danish capital. This 5-star hotel is cozy, intimate, fabulous, and sumptuous in equal measure, and promises an overnight experience with a difference! The location alone is spectacular, as it is located in a Moorish-inspired palace dating back to 1909, and right in the famous Tivoli district. The only 38 elegant rooms and suites are individually furnished with the finest antique furniture, as well as hand-picked art. The gorgeous four-poster beds ensure restful sleep, and some of the room types even have a fireplace and a freestanding bathtub. The culinary offerings are also phenomenal with fabulous restaurants, brasseries and bars.
You should definitely visit the beautiful 1,300-square-foot rooftop terrace, which scores with the 60-square-foot outdoor pool, a pool bar, and an absolutely chic lounge area. While sipping a tempting cocktail, you can enjoy a unique view of Copenhagen and the Tivoli Gardens from up there.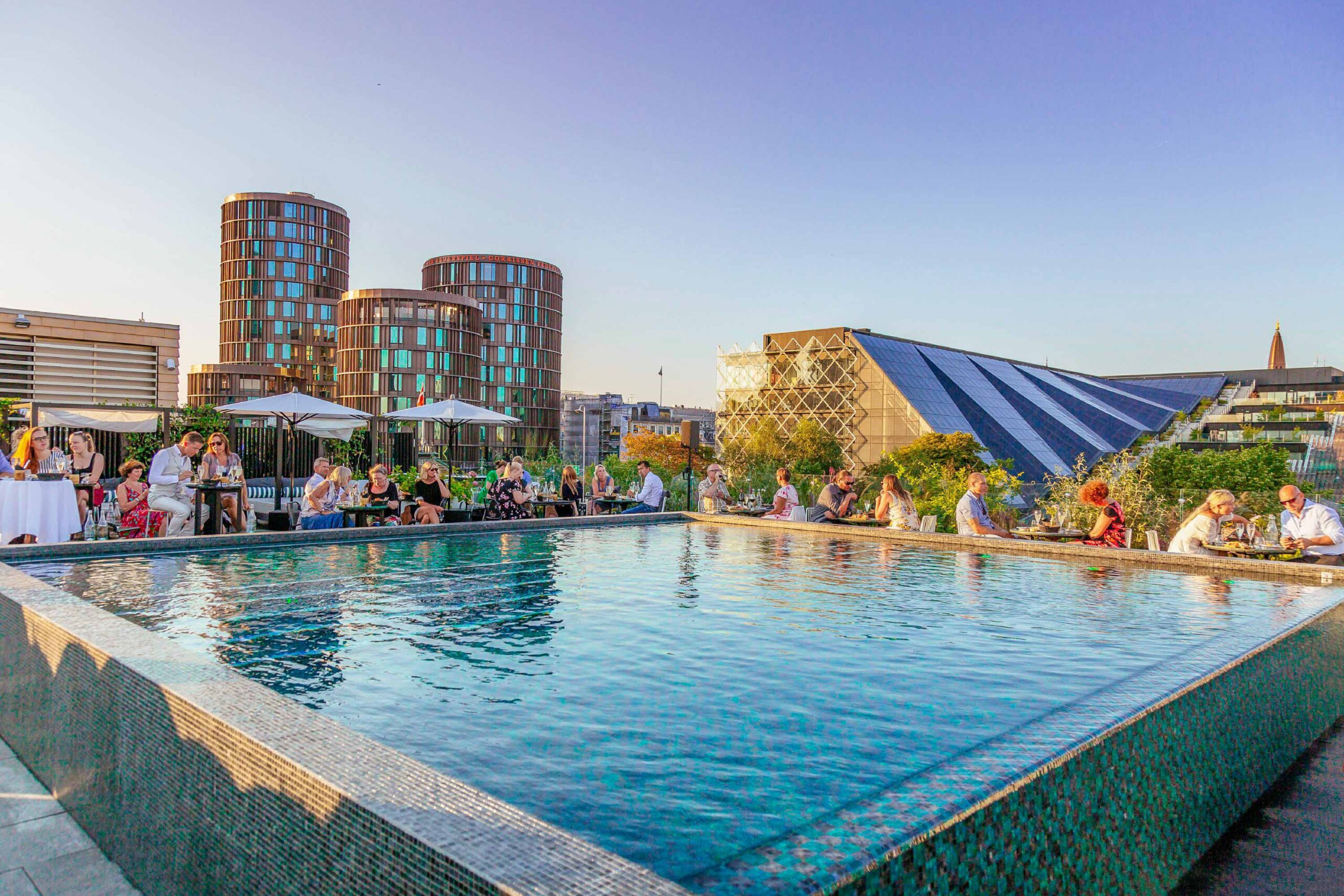 25hours Hotel Indre By
The 25hours Hotel Indre By is definitely one of the coolest design hotels in Copenhagen. It is located in a 19th century porcelain factory, which was later even used as a university building. Today, 25hours Hotel Indre By is a colorful urban retreat that's also centrally located between the Round Tower and Kobmagergade shopping street. Rooms range from Medium to Gigantic, and true to the history of the place, the 243 rooms are divided into the two styles of Passion and Knowledge. In addition, there are many little surprises in the hotel! You'll find several lounges like the Vinyl Room or the Love Library, there's a wellbeing area with a gym and an outdoor sauna. The bike rental is also really cool, where guests can rent classic city bikes as well as e-bikes for exploring the city.
Worth a try is definitely the culinary offerings at the NENI restaurant and Café Duse. An apéritif or a nightcap is best enjoyed in the extra cool Boilerman Bar in the basement, where you can end your sightseeing day with music and cocktails.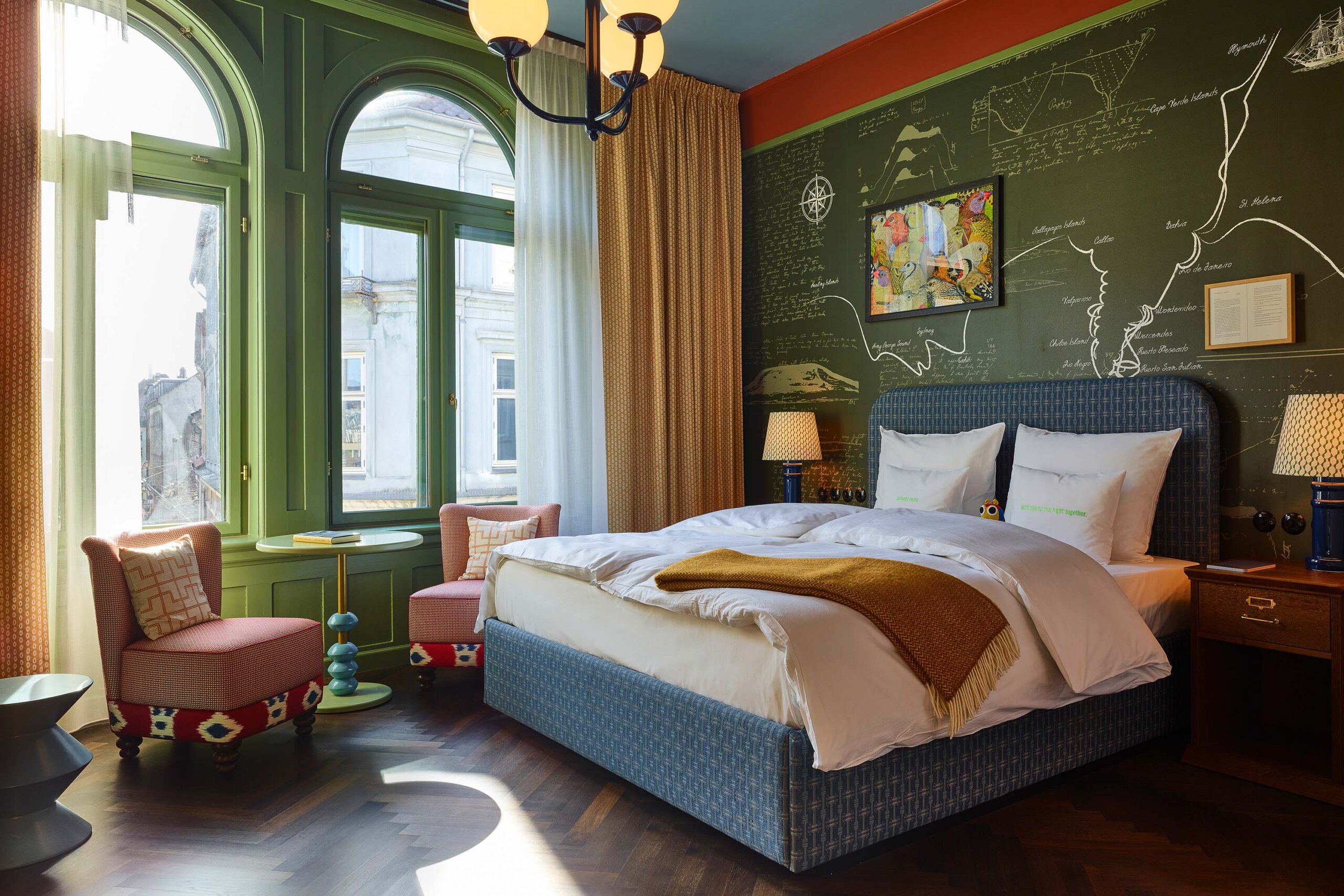 Manon Les Suites Guldsmeden
The Manon Les Suites Guldsmeden is an insider's tip among the best boutique hotels in Copenhagen. This Adults-Only hotel brings a little piece of Bali to the center of the Danish capital. This exceptional 5-star hotel combines boho luxury, a relaxed atmosphere, and stunning design, creating a hotel experience unlike any other. Moreover, the ecological concept also scores points because a lot of emphasis is placed on sustainability. The 87 rooms and suites are also beautiful, very chic and cozy in the unmistakable Guldsmeden style. In the morning, you'll enjoy a delightful signature breakfast with a terrific selection of dishes featuring organic ingredients. For lunch and dinner, it's best to visit the Chapung restaurant on the beautiful rooftop terrace, where gourmet menus of Asian fusion cuisine are served.
The absolute centerpiece at Manon Les Suites Guldsmeden is the stunning Junglefish Pool. Here you can relax in an absolutely stunning, exotic setting, where guest can also enjoy a cocktail, a cool smoothie, or something else from the menu. In addition, cool events take place here regularly.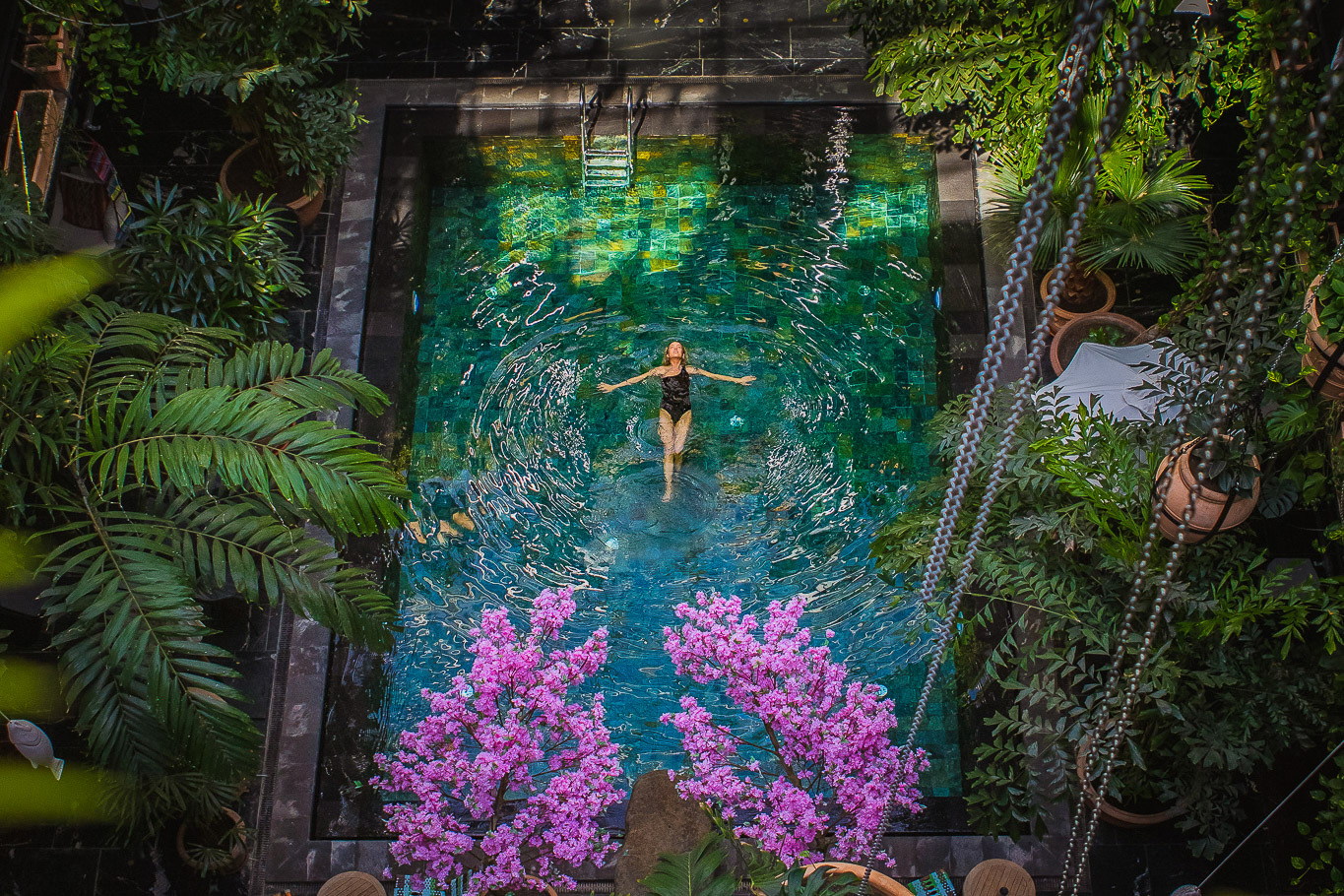 Hotel Kong Arthur
The Hotel Kong Arthur is a charming choice for a chic city break in the Danish capital. This gorgeous and, moreover, eco-friendly 4-star design hotel fascinates in many ways. Located in a building dating back to 1882, on the Copenhagen Lakes in the center, it captivates with grandiose flair and great attention to detail. The rooms and suites are decorated in light and elegant colors, with pleasant wooden floors, and the wonderful beds also guarantee a restful night's sleep. In the morning, a grand Nordic breakfast is also offered, with a lot of emphasis on regional ingredients and organic products. Definitely worth a visit are also the 3 excellent restaurants in the hotel, including the Italian La Rocca, the Spanish Pintxos and the Japanese Sticks'n'Sushi.
To relax, head to the hotel's spa area, where guest can book fantastic wellness treatments, from massages to facials, as well as enjoy a wonderful oriental water temple. A free fitness room is also available for hotel guests.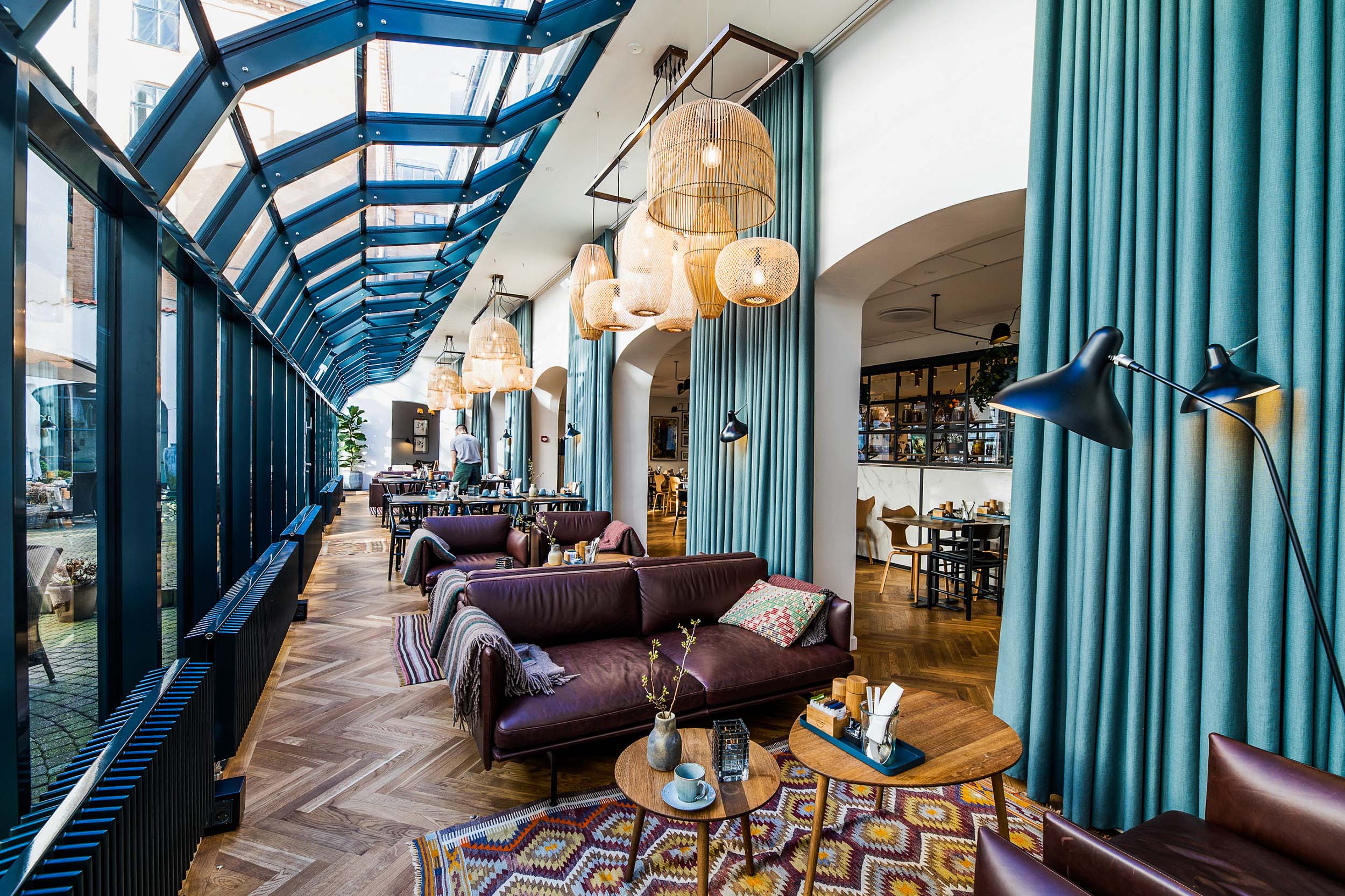 CityHub Copenhagen
The CityHub Copenhagen is an ingenious mix of boutique hotel and hostel, and moreover, an affordable option for a stylish city break to boot. During a stay, you'll enjoy plenty of cool features, like a luxurious sauna, a hip self-service bar, a communal kitchen, and cozy hangout areas to relax with friends. What's more, the free City Hub App is a fantastic idea. You can use it to chat with the hotel staff at any time, which is especially convenient if you're sightseeing in the city and need tips or directions. The 24-hour check-in is also contactless via a terminal. At this place, you don't stay in typical hostel rooms here, but in small hubs. These are soundproofed, very modern in design, equipped with controllable LED lights, Wi-Fi, air conditioning and Bluetooth.
The location of CityHub Copenhagen is also great. It is centrally located in an authentic, colorful neighborhood in the city, and you can reach the center as well as the attractions via a walk. There are also metro stations nearby that will get you around the city in no time.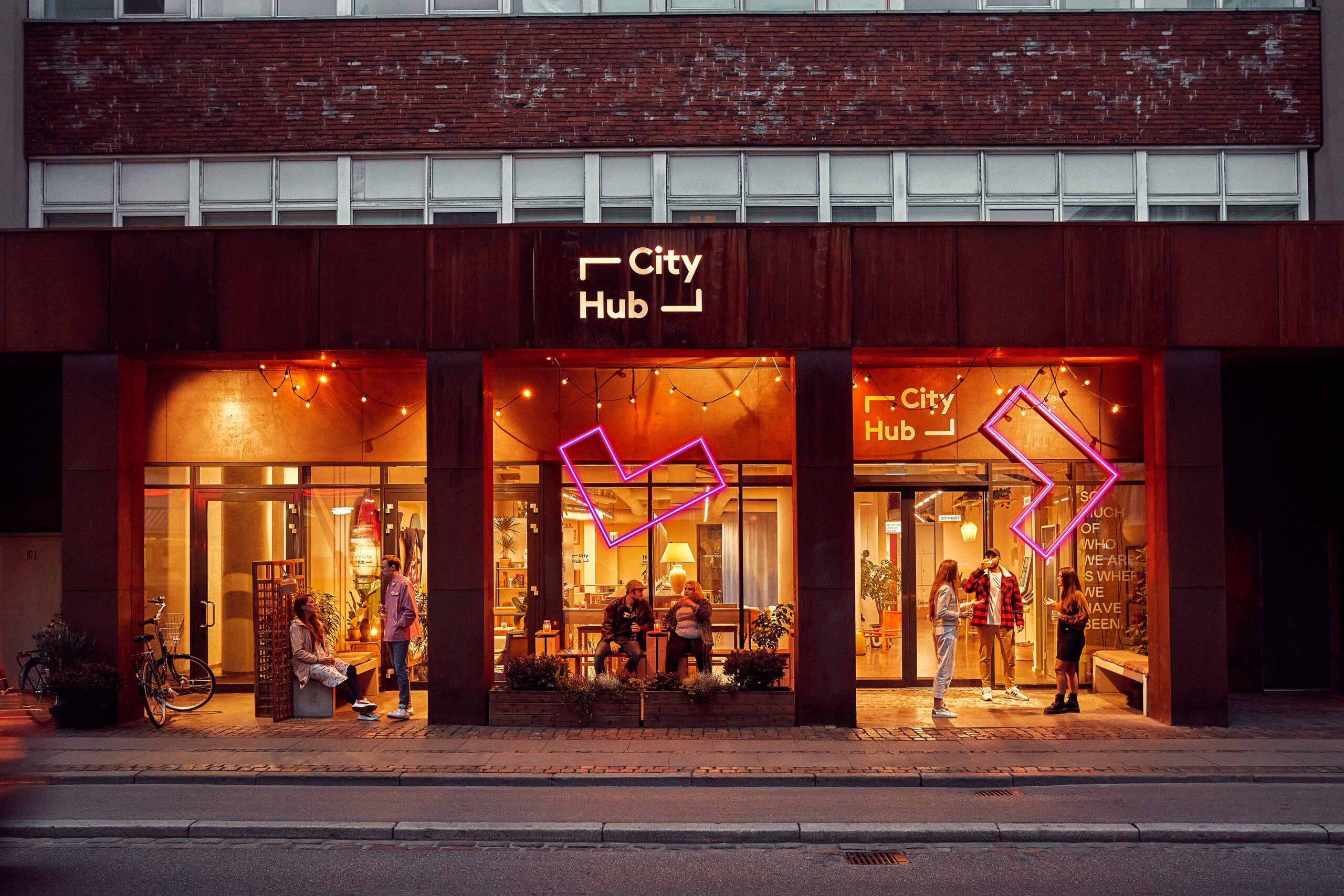 Hotel Skt. Annæ
The Hotel Skt. Annæ is definitely one of the best boutique hotels in Copenhagen. This beautifully renovated 4-star hotel is spread over several buildings whose history dates back to as early as the 17th century. Moreover, the central yet quiet location is ideal, just around the corner from Nyhavn harbor and not far from the metro. The hotel has a bicycle rental, and so you can optimally explore the highlights of the city by bike. The rooms and suites are a dream, offering the best in living comfort in stylish Copenhagen design. A real gem, is the enchanting roof terrace, from which you can experience a fantastic view over Copenhagen while enjoying delicious drinks and snacks. You should also try The Shrimp restaurant, with a top selection of steaks, fish dishes, and shellfish.
In the mornings, there's a healthy Nordic-inspired breakfast buffet that scores with lots of organic produce and homemade treats. From salmon and sausages to crêpes and Danish pastries, there's definitely something tasty for everyone! Moreover, vegetarian and vegan options are also offered.
Hotel Skt Petri
The Hotel Skt Petri is a very elegant design hotel in Copenhagen. Formerly an old department store, this mega chic 5-star hotel now features a relaxed luxury experience. Located between the lively Latin Quarter and the historic part of Copenhagen, this fantastic accommodation is a terrific choice for that special kind of city trip. A highlight is the cozy atmosphere in the hotel, which you can enjoy at every corner during your stay. Also wonderful are the spacious designer rooms and suites at Hotel Skt Petri, which are luxuriously furnished and designed in true Scandinavian style. Some guest rooms even include a balcony or terrace with a view. Another big plus is the sustainability concept, which the hotel places a lot of emphasis on.
When staying at Hotel Skt Petri, you'll also be treated to many culinary delights. A highlight is definitely the excellent breakfast buffet, which scores with a variety of healthy and regional dishes. The wonderful restaurants as well as the bar also focus on products from the region and sustainability.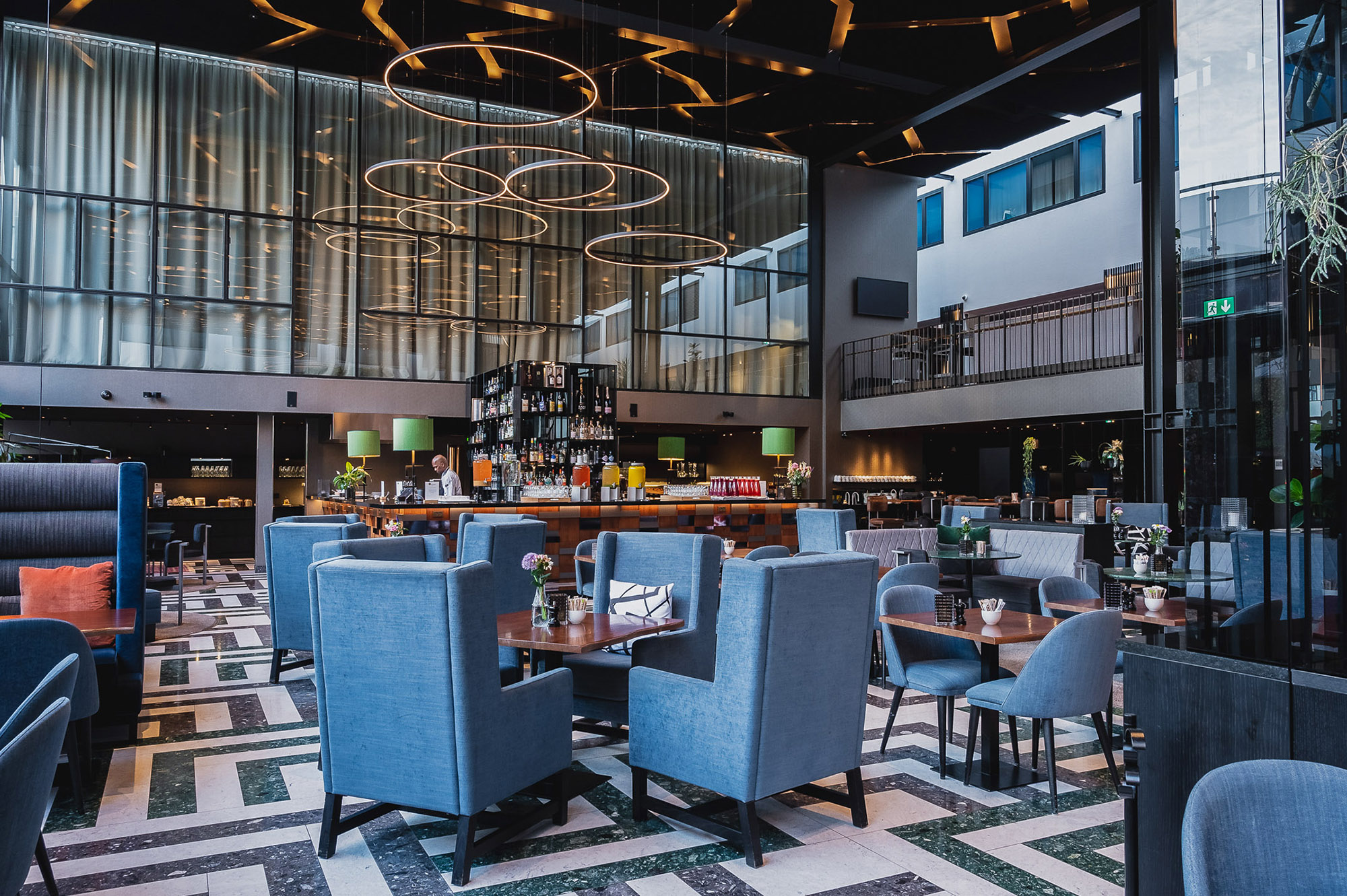 Carlton 66 Guldsmeden
The Carlton Guldsmeden is a fantastic choice for a boutique hotel vacation. It's located in the Vesterbro neighborhood with plenty of restaurants, cafés, and possibility for shopping, yet it's a true oasis of calm thanks to its relaxed atmosphere. This charming boho-style hotel also has 74 gorgeous rooms. All guest rooms are designed in the unique Nordic-Balian Guldsmeden style, and feature Persian rugs, original artwork, and gorgeous four-poster beds with down comforters. The bathroom is equipped with sustainable organic care products such as shampoo, soap and cream. Moreover, for that extra special stay in Copenhagen, there are several luxury camping caravans in the cozy courtyard. Definitely a cool choice if you want to combine glamping with a city trip.
Guests love the cozy flair in the hotel and the gastronomic offer is also excellent. In the morning, you can enjoy a wonderful breakfast buffet, completely organic and delicious. Moreover, the hotel is home to the Café Carlton Cantina, which scores with hip lounge furniture and a beautiful terrace.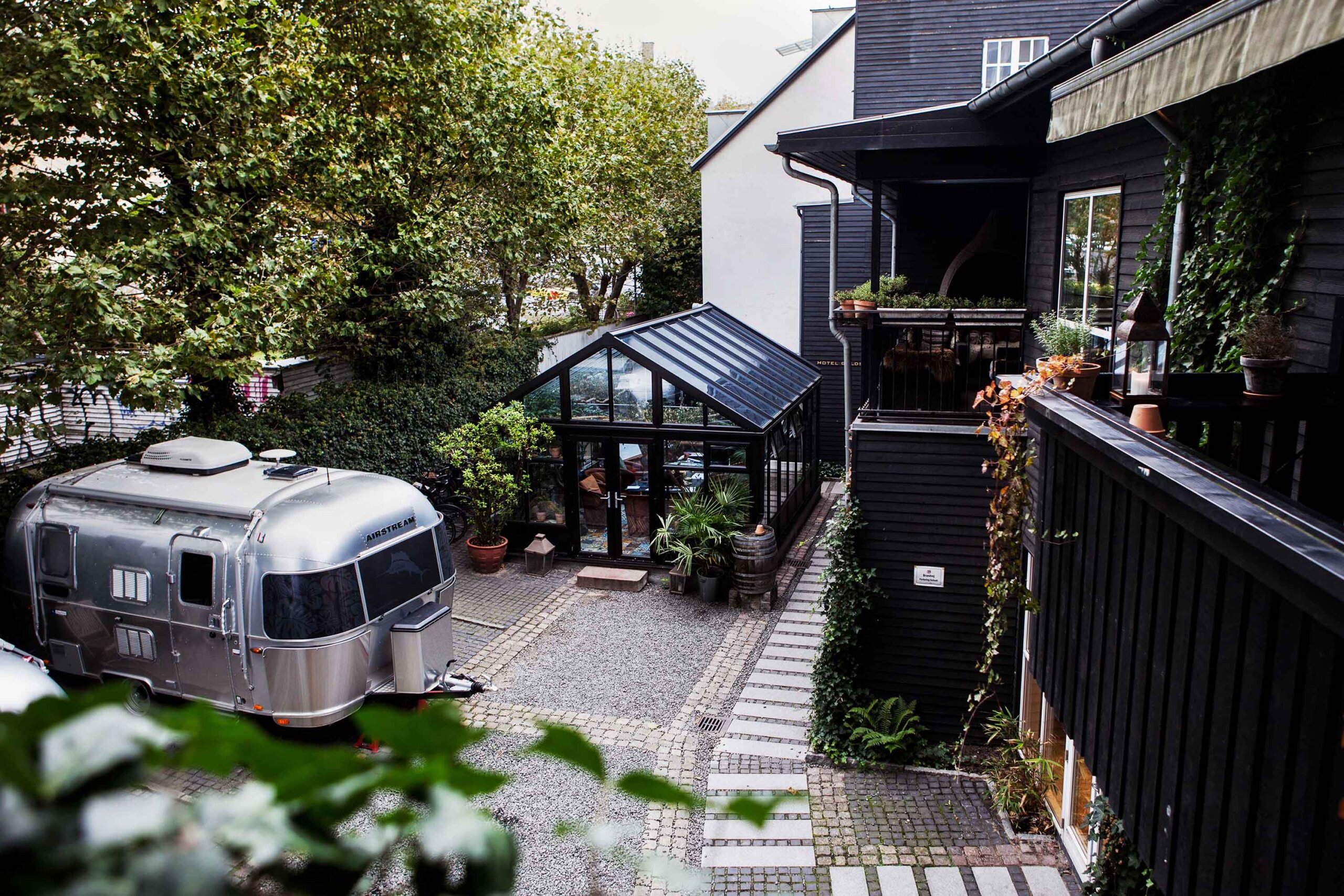 Absalon Hotel
The Absalon Hotel is a gem in the heart of Copenhagen. This family-run boutique hotel is located in the vibrant Vesterbro district, just a short walk from the Central Station and Tivoli. Many of the best attractions can be reached on foot from here. Opened as early as 1938, the Absalon Hotel proudly boasts a long family history. Expanded several times, today it captivates with a charming interior. What was once only 11 rooms has now become 161 beautifully furnished rooms and suites. Here you can choose from a variety of sizes, categories and designs, with all guest rooms delighting with colorful elements and cozy furnishings. The hospitality is also wonderful, very personal and warm because here every guest should feel at home.
The hotel has a cool bar where you can enjoy good cocktails and tasty snacks while playing various board games. If you would like to explore the city like a local, then you can rent a bike at the reception. The breakfast buffet is also fabulous, guaranteed to satisfy any desire.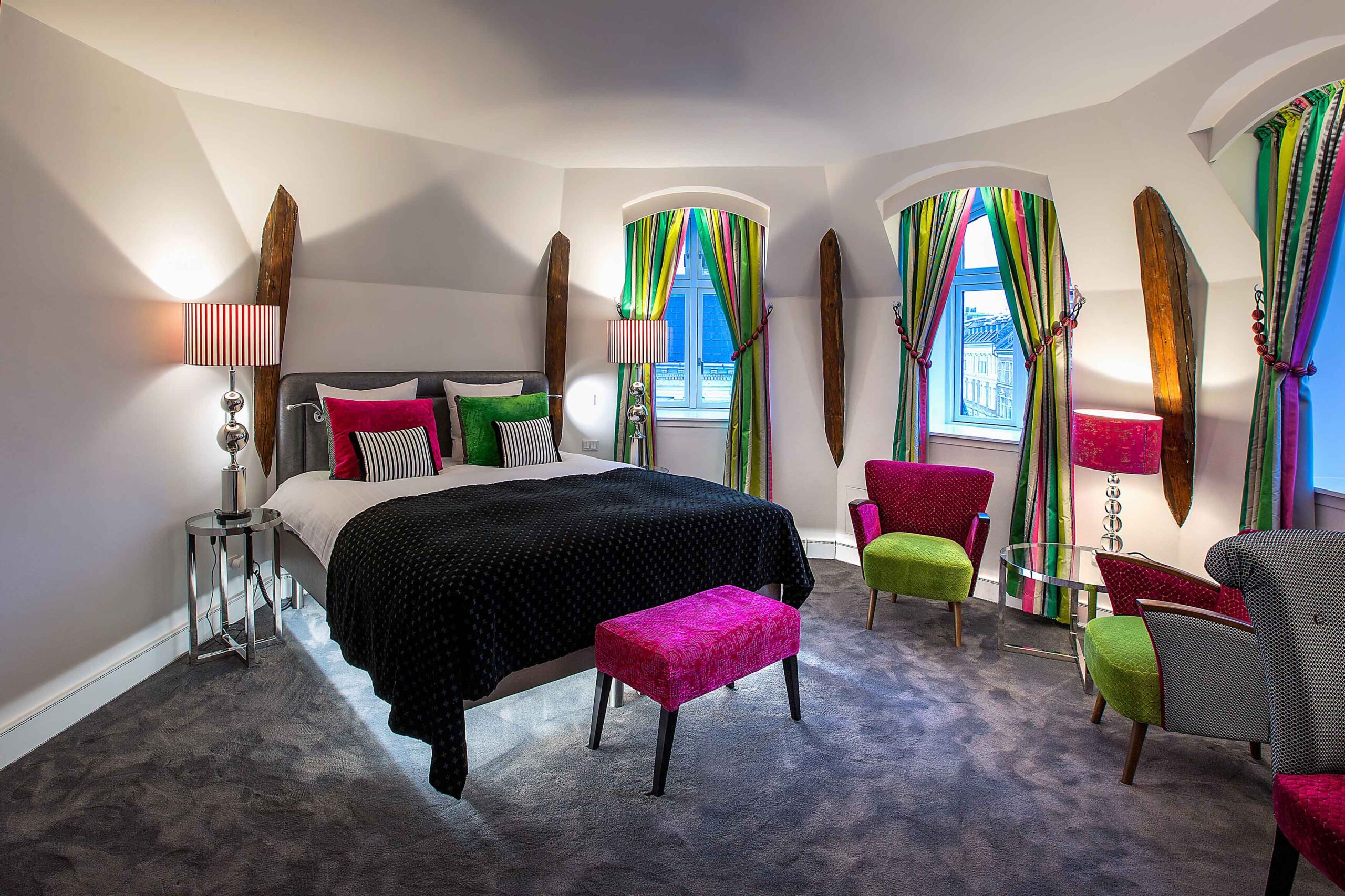 Hotel SP34 by Brøchner Hotels
The Hotel SP34 by Brøchner Hotels is a trendy boutique hotel in the hip neighborhood of Latino. Thanks to its great location, it's easy to explore Copenhagen on foot or, alternatively, by bike. Inspired by the vibrant neighborhood, this upscale 4-star+ hotel scores with a truly unique design and plenty of cool features. The overall interior design is a highlight, with hallways featuring exposed brick and carpets reminiscent of neighborhood streets. The rooms and suites are also very tastefully decorated, with a Nordic style that promises wonderful living comfort. Moreover, the organic breakfast "Good Morning" is fantastic and is even said to be one of the best breakfast experiences in Copenhagen.
Really excellent is also the delicious barista coffee, which you can get for a reasonable price in the hotel. In addition, there is a wine happy hour every evening in the hip lounge area, where a glass of wine is served free of charge and where you can end a day of sightseeing in a convenient way.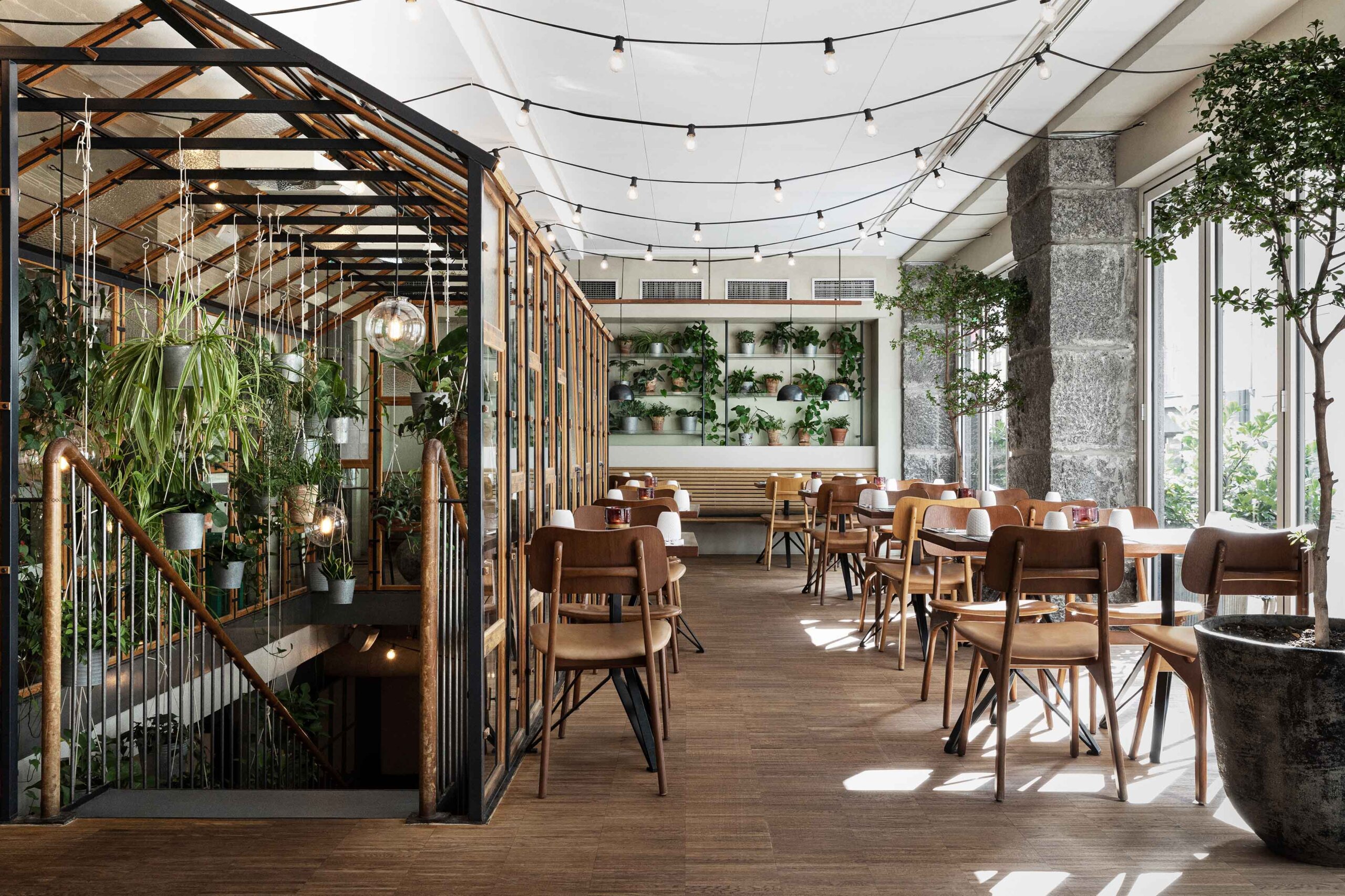 ---
More about Boutique Hotels:
---
Disclosure: Some of the links below are affiliate links. Meaning that if you click on certain links, and then subsequently purchase a product, I will receive a small commission at no extra cost to you.
---