Top 12 UNIQUE Boutique Hotels in Prague
A stay in one of the stunning design and boutique hotels in Prague will certainly make your city trip to the Czech capital an unforgettable experience. These stylish, often very luxurious accommodations scores with gorgeous design, a noble touch, enchanting furnishings and a very personal flair, away from the conventional. Perfect, therefore, if you want to make your vacation in Prague something exceptional. But not only that! The best Prague boutique hotels are ideally located in the center of the city, making them an ideal starting point for sightseeing, going out and shopping. But what are the most beautiful boutique hotels in Prague, what are the insider tips and which design hotels are perfect for a special kind of city trip?
In this guide, you will find our recommendations for amazing design and boutique hotels in Prague. We show you great pictures and give you plenty of tips and information that will surely help you choose the perfect hotel.
The Grand Mark Prague
The Grand Mark Prague is a gorgeous boutique hotel in Prague. Located in an impressive 17th-century residential building, it combines opulent luxury with ornate design and modern amenities. Thanks to its ideal location, the best attractions of the city center, such as the Powder Tower, Old Town Square, Charles Bridge, and Wenceslas Square, can be explored via a lovely stroll. Most wonderful of all is the timeless style reflected in the interiors of this stylish upscale accommodation. The rooms and suites are equipped with high-quality materials, fine fabrics and dreamlike furniture. In the hotel, you can find specially made works of art, which give this boutique hotel in Prague a special charm.
A true oasis is also the charming garden in the courtyard. The picturesque terrace is the best place to enjoy the ambiance of the hotel while having a delicious meal or cocktail. To relax, head to the hotel's luxurious wellness area on the 2nd floor.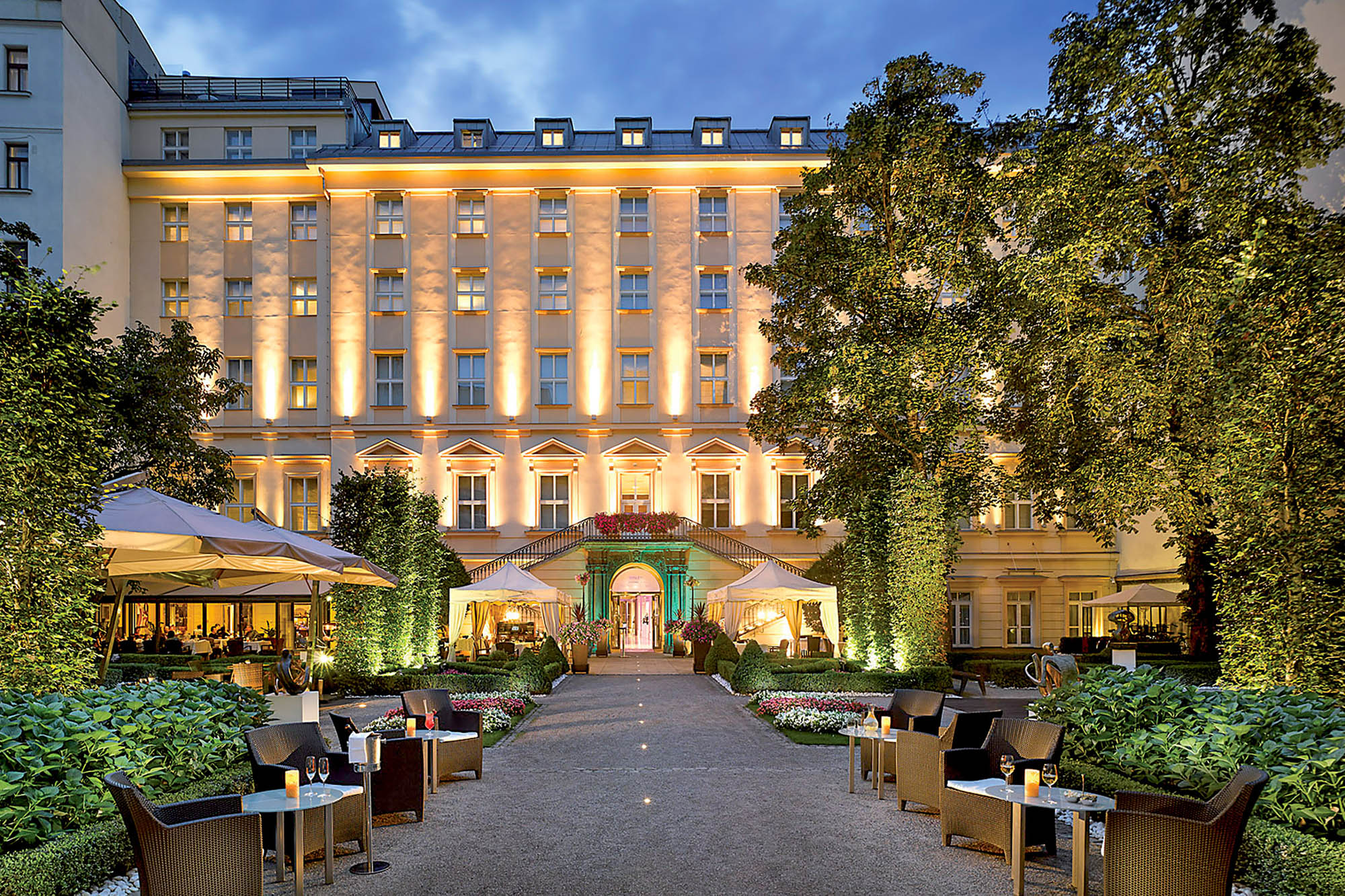 Maximilian Hotel
The Maximilian Hotel is definitely one of the most charming boutique hotels in Prague, and moreover, it delights with excellent value for money. It is located in the historical center of the city, in a building from the 19th century, and is just a few steps away from the famous Pařížská shopping street. Lovingly renovated, this accommodation is a terrific choice for a stylish vacation. Here, an absolutely refined design scores with a fabulous color scheme that conjures up a wonderfully pretty ambiance. During a stay, one enjoys the highest level of comfort and perfect service. The 71 newly renovated guest rooms are housed in two historic buildings, where you can book the rooms in the categories Mini to Suite.
Culinary treats are available at the Brasserie Maximilian, where you can enjoy a chic dinner with a unique flair. The Bar Maximilian is also fantastic, a great place for a casual breakfast or a delicious glass of organic wine.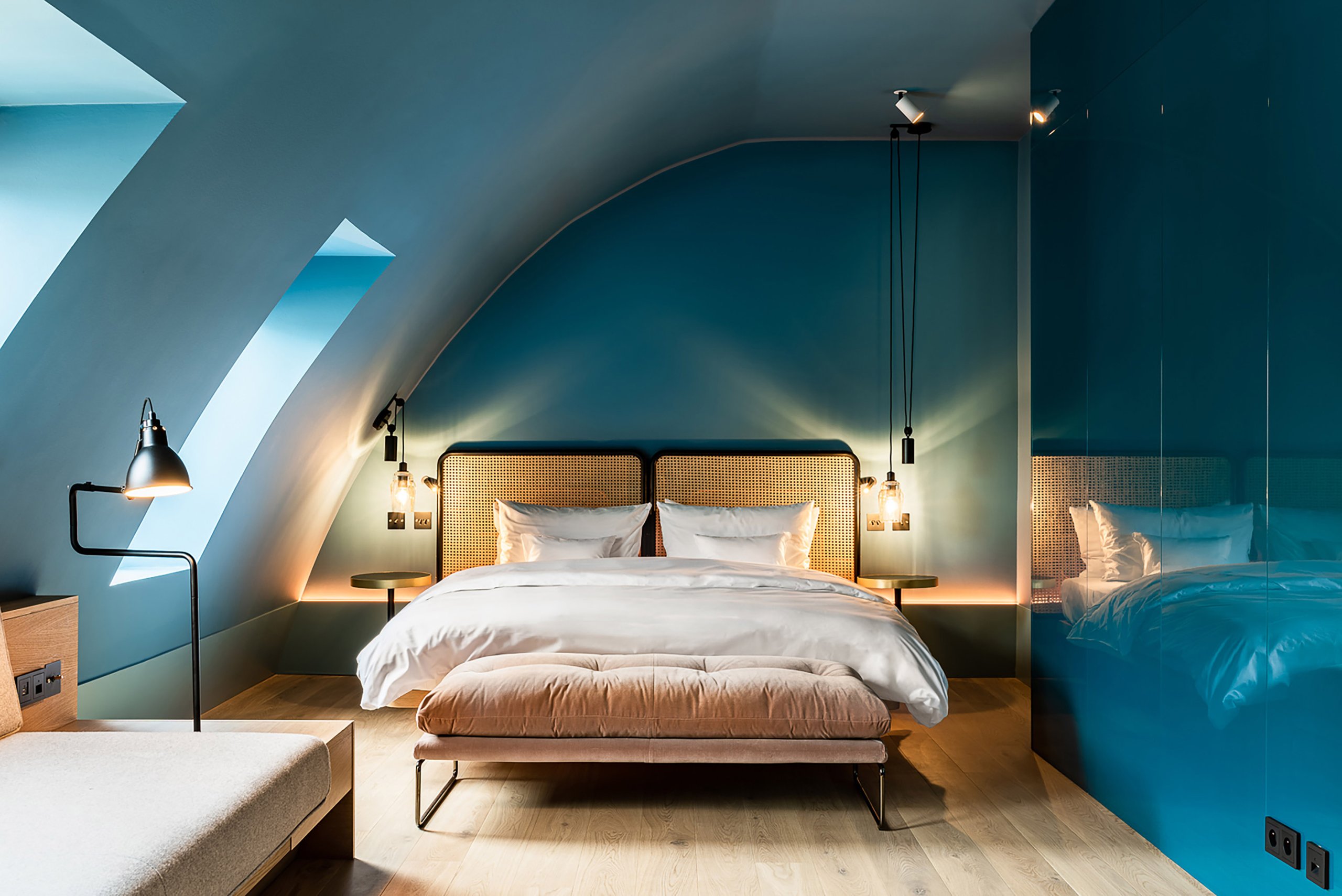 Mosaic House Design Hotel
The Mosaic House Design Hotel is a fabulous choice for a city break to Prague. This chic 4-star hotel scores with unbeatable location, just a short walk from the heart of the Old Town. Guests love the wonderful concept of this design hotel, which combines classy ambiance, coziness, and cool details. In addition, one experiences many small surprises during a stay, which complement each other like a mosaic. The guest rooms and suites are also absolutely tastefully furnished, kept in charming light colors and promise pleasant room climate. All accommodation units are individually designed with great attention to detail. Especially recommended is the penthouse suite, which even has its own balcony.
For relaxing after or before a day of sightseeing, head to the cozy Café Mosaic, the former theater hall with its high ceilings, or the Secret Garden, a pretty garden in the inner courtyard. The in-house library is also lovely for reading and working.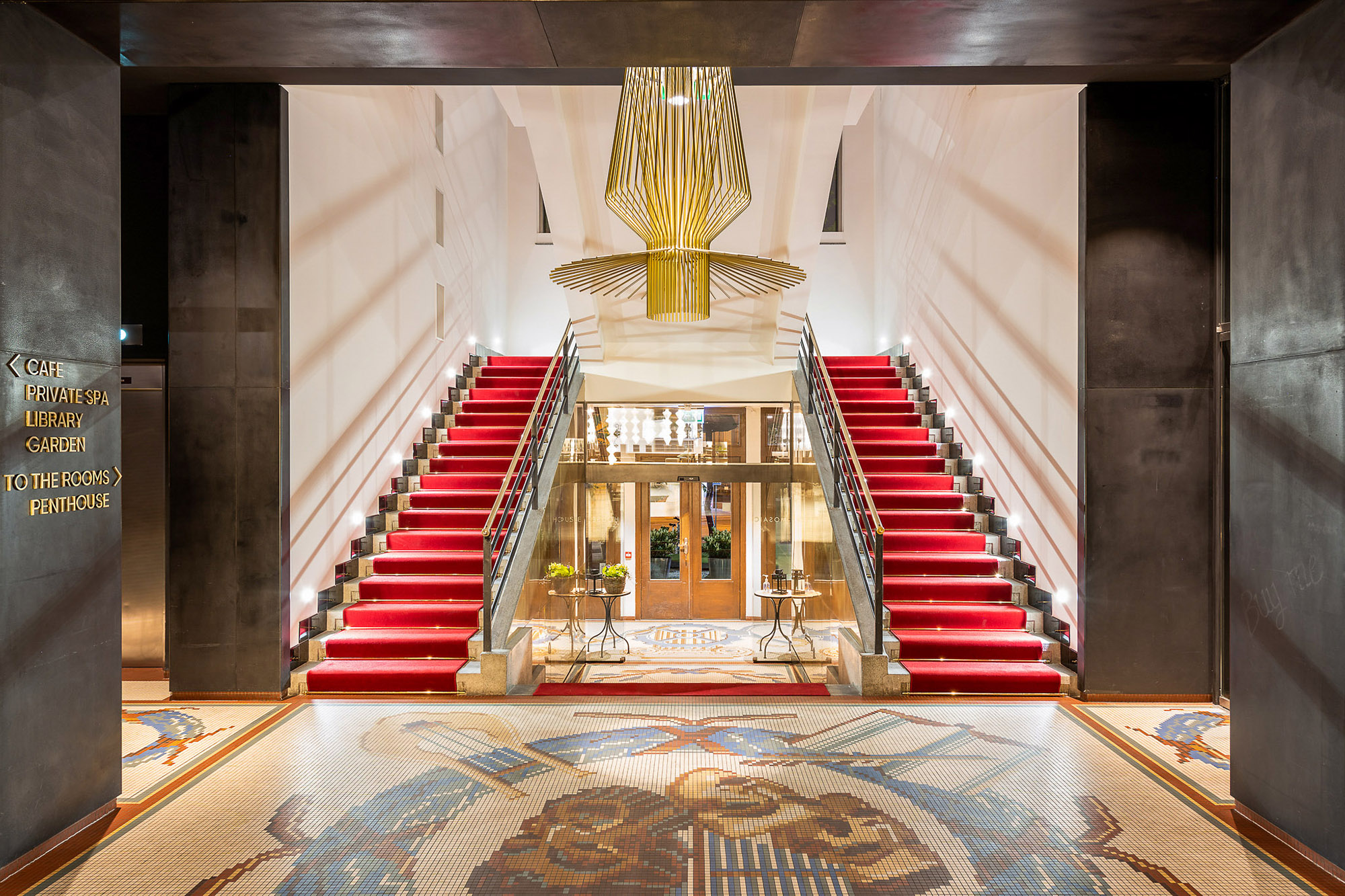 Aria Hotel Prague
The Aria Hotel is a truly stunning boutique hotel in Prague. It is in a fabulous location, just steps away from major sights such as Charles Bridge and Prague Castle. The concept of this charming 5-star hotel is truly unique, as it is committed to the theme of music. Each of the 51 luxurious guest rooms and suites is dedicated to either a particular style of music, a famous artist, or an artist. From Mozart to Beethoven, Elvis to Billie Holiday, everything is represented here. In addition, each of the rooms is decorated with original artwork, and you'll also find plenty of modern tech details like Apple TV and an iPad.
The winter garden atrium forms the cozy heart of the Aria Hotel. The most amazing views of Prague, on the other hand, can be experienced from the hotel's own rooftop terrace restaurant. A real highlight, however, is the private access to the Vrtba Garden, a UNESCO World Heritage Site, which hotel guests can enjoy during the summer months.
Buddha-Bar Hotel Prague
The Buddha-Bar Hotel Prague is a absolutely unique boutique hotel in Prague. Located in the Old Town of Prague, modern lifestyle meets Far Eastern culture here. Guests immerse themselves in a different world during their stay, enjoying exotic scents, unique cuisine and aesthetics rarely experienced anywhere else. In particular, couples love the exclusive comfort and unique flair of this boutique hotel, which can be enjoyed at every turn. The only 35 rooms score with exclusive style and those who need more space can choose one of the 3 luxurious apartments. A true experience is also the glamorous "Private Spa Suite" where guests can pamper themselves with whirlpool, steam bath, fireplace and relaxation area.
The Buddha Bar is also known for its fabulous cuisine. Here, one experiences upscale Asian and Pacific Rim fusion cuisine in a stunning setting. Also worth a visit is Siddharta Café with its chic pop-art style lounge where you can enjoy fabulous cocktails and quality wines.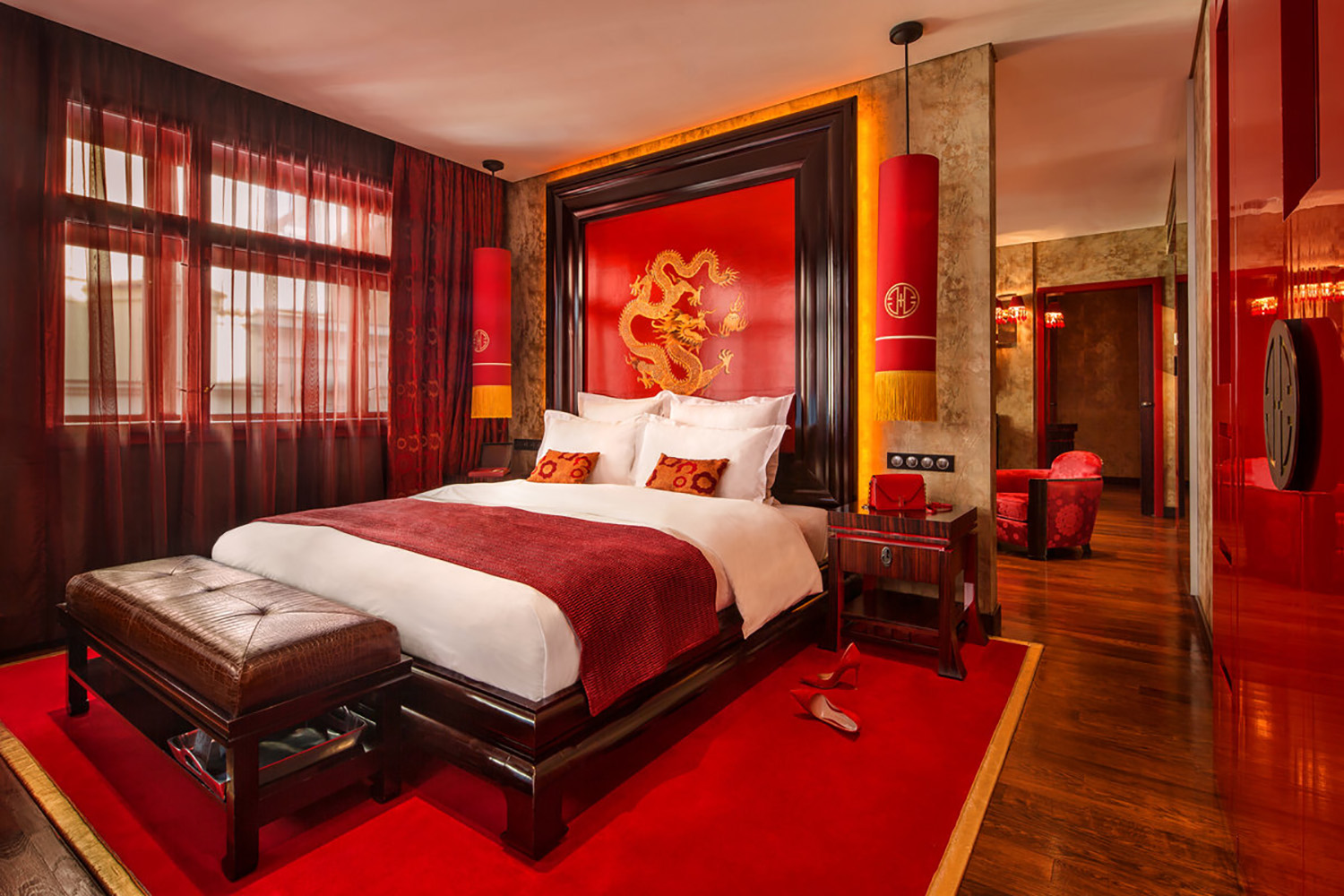 Falkensteiner Boutique Hotel Prague
The Falkensteiner Hotel Prague is a gorgeous boutique hotel in Prague. The recently remodeled hotel inspires with its hip interior and exclusive lifestyle. Here, timeless design meets modern opulence and reduced minimalism. A real eye-catcher are the dreamlike rooms and suites, which conjure up a true feel-good atmosphere with contemporary furnishings, wellness mattresses and wooden floors. Culinary well-being is provided by an All Day Restaurant Breakfast with à la carte prepared meals and superfoods, and with New York flair in a hip location. In addition, in summer there is a green hideaway terrace in the courtyard, which invites you to take a leisurely sightseeing break and a glass of wine.
Moreover, the Falkensteiner Hotel Prague still has its own wellness area, the "Acquapura CitySPA", a wonderfully pretty oasis of wellness, where a sauna, a steam bath, a relaxation area and a fitness area invite guests to unwind.
Andaz Prague
The Andaz Prague is a 5-star design hotel in a class of its own, in a grandiose location in downtown Prague. It is located in a palace from 1912 and the eccentric design, inspired by the rich local culture, is unique. It spans several eras and offers a fascinating glimpse into Prague's history. You can also expect many beautiful highlights during a stay. Instead of one lobby, there are three beautiful living rooms at once, including a library, a room with glassblowing art, and a room dedicated to Emperor Rudolf II's alchemist. The guest rooms and suites are also extremely tasteful, furnished with great attention to detail and high-quality materials.
Culinary highlights are provided by the hotel's own ZEM restaurant, where traditional Czech cuisine is combined with modern elements. Fantastic cocktails can be enjoyed in the cocktail bar MEZ, and the beautiful Klára Rott spa invites you to enjoy a wellness treatment!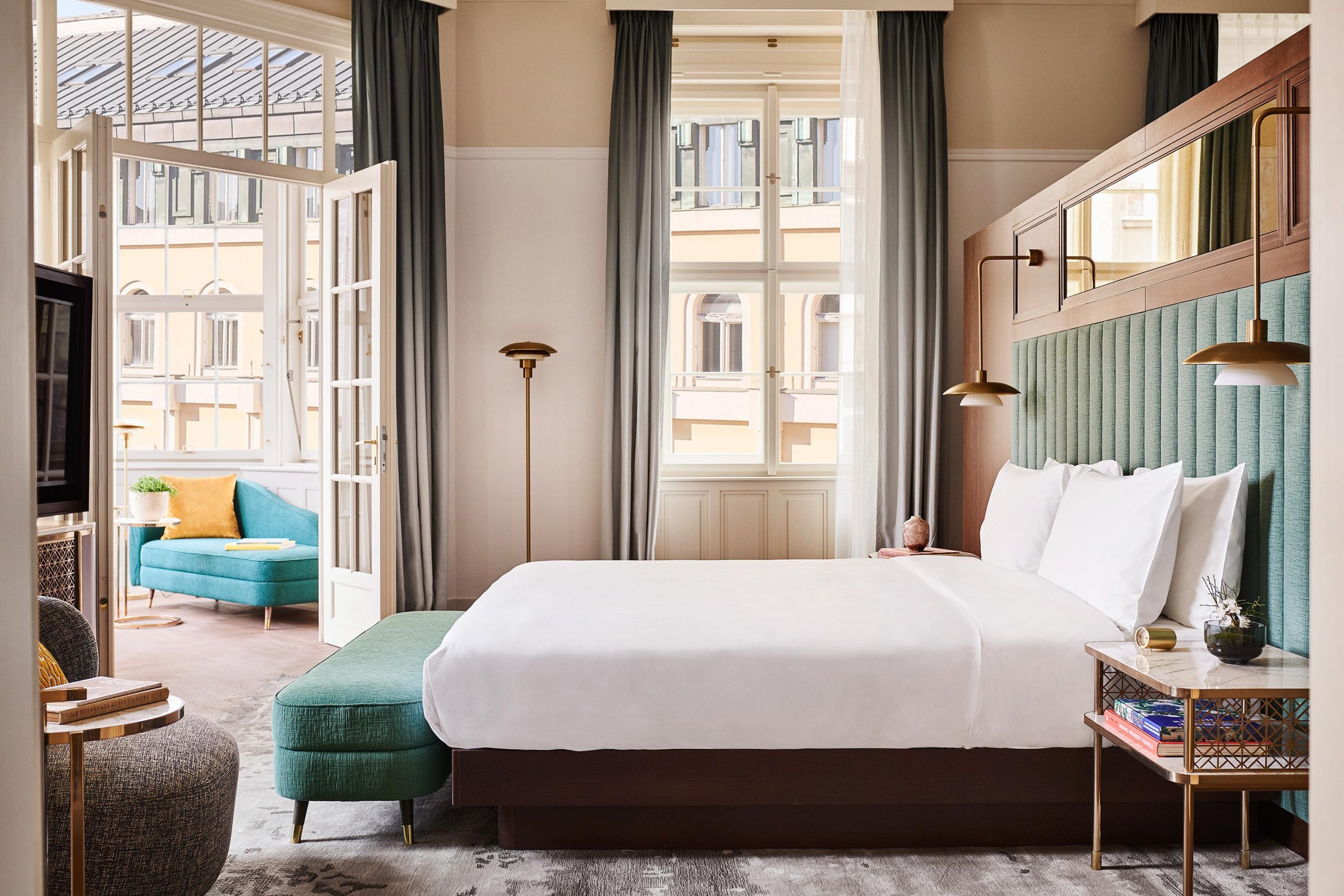 Alchymist Grand Hotel and Spa
The Alchymist Grand Hotel & Spa is a gorgeous 5-star hotel ideally located in the Old Town and also just a 5-minute walk from the famous Charles Bridge. This luxurious design hotel is located in the UNESCO-protected baroque "House of the Prague Jesulein" from the 16th century. Simply breathtaking is the exceptionally stunning interior, dedicated to Prague's rich history. The 46 rooms and suites are absolutely wonderful, decorated in Baroque style and a guarantee for an unforgettable stay. The Aquarius restaurant is also recommended, with a good selection of international dishes. In the summer, you can enjoy your meal in the charming courtyard of the hotel.
To relax, head to the unique Ecsotica Spa & Health Club. This wonderful wellness area is located in the 11th century cellar and is open to guests free of charge. A treat is also the wonderful breakfast, which leaves nothing to be desired.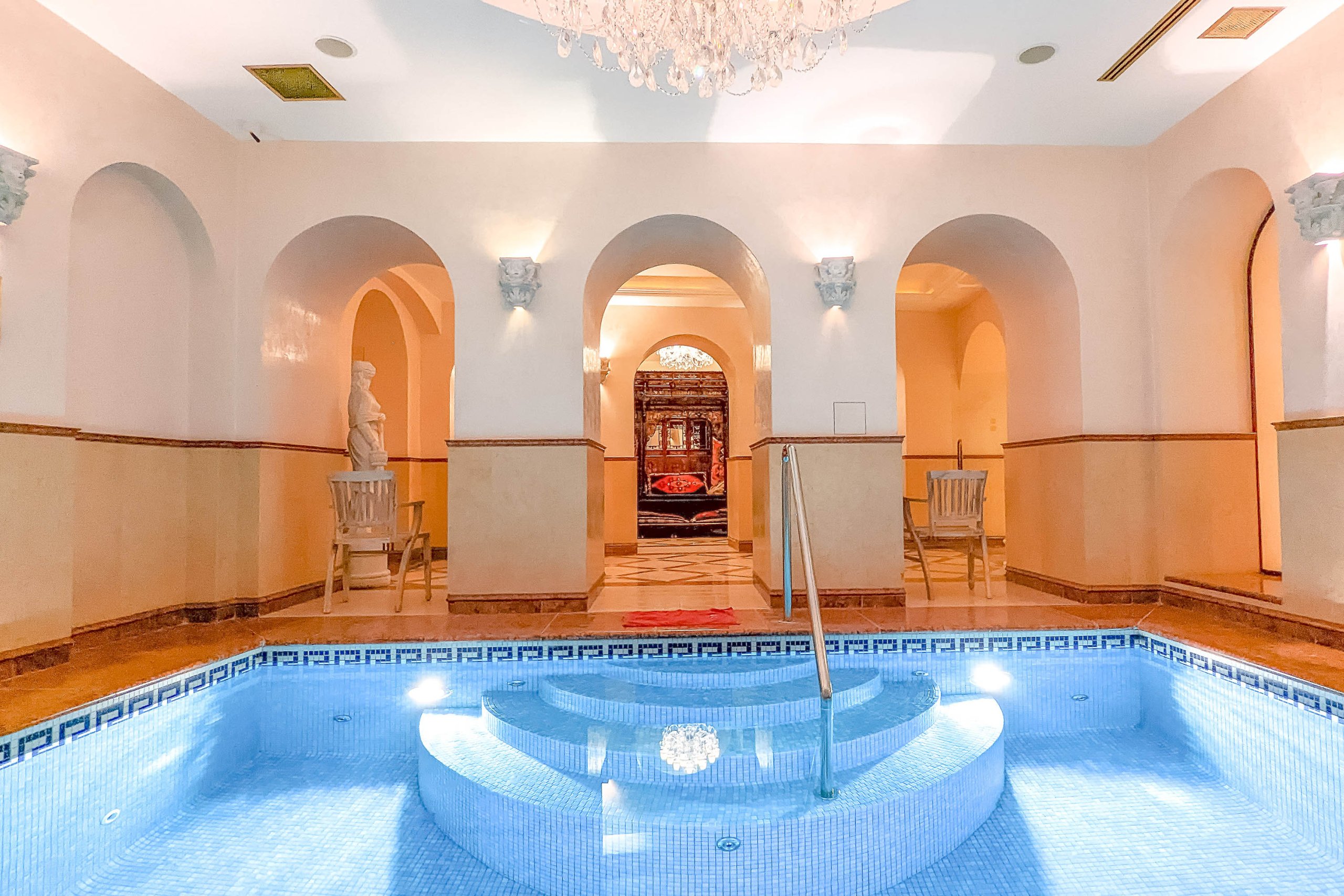 Golden Well Hotel Prague
The Golden Well Hotel is a real gem of the most beautiful and also exclusive boutique hotels in Prague. This 5-star luxury hotel is definitely one of the best kept secrets in the city. It is uniquely located in a structure just below the Prague Castle walls, which reflects the rich history of the town. From the hotel, you can also explore many of the city's most beautiful attractions via a walking tour. There are 17 charming rooms and 2 luxurious suites to choose from for a stay. The ambience in this hotel is truly to fall in love with, and the entire design and furnishings are of the highest standard. Among other things, even original paintings and works of art such as statues are displayed in the area.
The Terasa U Zlate studne restaurant is also truly fabulous, with one of the most amazing views of Prague on the two outdoor and indoor terraces. Fine wines and a great selection of the best champagnes can be enjoyed in the chic bar U Zlate studne.
Vienna House Andel's Prague
The Vienna House Andel's Prague is a really chic design hotel in Prague. Located in the trendy "Angel District" Andel, close to numerous shops, small stores and trendy restaurants, it is the ideal starting point for a city trip or a business trip. In this chic accommodation scores a modern architecture, stylish decor, lived hospitality and good value for money. The hotel has 231 design rooms and 8 suites, as well as 51 apartments, which are fabulous for a longer stay in Prague. The guest rooms inspire with trendy colors, are cozy and chic at the same time. They are also equipped with state-of-the-art technology.
Also cool is the newly renovated Oscar's Bar, a hip hangout in the neighborhood. The hotel's delicious breakfast buffet is especially excellent, with a terrific selection of delicacies and many things to choose from! Perfect to start a sightseeing day.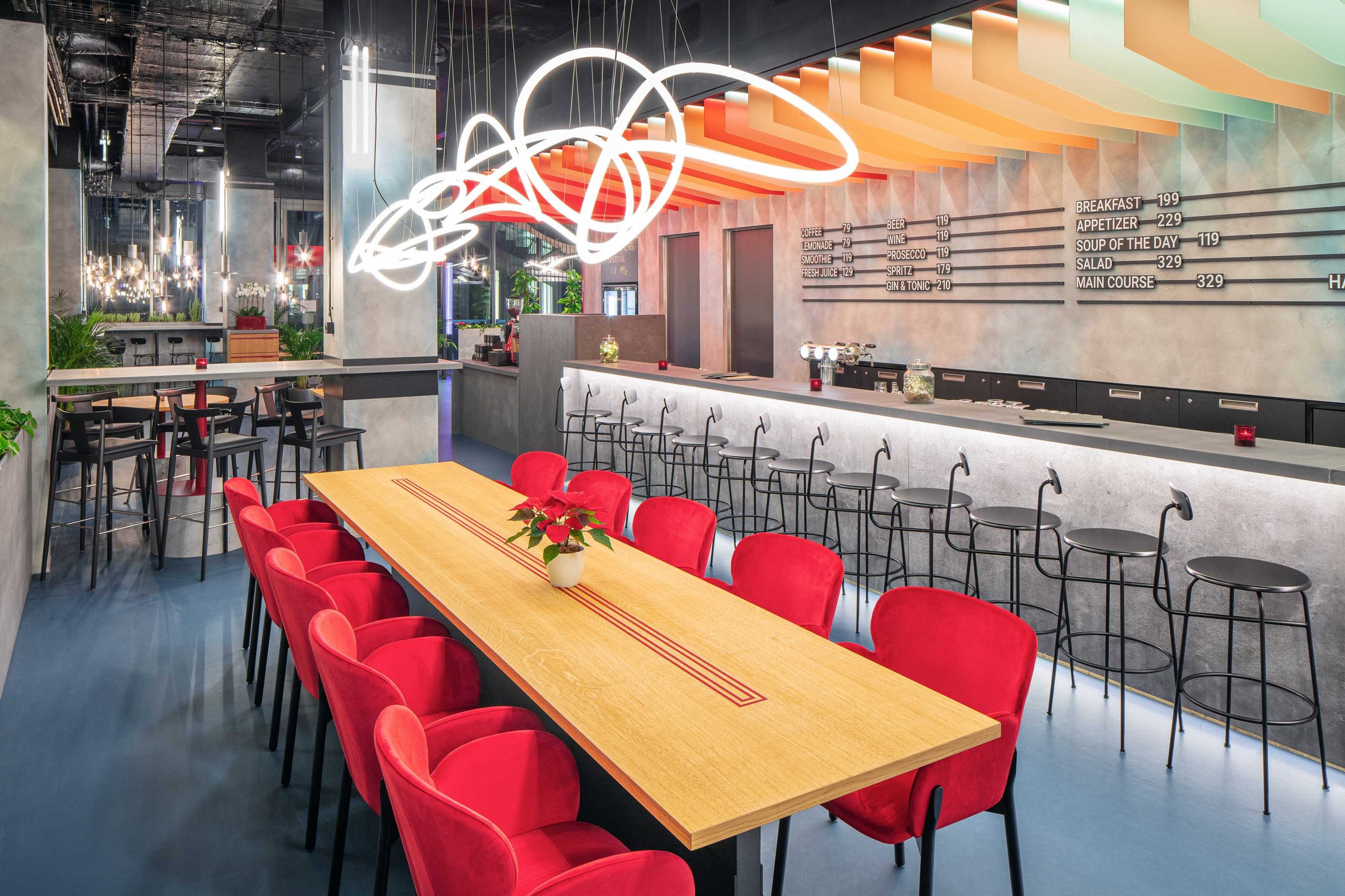 Waldstein Hotel Prague
The Hotel Waldstein is a beautiful boutique hotel located in one of the most attractive districts of Prague, and it's a terrific choice for an exceptional romantic stay. Located under Prague Castle, this wonderful place is also just a short walk away from famous landmarks such as Charles Bridge as well as St. Nicholas Church. This stunning, quiet boutique-hotel is located in a landmarked building from the 14th century. Here, a piece of history meets many modern elements. The 19 guest rooms and apartments are truly enchantingly designed, furnished with modern designer furniture as well as comfortable beds, and decorated with great attention to detail.
A highlight is also the rich breakfast buffet of this charming boutique hotel, served in a beautiful Renaissance vaulted cellar. In summer, you also have the option to start into the day with a breakfast in the chic patio.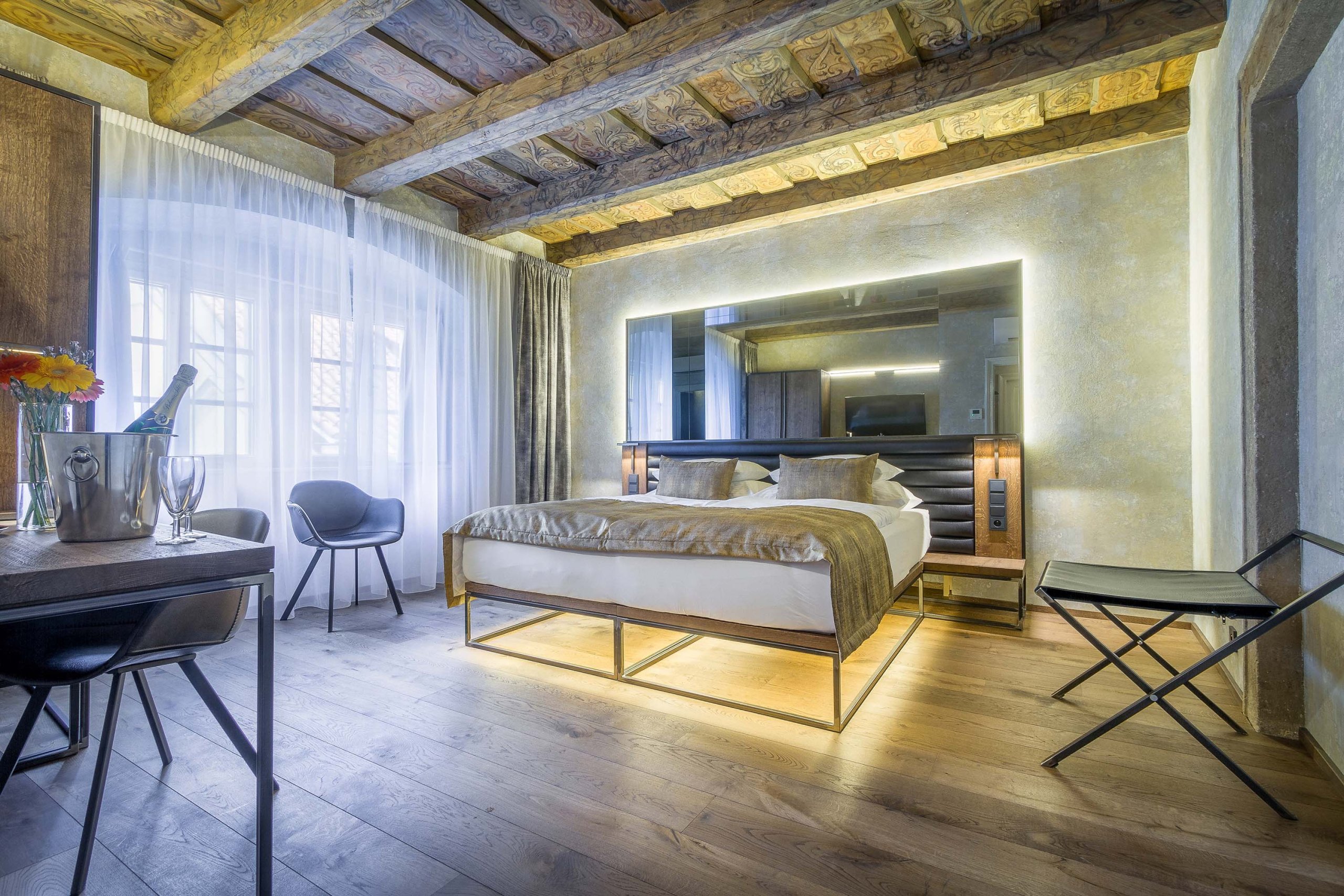 ---
More about Boutique Hotels:
---
Disclosure: Some of the links below are affiliate links. Meaning that if you click on certain links, and then subsequently purchase a product, I will receive a small commission at no extra cost to you.
---