Top 12 UNIQUE Boutique Hotels in Barcelona
A stay in one of the stunning design hotels or boutique hotels in Barcelona will certainly make your city trip a wonderful experience. These absolutely stylish accommodations score with unique design, with a touch of luxury, extraordinary style, but above all with a lot of attention to detail. Many boutique hotels have a cool rooftop terrace with a view and some even have a pool, perfect if you want to cool off on warm summer days. But not only that! The best Barcelona boutique hotels are located in the center of the popular coastal city, making them ideal for exploring, shopping and going out. But what are the most beautiful boutique hotels in Barcelona, what are the real insider tips and which design hotels are best suited for a particularly stylish city break?
In this guide you will find our recommendations for the best design hotels and boutique hotels in Barcelona. We show you great pictures and give you lots of tips and information that will surely help you choose the perfect hotel.
Almanac Barcelona
The Almanac Barcelona is a fabulously beautiful boutique hotel in the heart of Barcelona. It is in a prime location in the middle of the Eixample district, and is surrounded by the main attractions of the city center. This 5-star hotel uniquely combines an elegant, luxurious ambiance with a relaxed atmosphere. The charming guest rooms also reflect the character of the city, as they are bright, open and very stylishly decorated. The gorgeous suites are definitely a recommendation, featuring large marble bathrooms, works by local artists, and a specially compiled selection of wines in the minibar. In addition, guests can enjoy a great view of Barcelona's old town from some rooms.
A true gem of this boutique hotel is the wonderful rooftop terrace with gorgeous pool, perfect for sunbathing. The view over the city is breathtaking and also the delicious cocktails in the famous rooftop bar Azimuth are to fall in love with.
Seventy Barcelona
The Seventy Barcelona is definitely one of the coolest design hotels in the city. It is fabulously located between the famous Passeig de Gràcia with luxury boutiques, and the Gràcia district where hip designer stores are located. This upscale 4-star hotel scores in many ways. Wonderful is the unique blend of avant-garde architecture, spectacular ambiance, and warm hospitality. Guests are made to feel at home in this boutique hotel, only better. The rooms as well as suites are absolutely chic, with a clean design that creates an absolute feel-good atmosphere. For a very special stay, it is best to choose the Lounge Terrace room with its own terrace!
A beautiful spa and wellness center with steam bath, sauna and a swimming pool with hydromassage invites to relax. Another highlight is the rooftop terrace with the Urban Beach Club on the 7th floor of the hotel. Here you can find a wonderful pool and a sun terrace to relax.
Hotel Brummell
The Hotel Brummell is definitely one of the absolute insider tips among when it comes to the boutique hotels in Barcelona. It's located in a quiet area, just a 15-minute walk from La Rambla. Guests love not only the beautiful decor and personal touches of this charming accommodation, but also the wide range of cool surprises on offer. For example, guests enjoy complimentary access to yoga classes, regular running clubs are organized, and there's a wonderful outdoor pool, garden, and sauna. An urban retreat, moreover, are the 20 chic rooms, which feature modern designer furniture as well as art. Select suites even have an outdoor bathtub!
Absolutely delicious is the amazing breakfast buffet in the Brummell Kitchen. Here you can enjoy homemade granola, healthy local produce, wonderful coffee and fresh orange juice. Perfect to start the sightseeing day full of energy and power.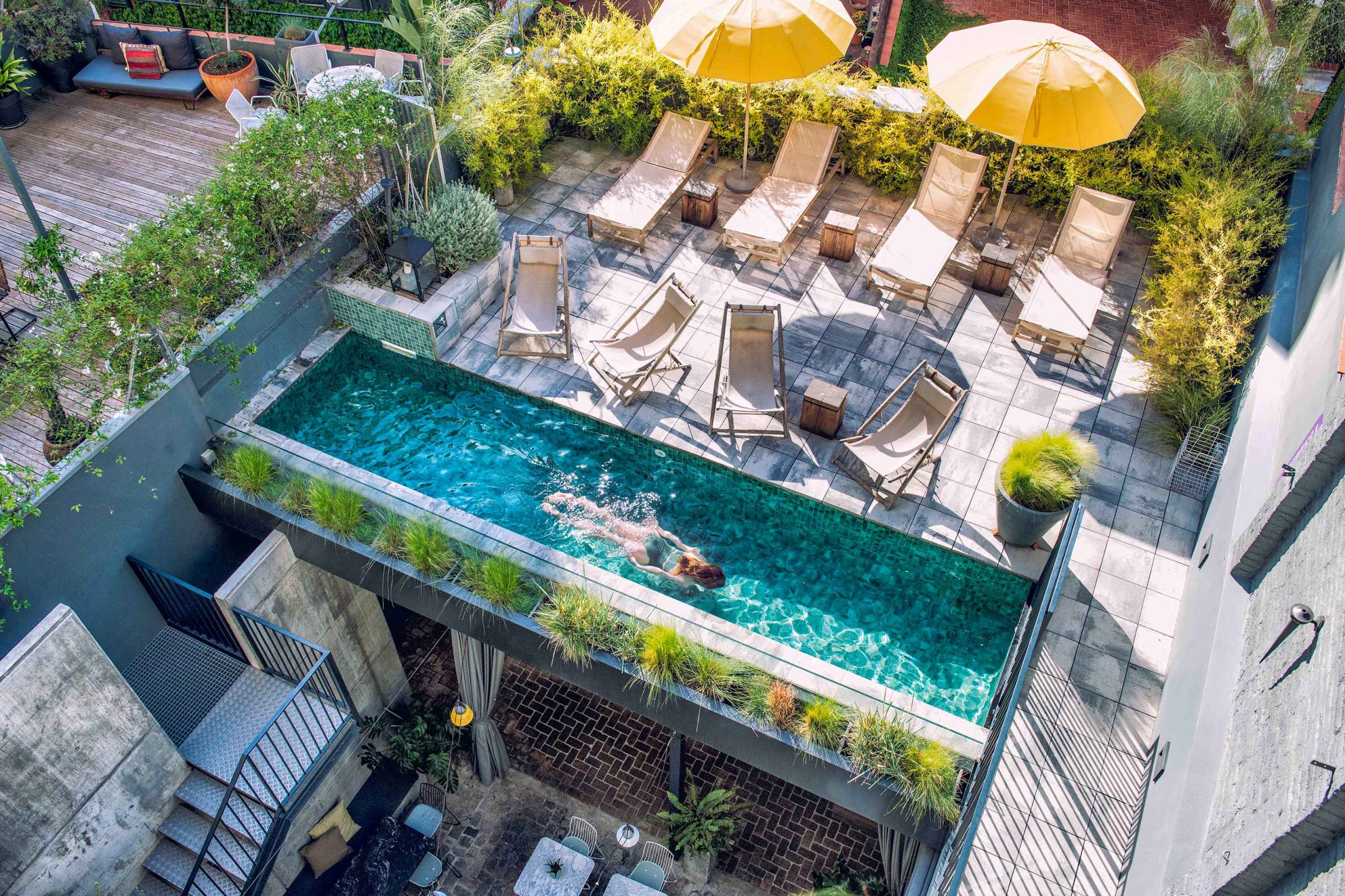 Hotel El Palace Barcelona
The Hotel El Palace Barcelona is probably one of the most extraordinary boutique hotels in Barcelona. For 100 years it has been located in the center of the city, just a few steps from the famous Paseo de Gracia. It has always been considered an icon of the city. Here you can experience timeless luxury combined with pure elegance as well as modernity at the highest level. Furnished with great attention to detail, with fine materials, antique furniture, handmade carpets as well as art, the entire interior is beautiful to fall in love with. The 120 rooms and suites are also in a class of their own! Perfect is the mixture of elegance of old times with modern technologies. Relaxation is also guaranteed by a luxurious Mayan-style spa with a Temazcal sauna.
The Rooftop Garden on the hotel's rooftop is also a must-visit. The 1,500-square-meter terrace was inspired by the Barcelona of the 1920s. A wide variety of plants, fountains, pergolas and a magnificent pool conjure up a unique atmosphere.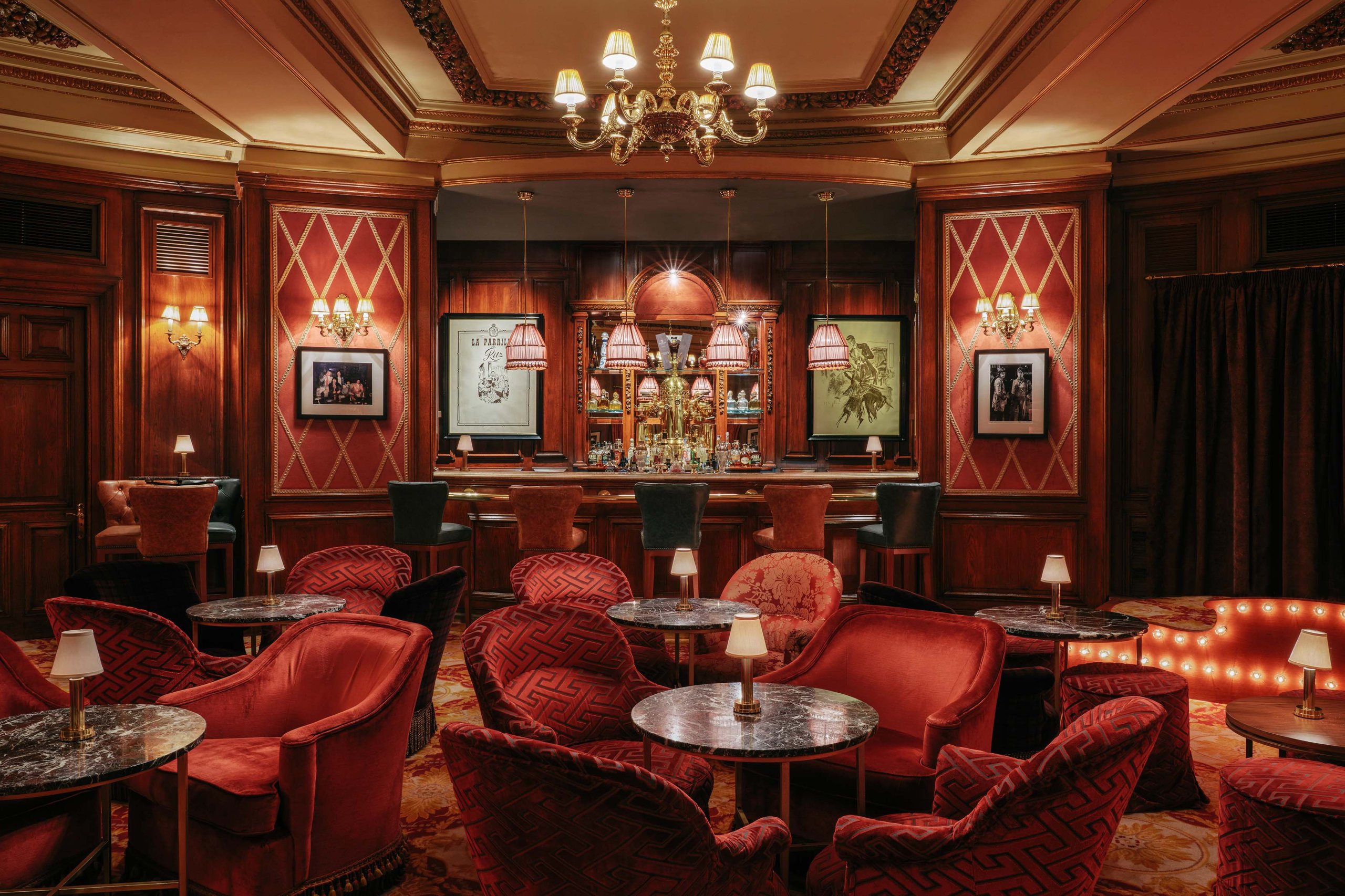 Mercer Hotel Barcelona
The Mercer Hotel is one of the most stunning boutique hotels in Barcelona. Located in the heart of the city in the Gothic Quarter, this chic accommodation is located just a few meters from the most famous attractions such as the Cathedral. This innovative 5-star hotel delights with a perfect blend of luxury, architecture, history and modernity. Some elements such as medieval arches and original frescoes date back to the 12th century and have been perfectly combined with the contemporary design. The 28 rooms are also beautiful, tastefully decorated with oak floors, exclusive furniture and designer bathrooms. On top of that, an enchanting terrace with a magnificent pool and views of the city invites to relax.
An absolute highlight is the luxurious breakfast at the Mercer Hotel, which certainly leaves nothing to be desired. The experience is especially lovely in the warm months, because then breakfast is served outdoors in the romantic courtyard, surrounded by orange trees.
Hotel Casa Bonay
The Hotel Casa Bonay is a super hip boutique hotel in Barcelona. It's located in a neoclassical residential building dating from 1869, in an optimal location for exploring the old town as well as interesting places on foot. During the renovation, many historic elements were preserved, such as the antique floors and ceilings. The interior of this little dream hotel, on the other hand, is absolutely young and modern, with local designer furniture and a beautiful lighting scheme. There are even Malin+Goetz bathroom products and yoga mats in the room. Simply terrific is also the culinary offer of cafes and restaurants in the hotel, which certainly leaves nothing to be desired.
Casa Bonay has two rooftop bars, the rooftop restaurant Chiringuito and one rooftop terrace that is exclusively accessible to hotel guests. This offers sun loungers, a small garden, outdoor showers to cool off and all this with a magnificent city view.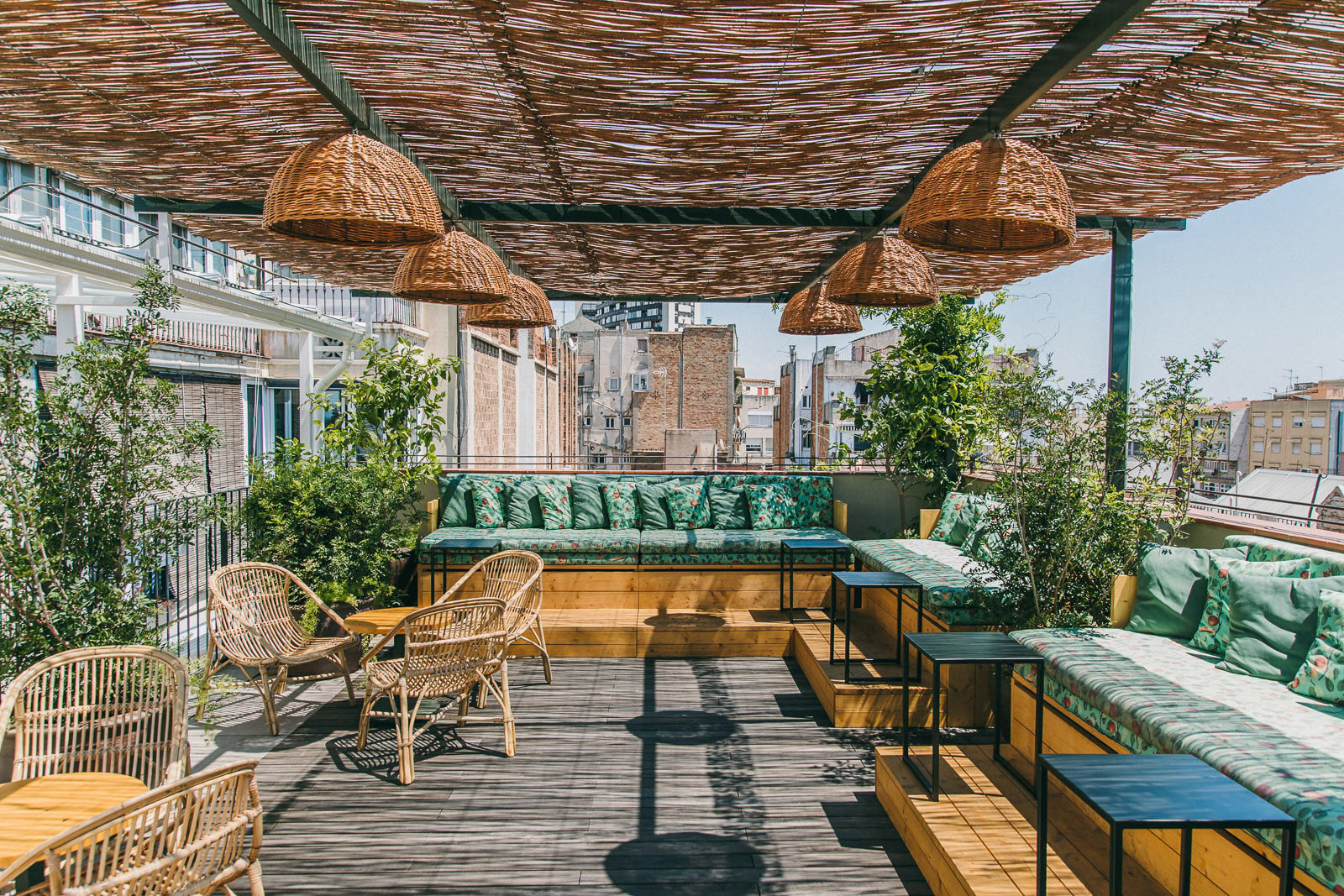 ME Barcelona
The ME Barcelona is a brilliant design hotel in the center of Barcelona. It is in a prime location, right on the Passeig de Gràcia, making it a brilliant option for exploring the city. This dreamlike 5-star hotel inspires with modern, urban design and a special touch as well as a lot of coziness. The overall design is a true dream, turning a stay in Barcelona into a unique experience. The rooms are also beautiful, scoring with majestic elegance and magnificent views, with some of the suites even featuring a terrace and jacuzzi. In addition, the design hotel has several restaurants, and the breakfast is also a real highlight.
A true gem is the rooftop terrace with pool, from which you can experience one of the best views of Plaça Catalunya and the Sagrada Familia. Moreover, for guests there is also a spa and gym, and the beautiful Tierra restaurant spoils guests with Mediterranean cuisine.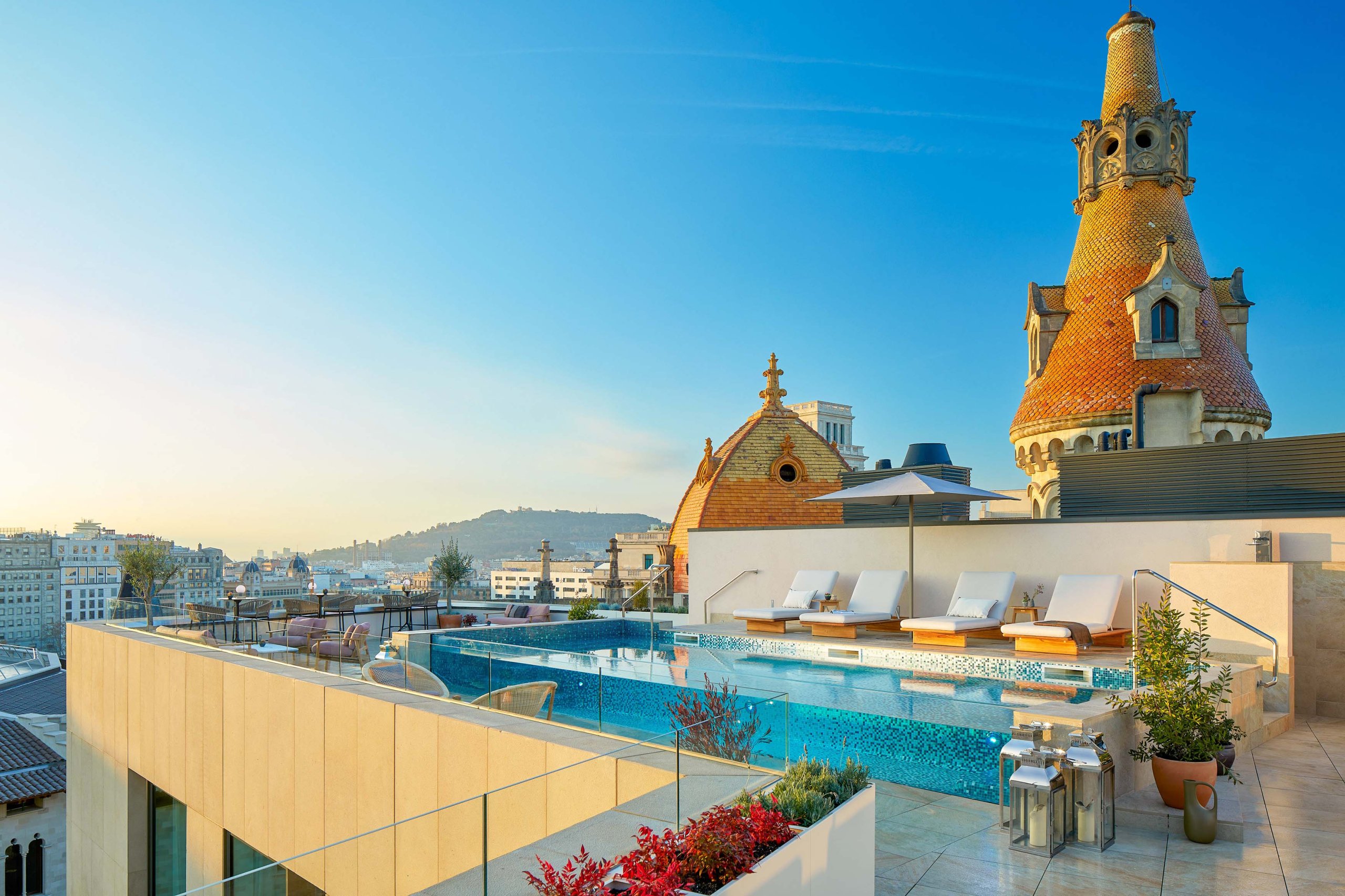 Hotel Casa Sagnier
The Hotel Casa Sagnier is a wonderful choice for a boutique hotel vacation. This gorgeous 5-star luxury hotel is located in a building from 1892 in the center of Barcelona. The entire interior is beautiful, the hotel has been equipped with many modern elements and still managed to keep its historic character. The only 51 rooms score with elegant interiors and state-of-the-art technology, with some of the guest rooms even featuring their own courtyard terrace or balcony with views of the Rambla de Catalunya or the Passatge de la Concepció. The entire color concept as well as the furniture are absolutely charming and conjure up a living comfort at the highest level.
Really wonderful is also the lobby with the open fireplace, as well as the small roof terrace to relax. For culinary delights, head to El Café de l'Arquitecte, a mix of restaurant, cafeteria and cocktail bar inspired by the character Enric Sagnier.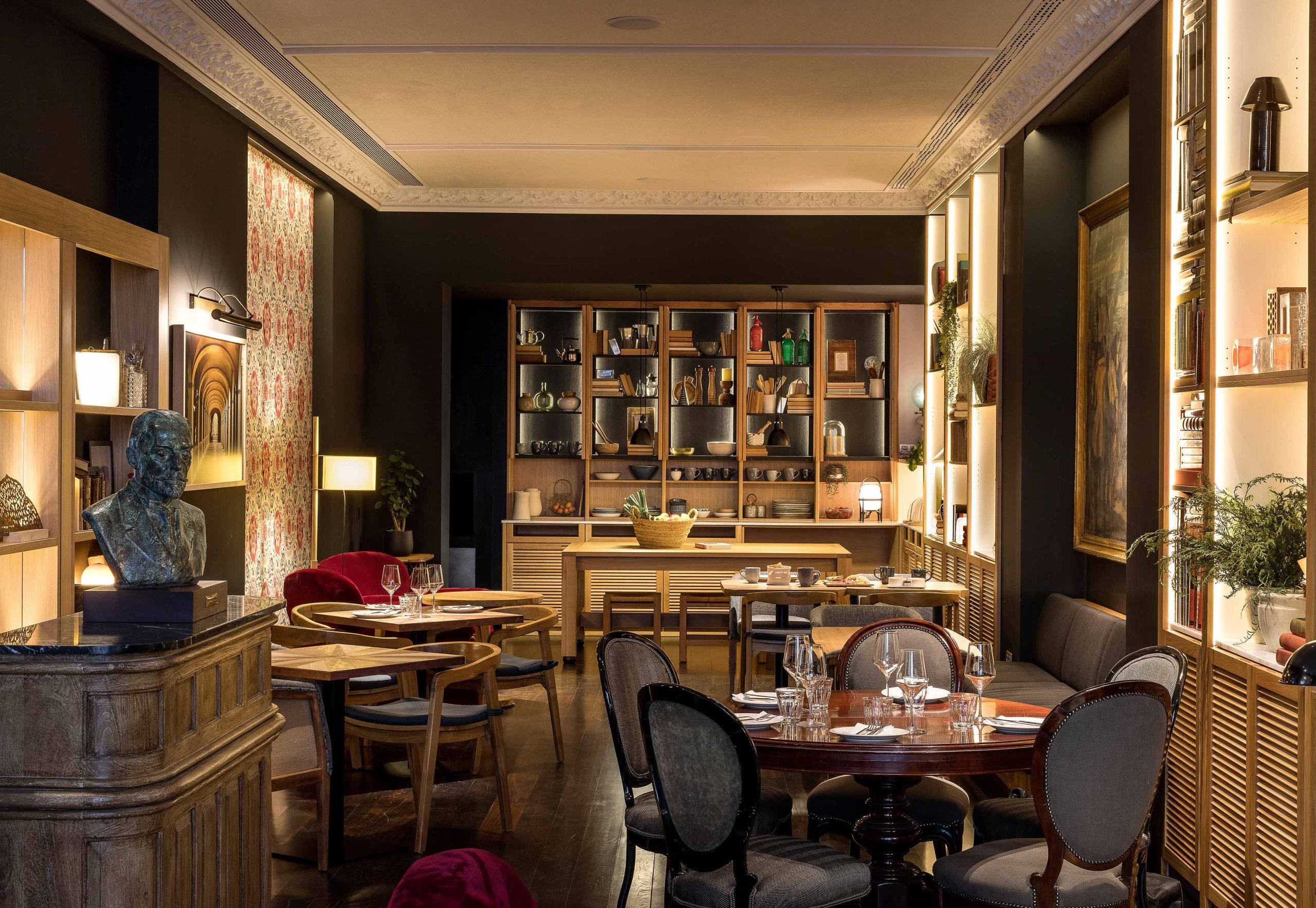 Sir Victor Hotel
The Sir Victor Hotel is an extremely charming boutique hotel in Barcelona, and moreover, a true oasis in the middle of the urban jungle. This gorgeous accommodation is located in Barcelona's famous Passeig de Gràcia promenade, a 5-minute walk from Gaudí's Casa Milà. Thanks to its location, this boutique hotel is a fabulous choice for a stylish city trip to Barcelona. Each of the 91 rooms is truly hip and individually designed, with warm colors as well as natural materials. Plus, each of the guest rooms is stocked with a selection of local books. Especially the accommodation units with balconies are a real dream, from where you can watch the hustle and bustle on the Passeig de Gràcia.
Also really cool is the in-house spa with steam rooms and sauna, as well as the modern high-performance gym. A highlight is the bar "Rooftop" on the upper floor! On this rooftop terrace, you can enjoy a chic pool as well as a good restaurant with views of Barcelona's old town.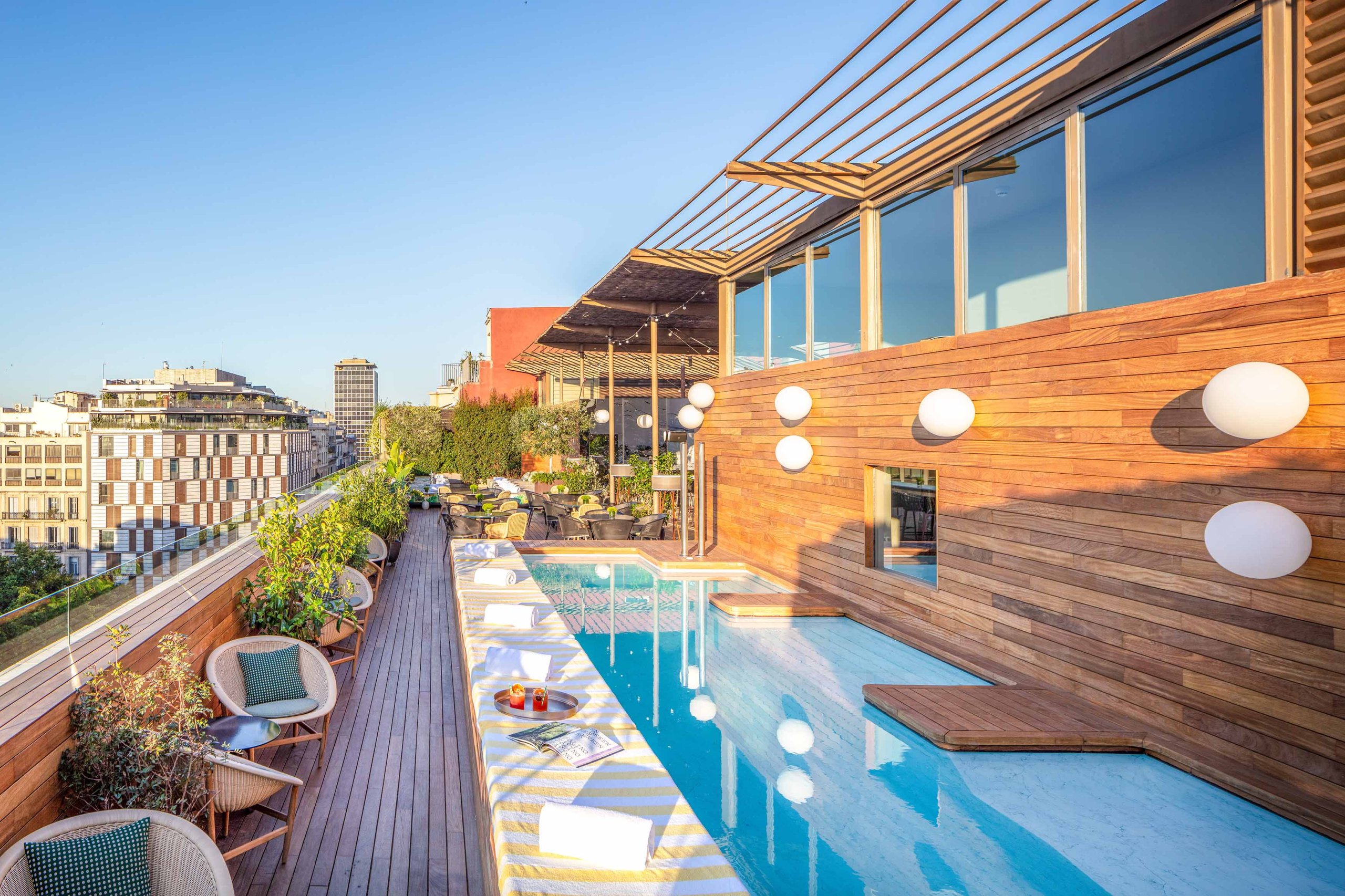 Hotel Margot House Barcelona
Hotel Margot House is an insider's tip when it comes to the best boutique hotels in Barcelona. It is tucked away in the heart of Paseo de Gracia and is the ideal hotel to experience the city as if you were at home there! This wonderfully pretty 4-star hotel is a true oasis of calm and scores with intimate atmosphere, comfort and exclusivity. Absolutely fascinating is the interior design, a tribute to the tradition of Catalan design and architecture. The only 9 rooms are individually decorated, stylish and with great attention to detail. The heart of the hotel is the Livingroom, a beautiful lounge perfect for relaxing, reading or having a leisurely drink.
Simply wonderful is also the breakfast in the charming Dining Room! Great attention is paid to local ingredients from the region, the food is fresh and sustainable. Sweet, savory, light or healthy, there is sure to be something delicious for everyone here!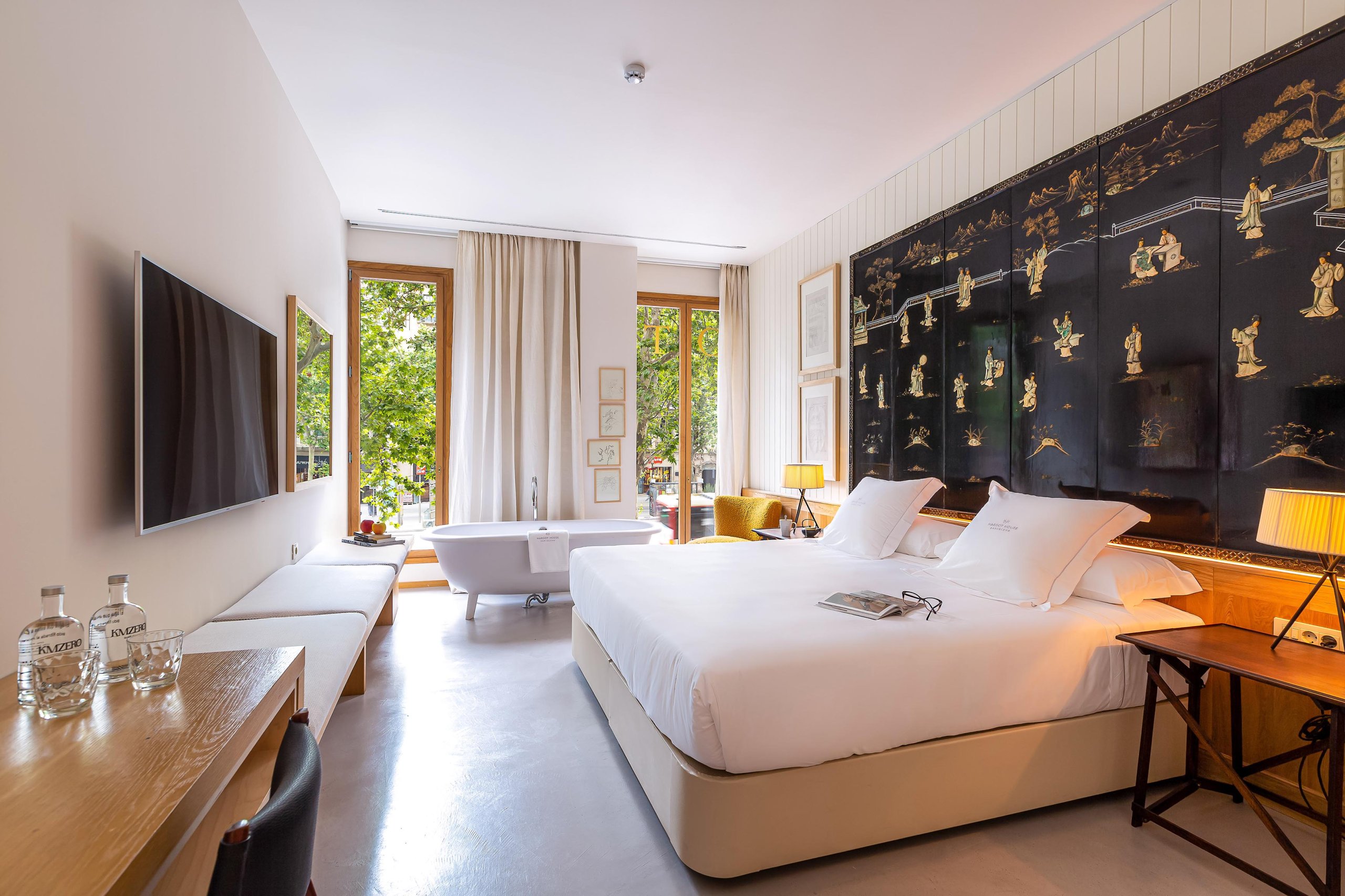 Hotel 1898
The Hotel 1898 is a fascinating boutique hotel in the heart of Barcelona, just 200 meters from Plaza Catalunya and a 10-minute walk from the Gothic Quarter with the Cathedral. Built in colonial style, this 4-star hotel stands out for its unique architectural and historical heritage. The rooms and suites are also absolutely stylish, furnished with high-quality furniture and numerous beautiful details, as well as designed with dark, bold colors. For a special stay, the deluxe rooms on the fifth floor are recommended, where you can enjoy great views of central Barcelona from your own furnished terrace. Highlights also include the hotel's breakfast, which is a true pleasure!
Also really great is the rooftop terrace "La Isabella", where guests can enjoy an infinity pool as well as a gorgeous view over the rooftops of Barcelona. To relax, it is best to check out the in-house spa, where, among other things, a beautiful grotto pool for swimming and relaxing.
Click here for the offer!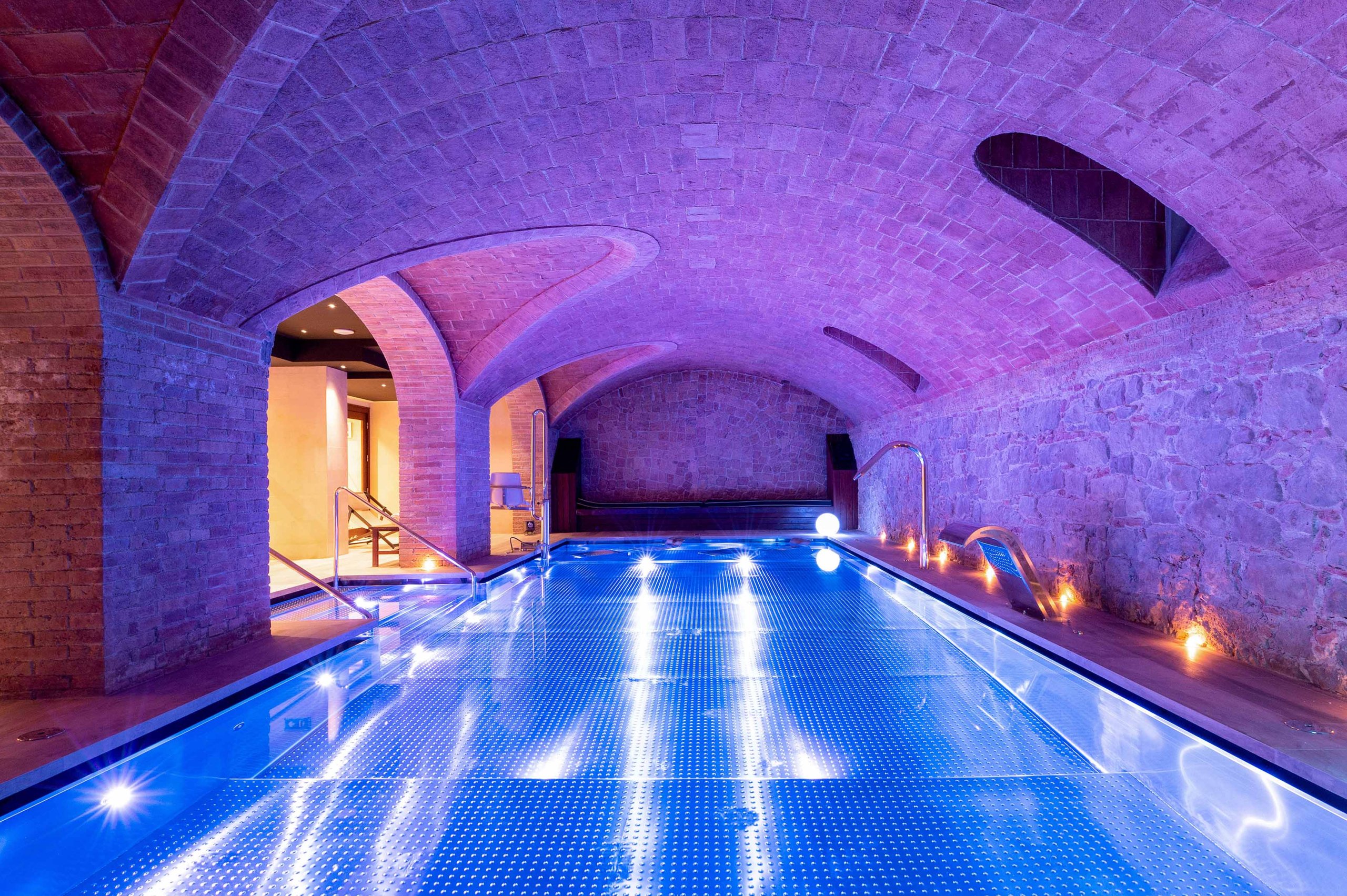 Room Mate Pau
Thanks to its wonderful location in the center, just a few meters from the Rambla, Room Mate Pau is a fabulous option for a city trip to Barcelona. This ultra-chic, very modern boutique hotel is located in a building with a listed facade and was completely renovated in 2012. Guests love the unique, cosmopolitan design and intriguing color combinations, which conjures up a true feel-good ambience. The 66 rooms are decorated with bright, friendly colors, very elegant and with many hip elements. In general, the atmosphere in the hotel is very cozy and charming, because guests should feel at home there.
Excellent is also the rich breakfast buffet at Room Mate Pau Hotel, because there is everything your heart desires. Breakfast is even offered until 12 o'clock, so even late risers can enjoy their morning meal in peace. Perfect if you want to start the day full of energy.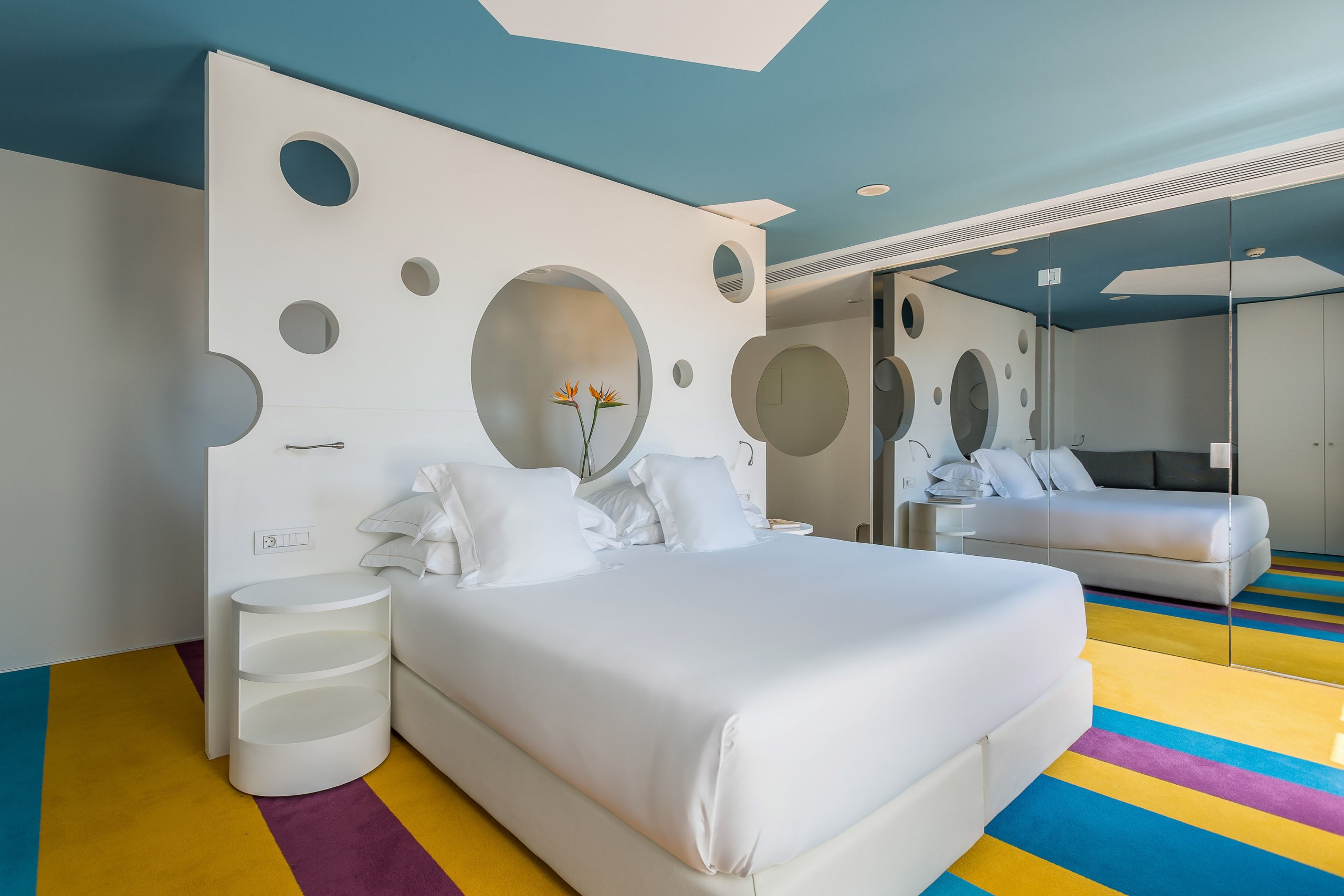 ---
More about Boutique Hotels:
---
Disclosure: Some of the links below are affiliate links. Meaning that if you click on certain links, and then subsequently purchase a product, I will receive a small commission at no extra cost to you.
---