Top 12 UNIQUE Boutique Hotels in Budapest
The gorgeous boutique hotels in Budapest offer a unique experience for all those vacationers who want to experience the Hungarian capital with style and a touch of luxury. These chic design hotels definitely have that certain something and are sure to make your stay unforgettable. They inspire with a unique charm, with modern furnishings and a luxurious touch. But not only that! Most of the design and boutique hotels in Budapest are located directly in the historic center of the city, and so the best attractions of the metropolis can be reached in no time. But what are the most beautiful boutique hotels in Budapest and which of these hip accommodations are particularly suitable for an unforgettable city trip.
In this guide, you will find our recommendations for the best design hotels and boutique hotels in Budapest. We show you great pictures, and also give you plenty of tips and info that will certainly help you make your choice.
Hotel Clark Budapest
The Hotel Clark Budapest is absolutely one of the coolest boutique hotels in Budapest and a real insider tip for a very special stay in the Hungarian capital. Located in an unbeatable location beneath Buda Castle Hill and right next to the world-famous Chain Bridge, this hotel is a perfect starting point for sightseeing! In addition, guests love the extravagant style of this modern, chic upper-upscale boutique hotel. All 86 rooms are very tastefully designed, with lots of warm dark colors and high-quality materials. There's a great choice of different room categories and suites, with some guest rooms offering a view directly onto the Danube and Chain Bridge.
A real gem is the LEO Rooftop bar, from which you can enjoy a gigantic 360° view of Budapest while enjoying superb cocktails. In addition, the boutique hotel also houses the chic LEO Bistro, a really fabulous place for a perfect dinner!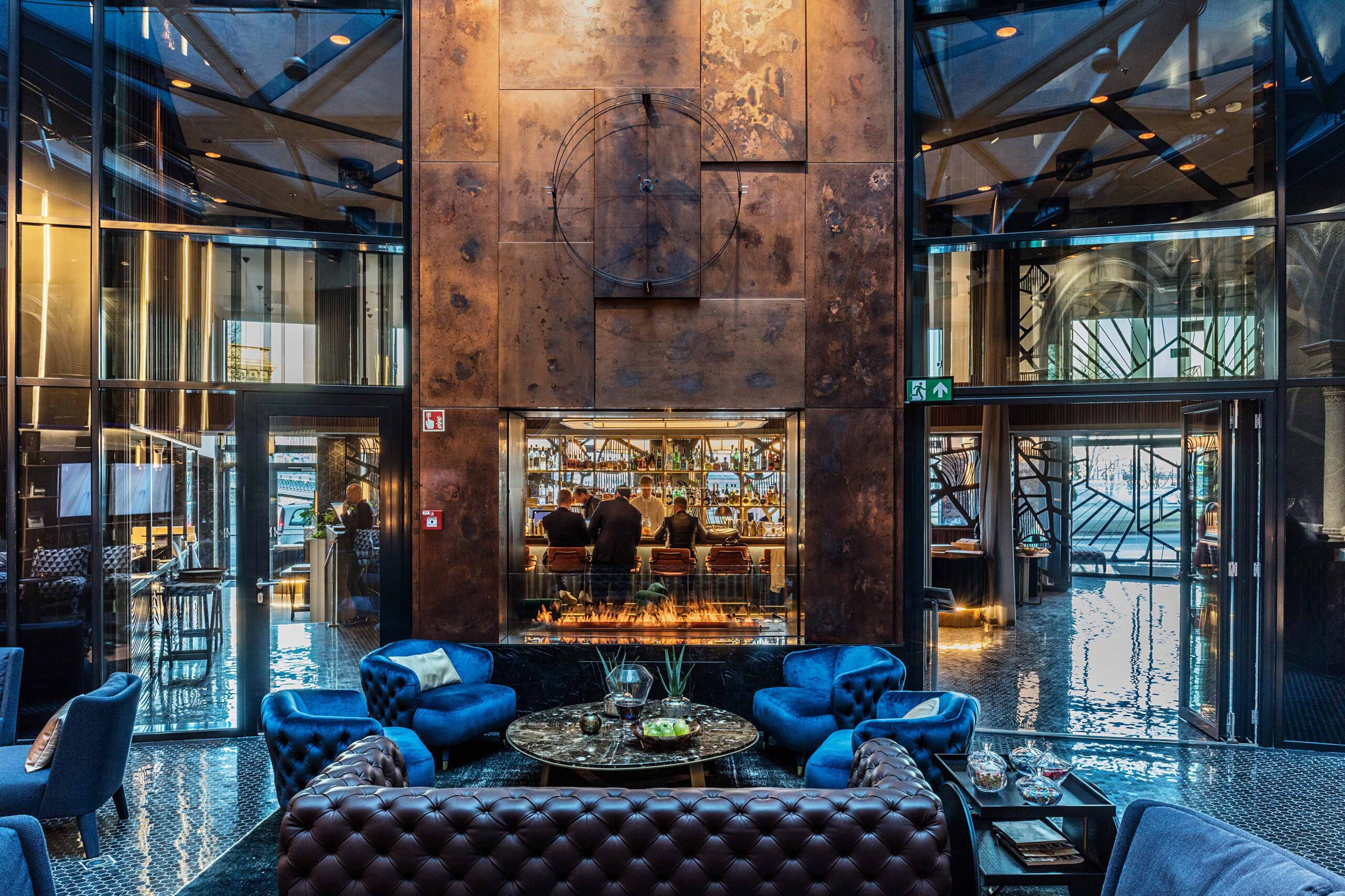 Roombach Hotel Budapest Center
A chic and quite affordable design hotel in Budapest to boot is the Roombach Hotel in the heart of downtown. Guests love the colorful decor and simple geometry reflected throughout the architecture. The 3-star hotel offers 99 rooms, with a wide variety of room categories to choose from. The guest rooms are rather small, but clean, modern and decorated with warm tones and chic furniture. Moreover, the delicious breakfast is ingenious because the large buffet offers everything your heart desires and the breakfast times are also very extended. Perfect for late risers!
Thanks to the great location of the Roombach Hotel Budapest Center, you can reach the most important sights of the city in no time. The hip Jewish Quarter with its many cool ruin bars, great clubs as well as restaurants can also be explored perfectly on foot from here.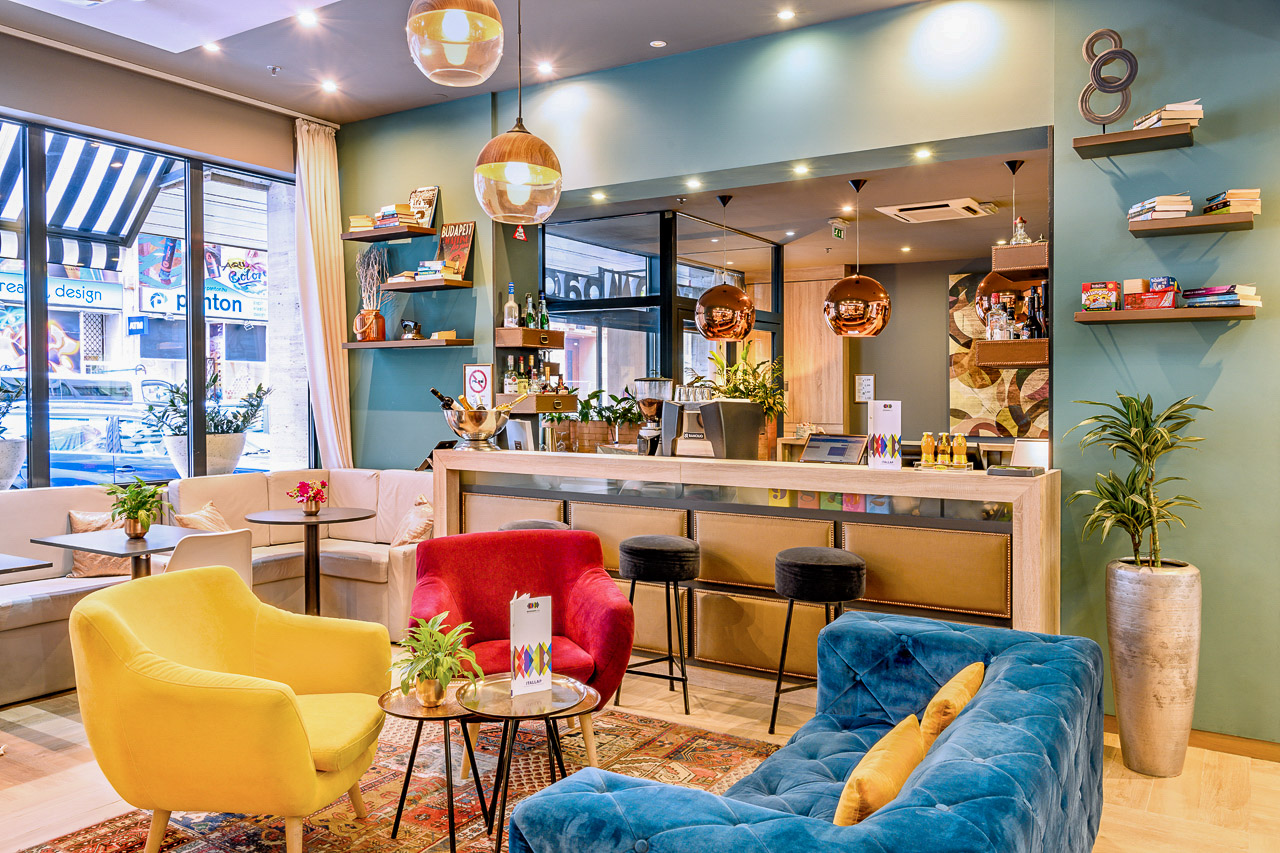 Aria Hotel Budapest
The Aria Hotel Budapest is a beautiful 5-star boutique hotel in a prime location near St. Stephen's Basilica in the center of Budapest. During a stay, you will enjoy a wonderful mix of the unique atmosphere of a Hungarian palace, coupled with plenty of coziness and an extra dose of comfort. The hotel concept, which is dedicated to the theme of music, is also really ingenious. Classical music, opera, contemporary music and jazz, each of the 4 hotel wings is dedicated to a different style of music. In addition, the rooms are very tastefully designed and caricatures of music legends such as Bob Dylan, James Brown and the Hungarian composer Franz Liszt adorn the walls.
The rich, delicious breakfast buffet is also fantastic. In addition, there are many other little surprises at the boutique hotel, such as free coffee and tea, or free wine and cheese bites as afternoon snacks. A real highlight is the cool rooftop bar, from which you can enjoy a cocktail and a magnificent view of the city.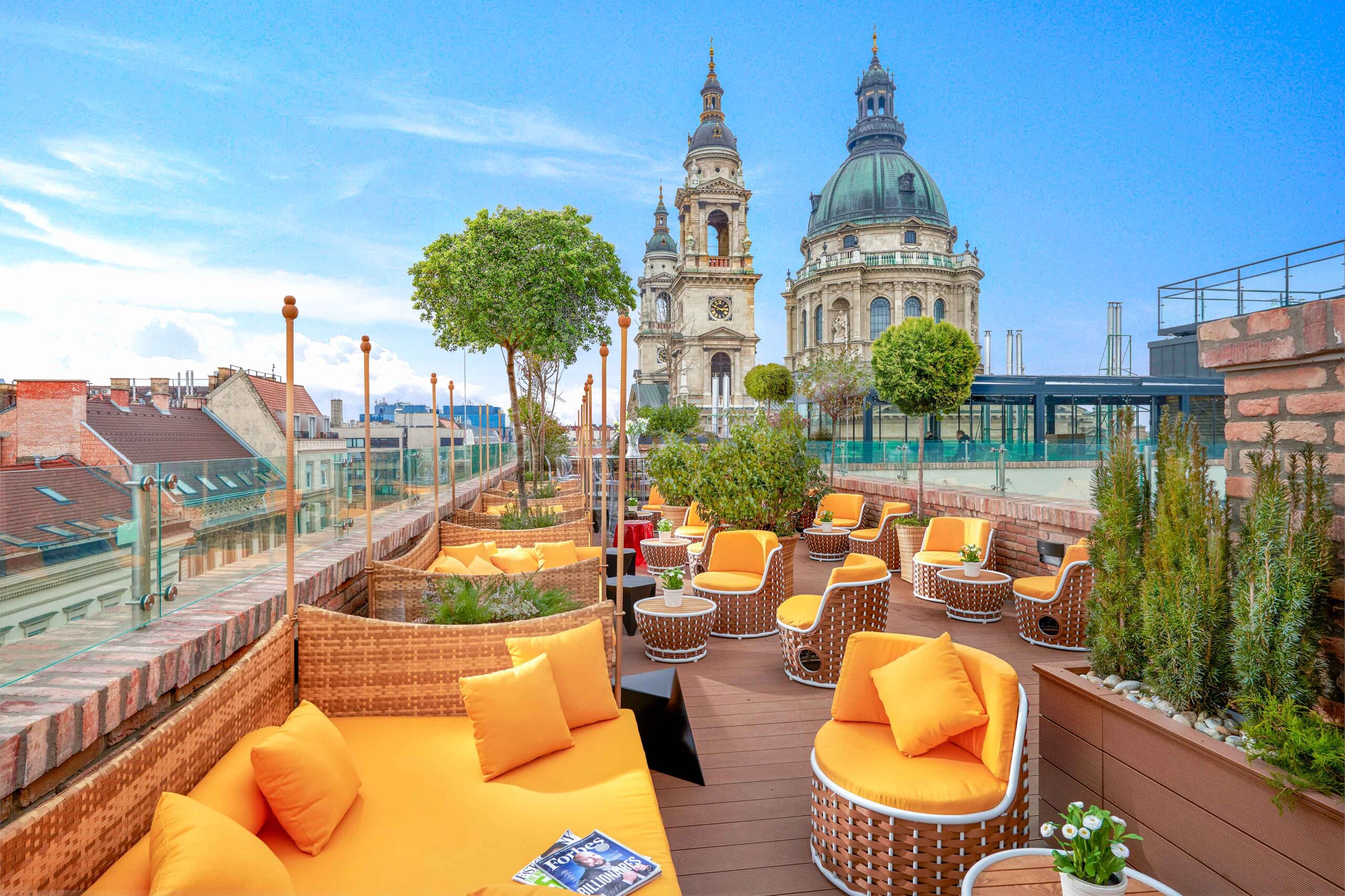 Hotel Collect – Adults Only
The Hotel Collect – Adults Only is an absolutely charming boutique hotel in Budapest. It is situated in a prime location in the heart of the city center, right next to the romantic Karolyi Garden city park. This extremely luxurious hotel particularly scores with elegant modern style, and the chic French influence is also stunning. Guests love the classic French design of this hotel, which creates a magical feel-good atmosphere with lots of unique vintage furniture and the beautiful paintings. Furthermore, a highlight is the hotel's cute little courtyard, which brings a touch of Morocco to Budapest.
The individually designed rooms and suites offer a luxurious home away from home! Here, one enjoys a terrific combination of home comforts and luxury in a class of its own. The delicious breakfast served in the beautiful lobby is also fabulous.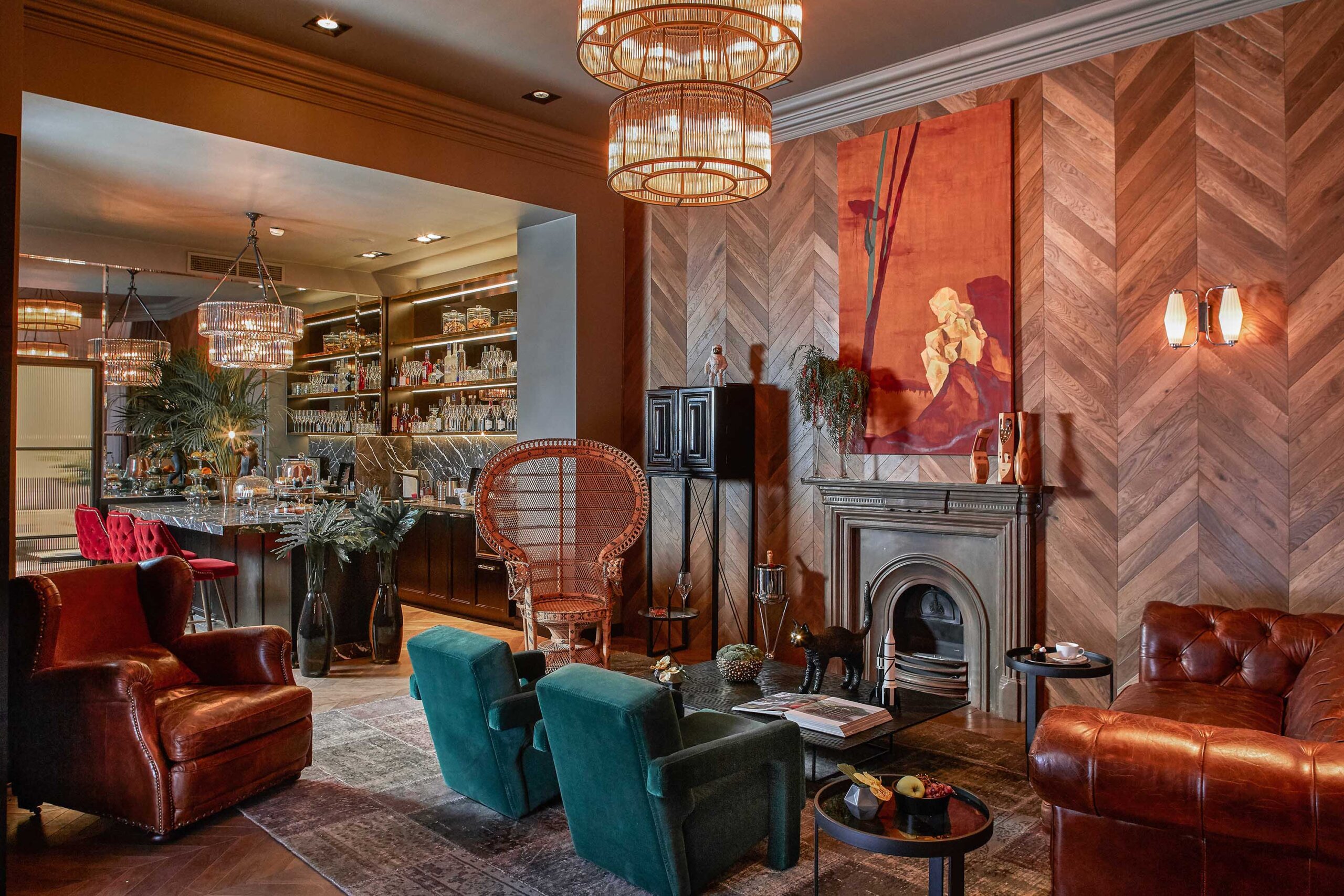 Maison Budapest Hotel
A stay at the Maison Hotel Budapest is a fantastic experience. This lovely boutique hotel is located in a historic vaulted building whose history dates back to 1464. Here, you can expect a chic atmosphere with contemporary Hungarian design. The only 17 rooms have been individually and imaginatively decorated. The colors are bright and friendly, which conjures up a relaxed mood. In addition, the hotel features a cute bistro, a nice wine cellar, a pleasant street terrace, and a courtyard with a garden that invites you to relax. Just 50 meters away, the hotel also has 8 more beautiful guest rooms in the Petite Maison, an extension of the boutique hotel Maisons.
The Maison Budapest is quietly located in the city's romantic Castle District. The area is quiet, and you can also walk to some famous sights like the Fishermen's Bastion and Matthias Church from here.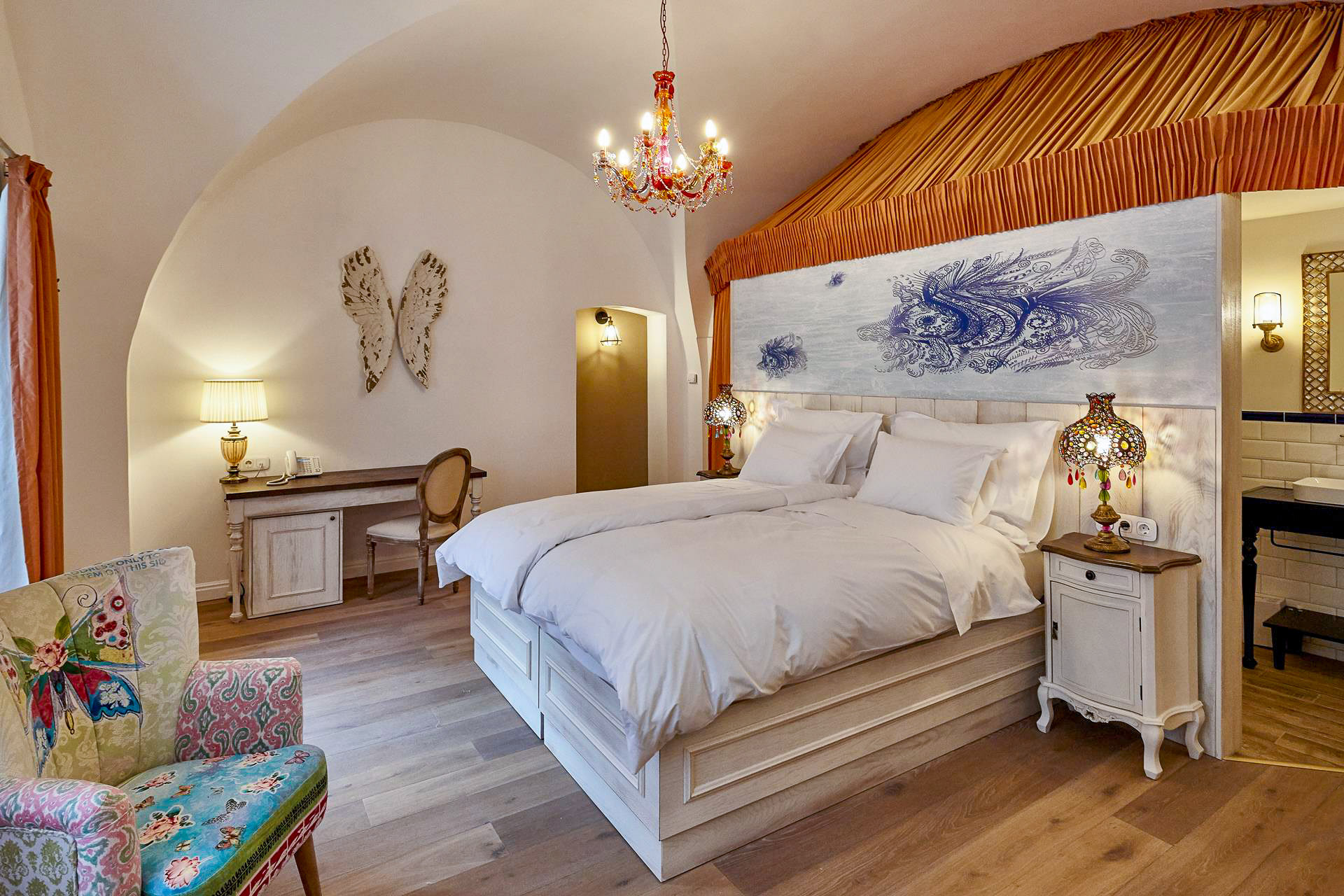 Hotel Oktogon Haggenmacher
The Hotel Oktogon Haggenmacher is a really cool 3-star design hotel in Budapest and a great choice for a city trip. It is located in the best location in the city center, directly in the elegant Andrássy Avenue and also a metro station is just around the corner. Thus, some of the most important attractions in Budapest can be reached in no time. Built in the former Haggenmacher Palace, a rich historical heritage has been combined with modern design elements here. The 121 rooms are really tastefully designed, with plenty of vibrant colors, and the atmosphere in the hotel is casual as well. Guests also love the great value for money, which makes this design hotel an affordable option.
Moreover, fabulous are the delicious breakfasts at Hotel Oktogon Haggenmacher, with many vegetarian options available in the restaurant. And of course, the spa area with its 2 new saunas as well as the gym are recommended.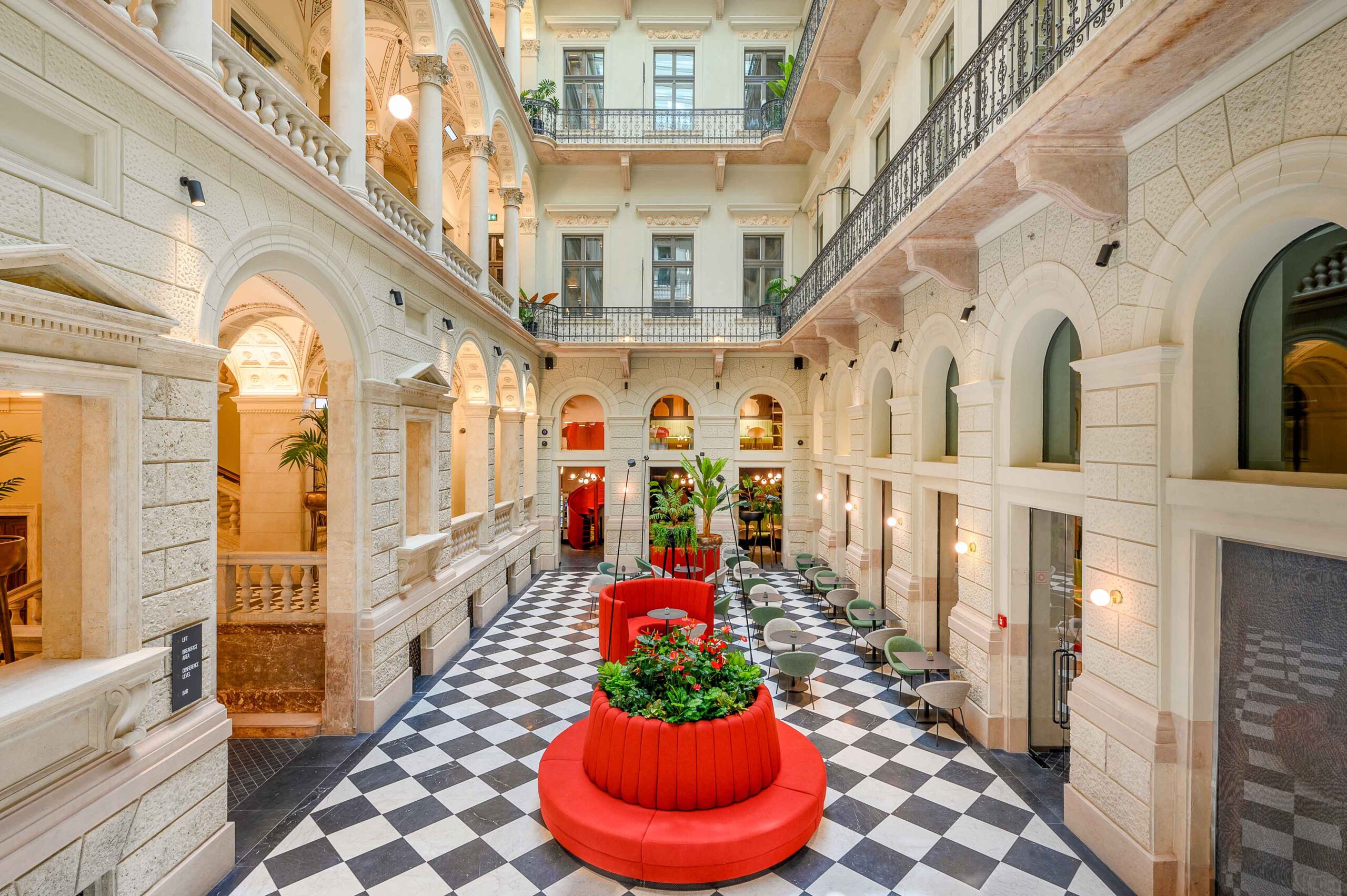 Baltazár Boutique Hotel
The Baltazár is a really hip design and boutique hotel in Budapest. This family-run establishment is located in the historic Buda Castle district, and it's also close to the vibrant gastro scene with hip restaurants and famous attractions like the Fisherman's Bastion as well as Matthias Church. This luxury boutique hotel pays a lot of attention to details, the 11 suites and rooms are really chic with modern furniture in vintage style and also the great interplay of colors creates a unique atmosphere. Really cool are also the Baltazár Grill, a popular meeting place for gourmets in Budapest, and the Baltazar Bar, where you can taste a selection of the best gins in the world.
Baltazar Hotel is not located directly in the center of Budapest, but in the beautiful Castle District on a hill overlooking the city. The location is quiet, and you can reach the city center on foot in just under 30 minutes. Alternatively, you can also use public transportation.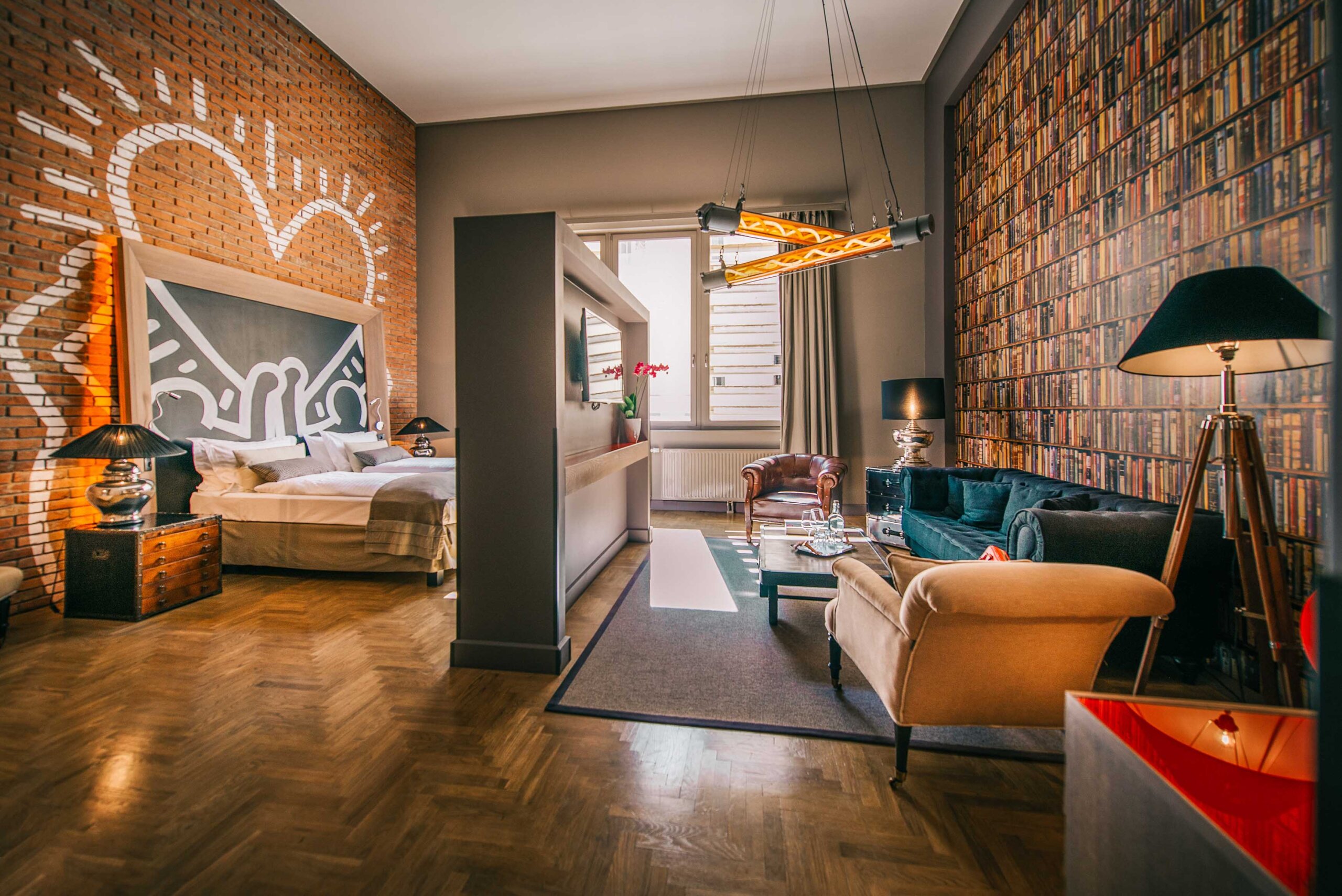 Párisi Udvar Hotel Budapest
Párisi Udvar Hotel Budapest is a stunning, very elegant boutique hotel in the center of Budapest. A stay at this outstanding 5-star hotel is like a trip back in time. Once home to Budapest's first modern shopping mall, inspired by the Parisian 'Passage des Panoramas', the one-of-a-kind building has continuously evolved. At the turn of the 20th century, Budapest's Central Savings Bank built its iconic headquarters in Beaux-Arts architecture style, featuring Gothic and Moorish elements. Guests love the magnificently designed hotel, which is housed in a historic Art Nouveau passage and is ideally suited for a memorable, luxurious city break. The whole ambience as well as the architecture and the magnificent rooms and suites are unbeatable in Budapest!
But not only that! Exceptional is the brasserie, where international and traditional meals are served, but also the café where you can enjoy great coffee and delicious pastries. The in-house fitness center and spa facility are also a big plus.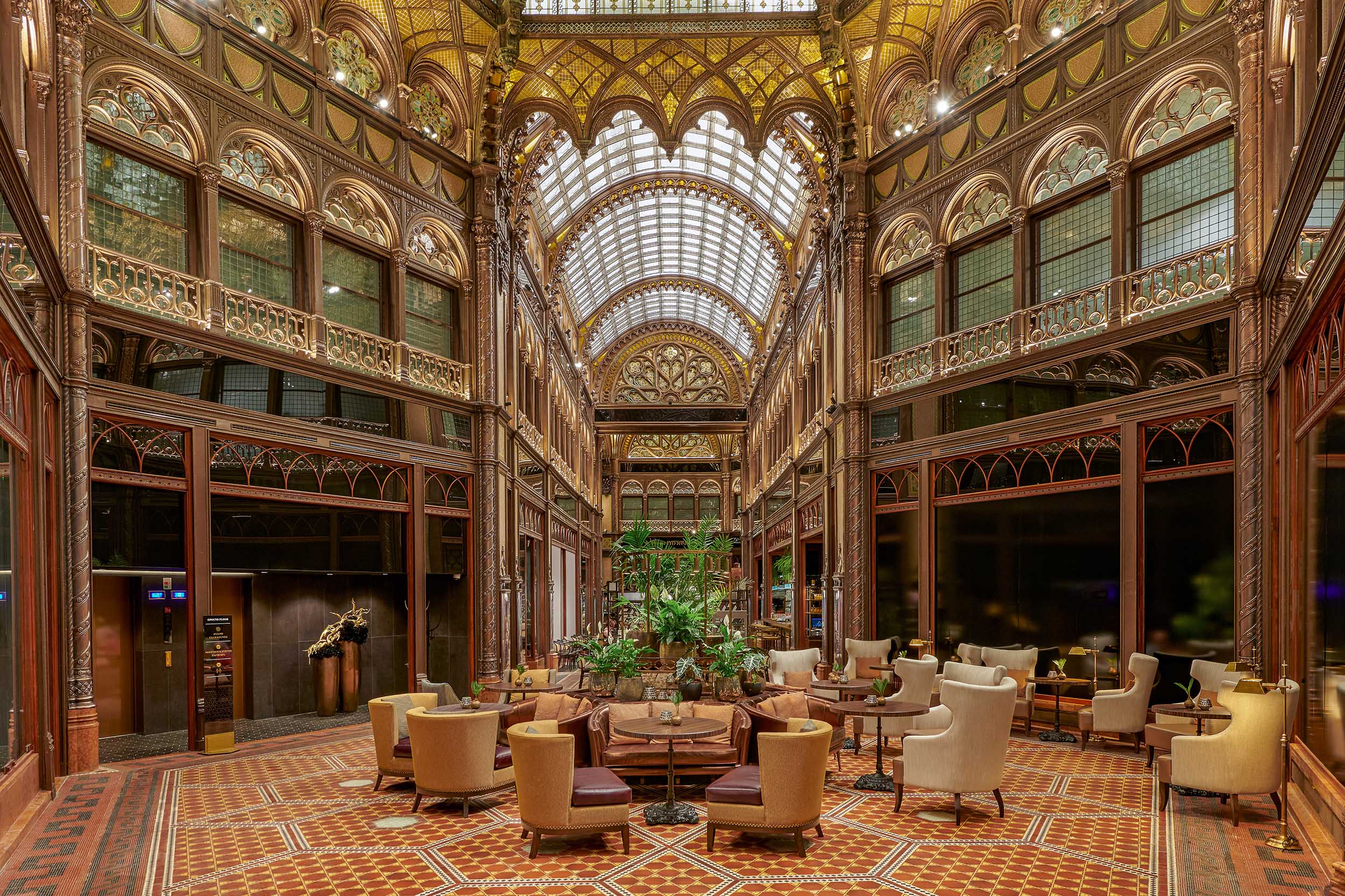 Barcelo Budapest
A real gem among the design hotels in Budapest is the Barcelo Budapest. It's in a terrific location in District VI Terézváros, in the heart of the city's historic center, making it a fabulous choice for a city break. Nearby you'll find numerous museums as well as art galleries, and good cafés and restaurants, as well as terrific nightlife, can also be enjoyed in the area. The chic hotel has 179 bright, stylishly decorated rooms and suites that create a unique feel-good atmosphere. Some suites are even located on the roof of the hotel, where you can experience a magnificent view from the balcony.
During the summer months, a sky bar also opens on the top floor of the Barcelo Hotel. Perfect if you want to end your sightseeing day with a delicious cocktail or a cozy coffee. The hotel also has a chic à la carte restaurant, and drinks are also served in the lobby bar.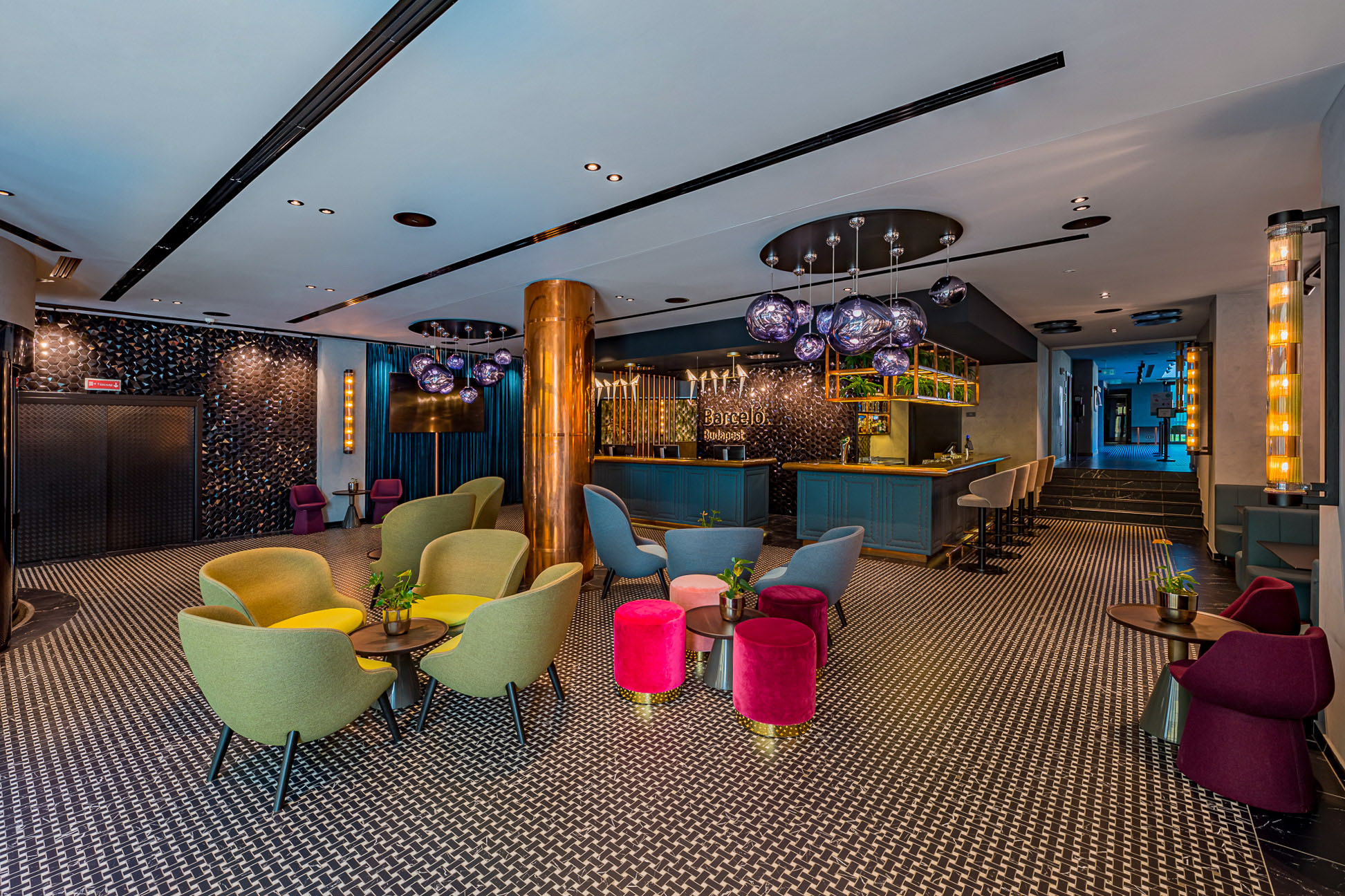 Mystery Hotel Budapest
The Mystery Hotel Budapest is a beautiful 5-star boutique hotel in downtown Budapest. Here you stay in a 19th century city palace and enjoy an extravagant ambience like from a fairy tale movie. The Mystery Hotel's motto is legends and mysteries, which is reflected in the interior design. There are giant candlesticks, Aladdin's flying carpet and a small library where guests can borrow various mystical books and movies. The hotel has 82 very exclusive rooms, with a choice of guest rooms, studios, and suites. What's really cool is that the design in the rooms is based on various Greek column styles, the Corinth, Ion and Doric.
A real highlight is The Sky Garden, the beautiful in-house rooftop bar, from which you can enjoy a magnificent view while sipping delicious cocktails. But not only that! Worth a visit is also the restaurant "The Great Hall" on the fourth floor, which is the heart of the hotel.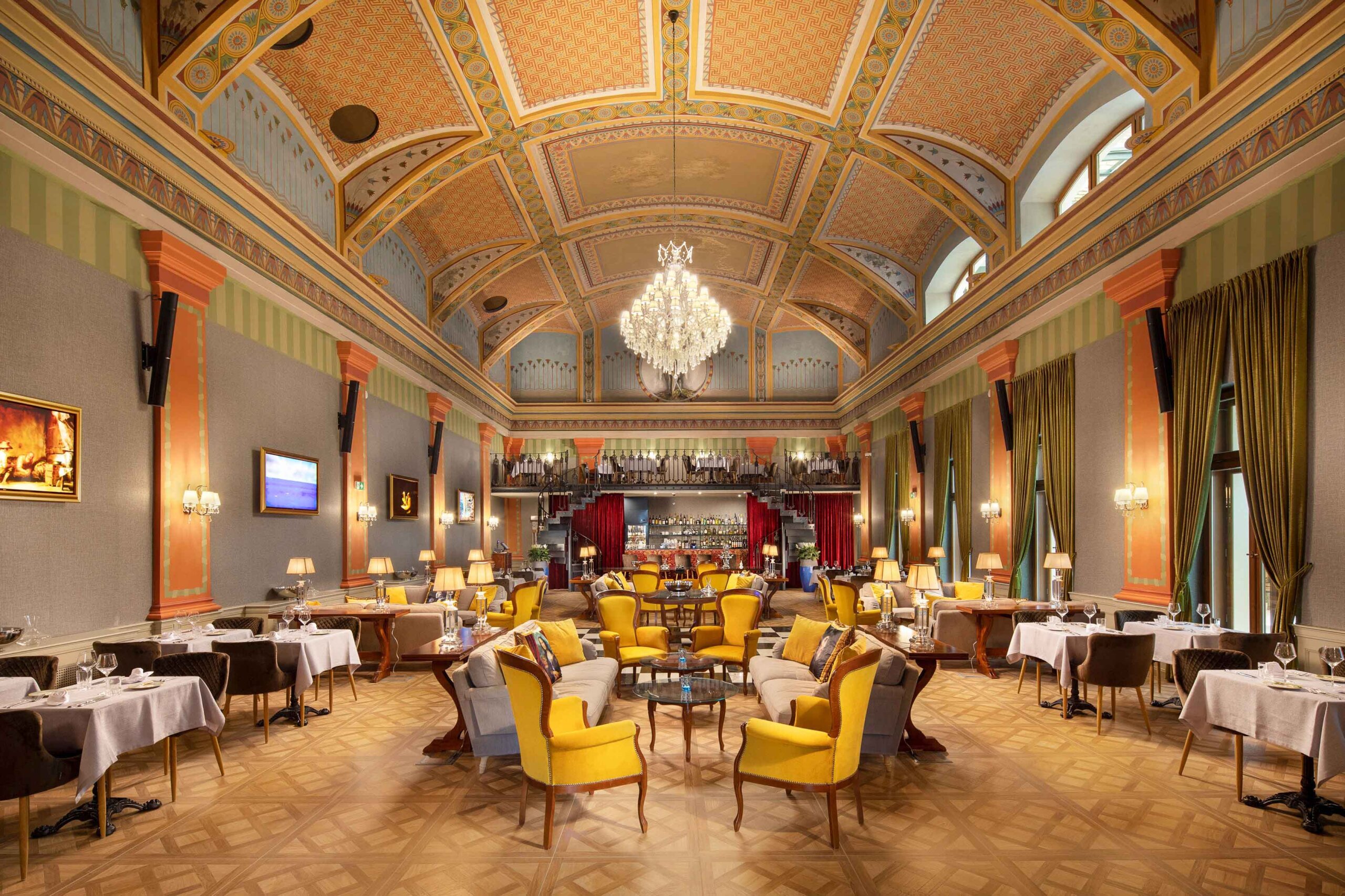 Hotel House Beletage
The House Beletage is a beautiful, small but nice boutique hotel in the center of Budapest. Perfect if you're looking for accommodation with a personal touch. This chic 3-star boutique hotel pays a lot of attention to small details as well, and the hotel's cozy rooms are individually designed. While House Beletage doesn't have a restaurant, coffee, tea, and croissants are served every morning. The quiet terrace is also charming, where you can relax with a coffee or a glass of wine after a long day of sightseeing.
Boutique Hotel Beletage is located in the famous Palace District, not far from many of downtown's best attractions. Highlights such as the National Museum, Váci Street, the Great Market Hall and the famous Gellért Bath can be reached on foot from the Beletage in no time!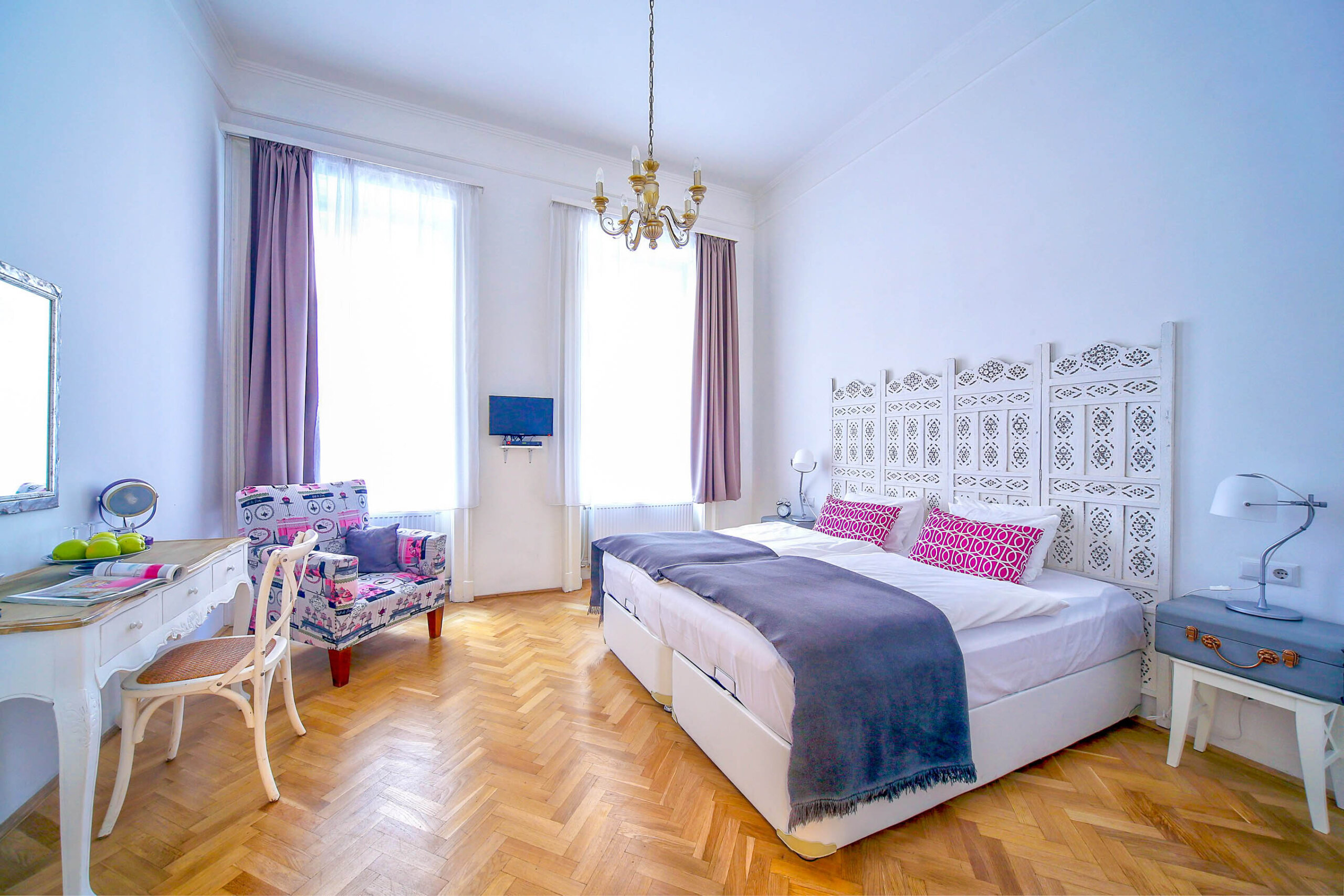 Hotel Moments Budapest
Truly recommended for a stylish city break is a stay at Hotel Moments, a beautifully renovated 4-star hotel with 99 elegant and tastefully decorated rooms. On your vacation in Budapest, you'll embark on an exciting journey through time, where the elements of the historic palace are combined with modern Art Deco style. Something exceptional is also the fabulous breakfast buffet at the hotel, which truly makes guests rave and leaves nothing to be desired!
Hotel Moments is also located in a really nice location in the city center, right on the famous Andrássy street, just a stone's throw away from the most famous sights in Budapest. Moreover, the streetcar and metro are not far from the hotel.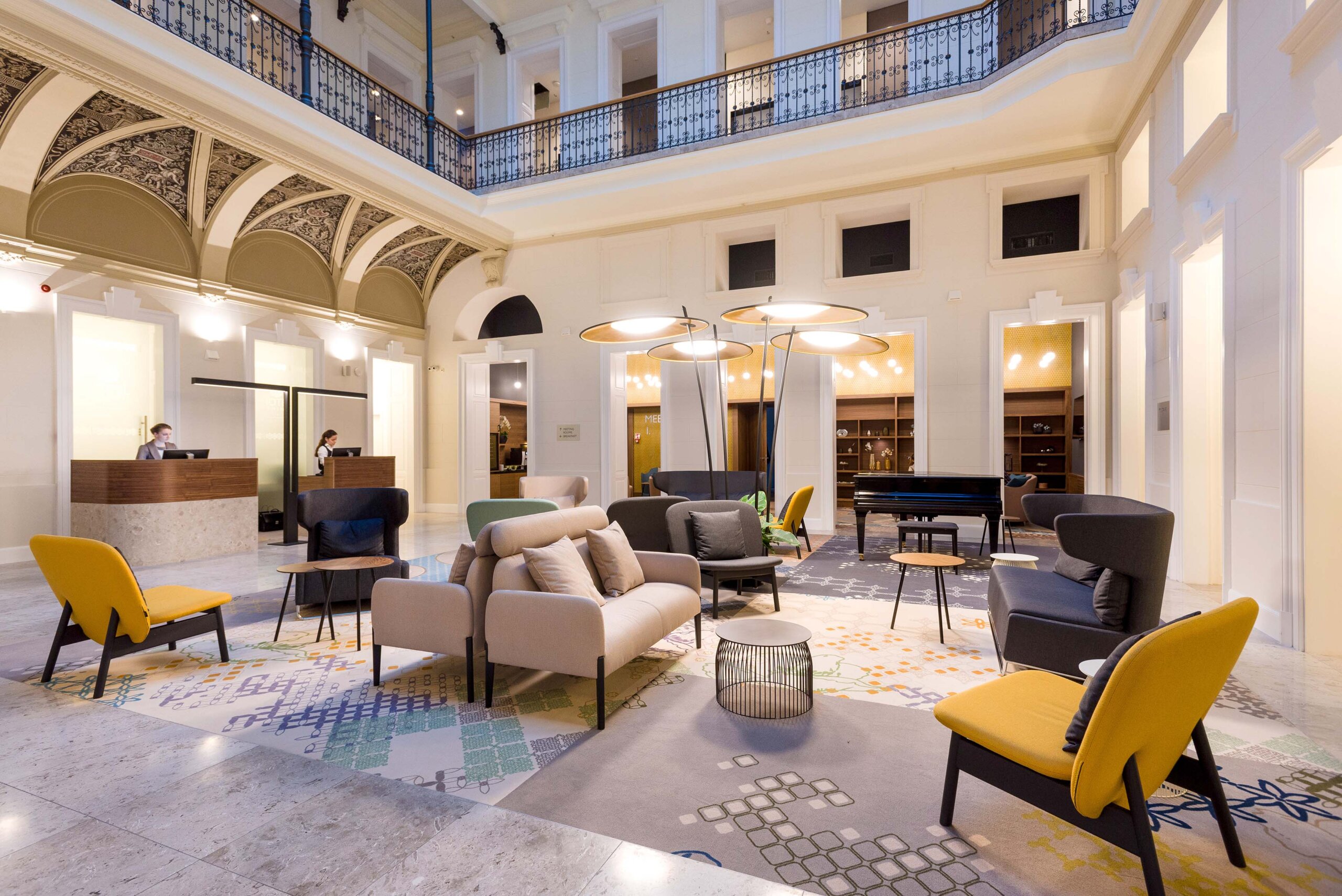 ---
More about Budapest:
---
More about Boutique Hotels:
---
Disclosure: Some of the links below are affiliate links. Meaning that if you click on certain links, and then subsequently purchase a product, I will receive a small commission at no extra cost to you.
---