Travel Ideas: UNIQUE Places to Visit in 2023!
Have you already thought about where to go in the year 2023? No matter if it is a city break, round trip, recreation, yoga trip, adventure, or culinary delights – everybody has their own preferences. But above all, it is difficult to decide which country to visit. By the end of the year at the latest, many people will ask themselves the question: Where would I like to travel to in 2023? From picturesque islands, beautiful mountain regions to the huge metropolises – the choice seems to be endless.
In this article, we show you our selection of travel ideas for 2023 and plenty of tips & information that will definitely help you create your personal bucket list!
Croatia
Probably one of the most beautiful travel destinations in Europe is definitely Croatia. Every year, countless visitors from all over the world are drawn to this Balkan pearl. Because not only the gorgeous beaches in Croatia and the picturesque are unique, also in the interior of the country there is much worth seeing to discover. Whether Istria, Kvarner Bay, Makarska or Dalmatia, each region has its own attractions. World-famous are the UNESCO world heritage cities Dubrovnik and Split. But also the coastal cities of Rovinj and Zadar should not be missed! A Croatia Road Trip is the perfect choice, if you want to explore all the interesting places!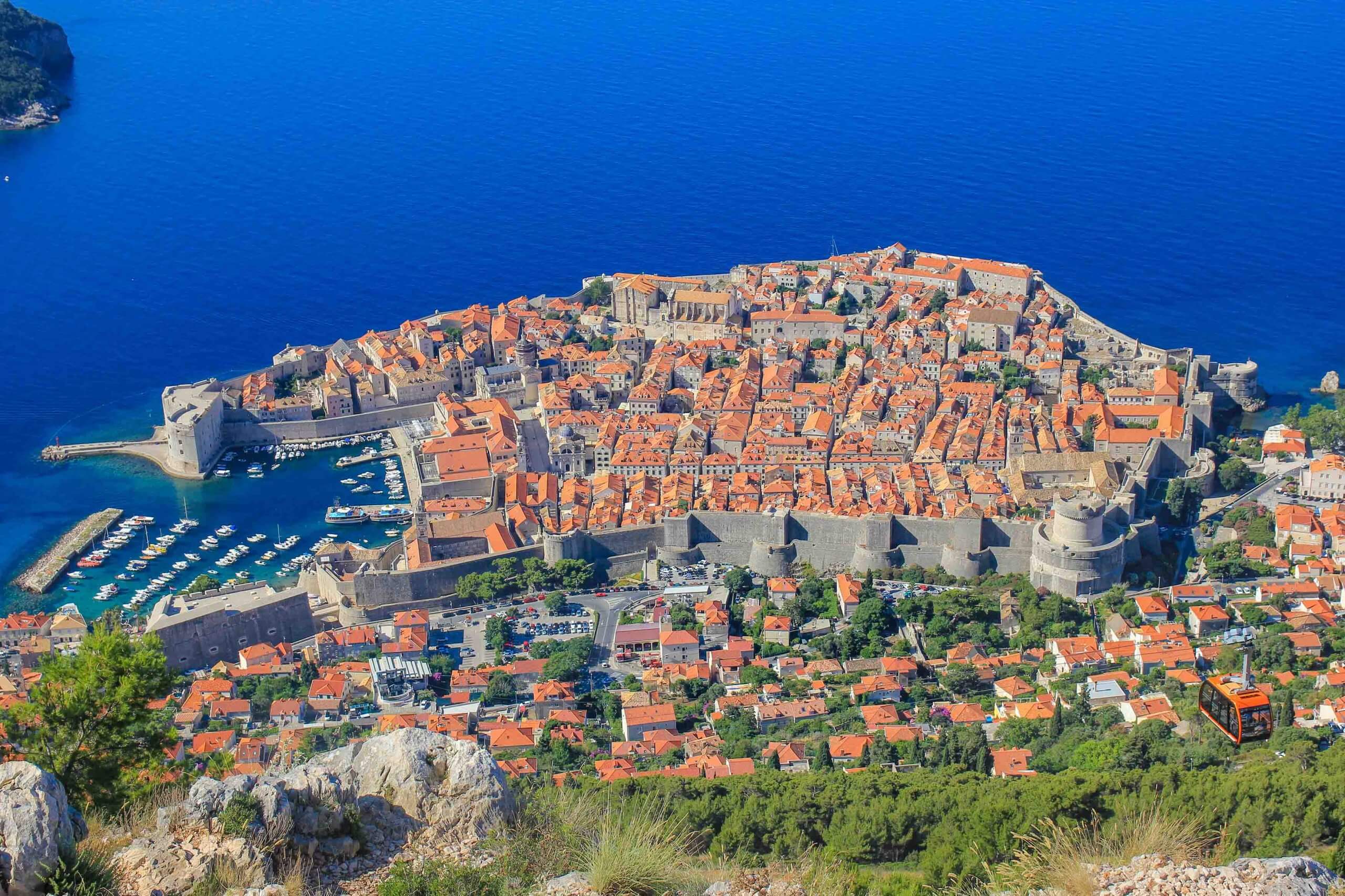 Italy
Italy is probably one of the most famous destinations in the world. Once to Venice, to stand on the imposing St. Mark's Square and to sail with a gondola through the magnificent canals, is a dream for every traveler! But of course, Italy has much, much more to offer in terms of sightseeing. Rome with the famous Colosseum, Florence the cradle of the Renaissance, Milan the fashion metropolis or Pisa with the Leaning Tower – many Italian cities are perfect for an unforgettable city trip and can also be reached cheaply and easily.
But also the spectacular Italian landscapes inspire and invite you to an exciting road trip! Just think of the breathtaking Amalfi Coast with its fantastic beaches or the charming Tuscany, a picturesque region that adorns countless posters and pictures.
But also Venice is a real highlight! Once standing on the imposing St. Mark's Square, experiencing the enchanting alleys of the old town and the many colorful canals – Venice in Italy – a dream for every traveler – and a real highlight on any Italy Bucket List! Especially now for 2022 a good travel idea, because of the limited international tourism you can expect hardly any visitors. On a city trip, countless highlights and attractions await you here. Enough to spend at least 2 days in Venice.
Tip: If you are planning a very special trip, you should check out this guide about the 5 best Luxury Hotels in Italy.
Greece 
Greece, especially the Greek islands, are a special destination for couples. Here you can experience a unique vacation for two from its most beautiful side: Fabulous beaches, beautiful nature, and still authentic regions to discover. Hard to believe, but there are about 6,000 islands to explore. Only 272 of them are inhabited! Each island is interesting, only partly a little bit different.
Well known are especially the islands like Zakynthos, Mykonos, Santorini, Crete or the "Mamma Mia Island" Skopelos, but there are countless other island pearls to discover. Wonderful are also the little islands, like Folegandros, Sifnos, Syros, which are off the typical tourist path.
A great choice for a perfect visit is also Athens in Greece! There are so many unique things to do in Athens, so It's worth to stay there longer.
Tip: For an exceptional stay, we recommend checking out our guide about the best boutique hotels in Athens!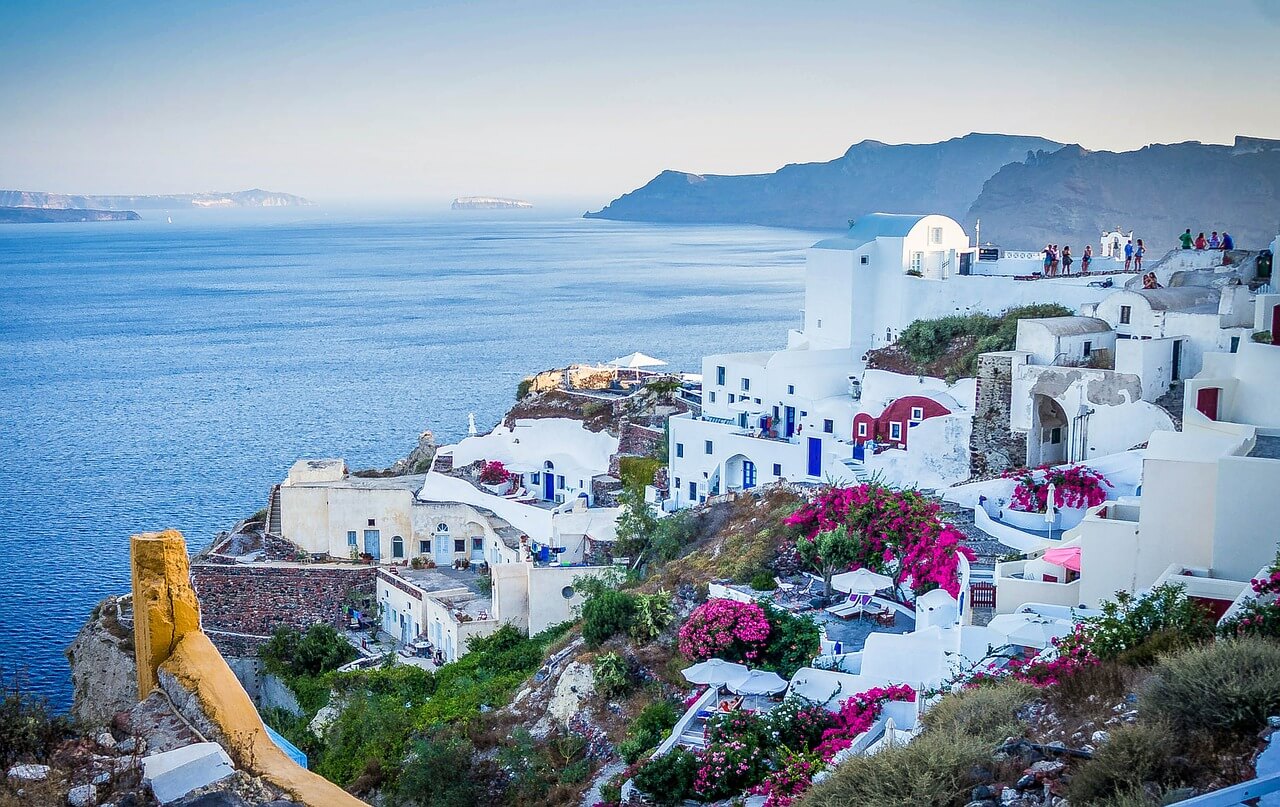 Thailand
Thailand is definitely one of the most beautiful travel countries. Absolutely worth seeing is the Thai capital because there is really a lot to see and plenty of things to do in Bangkok. Another highlight is the south with the beautiful islands in Thailand. One of the most famous is the island of Koh Samui, which is perfect for a vacation.
But there is more! Beautiful is also the region of Krabi, with the limestone cliffs and the many dream beaches. Those who prefer it lonely, explore the island pearls in the south, especially Koh Mook and Koh Kradan.
Absolutely worth seeing is also the north of Thailand, including the city of Chiang Mai with its many temples or Chiang Rai, which is not far from the Golden Triangle.
Hawaii
Hawaii the wonderful chain of islands in the Pacific Ocean is the 50th state of the USA and one of the most popular travel destinations. On each of the 8 main Hawaiian islands, there is a lot to experience and discover. For example, a visit to the still-active volcanoes in Volcanoes National Park – an absolute must-see on any holiday to Hawaii, or a visit to Waikiki Beach – one of the most beautiful beaches on the islands. Unique in Hawaii are also the spectacular waterfalls, which can also be found in the Akaka Falls Park.
One of the most amazing places in Hawaii is the Big Island. Here you will find the popular black lava beaches, but also some of the best national parks in the USA. But also there are spectacular things to do in Maui: A visit to Kapalua beach, having a surfing class or go whale watching are just a few of the highlights!
Tip: Check out this complete travel guide about the best Hawaiian island for families.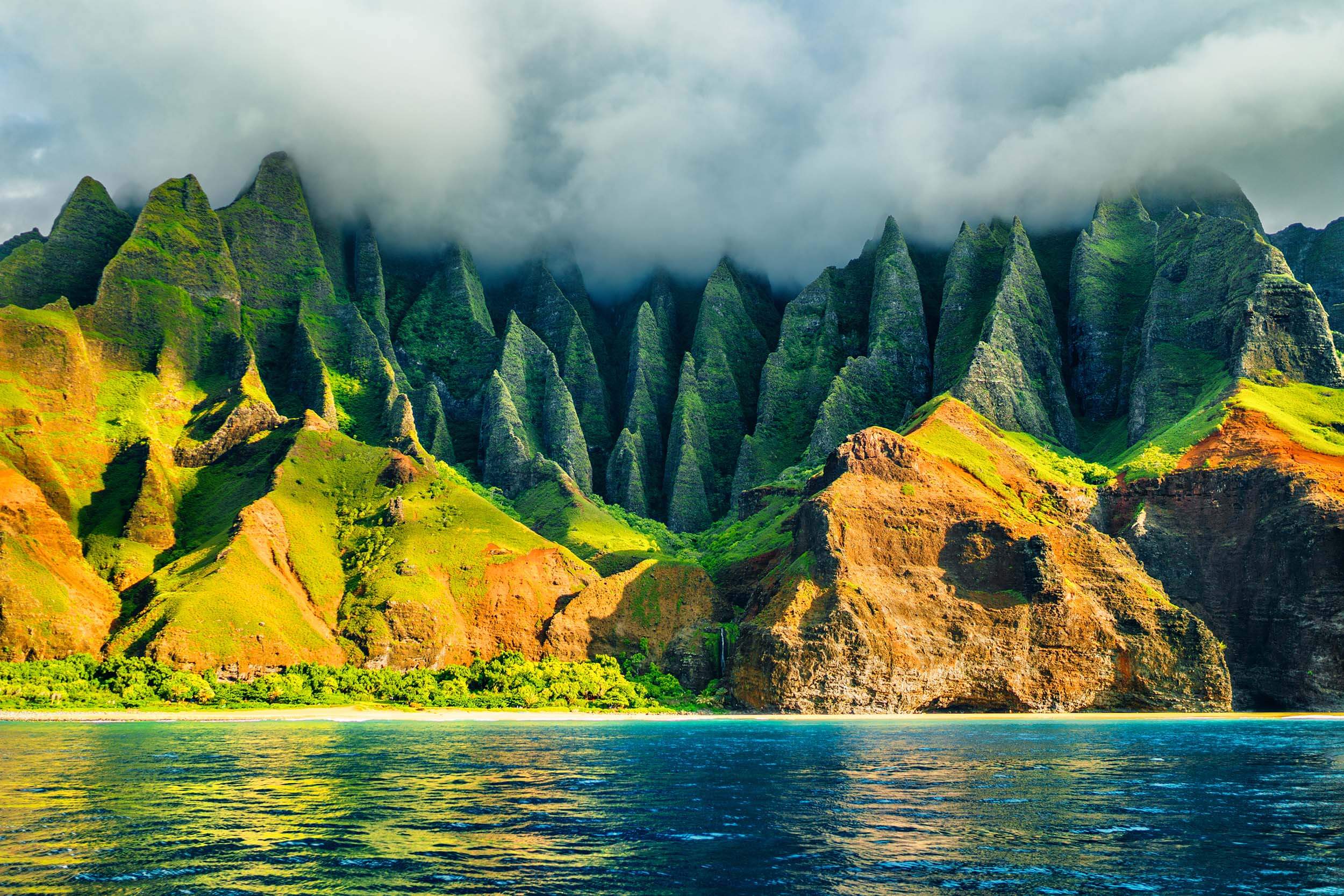 Turkey
Turkey is one of the most popular vacation destinations for 2022. And that's not for nothing: The country between Asia and Europe also has a lot to offer. From glamorous metropolises like Istanbul and Antalya to fantastic bathing regions like the Turkish Riviera. Also the beaches in Turkey are absolutely worth seeing – but there are so many more recommendable places, national parks and historical attractions to visit! No matter if beach vacation, sightseeing or backpacking in Turkey – this country is a must-see and high up on any bucket list!
Most visitors come in Summer. But also a visit in winter is just spectacular! Check out this guide for the best places to visit in Turkey in winter! There are so many amazing to explore, and some sceneries are even like stepping into another world. Like visiting Cappadocia in winter – a real highlight of any Turkey trip!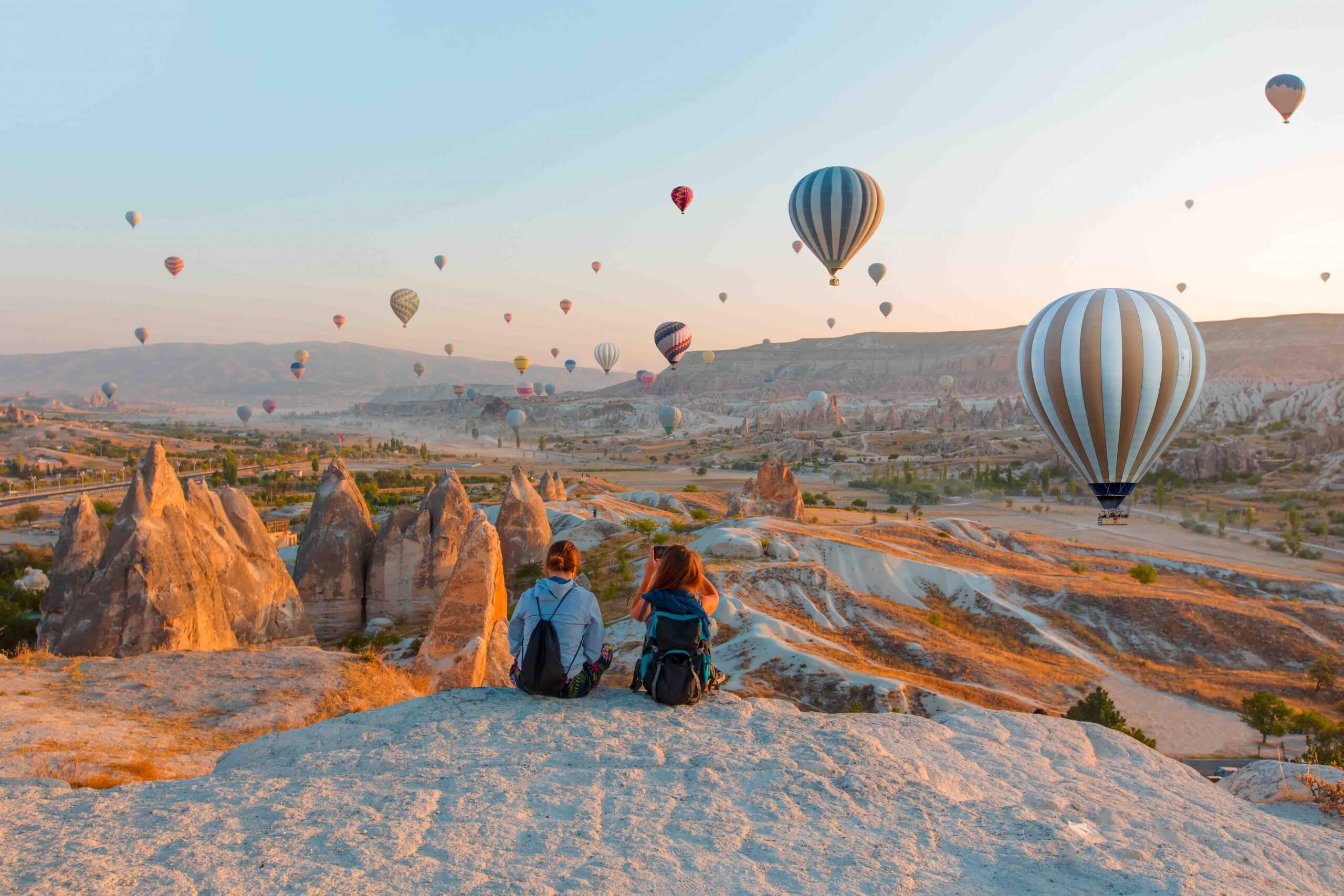 Dominican Republic
The Dominican Republic is a real highlight among the best travel ideas! As one of the most beautiful Caribbean islands, this pearl enchants with absolute dream beaches and numerous fabulous resorts. The landscape also fascinates with high mountains, many beautiful rivers and spectacular waterfalls. No less than 13 national parks promise wonderful nature in a tropical climate.
Besides Bavaro and Puerto Plata, Punta Cana is definitely one of the most popular resorts. Especially the southeast coast is known for its paradisiacal sandy beaches, but you should not only stay in your hotel. Moreover, you can also experience astonishing excursions from Punta Cana!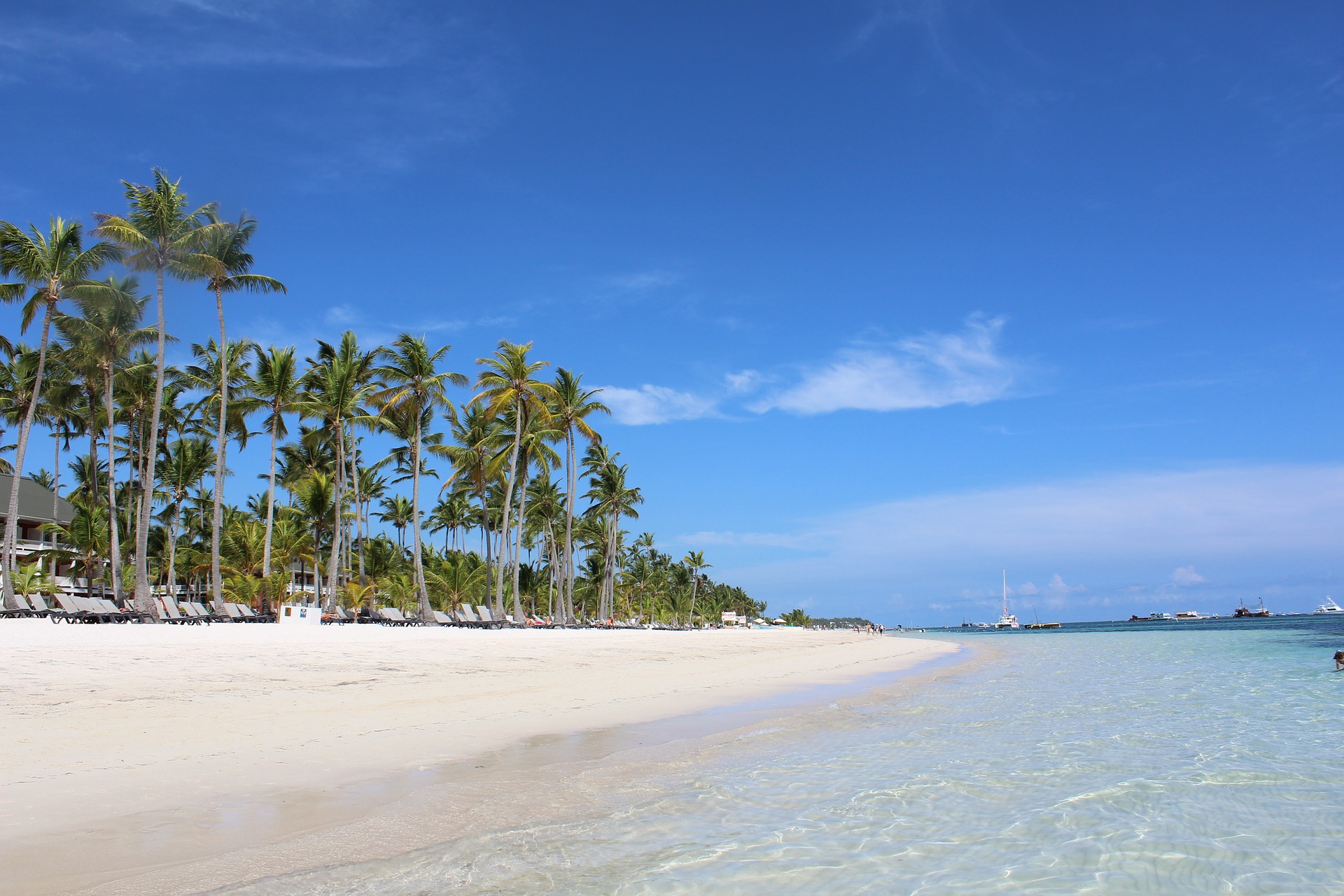 Japan
Japan is simply incredible, and probably one of the coolest ideas for an exceptional trip next year! It is a mix of modern and old traditions, skyscrapers and untouched nature, having a traditional Japanese tea ceremony and enjoying an exciting nightlife. A country of contrasts that you definitely have to see once in a lifetime. 2 weeks in Japan is just the perfect amount of time to explore the unique places! For the special experience, visit Japan for the cherry blossoms, a wonderful spectacle that takes place until the end of April.
Have you ever heard of a Ryokan in Japan? For those who don't know, a ryokan is a traditional Japanese inn that provides accommodation to guests. Staying a night in such a place is an incredible experience and a must-do when visiting Japan!
Japan is also well-known for its megacities! Don't miss seeing Osaka, Tokyo, Kyoto and Yokohama.
Tip: For more info about visiting the best places in Japan check out this perfect Japan Bucket List!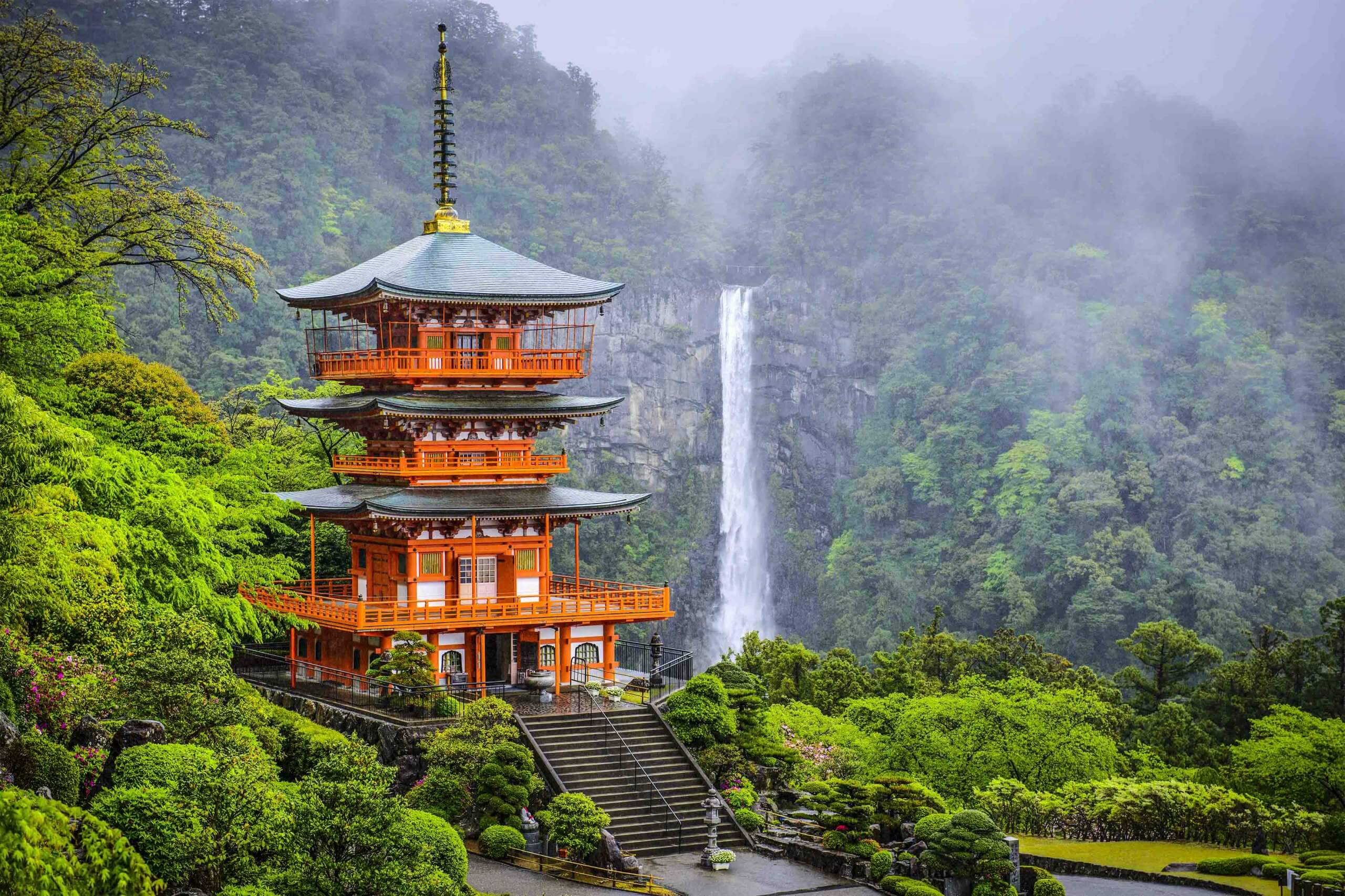 Australia
Australia is known all over the world for its numerous and unique attractions. The most famous landmarks in Australia, that probably everybody knows, are the Sydney Opera House, the Great Barrier Reef and the Ayers Rock. On a trip, you have the chance to explore the modern metropolises such as Sydney, Melbourne, Perth, Brisbane, Canberra, Cairns or Gold Coast as well as the breathtaking regions like South Australia.
One of the main places to visit in Australia is for sure, Sydney. There is a wide range of amazing attractions to explore, like the world's great icons, the Sydney Opera House which is a UNESCO World Heritage Site or the Sydney Harbour Bridge or "Coathanger," as locals call it. But there are also many hidden gems to visit, like the Comic Walk in Sydney, Chinatown or Macquarie Street.
Especially fascinating are the different landscapes of Australia, which are spread over the whole continent due to the different climatic and geographical conditions. Only in this one country, you will find tropical rainforests but also deserts, colorful coral reefs but also mighty mountains, wonderful beaches. If you are interested in Whale Watching check out Port Stephens, a huge natural harbor, where more than 30,000 whales swim between May and October! When it comes to exploring Australia's National Parks, you can choose from more than 600 nature parks!
Tip: For more, check out this wonderful 10 days Australia itinerary!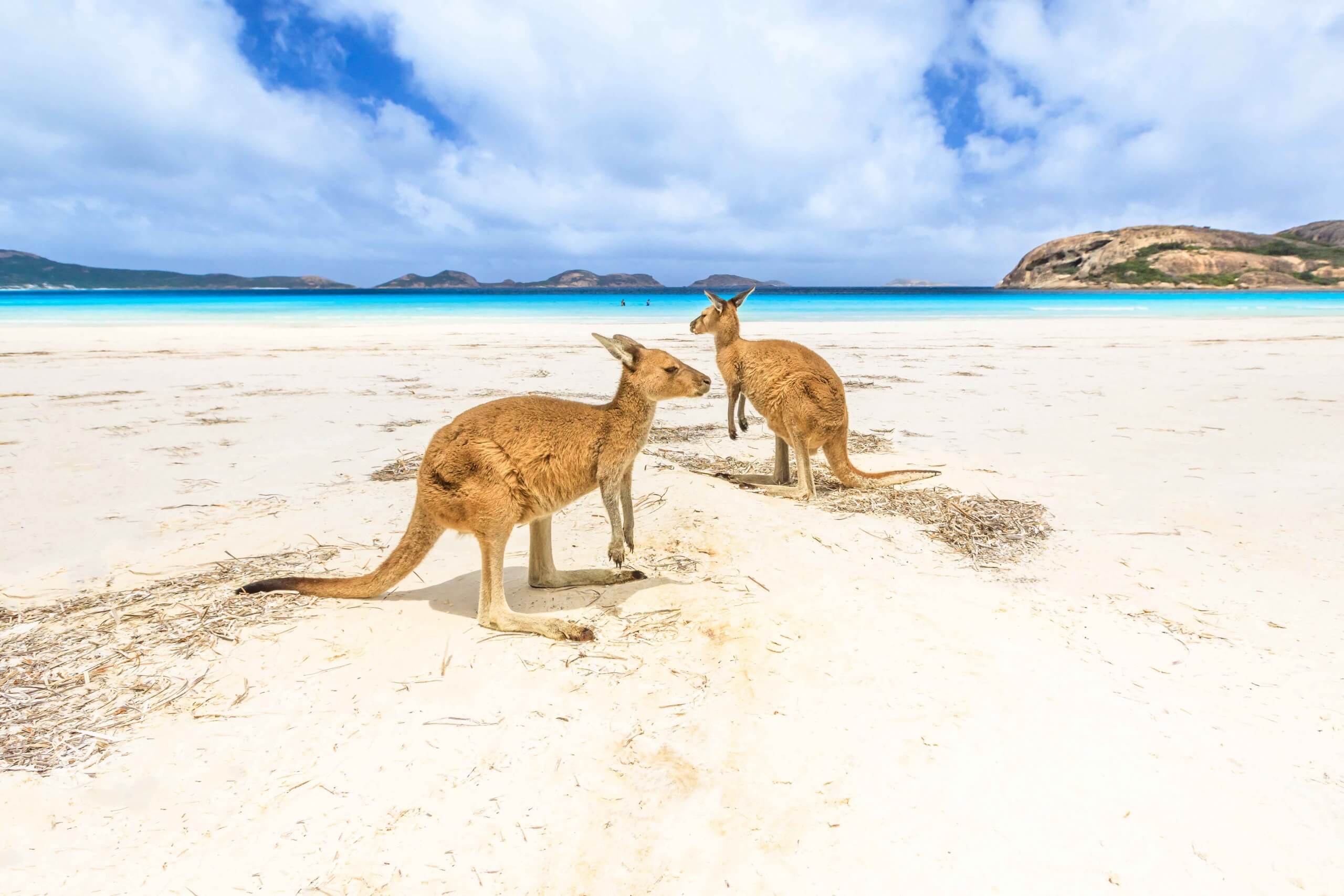 Mexico
Mexico is a very popular destination on any bucket list. Here are some of the most beautiful beaches ever, but also deep jungle and ruined cities await you. And not to forget the many wonderful surf spots in Mexico! With so much coastline, this country has numerous lovely beaches and attractive places for water sports.
Especially honeymooners like to choose to spend their vacations in Mexico. Numerous dream hotels, top-rated all-inclusive resorts and romantic scenery make a trip here perfect. One of the most popular vacation destinations is definitely Cancun. Here you will find spectacular white-sand beaches, vibrant nightlife but also plenty of fun things to do in Cancun! In any case, don't miss the many outstanding things to do in Holbox – a hidden gem!
But also a visit to Mexico City is highly recommended!  Amazing architecture, rich history, and the exciting culinary scene make it to one of the world's most fascinating cities.
If you are looking for a special adventure, why not try bull shark diving in Mexico? Bull shark season at Playa del Carmen generally is from November to February.
Tip: One of the highlights of any trip through Mexico is the food, a highlight for all gourmets!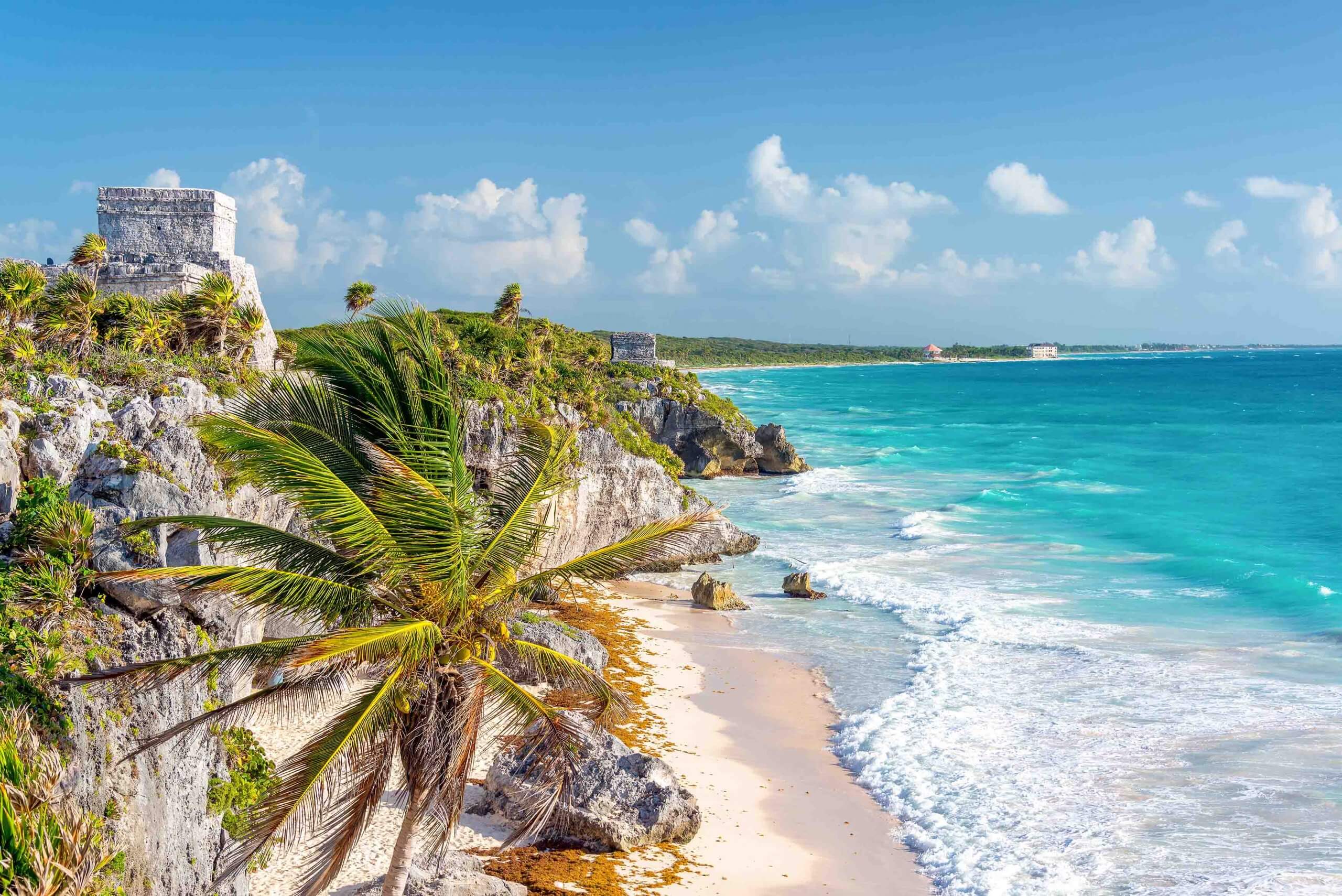 France
France is popular all over the world. Many first-timers know Paris, but the country has countless other spots to offer. Enough to take a closer look at all the beautiful places in France! A great mix of culture, history, art, landscapes, sea and great food awaits you here. And not to forget the Mont Blanc, the highest mountain in Europe and a famous spot for alpinists, or the many breathtaking castles in France!
This country is world-famous for fine wines, and so you can explore many amazing wine regions in France and try more than 200 indigenous wine varieties.
You can't explore France all at once! The best thing is to choose a region and get to know it better. For first-timers, the city of love Paris is the best place for starting to explore this amazing travel country. But there are many, many more places to start a trip. Here are some fantastic ideas on 11 different France Road Trips!
Tip: Check out this complete itinerary for how to see Paris in 4 days.
England
When thinking of England, many people think of London and the famous attractions such as Buckingham Palace or Tower Bridge. However, when visiting this amazing country there are so many other interesting places to explore. Oxford, Stonehenge, Canterbury Cathedral and Hadrian's Wall are just a few of them and there are also many amazing summer destinations in England!
The cities of York, Winchester, Salisbury, Liverpool, Manchester, Bath and Brighton are also worth a visit in their own right. In addition, England offers over 900 km of breathtaking coastline, with many lovely places worth seeing. You'll find many hidden gems in Cornwall, a lovely region in South England with amazing beaches and breathtaking landscapes!
From castles to cottages to cabins, this country has an abundance of amazing places to stay. For more check out this amazing guide about the ultimate best Airbnbs in UK.
Tip: A fantastic idea to explore all the amazing places to take a rail journey! Check out this amazing guide about visiting Britain by Train!
Canada
Another amazing travel country, that you should visit once in your lifetime is Canada. Almost as big as Europe and has a population of 36 million. So you can imagine that there are many many amazing places to visit. Perfect to go on a Canada road trip! Lakes, forests, mountains, rivers and the Canadian ski resorts  – nature & outdoors fans will find here for sure their personal luck.
Canada can be best explored on a round trip. Some do it by motorhome, some go by rental car. Here you will enjoy freedom, adventure, wilderness and of course the spectacular nature! One of the most amazing regions is Alberta, where you will find real highlights such as the Jasper NP or the Banff NP.
Tip: Most visitors come in Summer. But also Canada in winter is just amazing!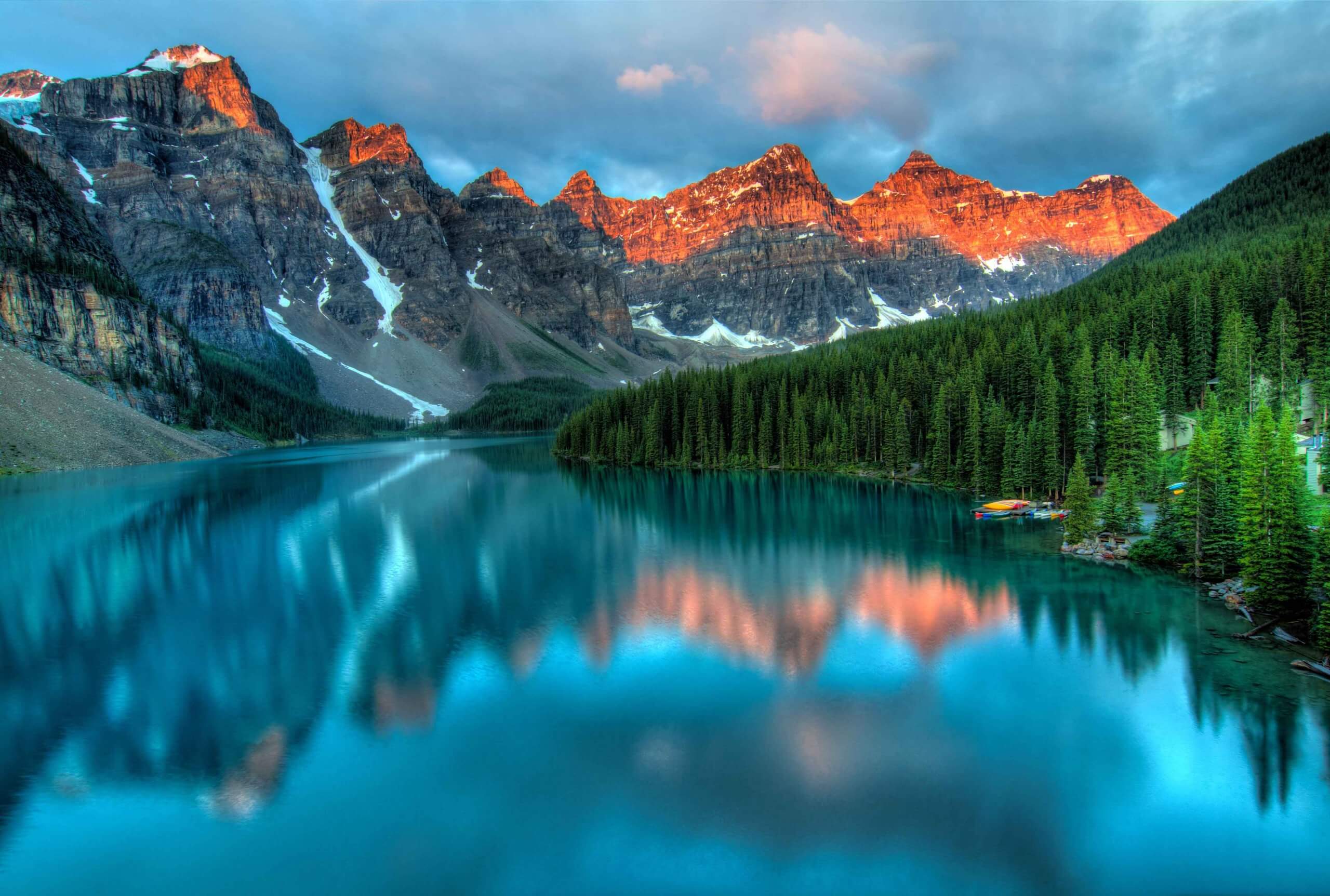 Vietnam
A real travel highlight is definitely Vietnam in South-East Asia. Here a great cultural variety and a really large selection of fantastic sights inspire. Nature parks, mountain ranges, dream beaches and cities – countless highlights await you here.  Also for history enthusiasts, there is a lot to discover here! Here you will find many t incredible landmarks that are listed as Vietnam UNESCO World Heritage Sites.
In any case, don`t miss cruising Ha Long Bay – probably Vietnam's most popular tourist activity. This famous bay is known for its spectacular limestone monoliths, which form a stunning landscape!
Tip: Backpacking in Vietnam is the perfect way to explore this amazing country. But also guided tours are often offered here!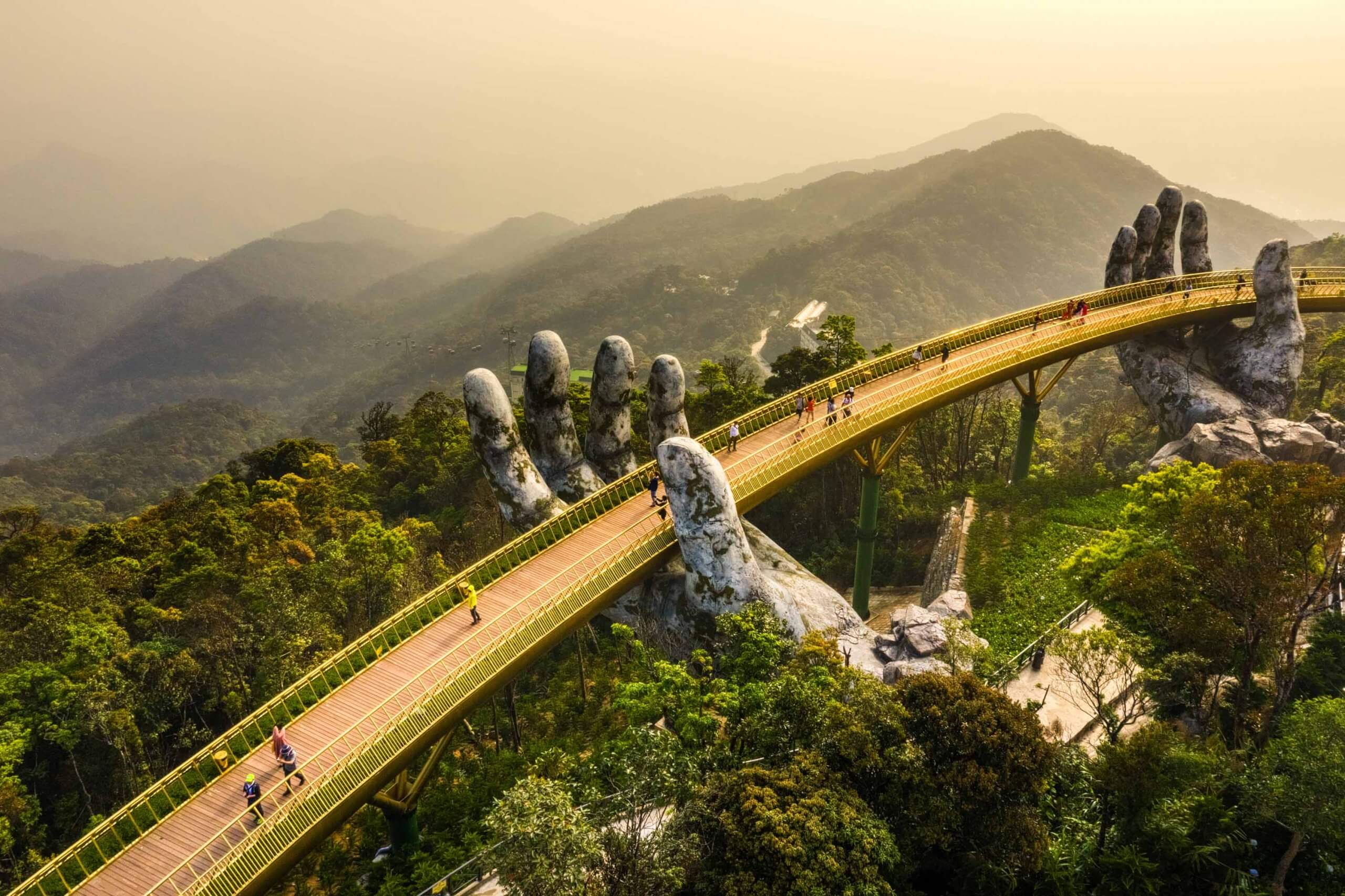 Laos
The countries of South-East Asia have always been popular destinations, but between Thailand and Malaysia, Laos is sometimes forgotten. A pity, because Laos also has many surprises in store. Many even call this country an insider tip for Southeast Asia. Especially the friendly Laotians, the temples, and the varied nature make a trip unforgettable. Check out this guide about the best things to do in Laos, including many travel info and tips!
Tip: Laos is best visited as part of a backpacker trip. 2 weeks in Laos is just the perfect amount of time to explore all the amazing places!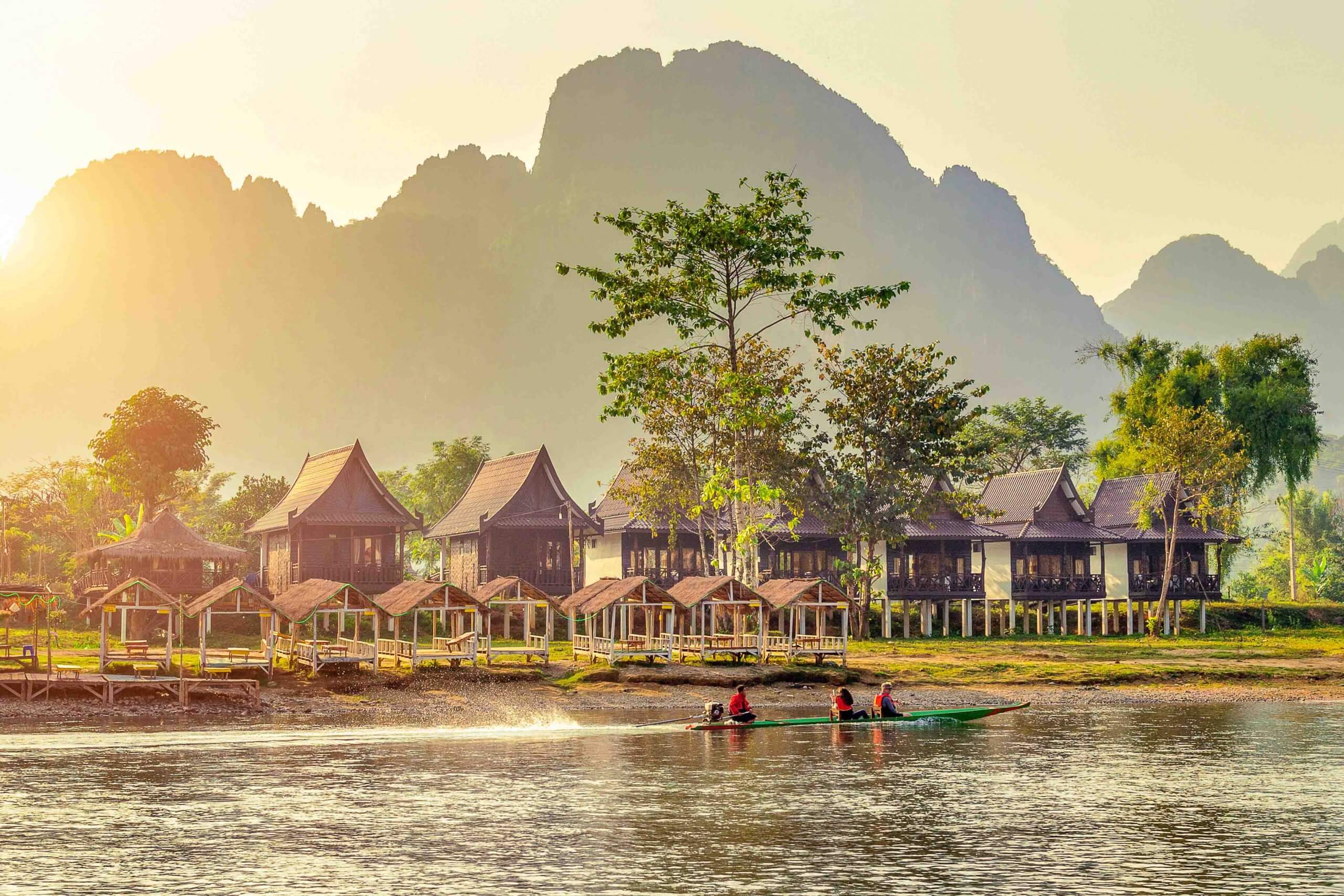 India
You haven`t been to India yet? 2021 or 2022 can just be the right time. Especially the first time in India is an unforgettable experience and there are breathtaking things for everyone to discover. Whether paradisiacal sandy beaches, adventurous trekking tours through fascinating landscapes, shopping in lively bazaars, ancient cities and busy metropolises or finding your center with Ayurveda or in a luxury Yoga Retreat – the things to do in India are endless. And not to forget the amazing street food in India!
In any case don`t miss visiting Rajasthan! Jaipur, Jaisalmer, Jophur – there are so many fantastic places to visit. One of our favorites is the peaceful city Udaipur, surrounded by the Aravalli ranges, and considered to be one of the most picturesque cities in India!  Another must-visit place is Kerala! It is known as a tourism hub for tourists to enjoy the pleasant environment and gorgeous scenery for having Ayurveda treatments.
Tip: Check out here the perfect backpacking India route for first-timers!
Scotland
Scotland is located in the north of Great Britain and has a lot to offer as a travel destination! Here the almost surreal landscapes are fascinating, which especially photographers find extremely fascinating. Especially amazing are the ancient castles, which give Scotland an extra portion of charm. But also the cities of Scotland are beautiful and absolutely worth seeing. 10-days in Scotland or even a bit more are just the perfect amount of time to visit all the amazing places!
If you are planning a trip to Edinburgh then go for it! From medieval architecture and main attractions like the Castle or Calton Hill to the many beautiful secret places in Edinburgh there are so many things to explore!
Tip: Scotland is best visited on a road trip. But also a city trip to Edinburgh is worthwhile!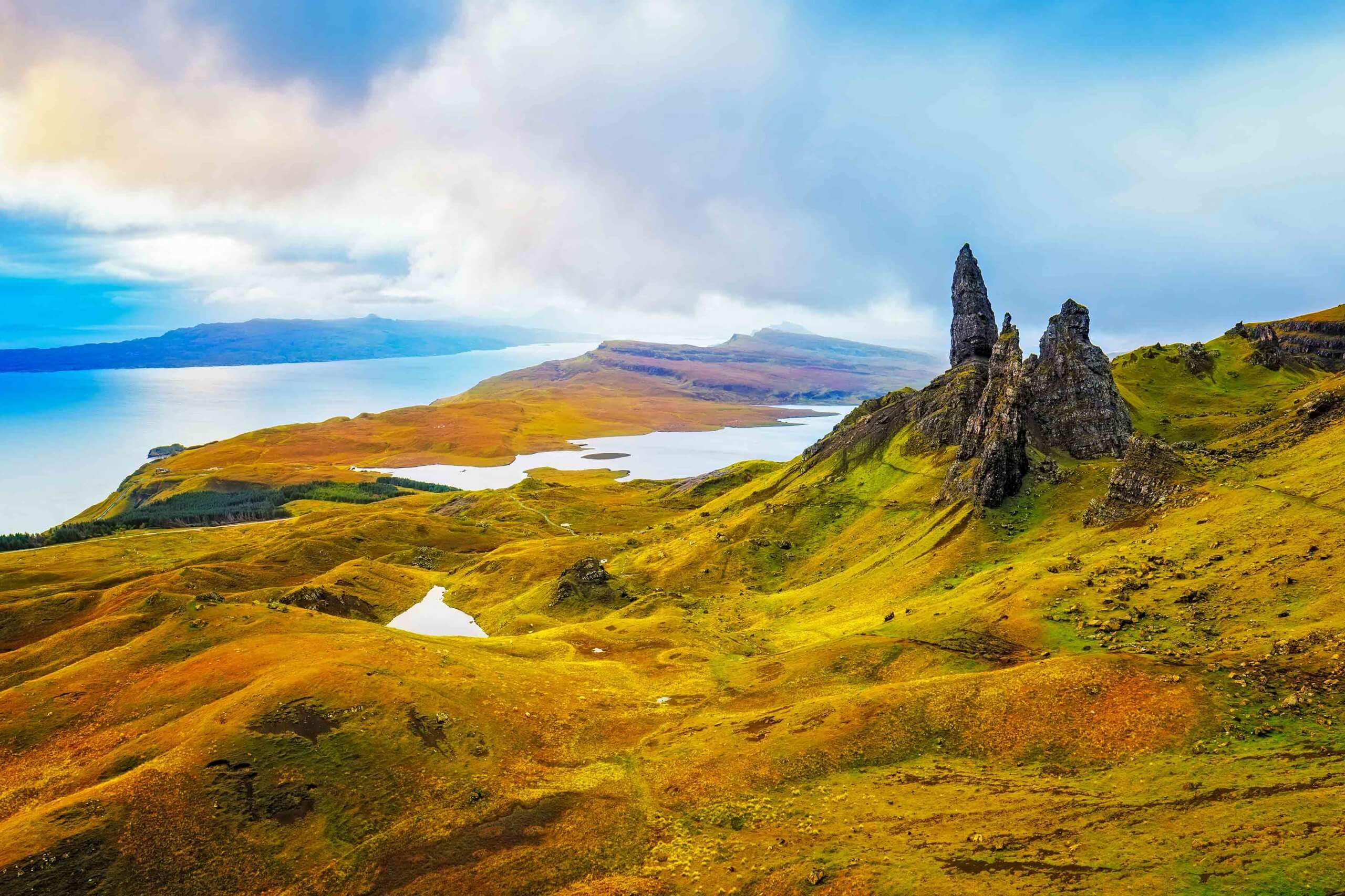 Nepal
Probably one of the most beautiful and at the same time most exciting travel countries for the year 2021 is Nepal in Southeast Asia. This place has endless amazing things to offer: Grandiose mountain landscapes, exotic folk festivals, exciting culture and religion and much more. Not only the world-famous Himalayan mountains but also the three royal cities of Kathmandu, Bhaktapur and Patan attract countless tourists from all over the world every year. In addition, impressive wooden temples and a very special culture enchants visitors.
Tip: So that you do not miss any highlights during your stay, here is a perfect list of the most amazing places to see in Nepal!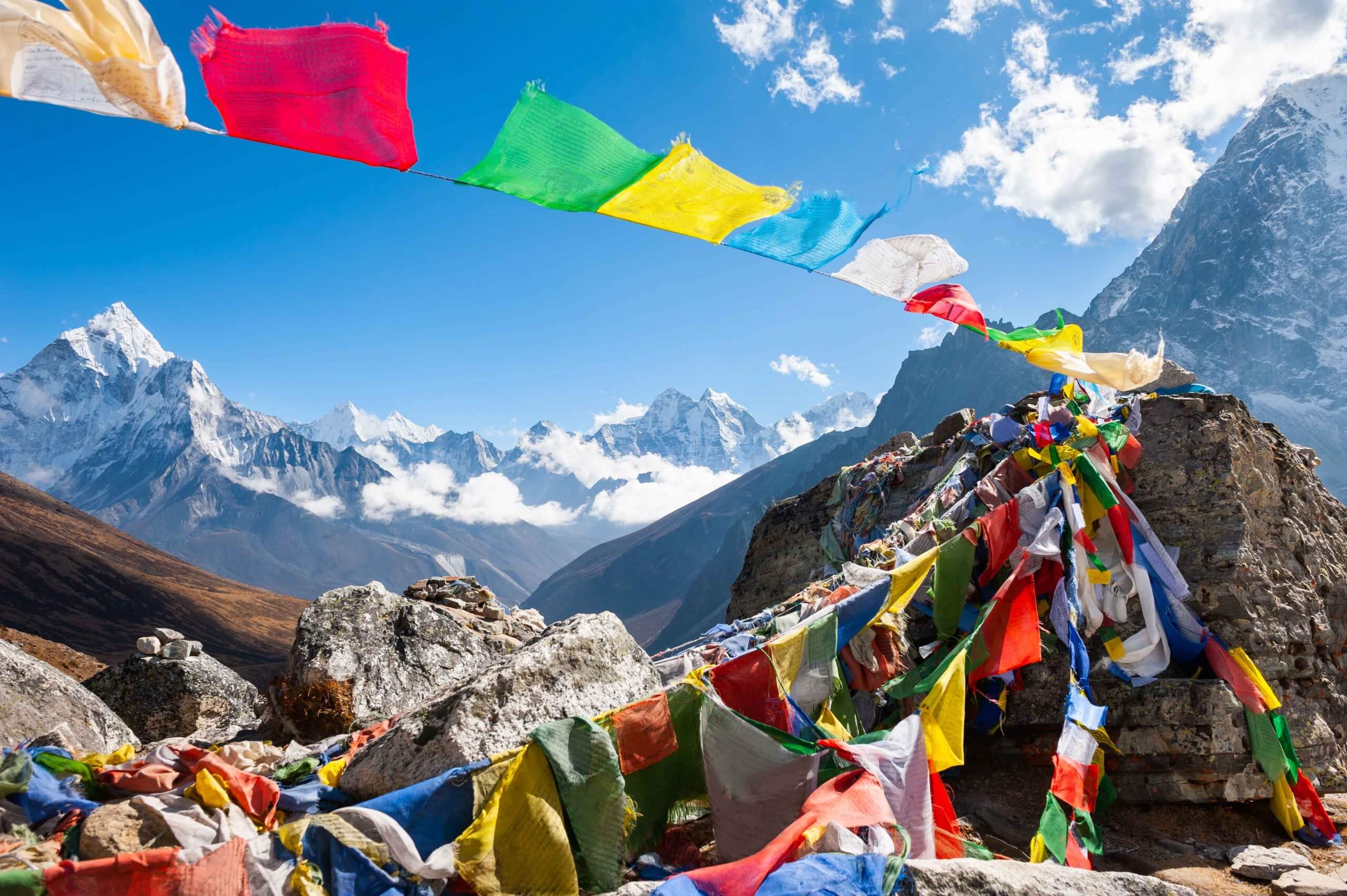 Switzerland
No question, Switzerland with its spectacular mountain worlds is a real highlight in Europe and therefore gets a fixed place on our Bucket-List 2021/2022. Here the Alps impress with their glaciers, fantastic nature, lakes and fairy tale landscapes. Some of the best places to visit are Zermatt, Zurich, Lake Geneva, Interlaken and Bern. And not to forget beautiful Lucerne, a fantastic place also for a visit with kids!
Summer is a fantastic time to explore Switzerland, but also in winter, with its many Christmas Markets, this travel country is really worth a trip. Lovely to explore are the many small towns like St. Gallen, which was just mentioned as one of the best Christmas cities in Europe!
Tip: Switzerland is one of the most expensive travel destinations. Here a trip should be well planned!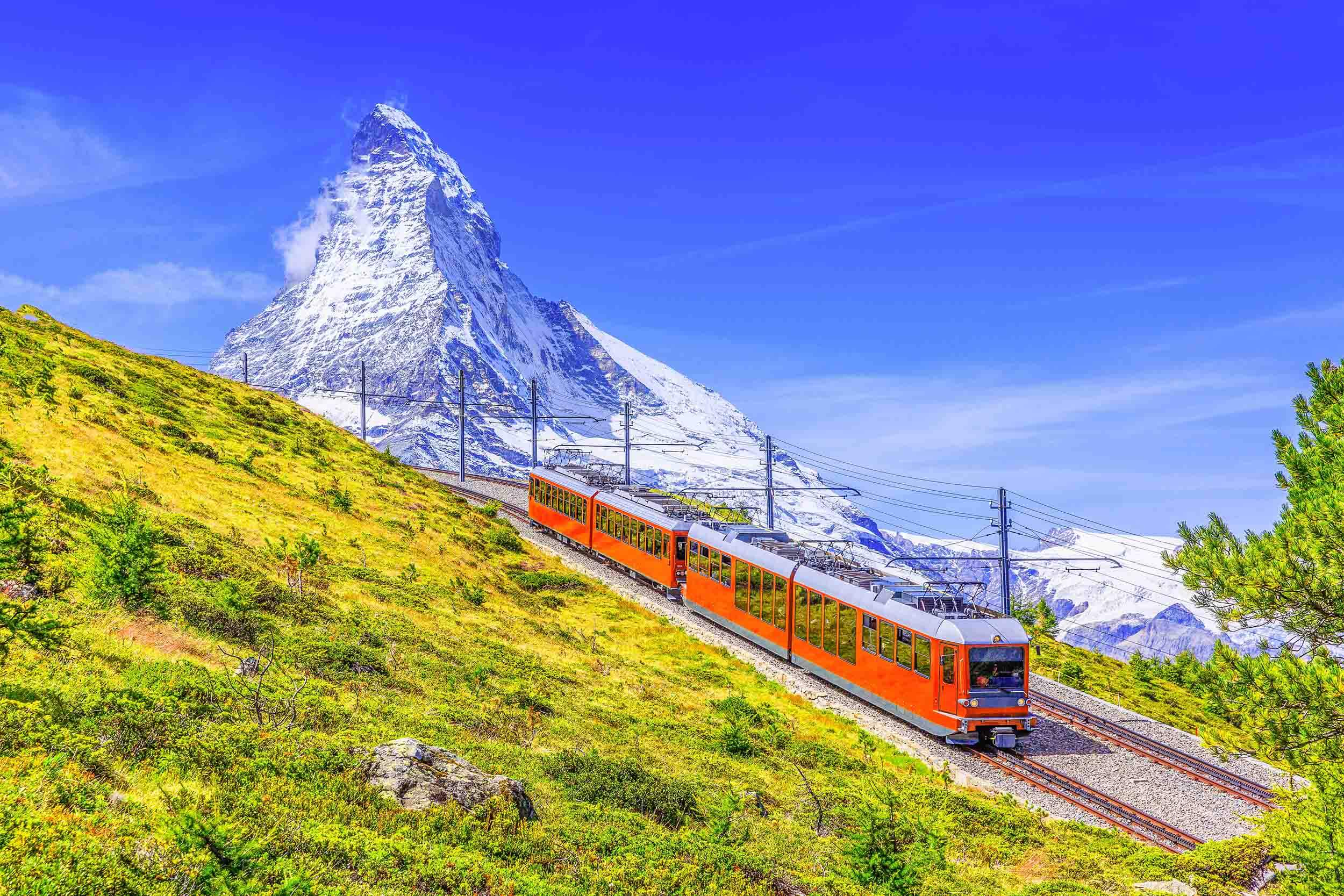 Tunisia
Probably one of the most beautiful travel countries is Tunisia in North Africa. This place enchants with a breathtaking atmosphere, spectacular attractions, lots of hospitality and delicious food. Most visitors come as beach vacationers but don't know that there are so many cool activities here. Particularly worth seeing is the capital Tunis, which is also home to the Bardo National Museum. But also the archaeological site of ancient Carthage, east of Tunis, is interesting and a real highlight.
Also wonderful is a visit to the vacation island of Djerba, where there are beautiful sandy beaches and fantastic resorts. From here you can also make great trips to the Sahara, which is only a few hour's drive south.
Tip: Due to the short flight times from Europe and the lovely climate, a weekend in Tunisia is a great idea for a winter break!
Portugal
Portugal is one of the most relaxed summer destinations in Europe and a fantastic idea for traveling next year! Here you can camp freely, surf the Atlantic Ocean and experience nature, culture and party. Because it is also fantastic just for relaxing and lazing around in nature. And the country also has a lot to offer historically and culturally – due to its exciting history and the influences of different cultures!
If you are visiting Portugal and you love palaces, then you should visit the famous, colorful Sintra Castles. It is definitely one of the most amazing places and a must-see!
One of the coolest cities to visit is definitely Lisbon, also called the city of 7 hills. But also the smaller towns, like Porto, Lagos, Faro or Albufeira are worth a visit!
In any case, don't miss to try the fantastic cuisine and the fantastic choice of desserts in Portugal!
Tip: Renting a car is one of the best ways for exploring all the astonishing places in Portugal on your own.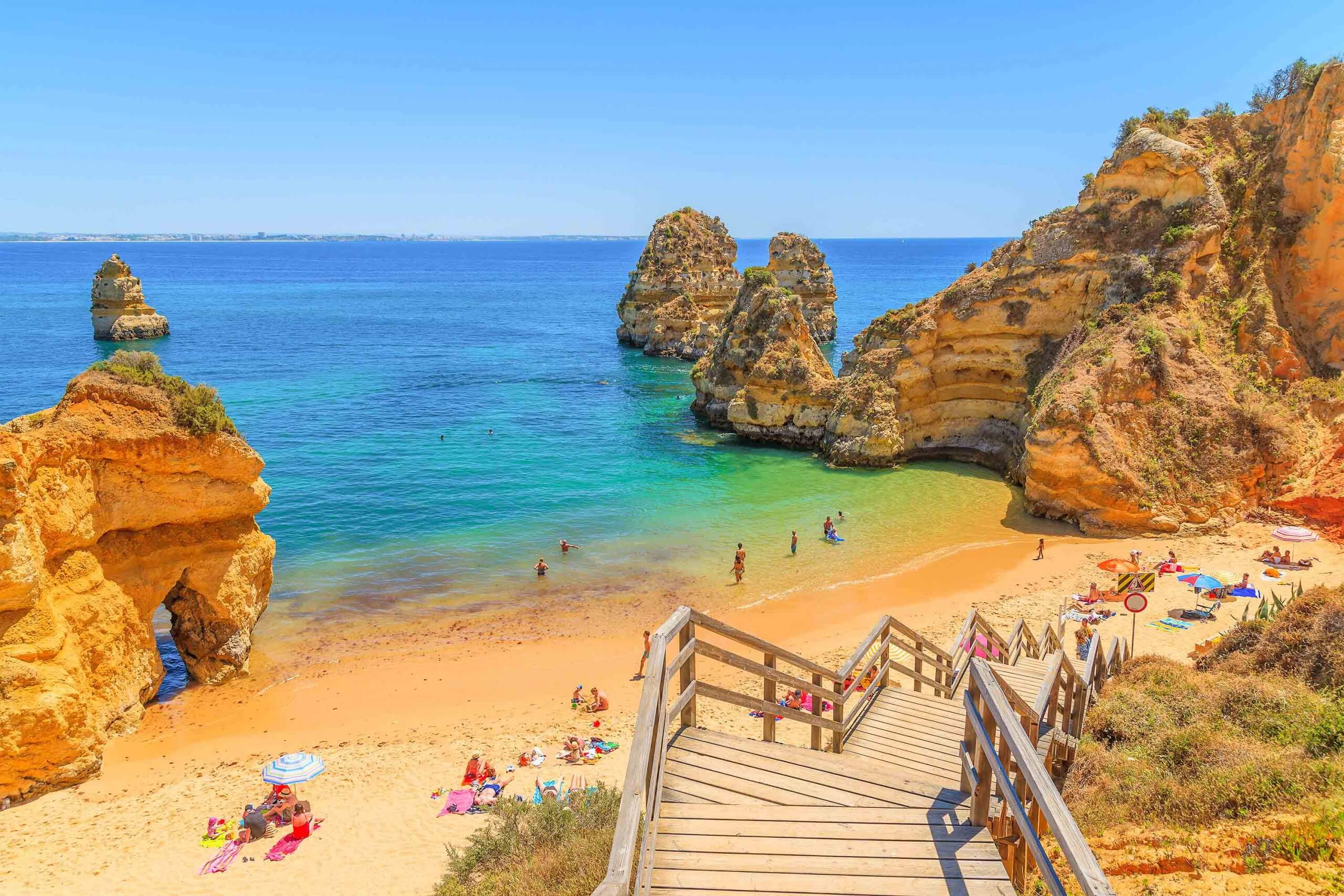 Philippines
The Philippines is an absolute dream destination in South East Asia and a great idea for a trip in 2022! In the Philippines, you will find an almost limitless selection of worth visiting places, snow-white sandy beaches, crystal clear turquoise sea, paradisiacal accommodations and so many possibilities for unforgettable activities. The good flight and ferry connections even make island-hopping possible.
It's unbelievable but the Philippines is an archipelago composed of more than seven thousand islands! Not easy to choose where to go…For that, you should check out the complete guide, written by a local, about how to plan a trip to Philippines!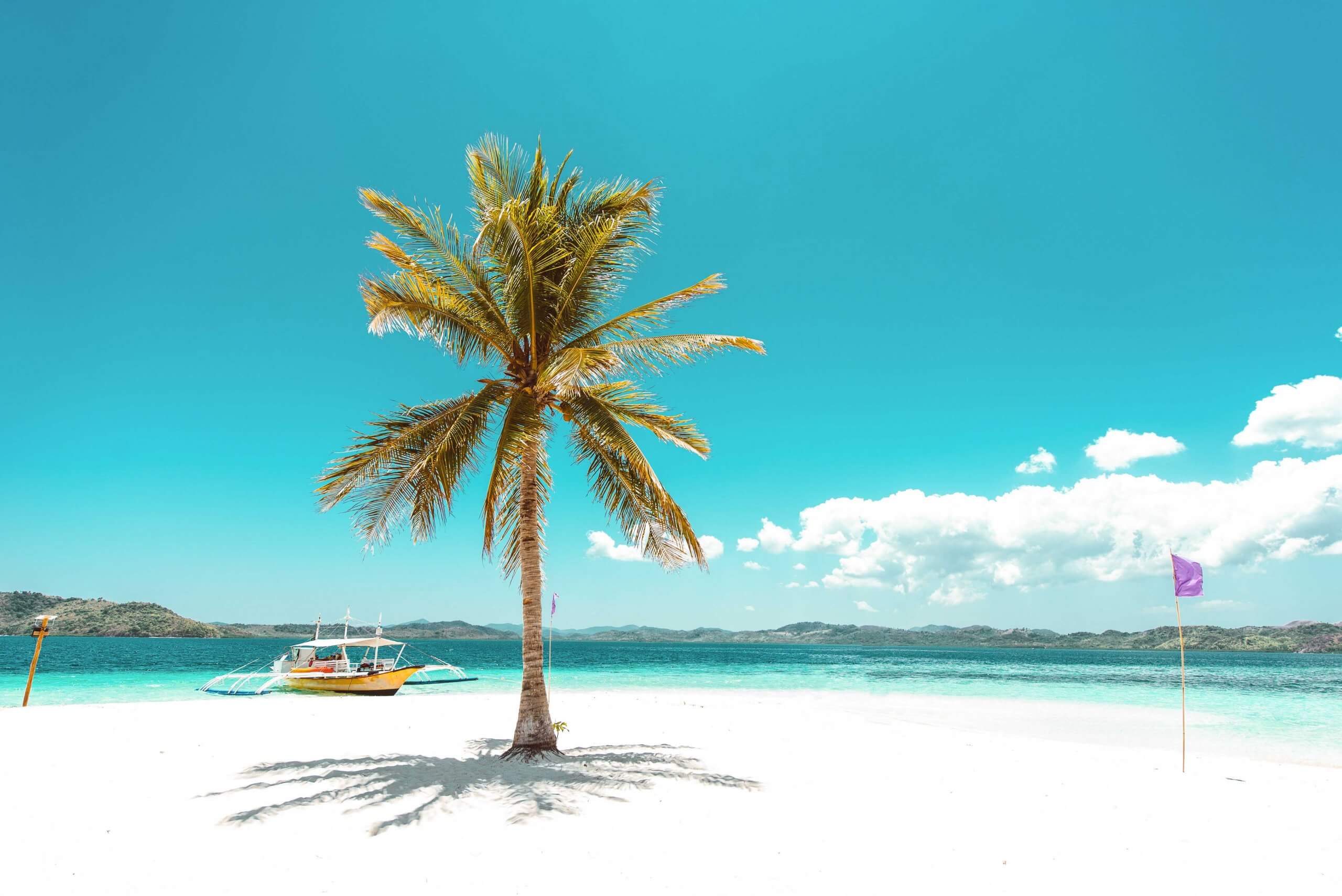 Indonesia
Fantastic beaches, a breathtaking underwater world, dreamlike islands and spectacular landscapes – Indonesia inspires as a travel destination for 2021! This island nation is huge, and so you should consider where to go even before you travel.
Hard to believe, but Indonesia consists of more than 17,500 islands.  And with 250 million inhabitants, this country is not really small either. More than half of the inhabitants live on the island of Java. Indonesia is world-famous especially for Bali, probably one of the most impressive islands on earth where you can find actually luxury yoga retreats! And Nusa Penida where you can find incredibly beautiful beaches!
But this country is also known as a diving mecca. One of the most beautiful places for diving is Raja Ampat, far away from mass tourism!
New Zealand 
Have you ever been to New Zealand? If not, 2021 will be for sure the perfect year for it! There are so many awesome things to do in New Zealand: Discover unique volcanoes, hot springs, huge cities, rugged coasts, snow-capped Alps, jungles, picturesque beaches, and spectacular fjords. Thanks to its diversity this country attracts backpackers and tourists from all over the world. Also several film productions such as Lord of the Rings were made here at the green island state in the southern Pacific. The North is amazing but especially the South Island of New Zealand is a magical place.
Tip: Did you know that New Zealand is a real paradise for surfers? Here is a perfect list of the most amazing Surf Beaches in New Zealand!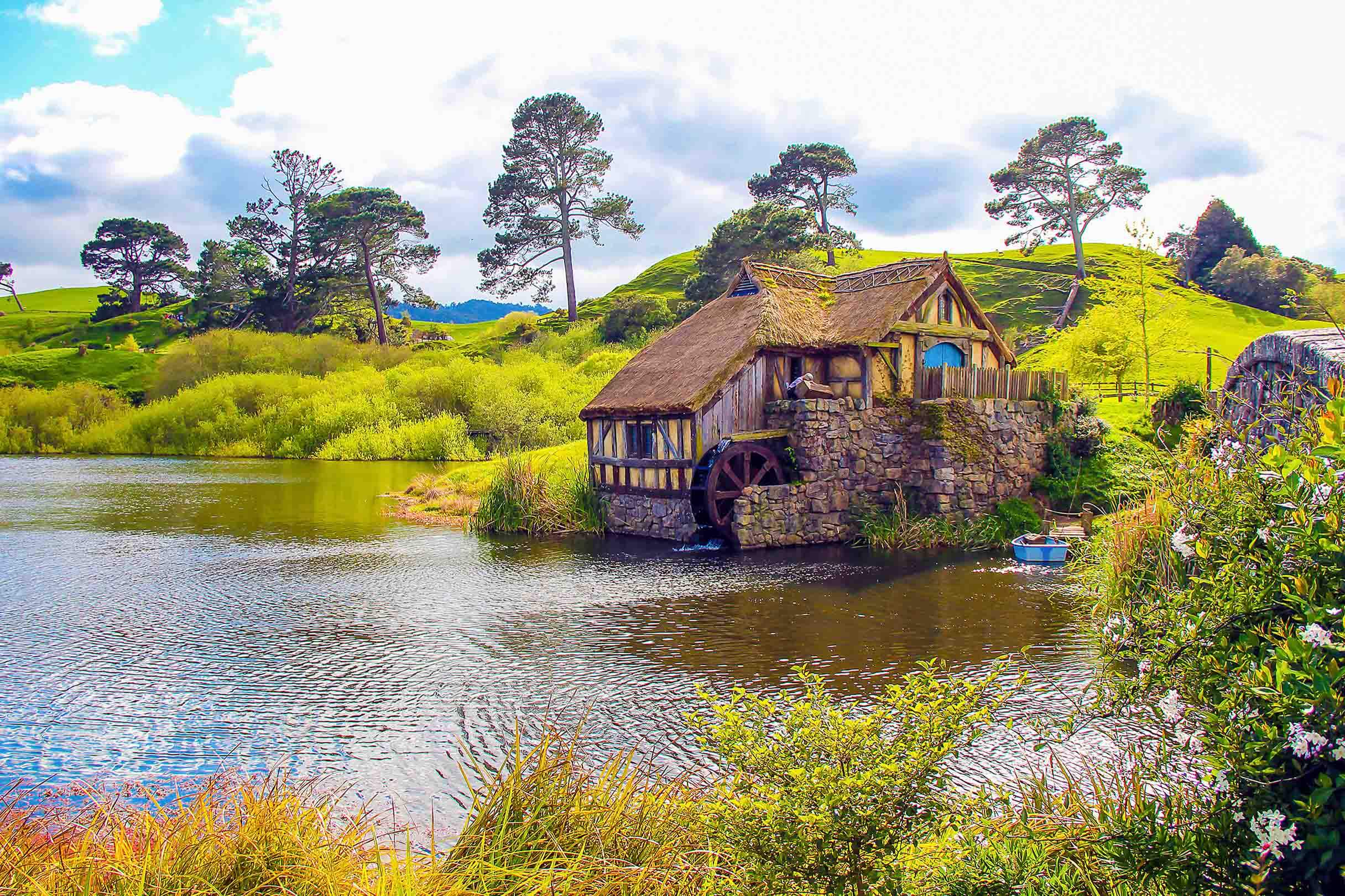 Egypt
Egypt, the country on the Nile is especially known before the early advanced civilization of Ancient Egypt and offers the visitor impressive attractions such as pyramids, temples, museums, and monasteries. But there is also much to discover in Egypt with its desert, the Nile and the Red Sea. In any case don`t miss to visit Kairo, the capital of Egypt, where you will find many of the most important cultural sights!
Tip: One week in Egypt is a perfect amount of time to explore some of the best highlights!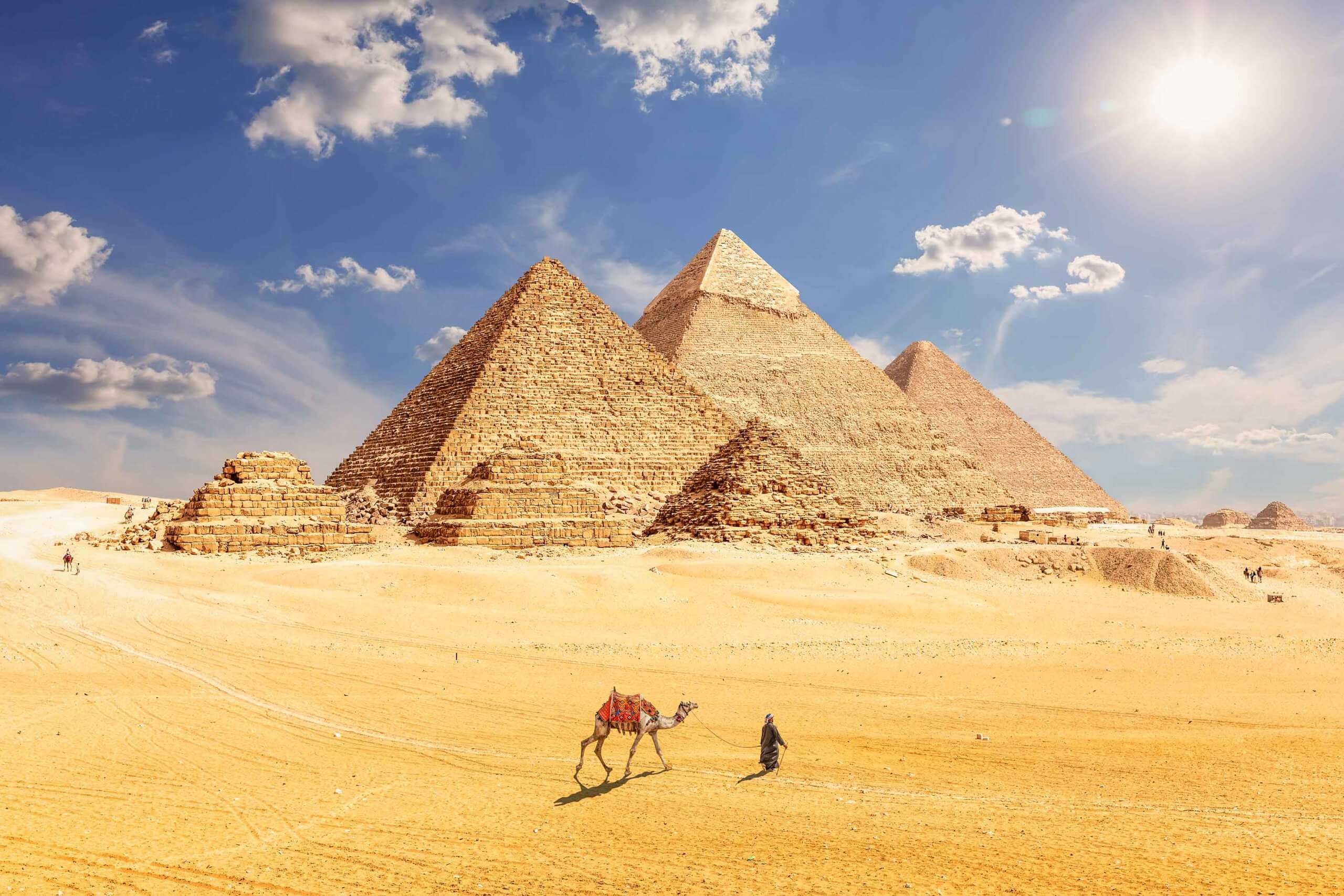 Hong Kong
Hong Kong is the city of superlatives. Here you can find high skyscrapers, beaches and cultural highlights. There are so many things to explore in Hong Kong and that's in one place, a little larger than Berlin! One of the best spots, especially for photographers, is the view from the 552-meter-high Victoria Peak. From up there you will enjoy the best city panorama. Don't miss visiting Chungking Mansions. It is a block of flats with numerous inns, snack bars and stores. Also a fantastic place to go for backpackers and food lovers.
But what's in Hong Kong for kids? Check out this amazing guide about the 55 things to do in Hong Kong with kids.
Tip: Hong Kong can be a very expensive place! Make sure you check out this complete guide for planning a perfect Hong Kong Budget Trip!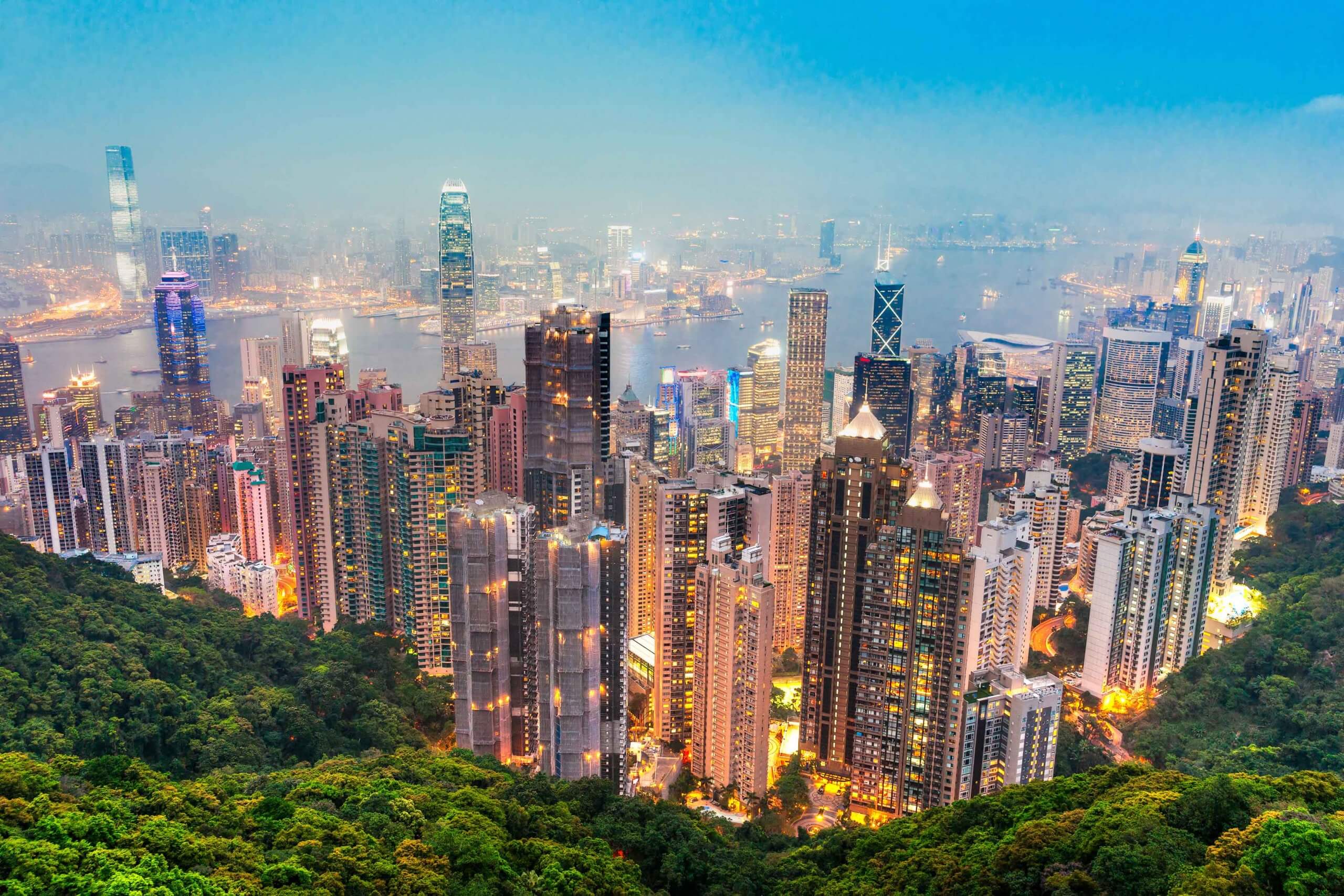 Barbados
A real insider tip for a beach vacation is Barbados. It is the easternmost Caribbean island of the Lesser Antilles and a state of the Commonwealth of Nations. With a total area of 430 square kilometers, about 278,000 people live on this island and vacationers from all over the world come here to experience this dream island.
On the so-called "island of the winds" you can experience tropical temperatures, interesting flora and fauna, and of course absolute top beaches. Palm trees, crystal clear water and lifeguard huts included. There you will also find the luxurious resorts that pamper their guests.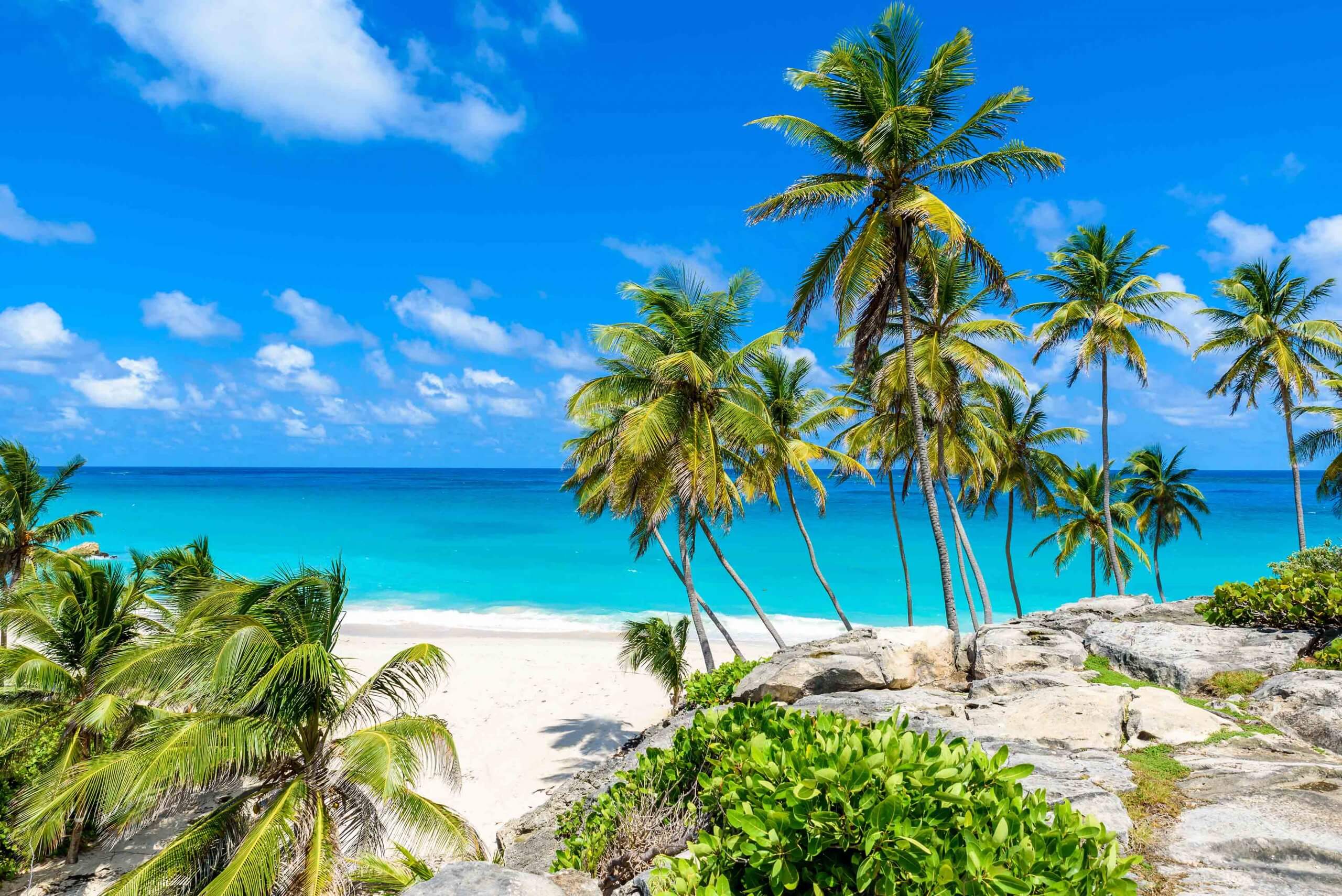 ---
Disclosure: Some of the links below are affiliate links. Meaning that if you click on certain links, and then subsequently purchase a product, I will receive a small commission at no extra cost to you.
---