Top 7 Portable Hammocks for Travel
Travel hammocks are really small, ultra-light hammocks that are specially designed for the needs of globetrotters as well as for outdoor, trekking and hiking enthusiasts. These so-called portable hammocks are a useful companion for travelers who are always looking for adventure. Easy to hang up and easy to take with you, they offer a place to sleep for almost anywhere in the world. Some of these hammocks even have a mosquito net, perfect for trips to tropical areas or overnight stays in nature. But what are the best portable hammocks for a next trip? With a huge offer, it can be easy to lose track.
In this post we have summarized the best portable hammocks at a glance. Additionally, there are useful tips and information that will help you find your perfect travel hammock.
Which Portable Hammock is best for Travel
There is a wide range of hammocks on the market which are extra designed for travel. But there are also huge differences in quality, and therefore comparing before buying is worthwhile. Here are the most important points how to find out which is a fantastic portable hammock.
Weight: A good hammock for travels must be light. Globetrotters and backpackers swear on ultra-light hammocks. These usually weigh far less than a kilo and are therefore of perfect when traveling.
Pack Size: Depending on the type of travel, these light hammocks should also be space-saving and at best fit in a hiking backpack or travel backpack.
Material: The materials of a good travel hammock mostly come from stable nylon fabric (parachute silk), are breathable and quick drying. The material is also lighter than cotton.
Easy to use: When buying, you should also make sure that the hammock is relatively easy to assemble and disassemble.
Load Capacity: Most good portable hammocks have a load capacity of up to 250 kg.
7 Portable Hammocks for Travel 2022
Lawson Hammock Blue Ridge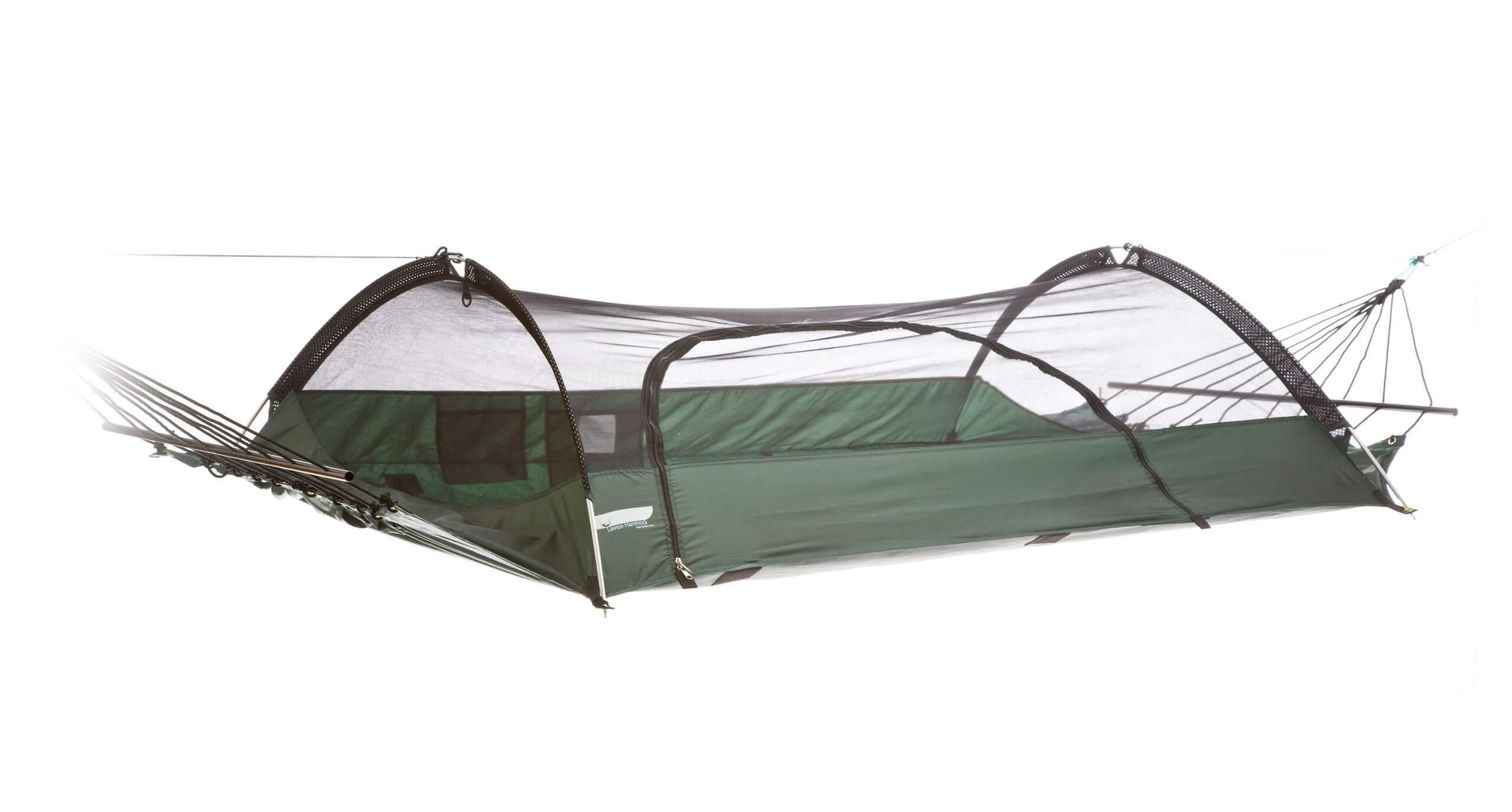 The high quality travel Hammock by Lawson Hammock is a Winner of the prestigious Gear Of The Year Award! With its patented design, this gadget is a hammock and a tent in one. No matter if camping, traveling, backpacking or just for the garden – you can use it anywhere! Also, this hammock really easy to set up, light weight and waterproof! A perfect choice for your next trip, hike or nature experience!
---
Wise Owl

| Portable Backpacking Hammock
The travel hammock by Wise Owl Fitters is made of high quality heavy duty 210T parachute nylon. This extra soft and very strong material gives you a fantastic and comfortable, relaxing experience. The portable hammock is available for 1 person or for 2 people. Both sizes are lightweight and very compact, so you can take them anywhere. Really amazing is, that the set-up is easy and really fast.
---
MalloMe |

Portable Travel Hammock
The travel hammock by MalloMe is an all-in-one set including hammock, ropes and snag free carabiners. Due to its extra-large size (320 x 200 cm) it easily fits two adults! It's not only perfect for traveling, also for boat trips, camping, hiking, road trips and even in your own backyard! The unique strap design makes it super strong and the material is out of premium 210T nylon fabric. That makes this portable hammock ultralight and very compact.
---
Legit Travel & Backpacking Hammock
The double camping hammock by Legit Camping is a fantastic travel item. No matter if heading to the beach, backpacking or taking in a festival – this portable hammock is perfect for every occasion. It's lightweight, but it has a spacious design, and you can stuff the hammock into a small attached sack. Another big plus is, that this travel hammock is easy for anyone to set up – whether you've worked with backpacking gear before or not. All products from Legit Camping do have a lifetime warranty!
---
Portable Hammock with

Mosquito Net
The premium quality hammock by Kamileo is perfect for camping and traveling. It's made of high quality 210T parachute nylon which means the material is super strong, safe, breathable and anti-tearing. This portable hammock is designed to hold 2 people. In addition, this hammock is easy to clean and dry quickly. Due to its mosquito net you can keep flies, bugs and mosquitoes off without having to use a chemical spray. And the mosquitoes net won't fall off, because it has a sling. Perfect if you want to sleep well under the stars!
---
Kootek Travel Hammock | Double or Single
The travel hammock by Kootek have double and single sizes, and many wonderful colors to choose. Perfect for backpacking, they are super lightweight, and ca be folded into the small attached sack. Therefore, it's portable and fits wonderful into your backpack. Another plus are the tree-friendly straps (no need to tie any knots)! The durable travel hammock is made of 210T parachute fabric material, has excellent anti-fraying, anti-tearing, dirty resistance. Easy to be cleaned and dry quickly after being wet.
---
Travel Hammock with

Mosquito/Bug Net
The travel hammock by Covacure makes due to its bug net your sleep outside safer. This portable hammock with mosquito net has a large size but can be packed down very small. Perfect for camping, hiking, backpacking, travel, and any other adventures in nature! It only takes a few minutes to set up and packs away in a conveniently small integrated stuff sack. The woven 210T nylon, triple-stitching, and a quality pattern provides reliable to reduce pressure points.
Conclusion: The biggest advantage of a travel hammock compared to a conventional hammock is the light material and the small pack size. So they are very compact and fit in every backpack. A really cool travel gadget for everyone who loves to travel.
---
More Travel Accessoires:
---
Disclosure: Some of the links below are affiliate links. Meaning that if you click on certain links, and then subsequently purchase a product, I will receive a small commission at no extra cost to you.
---