Best Places to Visit in USA
What are the best places to visit in USA? With a huge selection of countless spectacular things to do and world-famous attractions, you are spoilt for choice. World metropolises like New York or Seattle, and natural wonders like the Grand Canyon or Yellowstone National Park are just a few of the top things to see in the land of unlimited possibilities. Spread across the 50 American states, you will discover some of the most spectacular places in the world on a trip through the United States. But what are the most beautiful highlights of America, and which cities, tourist attractions and national parks should not be missed on a trip through the USA?
In this travel guide we have summarized the most beautiful places to visit in the USA as an overview. Perfect for your next trip through America!
Most Unique Attractions and Places in USA
The USA has so many unique nature wonders and landscapes! But also the big cities are really worth a visit! There are different possiblities, you can go on East Coast Road Trips, explore the West Coast or combine both. So it`s actually not that easy to plan a perfect USA Road Trip!
The USA is a vast and diverse country, with something to offer for everyone. This article will focus on the best places to visit in the USA, from natural wonders to iconic cities. Here is a perfect USA Bucket List for the absolutely best things to see and to do. By the way, in case you are still not sure if you should go, check out this amazing guide about "why you should travel to the USA". You love hiking? Check out this amazing hiking bucket list in the USA!
So let`s explore the United States! Here is our list of the best places to visit in USA:
List of the best places to visit in USA
Los Angeles
When visiting California, you should definitely plan a trip to Los Angeles, the center of the American film and television industry. Here many top US highlights await you, which probably everyone knows from TV: The famous Hollywood Boulevard with the Walk of Fame, the Universal Studios, Malibu Beach, the legendary Santa Monica Pier, the many famous L.A. museums, and of course Venice Beach with its Muscle Beach are on every L.A Bucket list. If you like a cocktail with a view don`t miss to try one of the fantastic rooftop bars in Santa Monica!
Beverly Hills is one of the most luxurious, and therefore also one of the most expensive part of Los Angeles. Here you will find plenty of boutiques, fashion stores and shops of high-end designers. Shopping in Beverly Hills or just window-shopping is an exciting thing in L.A.!
In any case, don`t miss to visit the Hollywood Hills, where you can take a picture of the world-famous Hollywood Sign!
If you have some time left, you should put also Key West in Miami on your bucket list! The drive to this island city over the turquoise waters is a unique experience and a real highlight on any USA road trip. For that we recommend to check out this complete travel guide about the best things to do in Key West Florida!
Also around are plenty more of interesting places to visit – here a guide about the best day trips from Los Angeles!
Tip: 3-days in Los Angeles is just the perfect amount of time to see the best places!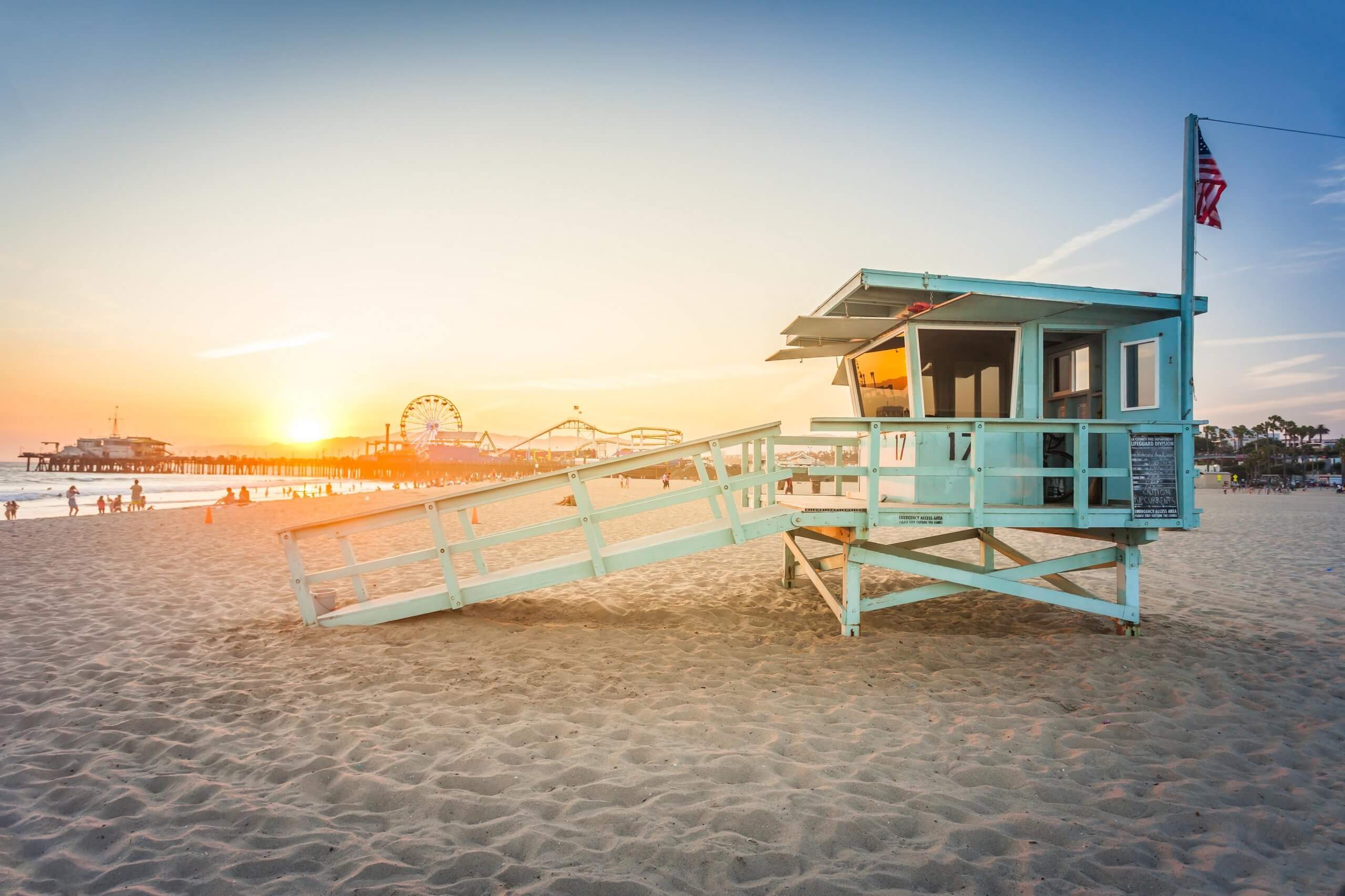 New York
The mega-metropolis New York is the most famous and with almost 19 million inhabitants the most populous city in the USA. A whole host of exciting attractions await you here: The Central Park, the glowing Times Square, Little Italy, Long Island and not to forget the Statue of Liberty are only a few of the highlights, that surely every one of you knows from movies, and that of course should not be missing on any trip to America. A complete list for the best attractions can be found in this amazing local`s guide about the best things to do in New York.
Tip: Don`t forget your camera! There is a huge number of amazing instagrammable places in New York!
New York is also the perfect place for a city trip and a real highlight on any USA bucket list. But one thing is certain, to see all the towns attractions, you will have to travel many times to the city that never sleeps!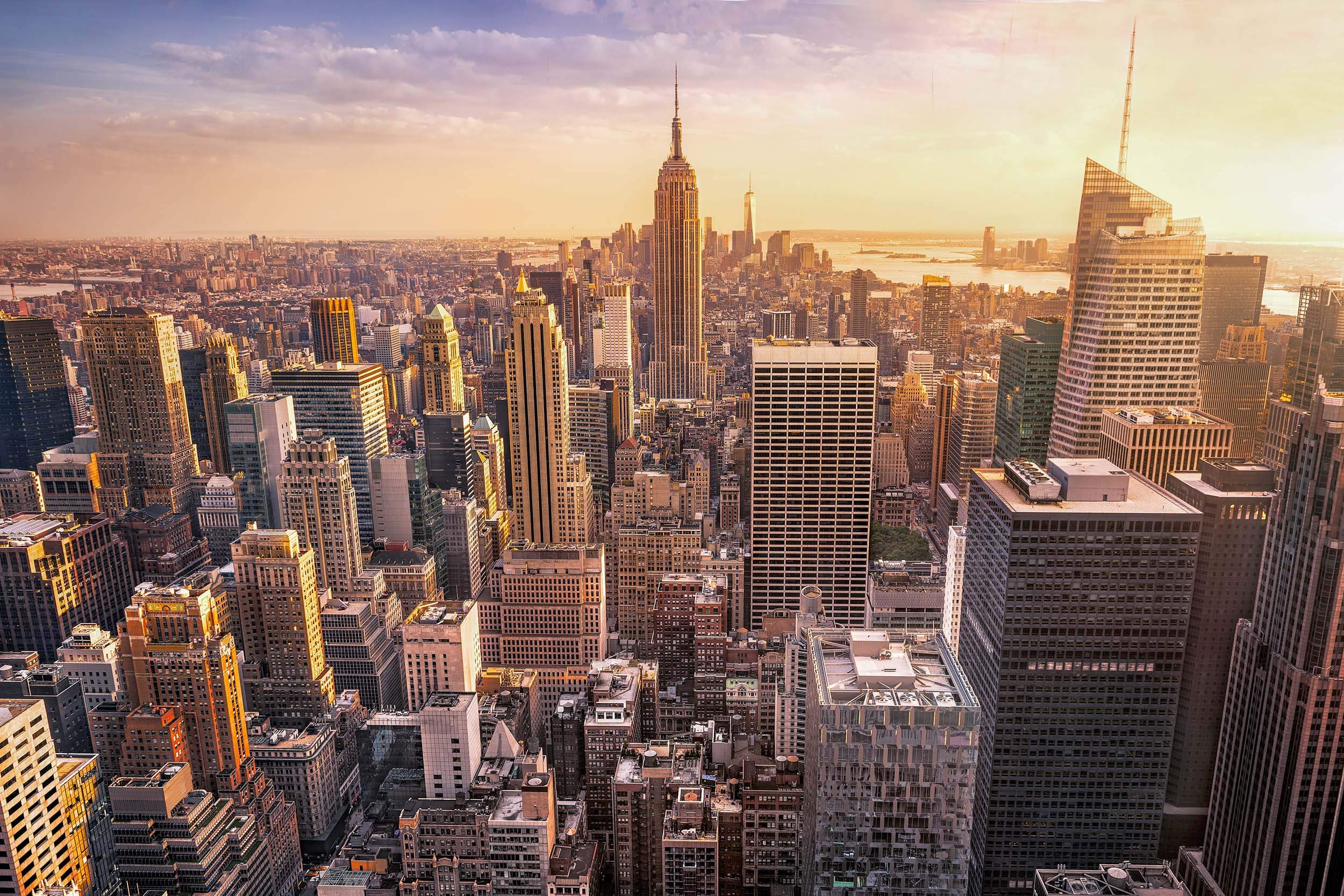 San Francisco
Another top metropolis, that should not be missed on any road trip, is San Francisco in northern California on the Pacific Ocean. This city is especially famous for the red Golden Gate Bridge, a popular photo motif on any USA tours. But also the colorful Victorian townhouses are a real eye-catcher, which one should not miss here. A perfect visit to San Francisco also includes a ride in the historic cable cars that stroll up and down the steep streets of the city, the famous ZigZag Road in San Francisco and an also detour to Fisherman's Wharf is a must.
But also around are a variety of things to do for either a quick day trip or a 2-days trip. Here are to best suggestions for unforgettable day trips from San Francisco, written by a local!
Tip: Another famous place to see is the prison island Alcatraz, which can be visited on a boat trip. In order to see all the amazing attractions, you should plan around 3-days in San Francisco!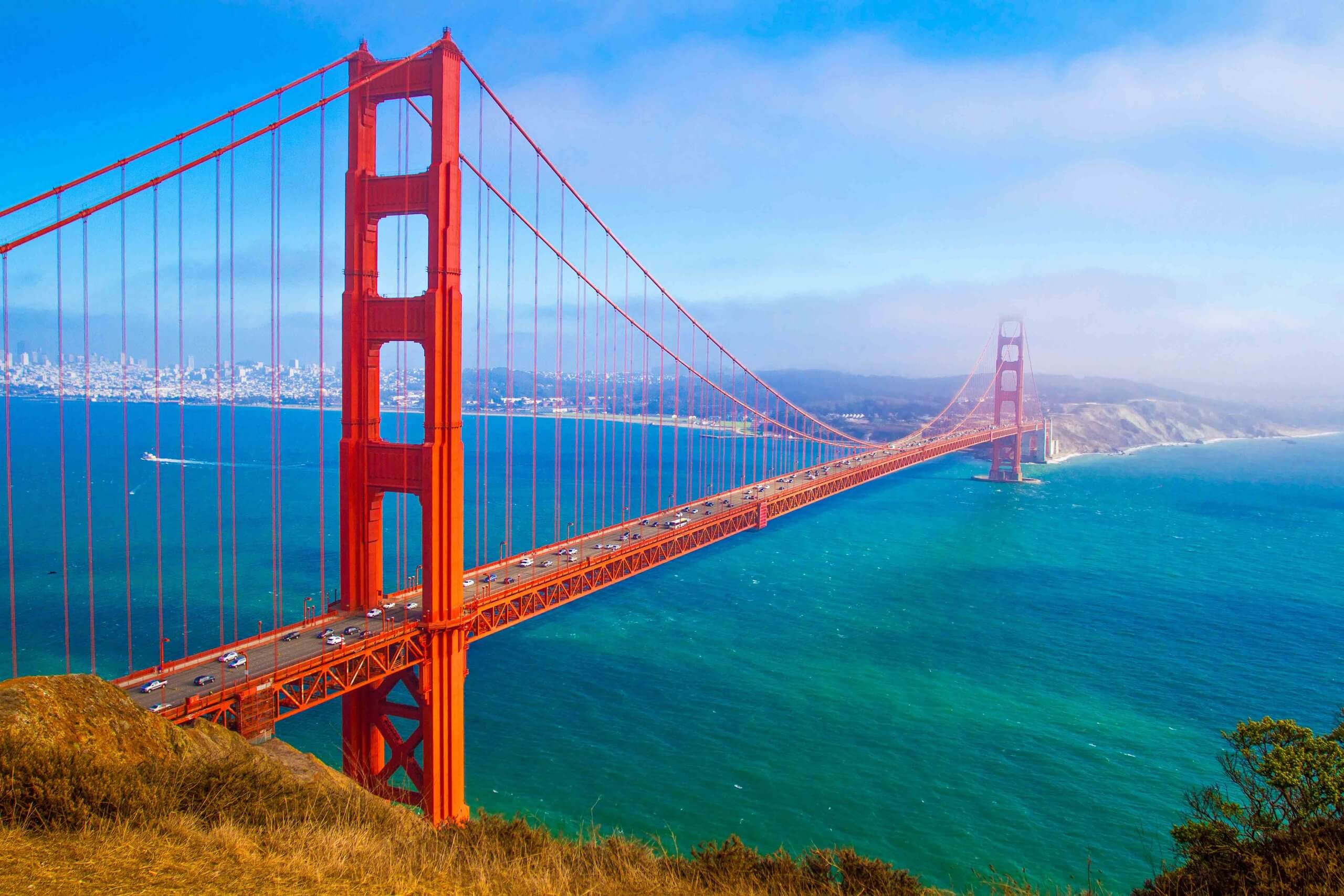 Grand Canyon & Horseshoe Band
One of the most spectacular natural wonders in the world and one of the best places to visit in the United States is the Grand Canyon National Park. It is located in Arizona and is a popular stop on USA road trips. With a depth of about 1.6 kilometers and a length of 446 kilometers this is the longest canyon on earth. When visting the Grand Canyon, countless viewpoints and skywalks await you, offering breathtaking views of the gigantic canyon. In addition, the Colorado River invites to take boat tours and rafting – a unique experience that you will certainly not forget so quickly.
Also worth seeing is the Horseshoe Bend, one of the most beautiful and impressive places in this region. The horseshoe shape of the canyon is world-famous and attracts many visitors from all over the world every day.
Tip: Did you know that you can visit this nature wonder on a day trip from Las Vegas? If you have very little time, you can even fly over the huge canyon by plane!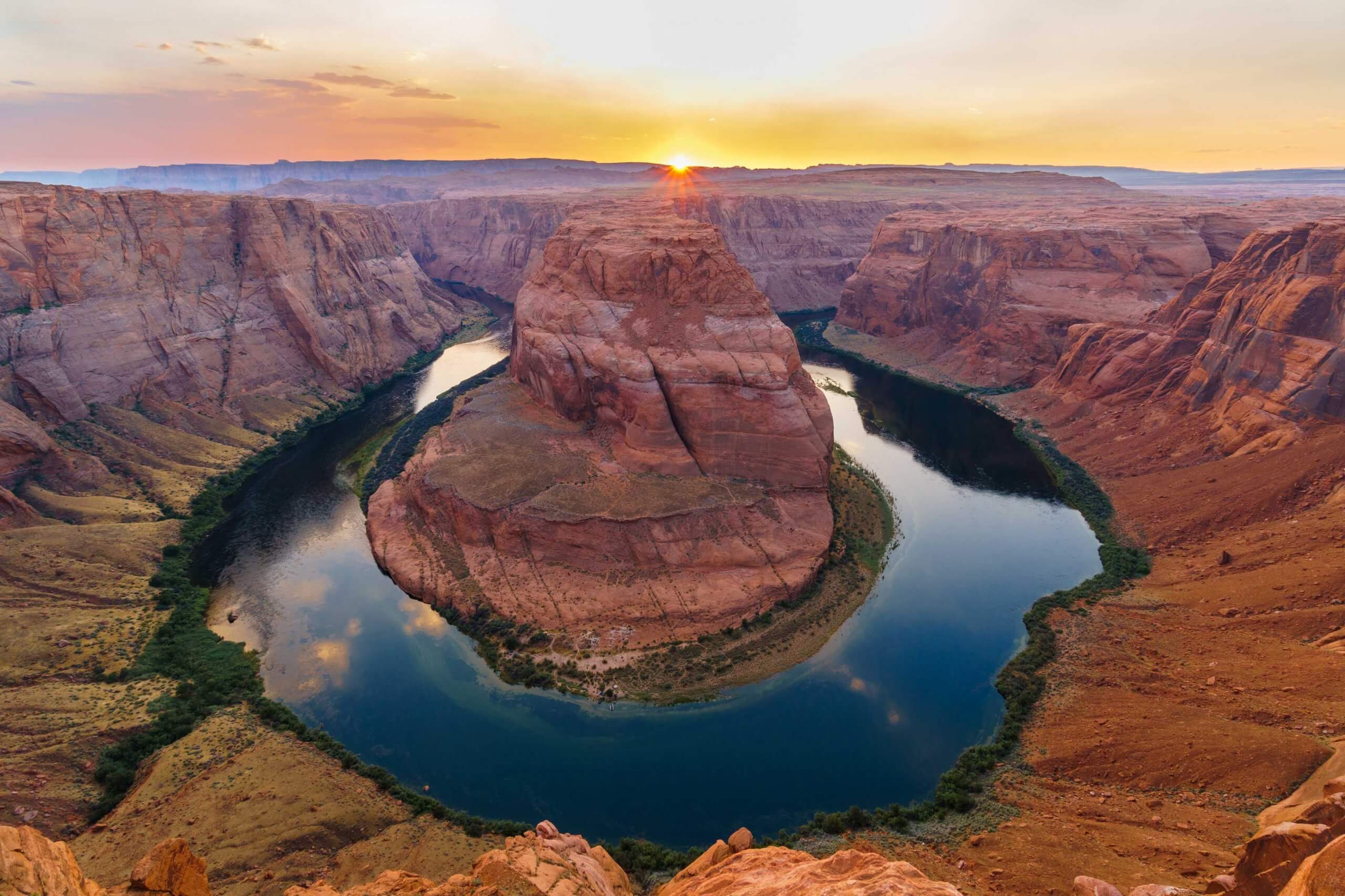 Seattle
A further interesting place to visit in the USA is the city of Seattle in Washington State. Here, the futuristic skyscrapers of the world-famous skyline await you, above all the 184 high Space Needle tower, from where you will have Seattle's best views. But also countless green squares and parks are lovely. It is not for nothing that this green metropolis in Washington State has been voted the most livable place in the USA. Other places worth seeing in Seattle are the Chihuly Garden and Glass Museum, the Pacific Science Center, the Experience Music Project/Science Fiction Museum & Hall of Fame.
Tip: Check out this amazing guide for the 60 best things to do in Seattle!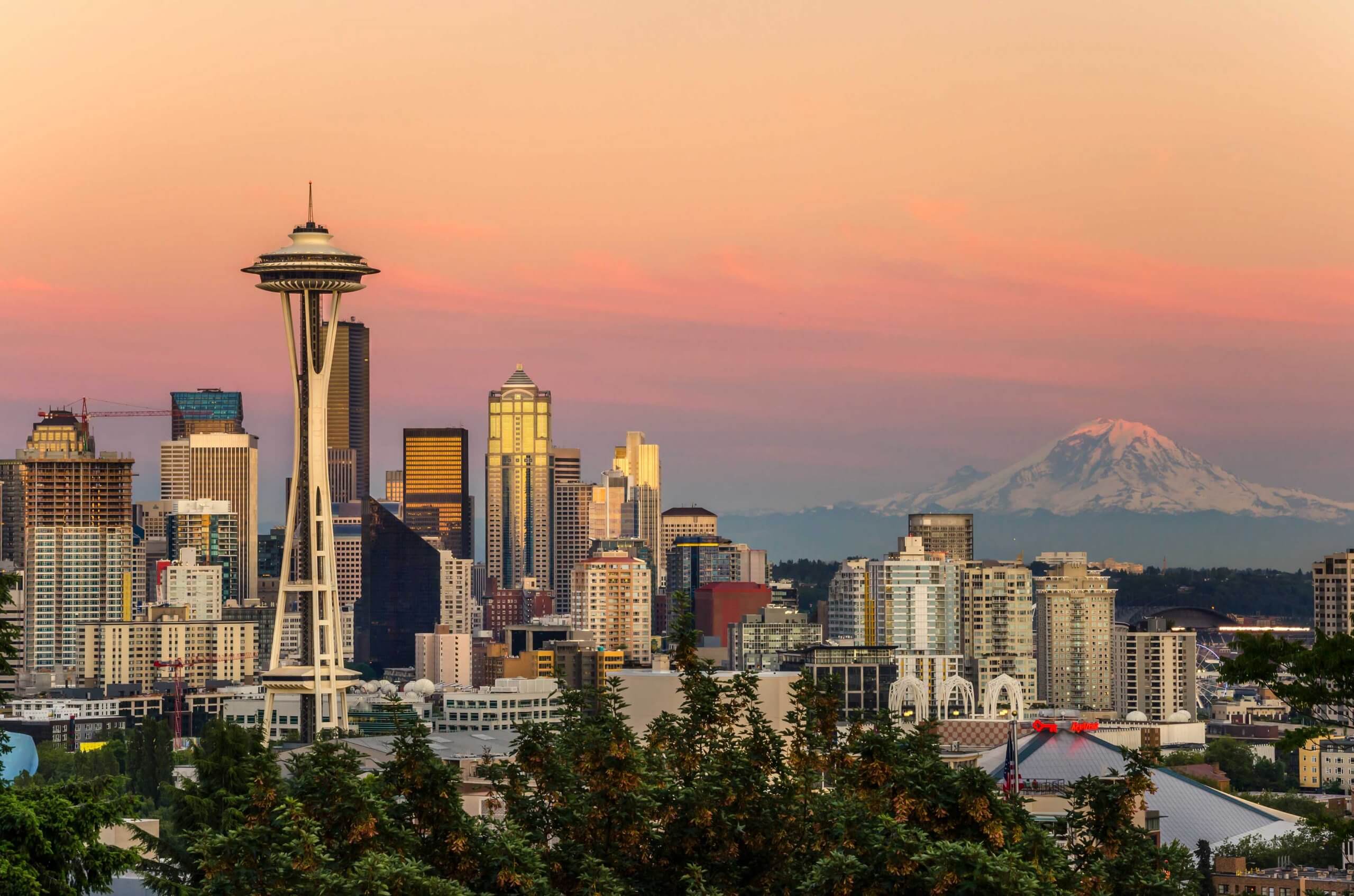 Yellowstone National Park
Another place to visit in the USA is the Yellowstone National Park, which is mostly located in the US state of Wyoming. This huge national park, which covers an area of around 9,000 square kilometers, was founded in 1872 and is the oldest national park in the world. Today it is one of the best National Parks to visit on the West Coast and gives home to hundreds of animal species, including even grizzly bears, moose, wolves and bison.
This natural wonder is especially famous for its breathtaking thermal springs and the 3,000 hissing geysers – like the Old Faithful, which is one of the most important attractions there. And the Grand Prismatic Spring, the largest thermal spring in the USA, is also uniquely beautiful. Exploring Yellowstone with kids is a fantastic idea! There are so many activities for families that are sure everyone will enjoy.
Tip: One day in this national park might be too short – if you want to stay longer then you should read this complete 5-days Yellowstone Park itinerary! There is a wide range of accommodation around the park. Check out this guide about the best Airbnb in Yellowstone National Park!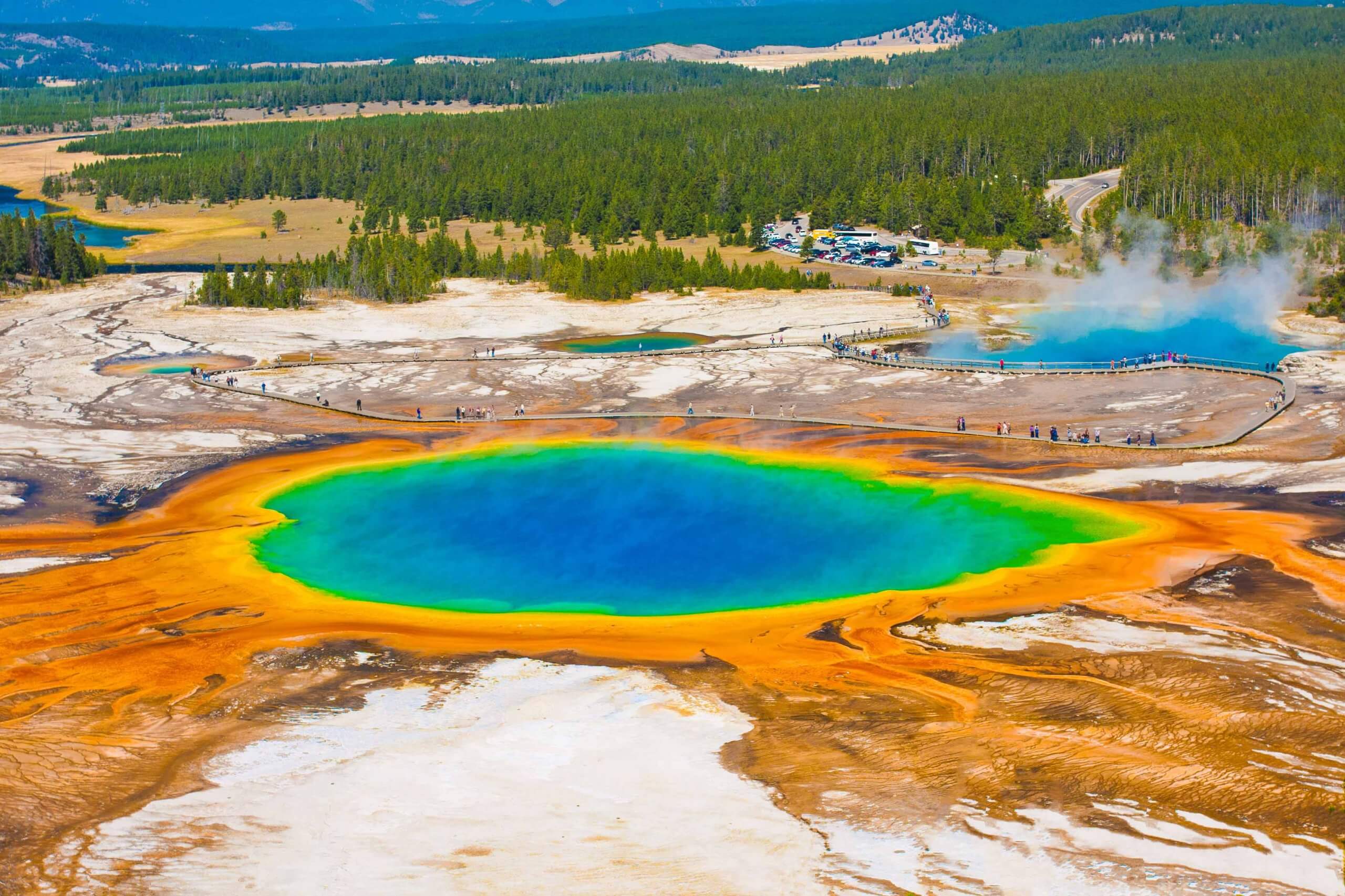 Las Vegas
Another highlight, which should not be missing on any trip to America, is the desert metropolis Las Vegas. That`s a place where people are sure to go when they plan a trip to the USA. Here you can expect gambling and partying, but also a huge number of sights and action-packed attractions. For example, if you are on holiday, you can shop in a fantastic setting on the "Canale Grande" at the Hotel Venetian and treat yourself to a ride in the gondola. Or you visit the famous luxury shopping promenade at the Hotel Caesars Palace. In any case, a photo at the famous Las Vegas Sign from 1959 should not be missing as a souvenir!
Tip: Many people think that Las Vegas as an expensive city. Don`t worry, there are actually lots of cheap things to do in Las Vegas.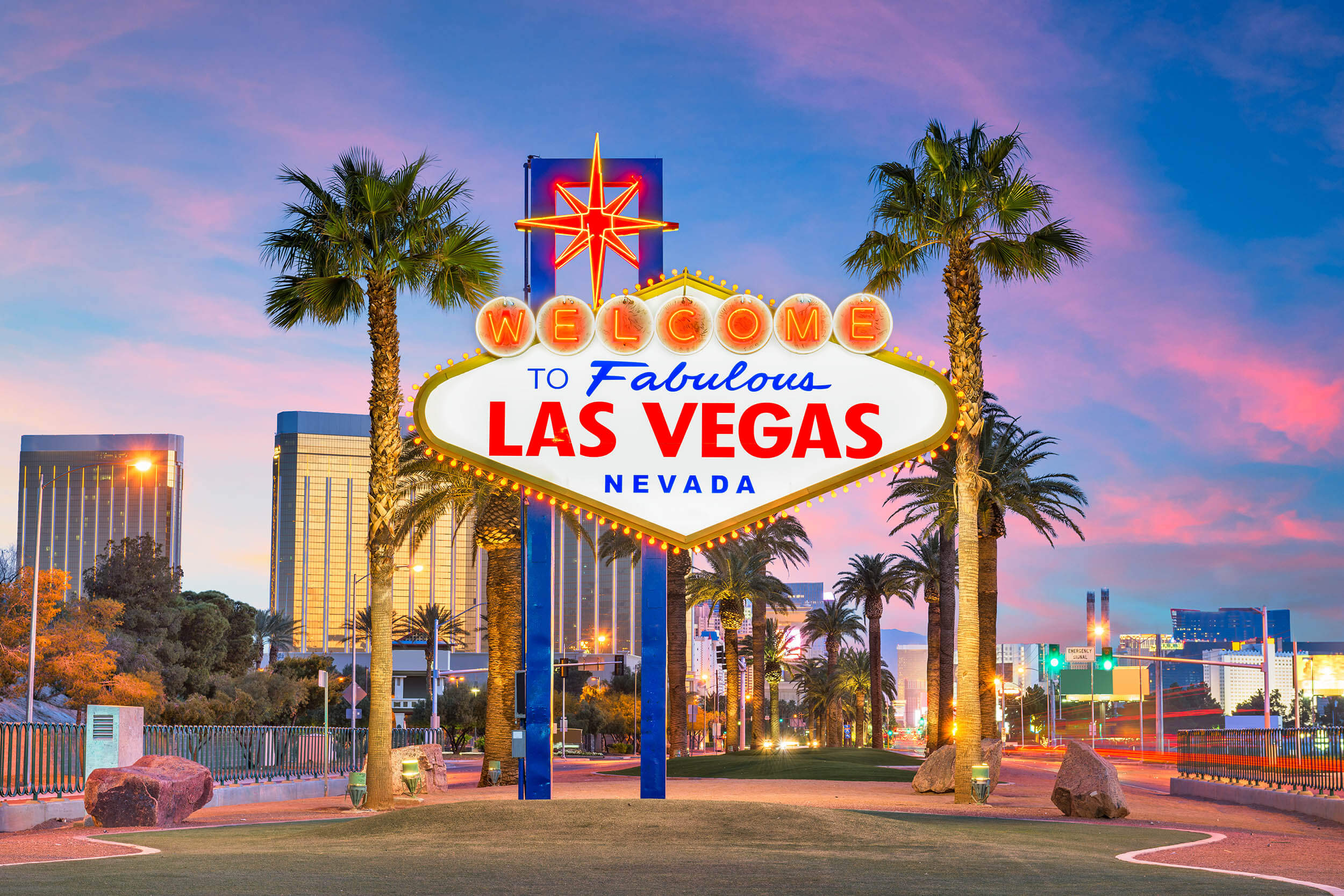 Hawaii
Hawaii, a chain of islands in the Pacific Ocean, is the 50th state of the USA and one of the most popular holiday destinations in the country. On each of the 8 main Hawaiian islands there is a lot to experience and discover. For example, a visit to the still active volcanoes in Volcanoes National Park – an absolute must see on any holiday to Hawaii, or a visit to Waikiki Beach – one of the most beautiful beaches on the islands. Really unique in Hawaii are also the spectacular waterfalls, which can also be found in the Akaka Falls Park. And the island Maui, one of the most popular islands.
If you are thinking about visiting more than one Hawaiian island during your trip, then you definately have to check out this complete guide about Hawaii Island Hopping!
One of the most amazing places on Hawaii is the Big Island. Here you will find the most amazing black lava beaches but also some of the best national parks in the USA. Check out this perfect 7 days Big Island itinerary for planning your perfect stay!
Tip: A vacation to Hawaii is for many a dream come true, but what about the planning and the prices? Isn't it incredible expensive? Check out this two complete guide about what to pack for Hawaii and how much a Hawaii trip cost.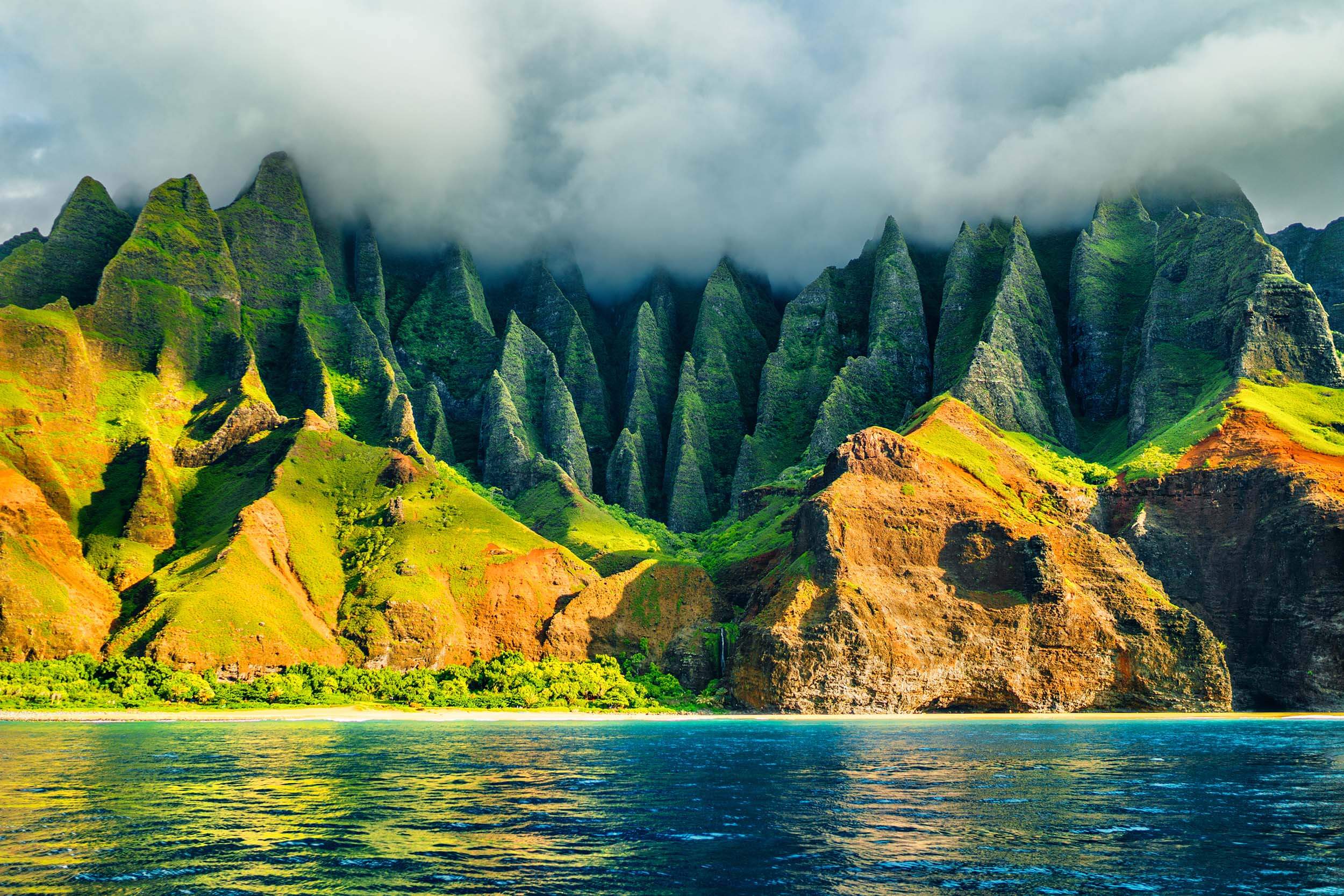 Washington
Washington, or simply DC, is the capital of the country and another popular stop on tours around America. There are so many amazing things to do in DC! Although this city does not impress with skyscrapers as New York does, you will find many, especially historically impressive sights. The best attractions are located in the heart of the city in the National Mall. Here is also the US Capitol, the most visited sight in the USA and the famous Lincoln Memorial. A must on any USA bucket list!
Tip: Washington is a food-lovers paradise – so don`t miss to join a DC food tour!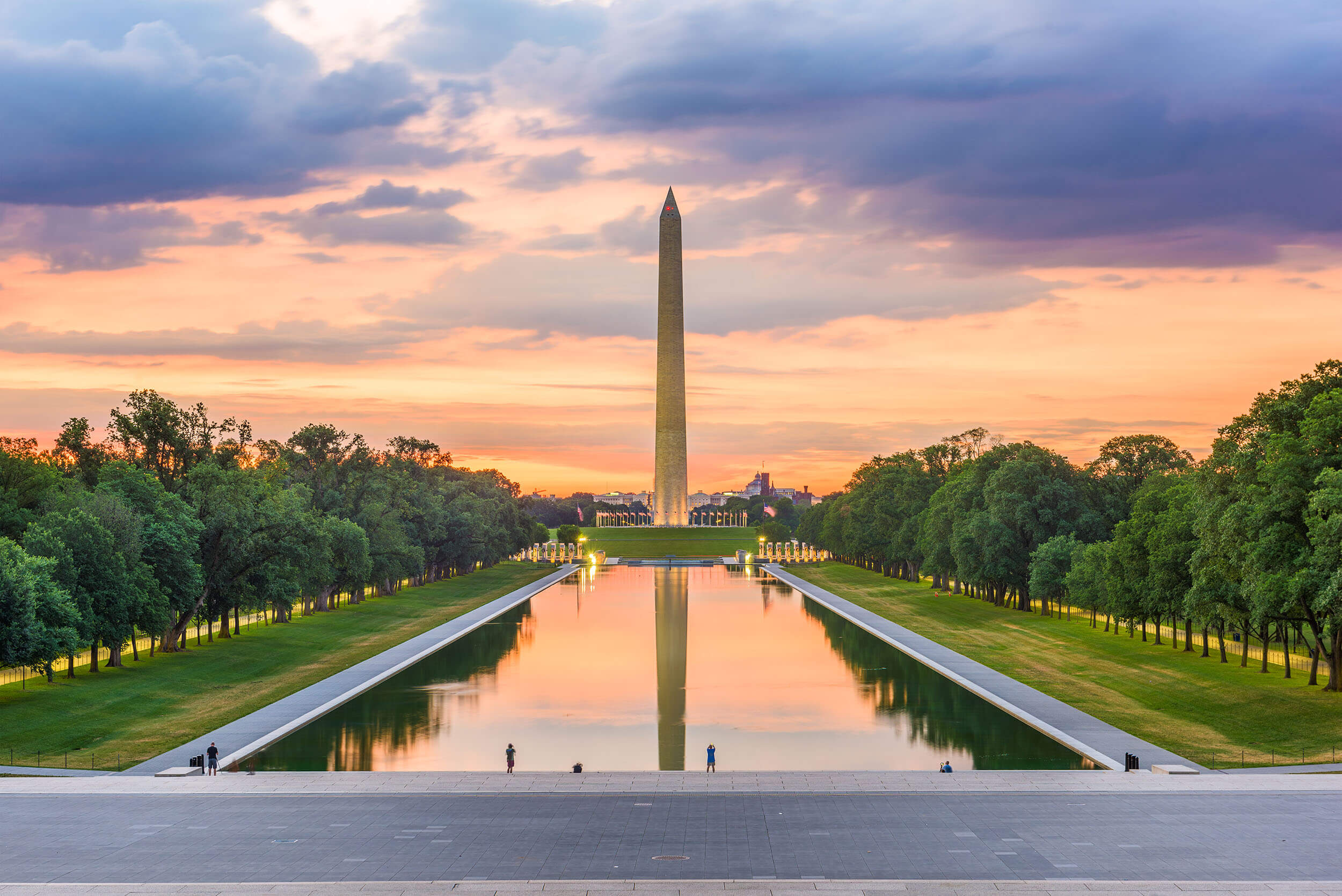 Orlando
A visit to Orlando is for sure one of the best things to do in Florida. Especially its famous for the countless theme parks. Here you can choose from a wide range of top theme parks: Disney World with the Magic Kingdom and Epcot, or Universal Studios Orlando and Sea-World Orlando are just a few of the best amusement parks you can experience on a trip to the USA. But there is also a lot to discover in the city itself, and so you will explore interesting museums, theatres and beautiful parks on a walking tour.
Tip: Here a perfect travel guide for the best things to do in Orlando!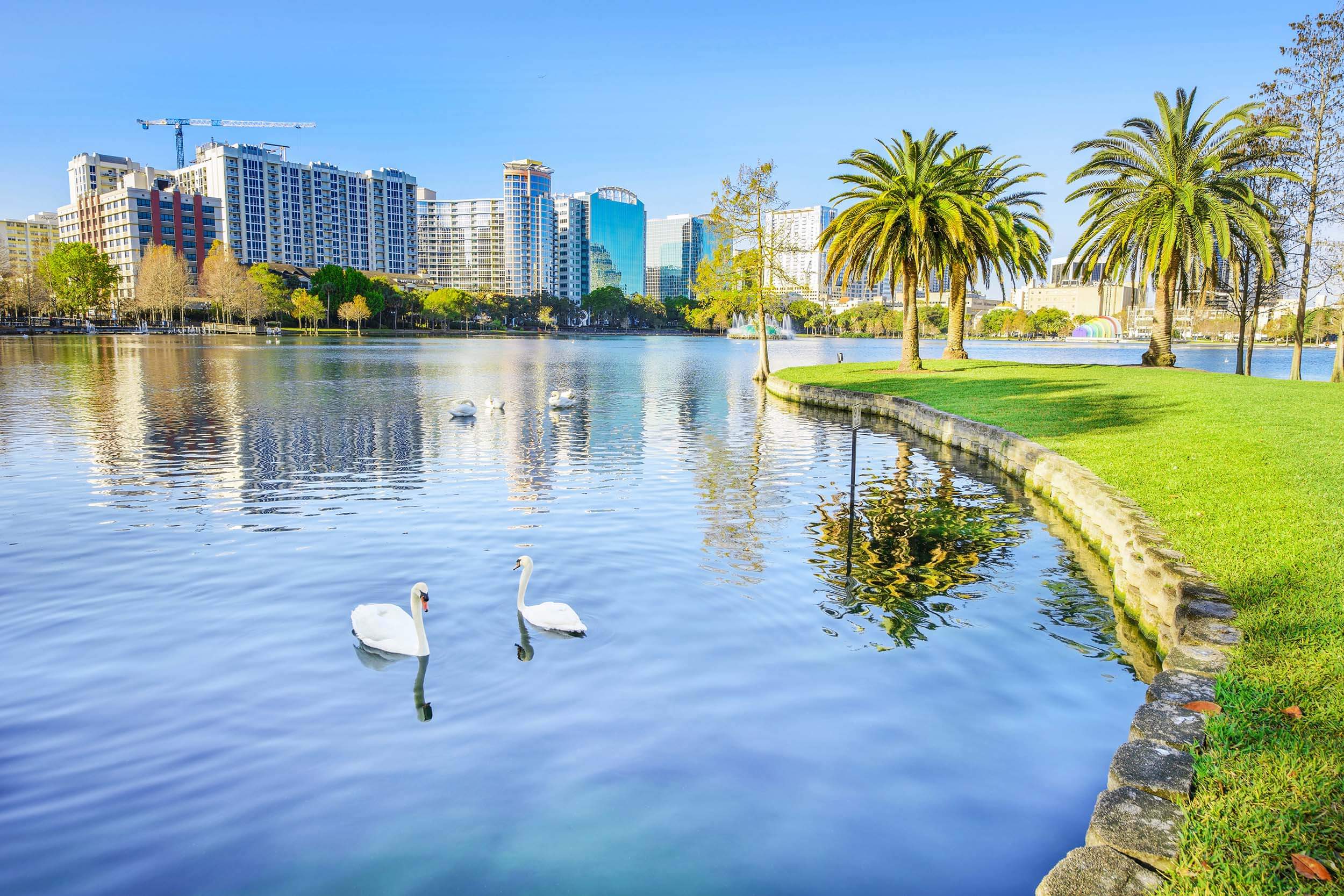 Yosemite National Park
Yosemite National Park is another travel highlight in America. This approximately 3000 square kilometer park is located in California and attracts more than 4 million visitors every year. It is the third oldest national park in the country and was declared a UNESCO World Natural Heritage Site in 1984.
During a visit you will be greeted by incredibly impressive natural attractions, such as the many beautiful granite rock formations, impressive waterfalls like Yosemite Falls, crystal clear rivers, and not to forget the huge 2000-year-old giant sequoia trees.
Tip: Did you know that Yosemite is considered to be one of the best National Parks to visit in winter? Even some parts are closed you should still be able to hike to Yosemite Falls!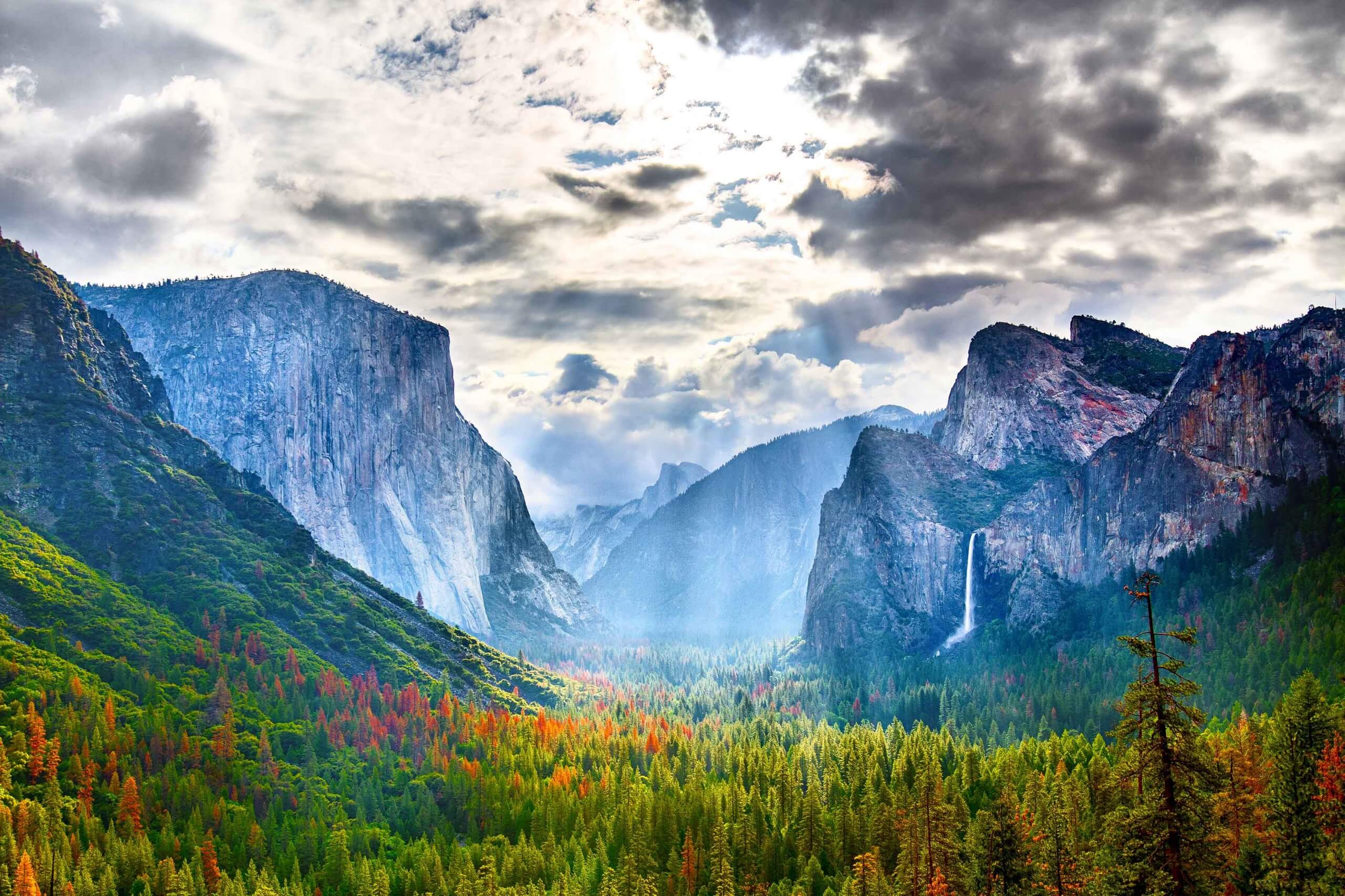 Miami
Another US-city worth a trip is definitely Miami. Also known as Magic City this metropolis enchants with many tourist attractions. Probably the most famous places to visit is of course the well-known Miami Beach – one of the most famous beaches in Florida, with the Art Deco district on South Beach (also called SoBe). With an exciting nightlife, the many beach clubs and the shopping miles it's the ultimate place to be. Staying there is a fantastic idea if you come without a car. For more check out this complete South Beach Hotels Guide!
But also, many other spots in the city are really hip and worth seeing: The Miami Seaquarium, Coconut Grove, Bayside Market Place and Little Havana are just a few of the other attractions of this cool city! If you don`t have that much time, check out this guide for visiting Miami in one day!
Tip: There is also a lot to discover outside Miami. Thanks to the short distance you can explore the Everglades National Park and also the Florida Keys from here!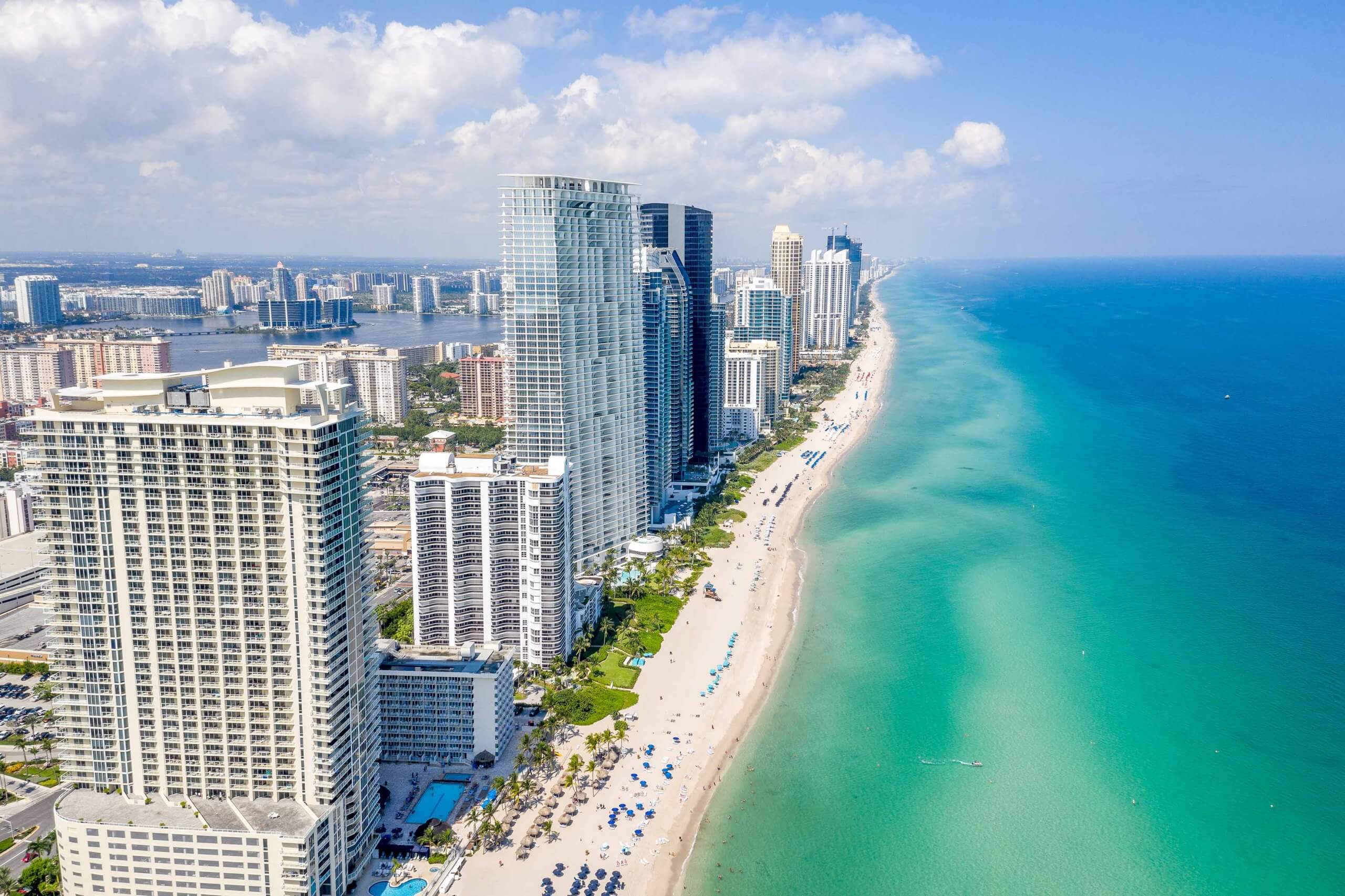 Glacier National Park
A real natural highlight in the USA is the Glacier National Park in the north of the Rocky Mountains. Here, the high number of glaciers and the beautiful mountain lakes like Lake McDonald or St. Mary Lake are particularly inspiring.
Most tourists come in summer, when the roads are free of snow and therefore easier to drive on. But also in winter the Glacier National Park is worth seeing, because then you have possibilities for snowshoeing, cross-country skiing or just to take great pictures.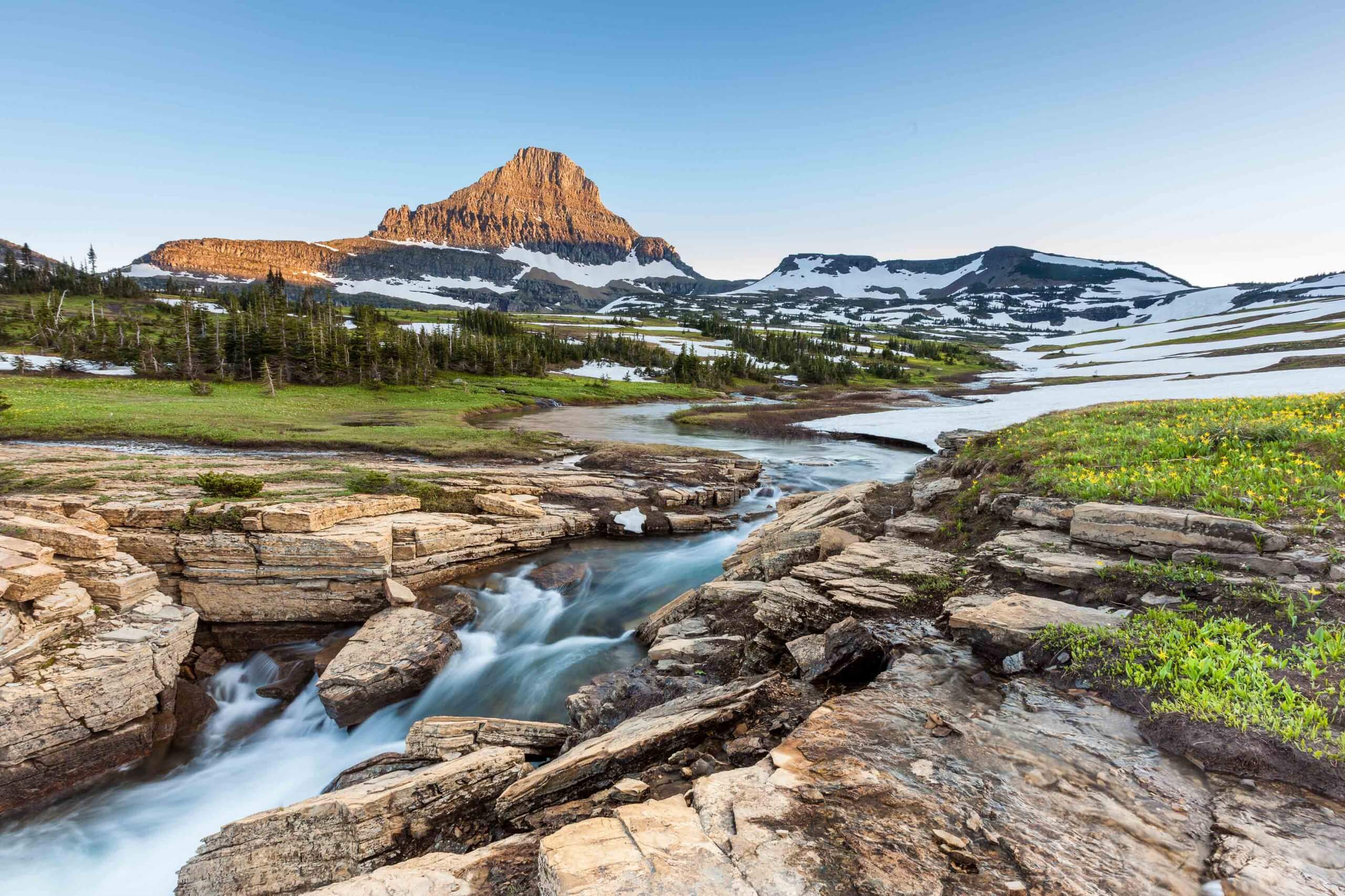 New Orleans
Probably one of the coolest places in the USA is New Orleans. Many even go there for spending their budget honeymoon in the USA! Located in Louisiana, this city is famous for its vibrant nightlife and the really cool music scene. Also culinary you can experience a lot: The cuisine of New Orleans combines the French with the African and American. New Orleans has a beautiful historic old town ("French Quarter") with numerous buildings in Spanish and French colonial style. Here you will also find some of the best photo spots in New Orleans!
Did you know that this city makes consistently the list of the most haunted cities in America!? So if you believe in the paranormal you should definitely book yourself a spooky room in one of the best haunted hotels in New Orleans!
A visit to the New Orleans Carnival (Mardi Gras) in winter, when the exuberant costume parade takes place, is highly recommended and for sure on of the best experience of any USA trip!
Tip: Here is a complete travel guide for the best things to do in New Orleans!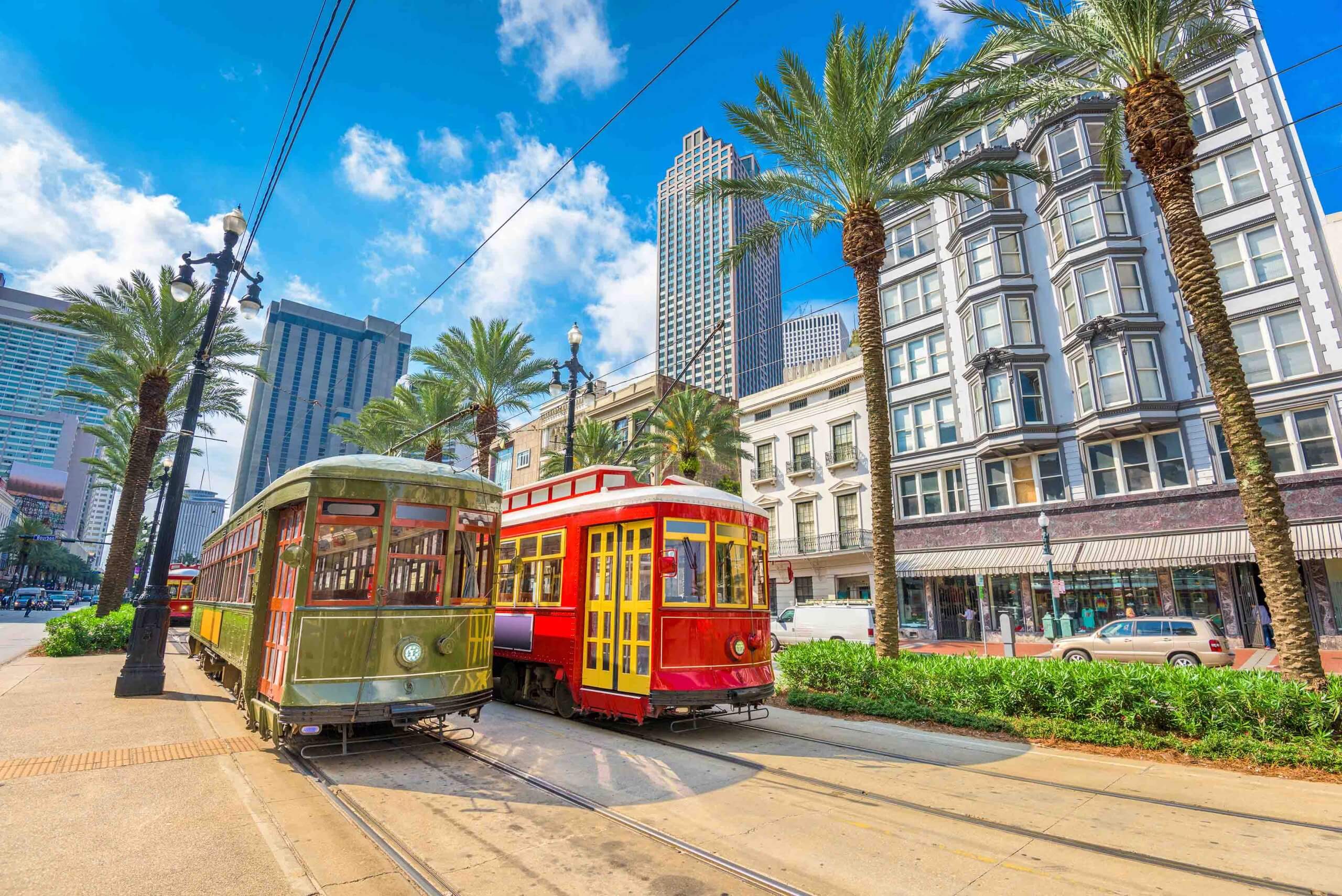 Niagara Falls
One of the most impressive things to see in US are definitely the famous Niagara Falls. They are an incredible force of nature and for sure a tourist attraction that should not be missed on any trip.  Around 22 million visitors from all over the world come every year to experience this nature beauty. Here over which around 6,400 cubic meters of water thunder crash down to 57 meters per second
Niagara Falls are the waterfalls of the Niagara River, which connects Lake Erie with Lake Ontario and through which the border between the US State of New York and the Canadian province of Ontario runs. The "Cave of the Winds" tour at Niagara Falls State Park takes you over footbridges to the waterfall.
Tip: Visiting the Niagara Falls in winter is a unique experience! Most tourists come in spring and summer, so in winter you have the possibility to dodge the crowds.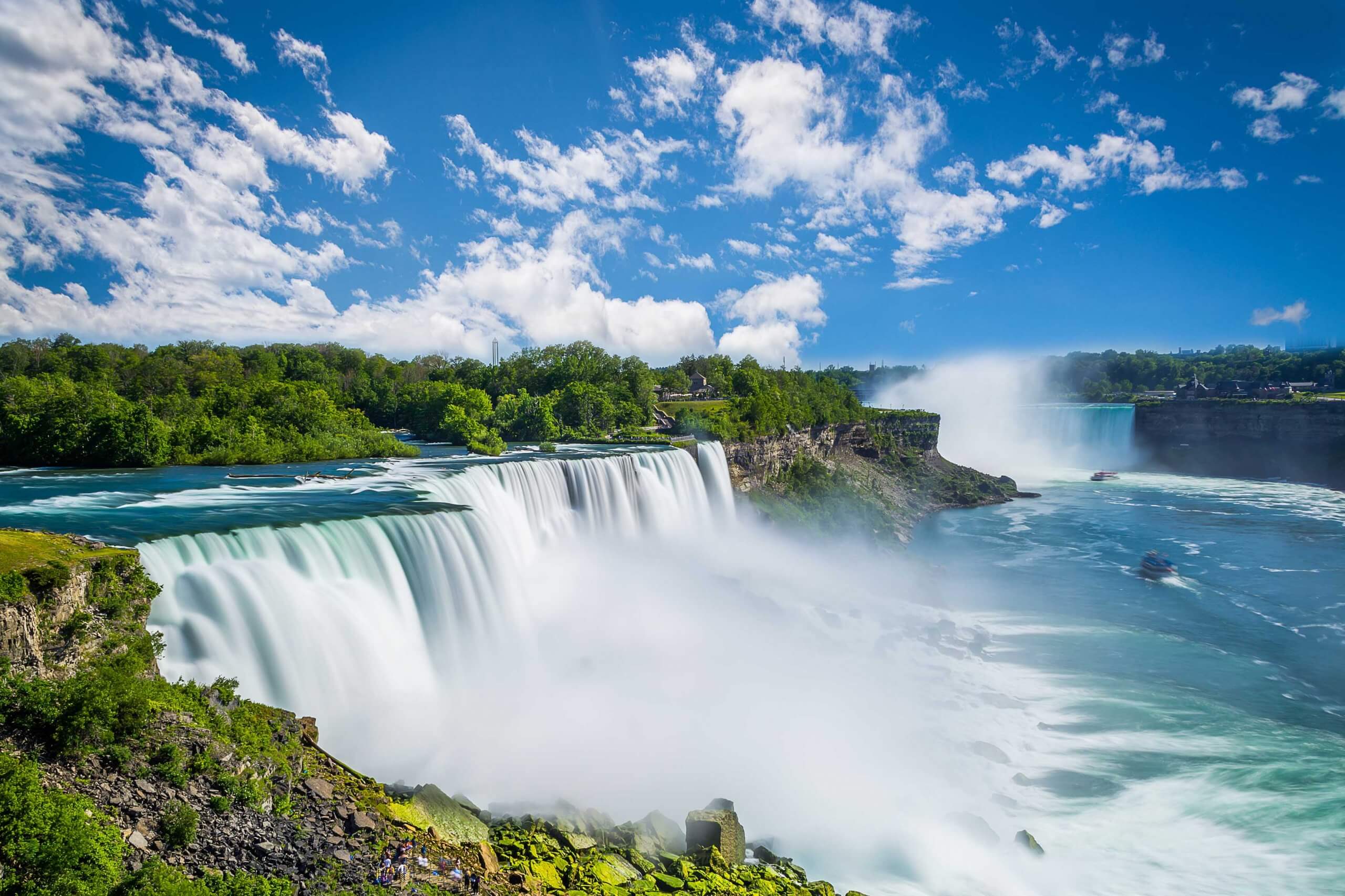 Boston
Boston is the charming capital of Massachusetts and enchants visitors with a lot of history and cool city life. In recent years, it has also developed into the new "Hollywood of the East Coast". Numerous films have been and are being shot here and throughout Massachusetts. Boston is a walking city and so it is best to explore all the landmarks on a walking tour.
Here you will find the old next to the new, a mix of tradition and modern lifestyle, historical attractions but also  imposing skyscrapers. One of the main attraction that should not be missed is the 4 kilometer long Freedom Trail. Other must-see attractions are the Faneuil Hall Marketplace, Museum of Fine Arts, Beacon Hill, Teaparty Museum and many, many more. So 3 days in Boston are just the perfect amount of time to explore all the amazing sights!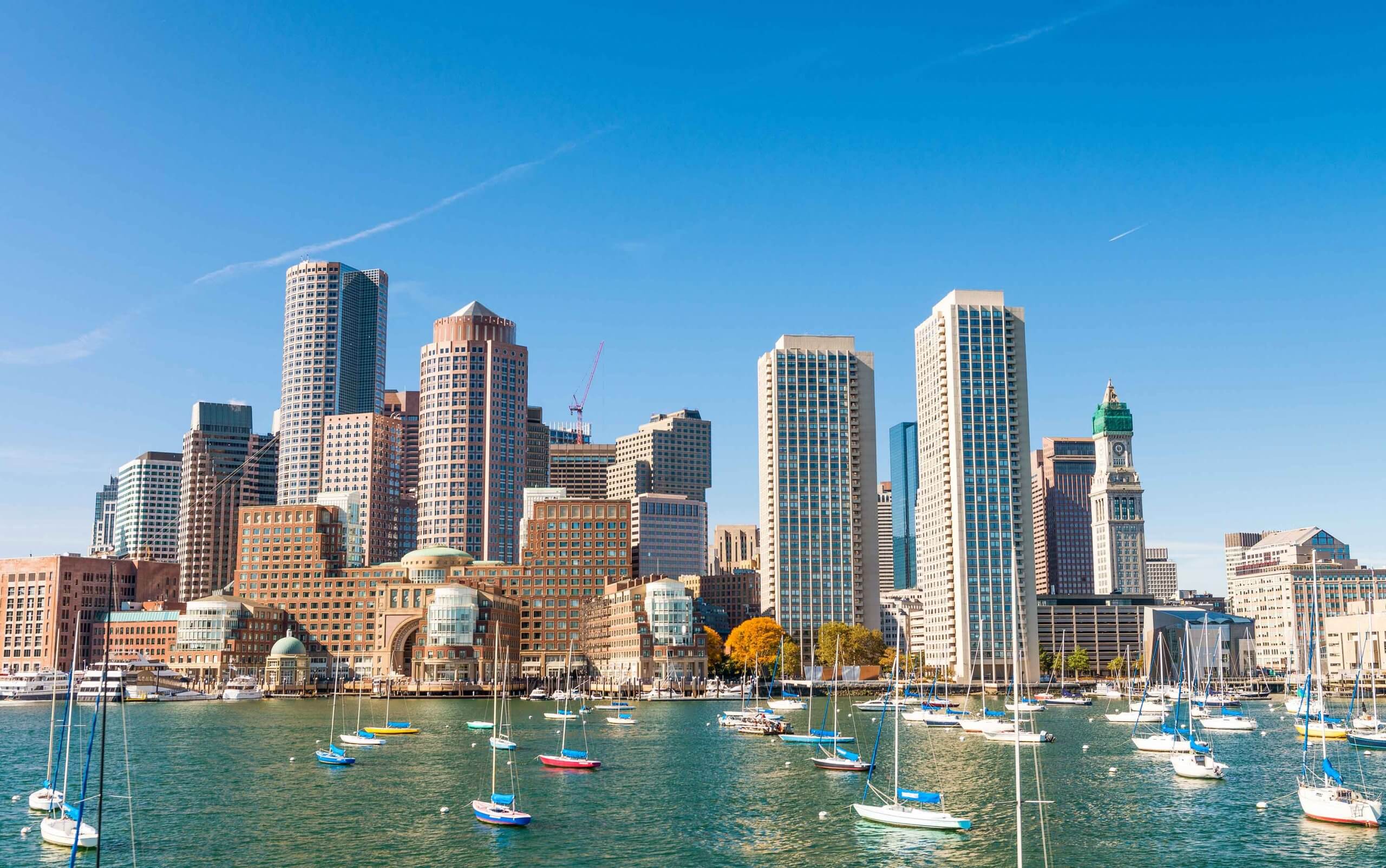 Chicago
Chicago, the big city on Lake Michigan in Illinois, is another top highlight to visit in the USA. During a stay there are also many exciting sights and activities to be found here. The best view can be enjoyed from 360 Chicago or from the Willis Tower (Chicago Skydeck). On a clear day you can enjoy a great panoramic view of the entire city, Lake Michigan of several neighboring states. A real highlight is downtown, Chicago Downtown – the Loop, where an elevated railway surrounds the city like a ring.
Do you know that Chicago was voted the best food city in America? Here ist a list of 9 amazing places to eat in Chicago!
The Millennium Park on the shore of Lake Michigan is also worth seeing, as well as the famous Navy Pier, today the biggest tourist attraction in Chicago. For more infos check out this complete first-timers guide about the coolest things to do in Chicago!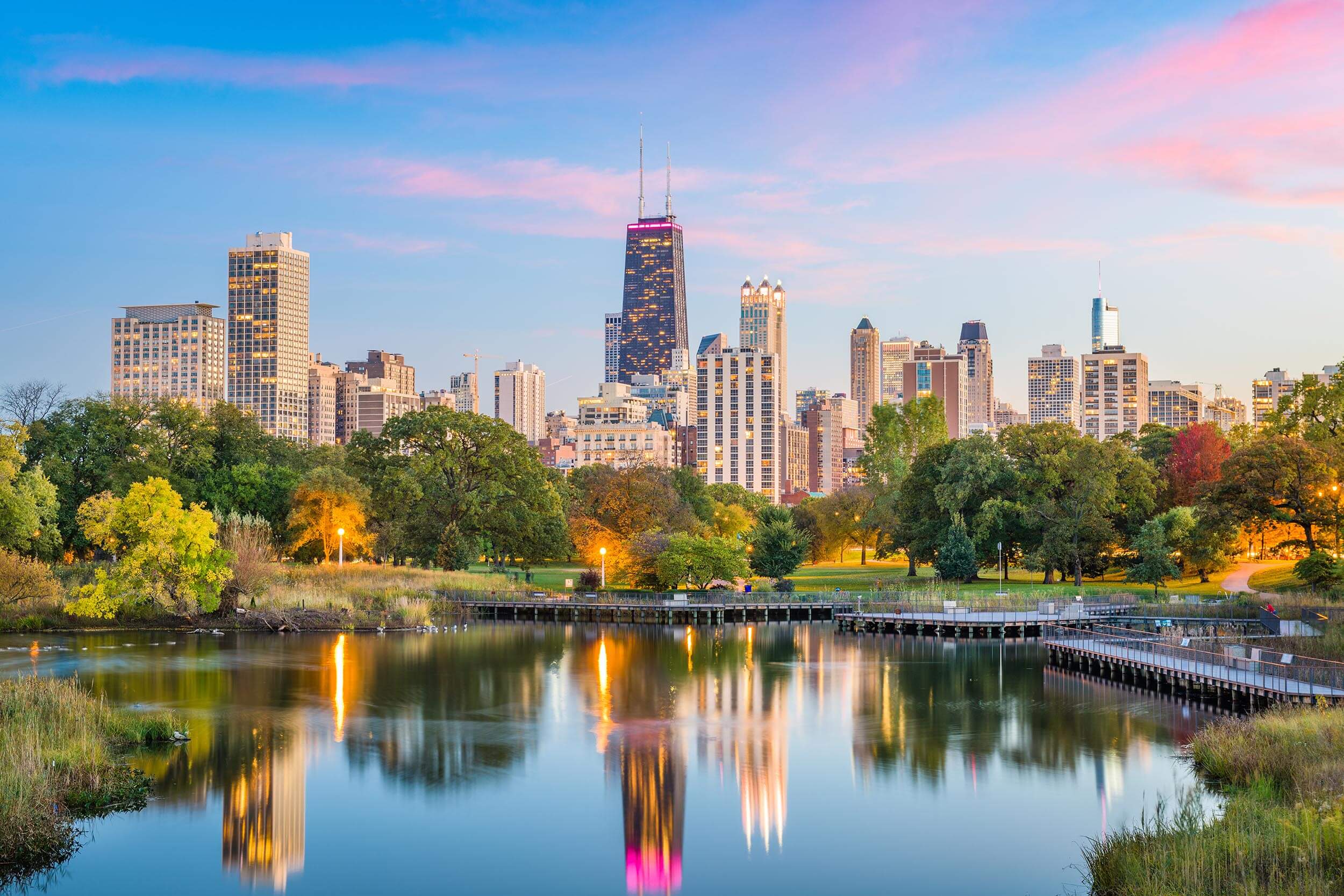 ---
Disclosure: Some of the links below are affiliate links. Meaning that if you click on certain links, and then subsequently purchase a product, I will receive a small commission at no extra cost to you.
---