Salzburg Card – A good deal?
Salzburg, the birthplace of Mozart and the filming location for The Sound of Music. Salzburg is one of the favorite destinations for traveler in Europe. And the city has a lot more to offer besides that. World class tourist attractions including the Hellbrunn Palace & Gardens, the Hohensalzburg Fortress and museums like the Haus der Natur are waiting to be explored.
The Salzburg Card is a travel pass that offers benefits such as free admission to tourist attractions and museums, free use of public transportation and many additional discounts. But is it really worth buying?
What does the Salzburg Card includes?
The Salzburg Card includes free admission to 29 tourist attractions and museums
Free public transport service in the city.
Other transportations services like the Festungsbahn funicular, Unterbergsbahnl lift and the Mönchsberglift as well as a Salzach River cruise.
Discounts on cultural events and concerts.
Discounts on several excursion destinations.
How much does the Salzburg Card cost?


How we made the most of our Salzburg Card
We stayed in Salzburg for 2 nights and got a Salzburg Card for 72 hours (Euro 43,00) per person. In fact, we used the Salzburg Card 10 times for the listed tourist attractions, however we didn't use the benefit of public transport, like taking the bus, at all.
Here is a list of tourist attractions we visited during our city trip to Salzburg.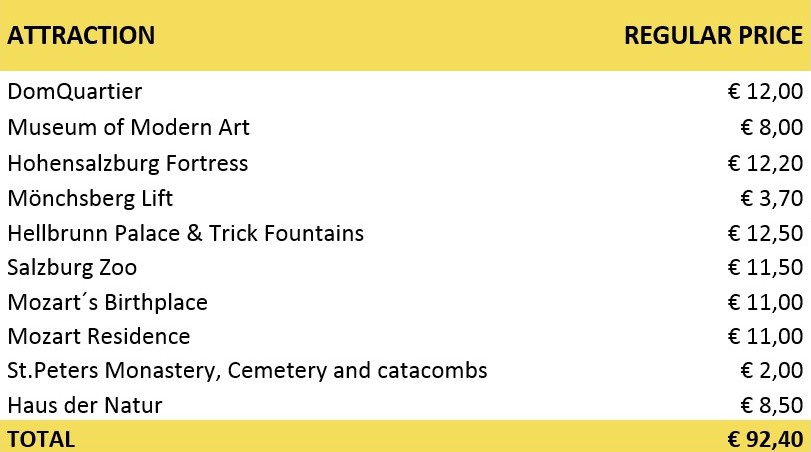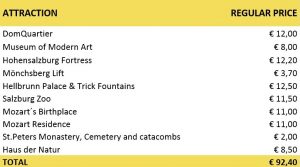 Summarizing, if we had not used the Salzburg Card (72 hours – Euro 43,00) we would have spent EURO 92.40. That makes for a total saving of more than 50%! And honestly, sightseeing is much more comfortable if you can visit tourist attractions without calculating the prices.
Jump the line with the Salzburg Card:
Another advantage of the travel pass is, that you don`t have to wait at some selected tourist attractions. So you don't just save money but you even save time!
Where to buy the Salzburg Card?
Tourist information centers in Salzburg, either on Mozart Square (at No. 5 Mozartplatz) or at the main station (No. 1 Südtirolerplatz)
Salzburg ticket offices
Online: Here is the link to book the Salzburg Card online
Train station
Airport
Hotels
Is the Salzburg Card a good deal for travelers?
YES. The Salzburg Card is a great deal for traveler, especially for those who are exploring the city for the first time. And for those who are planning to see lots of sights and tourist attractions of Salzburg but don`t want to spend any thoughts about the entry prices.
---
Read more about Salzburg:
---
---
Disclosure: Some of the links below are affiliate links. Meaning that if you click on certain links, and then subsequently purchase a product, I will receive a small commission at no extra cost to you.
---